Hey all, I like to introduce a new skincare brand from Japan. Known as Meeth and helmed by Japanese celebrity Sonmi, this brand is based on a simple philosophy – self confidence! Sonmi believes that how you feel about your skin can shape your behaviour, thoughts and chances you grab in life.
So, how does Meeth skincare boost our self confidence and hence, open doors to more opportunities? Read on and I'll share more about the brand, as well as talk about a few products I have with me such as Meeth Morerich Essential Lotion and Meeth Morerich Smoothcleans.
Update (Feb 2022): This post was first published in Dec 2020, and updated to include latest opinions.
---
What is Meeth Skincare? Why choose Meeth?
Meeth is based on the principle of using gentle and skin-nourishing ingredients, and tapping on advanced technology to create fine-tuned skin solutions.
How it does so is to use mineral-rich water from Sapporo and Iwanai in Hokkaido, as well as other ingredients such as Fullerenes and Pentavitin. I've googled and found that Fullerenes works as an antioxidant, which means that it can slow down dying of cells or aging.
On the other hand, Pentavitin offers 100% natural hydration as it is made from plants. The moisture reservoir it offers is said to last for 72 hours. What I like most about this ingredient is how the moisture would remain effective even in rinse-off formula, such as a cleanser.
Now, let's take a closer look at 3 products sent to me in the press kit.
---
Start with these 3 Meeth Skincare (Review)
As a new skincare brand, Meeth currently only has 6 products in its line. Thanks to Meeth, I am able to try out half the range. Let's see what they are.
1. Meeth Morerich Smoothcleans
By its name, it may not be instantly clear what this product does. Make a guess, is this a makeup cleanser or foaming cleanser?
After reading up further on the product, I was surprised that this clear, oil-free gel is actually a makeup-cleanser. Did you guess it correctly?
Two pumps are sufficient to cover my face and I like how the gel spreads easily without much friction or pull on the face. Although Meeth Morerich Smoothcleans doesn't emulsify like many Asian makeup cleanser, it is effective in removing makeup.
I also appreciate how intuitive the cleansing process is – I would know when to stop the cleansing process, which is when the face no longer feels slippery. Another thing I love is in knowing that Morerich Smoothcleans contains Pentavitin. As I've shared earlier, this ingredient offers lasting moisture even in rinse-off formula.
What you may not like
Firstly, I wouldn't categorise Morerich Smoothcleans as a product that smells good. :) But hey, at least we know that it may be free of fragrance.
Secondly, the product comes with a lower quantity than norm (at 120ml) and carries a "luxury skincare" price tag at $65. If you are used to buying luxury skincare, this makeup cleanser may be something within budget comfort. To common folks like me, I would have loved for the product to come with at least 150ml.
Here's the partial ingredient list for those who are interested in the key ingredients. You can click here for the full list.
Ingredients: Water, palm oil fatty acid PEG-7 glyceryl, DPG, pentylene glycol, locust bean gum, broccoli extract, biofluoronoid, aloe vera leaf extract…
2. Meeth Morerich Essential Lotion
Next, let me share about the "toner" within the range. Meeth Morerich Essential Lotion is what we would use immediately after cleansing.
The lotion has a watery consistency, and yet contains some emollient – I could feel slipperiness in the product. Therefore, while it offers a refreshing feel, I know that Meeth Morerich Essential Lotion also provides me with a first-level hydration.
I also love the scent that smells like calming rose to me.
In terms of after-feel, the product feels sticky when first applied but absorbs quickly to leave a comfortable barely-sticky feel.
What is Morerich Essential Lotion made of?
This lotion contains purified deep sea water from Hokkaido, which I understand is rich in minerals and skin-healing nutrients. On top of that, this lotion also contains Pentavitin, the plant-based hydrator I've described earlier. Here's the full ingredient list.
I've been using the lotion every night and enjoy its watery texture, which I believe helps prep my skin for the next layers of serum and moisturizer. As with most toner, it may not be instantly clear how much improvement Morerich Essential Lotion brings to the skin.
But what I know is that I feel good when using this luxurious lotion, which is priced at S$115 and comes with a smaller-than-usual quantity of 100ml.
3. Meeth Morerich Pack (Face Mask)
And last but not least, let's talk about this very interesting Meeth Morerich Pack, which is essentially a mask, but in liquid form.
You have to mix two products that come in separate sachets to form the solution, before applying the nutritious gel over the face. The carbonated gel is said to deliver "face-firming oxygen to skin and promotes a healthy, natural glow".
Here's a video to show you how to use it.
Similarly, the formula consists of Hokkaido mineral water and Pentavitin.
Ingredients: Water, Butylene Glycol, Glycerin, Pentylene Glycol, Sodium Alginate, Simmondsia Chinensis Seed Oil, Cellulose Gum, Sodium Bicarbonate, Calcium Carbonate, Glyceryl Glucoside, Lactobacillus/Pear Juice Ferment Filtrate, Sodium Hyaluronate, Sodium Acetylated Hyaluronate, Hydrolyzed Hyaluronic Acid, Phenoxyethanol, Trisodium EDTA
Each Morerich Pack comes with 7 pcs, and is priced at S$190. Unfortunately, I've been very busy lately and have yet gotten the chance to relax and restore my skin. I hope to do so soon.
Updated (4 Feb 2022): I've since used about three packs over the past one year or so. The mask is rather cumbersome to apply and remove. Some parts would stick to the hair and takes a while to clean up completely. However, if you can go pass the effort and messiness, it does offer quick rescue to dry and dehydrated skin.

My skin felt smooth and supple by the next morning. All flakes and dryness were gone too. It works!

However, I did get one or two small pimples, which I think is something I can bear with in exchange for better-moisturised skin.
---
Who should give Meeth Skincare a try?
Meeth seems to offer skincare solutions that cater to all skin types, including those with aging concern and/or who are prone to blemishes.
So far, I have not had any pimples breakout when using the products. However, I have also yet to feel the confidence boost that comes along with great skin. But the nutritious face pack seems promising! Definitely a good-to-have for quick rescue to dry skin.
I would say that if you are used to buying luxury skincare, this is a brand that you can start reading up on. Sometimes, the mere act of using expensive skincare can make us feel pampered. I'm sure you know what I mean, right? I know I would certainly be happy to try out other products, such as Meeth Skin Oil.
---
That's all I have for you. I've been rather busy lately, but hope to be able to churn out articles in my limited time to help you in your beauty and travel needs. If you don't want to miss a post, just click the button below to subscribe.
---
Press samples were offered with no obligation to write a review.
---
PIN THIS!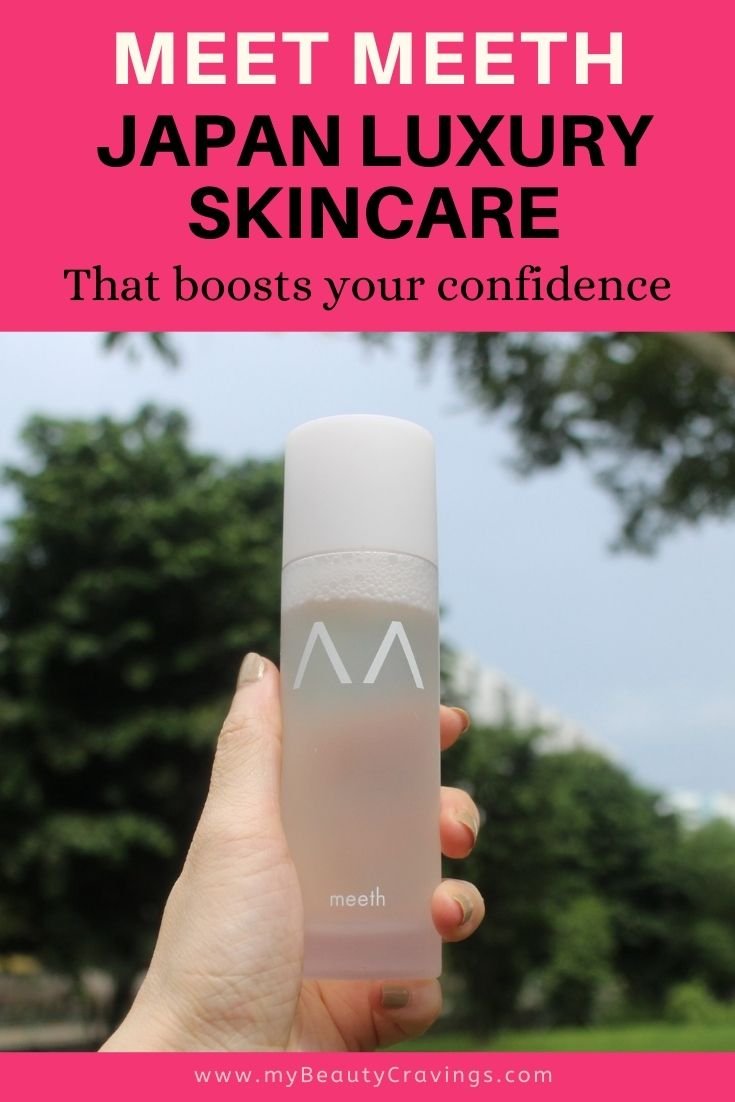 This post may contain affiliate links, meaning I earn a commission if you make a purchase, at no cost to you. Read my full disclosure for more info.
(Visited 1,651 time, 1 visit today)