Meeth has opened its first retail store in Singapore! If you can still recall, this is a luxury skincare brand from Japan which I first blogged about in Dec 2020. 
Make a guess where its first store is located.  Here are some hints:
1) It's central
2) It's patriotic
3) The building has been around since the 70s
Got it? Scroll down for the answer. 
---
Meeth's first store in Singapore (and in the world)
Meeth opened its first ever physical store in early 2022, and this store happened to be in Singapore.
Located at Plaza Singapura, this store is accessible and easy to find due to its prominent ground-floor location. And it's near Sephora and Innisfree – so if you already know where those stores are, you would know how to find Meeth. 
It's definitely a milestone achievement for Meeth to open a retail store that allows its customers to touch and feel the products, and receive personalised recommendation. 
I picked up two products during my visit – Meeth Silky Body Scrub and Foaming Facial Cleanser. Let's find out more about these cleansing products in the next section.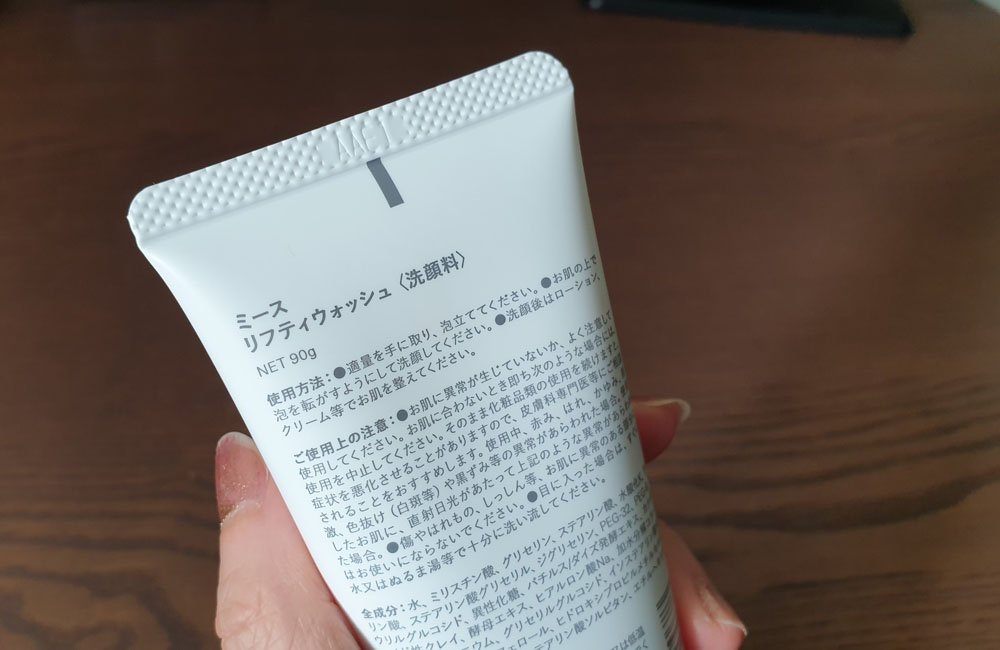 ---
Meeth Silky Body Scrub – First Impression
Let's look at the first product I bagged during the visit. Meeth Silky Body Scrub contains Japan sea salt, which felt rather gentle on the skin with the particles melting rather quickly on the skin.
There was no hint of harshness, and this scrub is said to be able to smooth away impurities while providing the skin with essential minerals.
>> RELATED: Meeth Ceraderma Essence 
Containing natural ingredients such as pear juice, apricot seed powder and red algae, this premium body scrub also boasts moisture-friendly ingredients such as Sodium Hyaluronate and Ceramide.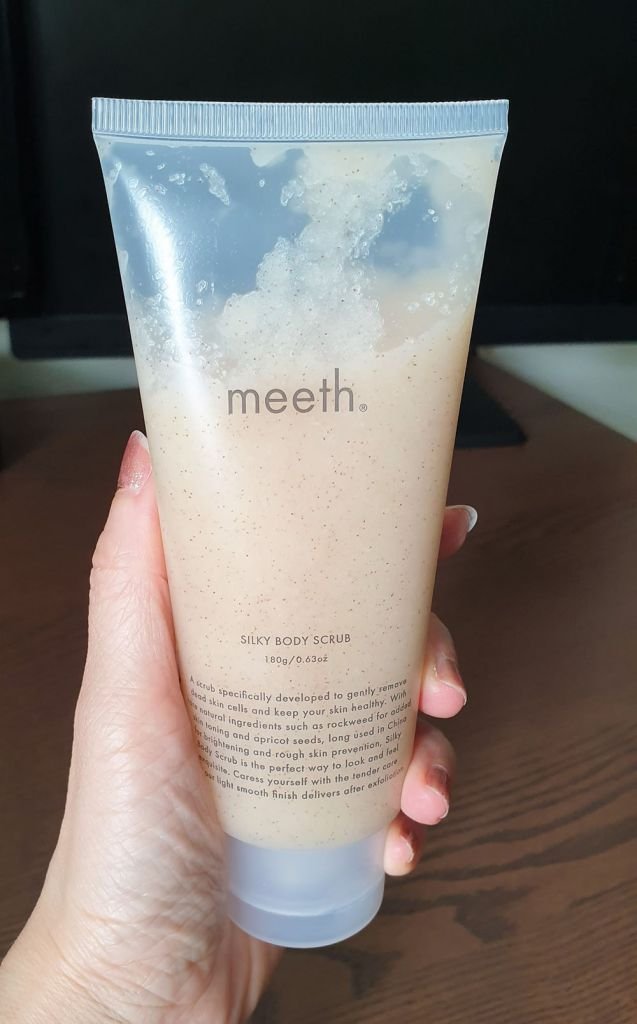 How does it smell like? 
I'm not exactly sure how to describe its smell, but it's definitely not wrong to say that it smells nice, subtle and natural – maybe like pear? Meeth's website describe the scent as "luxurious and mood-lifting". 
How to apply Meeth Silky Body Scrub? 
One thing I didn't know prior to writing this review was the need to leave the product on my skin for a while to achieve the best results.
Meeth said that its natural ingredients would tighten my skin. That's great to hear! Ok, I'll leave it on my skin longer – hope it'll make my skin glowy and radiant in no time.
Check out the complete usage instruction below:
Wet skin thoroughly before use.
Apply a small amount to the palm of your hand and gently massage onto your skin.
Leave it on for a while to achieve the best results. The natural ingredients in the product will tighten your skin.
Rinse off with warm or cold water.
Initial Thoughts of Meeth Body Scrub
The tube at 180g looks small, but felt heavy. I personally prefer a scrub to feel rougher on the skin, but am eager to see if this salt formula can really do its magic in melting my dead skin cell away.
At $48 before GST, Meeth Silky Body Scrub may also be the most expensive scrub I've ever used. But truth be told, I hardly owned any body scrubs. Maybe that's why I can see the wrinkly layer over my arms and legs. Yeeks! Those ugly dead skin.
Hope Meeth body scrub can erase a bit of those dead skin cells, and reveal radiant skin soon. Keeping my fingers crossed!
Now, let's move on to the second Meeth product that I got hold of during the visit. 
---
Meeth Foaming Facial Cleanser – First Impression
At my current age, I am quite wary of foaming facial cleanser, especially one that contains clay. Although Meeth stated that its foaming cleanser is suitable for those seeking anti-aging and hydration benefits, I am hesitant to use it daily, since I have rather dehydrated skin. 
But those with normal to oily skin should be able to enjoy Meeth Foaming Cleanser. It cleanses well and foams generously – and a little goes a long way. Also, I didn't feel skin tightness immediately after the wash.
How to use Meeth Foaming Facial Cleanser? 
Here's an instruction video on how to use Meeth Lifty Wash.
And that's all I have for you today. Do visit Meeth store at Plaza Singapura the next time you are there.
If you find today's post useful, you can get more useful and honest reviews by subscribing through the button below. 
SUBSCRIBE
---
Press samples were offered with no obligation to write a review. 
---
This post may contain affiliate links, meaning I earn a commission if you make a purchase, at no cost to you. Read my full disclosure for more info.
(Visited 160 time, 1 visit today)