Have you ever tried applying placenta to your skin? Today, we'll be reviewing Meishoku Whitening Eye Cream, the first skincare I've used that contains placenta. Did the fine lines around my eyes improve? Is the cream sticky? And whose placenta are we talking about by the way? 
Read on and I'll share everything I know after trying this eye cream for over a year.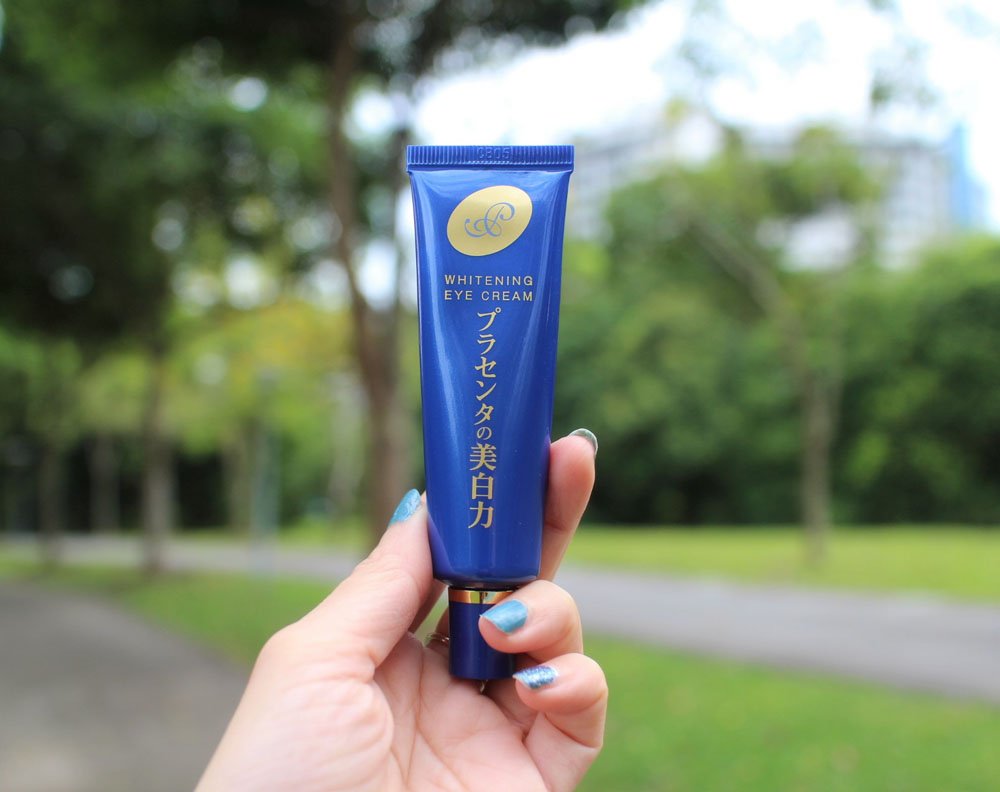 ---
Have you heard of the Brand – Meishoku?
As I walked along the aisle of a drug store in Okinawa, I was drawn by a Japanese brand known as Meishoku. I had never heard of this brand and didn't understand the product descriptions that were mostly in Japanese.
But I understood numeric, and could tell that this eye cream was a best seller. As at time of my purchase, 1 million pieces were sold (2018). Today, they have sold over 5 million pieces.
When I got back from the trip and did further research, I found out more about the brand and was happy to know that Meishoku has been established for a long time – since 1885 to be exact. This brand has many sub-brands under its umbrella, such as Moist Labo, Detclear and Yusumi.
For info, the eye cream we are reviewing today is sold under Meishoku's sub-brand, known as PlaceWhiter (or PlaceWhiteer depending on where you get the info). This name sounds a little strange and I wonder if it was the result of loose translation. Therefore, I prefer to call it simply as Meishoku Whitening Eye Cream.
The Product: Meishoku Whitening Eye Cream
As I've shared earlier, I didn't have WiFi access when shopping in Japan and didn't know much about Meishoku Eye Cream. If I'd known that placenta was a key ingredient, I might have skipped it due to psychological barrier, albeit a tiny one. 
Tips when shopping in Japan: Get a WiFi plan if you intend to do a lot of shopping in Japan as most of the things would be in Japanese. Having WiFi access allows you to do live translation on-the-go (using Google image). You can also get useful logistics info, such as train arrival time and restaurant/attractions reviews. Check out this popular WiFi plan in Japan.
Benefits of Meishoku Eye Cream
Apparently, the product is labeled as a medicated eye cream with two key features, namely brightening and anti-aging. 
The key ingredient – placenta – is said to be able to penetrate deep within the skin to suppress the formation of melanin, and leave the skin radiant and spotless. The cream also moisturizes the eye area while boosting collagen to improve firmness of the skin. 
In short, Meishoku Placenta Eye Cream is a product targeting at those who want to lighten their eye area and reduce wrinkles. Let's see if does what it claims to do.  
---
What's Great about Meishoku Whitening Eye Cream?
1. Generous Quantity
The first thing I noticed about this eye cream was its quantity. The blue tube contains 30g of product, which is double the quantity one would expect from an eye cream. As such, I still have probably a third left after using it for over a year. 
2. Good Ingredients
Other than Placenta, Meishoku Eye Cream also contains other beneficial ingredients such as Vitamin E, collagen and soybean. Here's the full ingredient list obtained from its website:
Ingredients of Meishoku Whitening Eye Cream:

Active ingredients: placenta extract-1, tocopherol acetate
Other ingredients: collagen tripeptide F, yoquinin extract, mulberry extract, DL-PCA / Na solution, DL-malic acid, rice bran oil, rice nukasphingolipid, Soybean phospholipid, natural vitamin E, oxyproline, concentrated glycerin, glycerin, BG, 1,2-pentanediol, polyglyceryl oleate, lipophilic glyceryl stearate, polyglyceryl stearate, ethylhexyl palmitate, salami beeswax, dimethicone, stearin Acid, glyceryl tri (capryl / caprate), batyl alcohol, fatty acid dipentaerythrityl-1, hydrogenated polybutene, behenyl alcohol, 2-methacryloyloxyethyl phosphorylcholine / butyl methacrylate copolymer solution, pH adjustment Agent, viscosity modifier, ethanol, phenoxyethanol, paraben, fragrance
If you like to know the order of ingredients, check out the translated label obtained from a store in Singapore:

3. Moisture that lasts for hours
The eye cream is quite thick and a little goes a long way. Once applied, the product leaves a noticeable film over the eye area and keeps it moisturized for hours. 
Did you know? Other than using this on the eye area, the product label says that you can also use it on areas where "the dullness and lack of firmness of the mouth are concerned".
4. Any whitening or anti-wrinkle effect?
I personally do not believe that over-the-counter skincare products are able to significantly brighten the skin or reduce wrinkles (except vitamin C serum). As such, I did not bother tracking the before-after effects as any improvements may not be visible on photos. 
However, I'm happy to report that my undereye areas did not darken during usage. And the fine lines around my eyes did not worsen. :) I do have to mention that I depend on regular botox to minimize wrinkles around my eyes. Aesthetics medicine has always been able to produce quicker and more visible improvements based on my experience.
> MUST-READ: Can botox erase eye wrinkles?  
5. Affordable Pricing 
I got this eye cream for less than ¥1,000 (tax-free) in Japan which is really cheap considering the generous quantity you get. 
In Singapore, Meishoku Placenta Eye Cream retails at around S$20. And here's the latest online price.
6. Hygienic & Easy to Use
Similar to SANA eye cream from Japan, Meishoku Placenta Eye Cream comes in a handy tube, making dispensing a hygienic and easy affair. 
You also don't have to worry about the cream getting under your nail (as in the case of a pot container). Just exert a little pressure and you'll get the exact amount you need. Very convenient indeed. And great to travel with! 
---
What's Not Great about Meishoku Eye Cream? 
1. It's Rich
I've shared earlier that Meishoku Whitening Eye Cream provides lasting moisture. That also means that it doesn't get absorbed quickly. 
Your eye area will have an obvious cream-like layer which may not be the best canvas to set your eye makeup. To make things work, I've reduced the application quantity to just a tiny dot, probably half of what I normally use. This, coupled with the generous quantity, explains why I still have a lot of the product left after using it for over a year. 
To avoid the makeup-running issue, you may also consider reserving this eye cream only for night-time use.
2. Would you get milia?
Unfortunately, the answer seems to be a yes for me.
I didn't have any milia initially when I used it occasionally. But when I tried using Meishoku Placenta Eye Cream exclusively for a few months on a twice-daily basis, I noticed a few bumps under my eyes. 
The situation did not worsen thereafter when I reduced the usage amount per application. 
3. Not everyone loves Placenta 
Placenta is not the kind of ingredient that appeals to everyone. To be honest, I might not have purchased this had I known what the key ingredient was. 
Luckily, I'd purchased a topical product and not one that's meant to be ingested, as that would certainly be money down the drain.
What kind of Placenta is this? 
You may wonder whose placenta we are talking about – human, sheep, cow?
The ingredient list didn't specify, but I believe we are talking about pig placenta. My deduction is based on the following English label found in local stores (Singapore). 
"This product contains raw material of pig-derived ingredients and not suitable to Muslims."
---
Recommendations: Who should try Meishoku Eye Cream?
Those who have dry/aging skin and are looking for a richly-moisturizing and whitening eye cream can consider giving Meishoku Eye Cream a try. I like how each application offers long-lasting moisture, and the generous quantity.
If you are prone to having milia, you may want to start off by applying the product sparingly.
All in all, I'm happy with the product and am still using it on a daily basis. I'm sure this will be emptied very soon! Rating: 4/5.
To find out the latest price on Amazon, click HERE
---
That's all to today's beauty review. If you like to get notified to more of such honest reviews, click the button below to subscribe. You'll also get free and exclusive stuff as a subscriber. See you soon!
SUBSCRIBE
Pin This!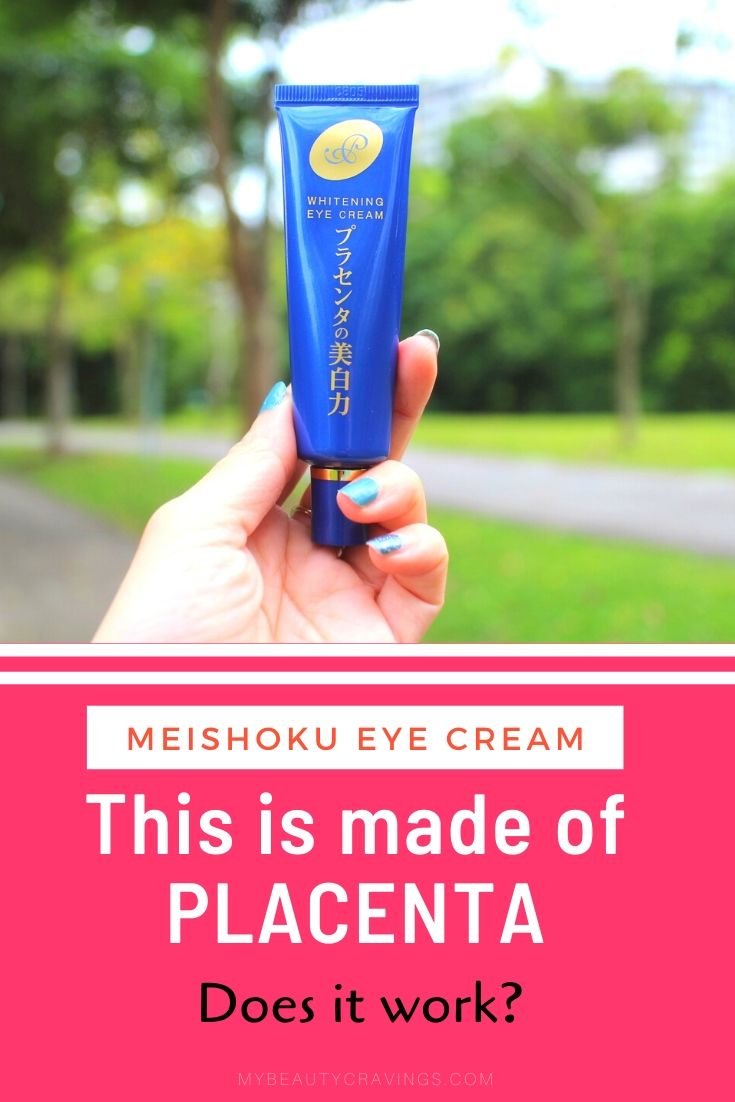 This post may contain affiliate links, meaning I earn a commission if you make a purchase, at no cost to you. Read my full disclosure for more info.
(Visited 1,629 time, 3 visit today)