As usual, we were feeling so bored in tiny Singapore that we decided on a whim to go for a Weekend Getaway to Melaka. This is my second visit to the historical Malaysia town that is located about 3.5 hours' drive from Singapore.
I thought it'll be a relaxing trip because I'd been there, done that (erm about a decade ago). Furthermore, Melaka isn't really known as a place with many things to do. I thought having no itinerary would mean sleeping late or chilling out at the balcony of our Seaview Airbnb apartment.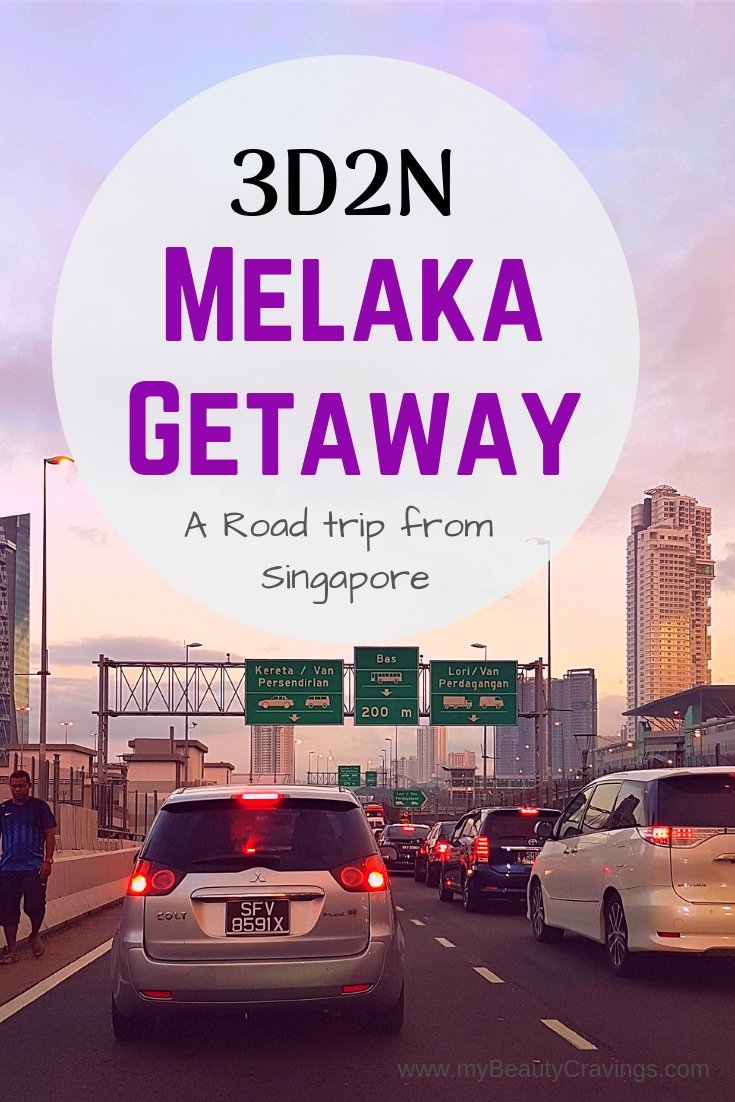 And so we pulled along our elderly who's in her advanced age. No itinerary means not much walking required, right?
It turned out that I was wrong! There were so many things to see and do that I found myself struggling to make time for the attractions, while ensuring the comfort of the elderly. Read on and see how I managed, and how this Melaka Weekend Getaway turned out to be less relaxing than I'd envisioned, but in a good way. :) 
---
Melaka Weekend Getaway: A Road Trip from Singapore to Melaka
(5.30am)
To avoid the usual early-morning traffic jam at the Singapore-Malaysia border, we set off early…like really early before dawn broke (yawnz). Still, we didn't manage to escape the notorious jam and were stuck in it for more than an hour. Hmmm, maybe 5.30am is not early enough. Next time, we'll try for 4am (double yawnz).
TIP: If you are a tourist in Kuala Lumpur, you can either join a day tour or rent a car to explore Melaka, an UNESCO World Heritage Site about two hours' drive from KL.
Breakfast With the Locals in Kulai Town
(8am)
If you ever need to have breakfast early before making your North-bound road trip to Malaysia, you can consider Wang Kok Food Corner. It is located in Kulai, a town north of Johor.
Wang Kok Food Corner opens at 6.30am and offers a nostalgic and yet clean coffeeshop environment. Things are affordable and you'll get the real local vibe because I think we were the only foreigners there (view location).
We'd shortlisted Wang Kok Food Corner because we thought we would be there before 7am. Thanks to the traffic jam, by the time we arrived at 8am, many other food outlets had also opened for business. 
Two were shortlisted – a Dim Sum outlet and Wang Kok Food Corner. Both were located within walking distance from each other. In the end, we stuck to the latter because it offers a more open and airy dining environment. I also wanted a place to get my caffeine fix. 
See What We Ordered at Wang Kok Food Corner
Come take a look at our food orders:
Nasi Lemak (rm6.80)
Popiah (rm2.50)
Dim Sums (rm11) – Peanut Bun, Vegetable Bun, Siew Mai, Har Gow ("Prawn Dumpling")
Chee Cheong Fun mixed with Yong Tau Foo (rm3.50)
Although I love the authentic local ambiance here, most food items sold at Wang Kok Food Corner aren't truly exceptional. They were mostly just okay. But this may be subjective as business was brisk and the place was fully-seated.
One thing you have to avoid though – the Dim Sums. Subjective or not, I think the Dim Sums here were horrible. We've tried it twice to be very firm in our opinion.
Most dim sum that we ordered seemed to have the same fillings – which is probably pork meat. Even the prawn dumplings "Har Gow" didn't come with prawn. And the fillings were tough and tasted like they were premade eons ago. Please skip this.
The Popiah, Nasi Lemak and Laksa were not bad though and drinks were affordable (rm5.30 for three drinks).
Don't like Coffeeshop? Go for Chop Pun Heong Dim Sum
Remember I'd mentioned about a dim sum place? Chop Pun Heong Dim Sum serves good Dim Sums at reasonable local prices. It isn't a fanciful restaurant – in fact, it looks quite outdated in decor. However, all the dim sums we'd ordered during a previous trip were delicious.
Chop Pun Heong Dim Sum opens at 7am and is located here. 
If you want to minimize detour, you can continue along the North-South Expressway. There are food available at the various road stops. I'll elaborate in the next section.
---
Which are the Popular Road Stops along Malaysia North-South Expressway?
Between Singapore and Kuala Lumpur, we often stop at either Machap, Pagoh or Ayer Keroh R&Rs. These road stops offer better amenities, such as larger toilets and more dining options.
TIP: R&R stands for Rest & Relax and refers to road stops in Malaysia. 
Of course, many also love Yong Peng. But to us, Yong Peng is a tad too touristy (because tour buses stop there). Furthermore, the eating places are located further from the North-South Expressway which means detour and longer traveling time.
Since we'd already taken a filling breakfast at Kulai, only one brief stop was required, at Pagoh R&R. That was just for petrol refuel and toilet break. It was 10.30am by then, about 5 hours since we left home.
TIP: How much do you need to spend on petrol? 1 litre of petrol cost rm2.97 (V Power 97). Each litre can run 10 to 20 km depending on car type and model. Melaka is located about 230km from Singapore. You do the math. :)
---
Expect Slow Traffic from Expressway Exit to Melaka Town
(11am)
After two hours of drive (from Kulai), we finally exited the expressway at Ayer Keroh (Exit #231). The total road toll came up to less than rm25.
Traffic was slow and it surprised me that another hour was needed to get us into Melaka town. But I really shouldn't complain. My friends had told me about more severe traffic jams especially during peak travel periods such as public or school holidays.
TIP: Melaka may sound near to Singapore. However, logistically, it may take more than 6 hours to reach after factoring custom clearing, road stops and possible slow traffic within Melaka Town.
---
Checking into Sea-Fronting Airbnb in Melaka (Silverscape Residences)
(12pm)
Checking into our Airbnb Unit at Silverscape Residences was hassle-free. I was super pleased to be staying as neighbors to DoubleTree by Hilton. As you see, there are two towers there – one is DoubleTree and the other Silverscape Residences. Both are connected by a 12-story tall shopping mall – The Elements Mall.
I was grinning from ear to ear when I entered the Airbnb unit. Just look at this view. I'd never known Melaka as a place that offers a good sea view and was taken by surprise. The water was bluer than I was expecting from this part of the world. I spent a long time just standing at the balcony and taking in the beautiful scenery. The elderly did too. :)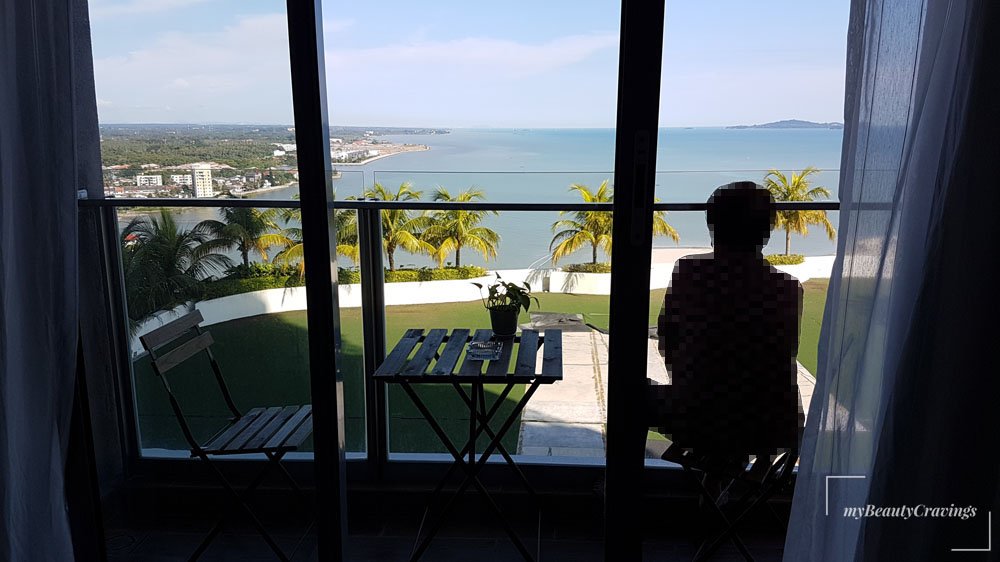 ---
Our Lunch Takeaways from around Elements Mall, Melaka
(1.30pm)
Our first lunch in Melaka would be a takeaway. Yes, we'll "tabao" back for the elderly and dine right at the comfort of our sea-facing apartment. I'm sure the view surpassed that of most restaurants? ;)
Travel and Save: Don't forget to get S$62 off your first Airbnb stay and experience.
Walking around the Elements Mall, we passed by many mid-scale restaurants. I was eyeing a Chirashi Don from a Japanese restaurant, but that didn't seem like an appropriate dish for takeaways. 
After a 10-minute walk from Silverscape Residences, we were drawn by a prominent signboard from across the road. It displayed a large image of what appeared like Cheng Tng (Cooling Dessert).
"Hey, let's tabao some cooling dessert back!" 
Chicken Rice Balls and Dumpling Noodles from Goh Signature Centre 
We crossed the road and entered Goh Signature Centre (see location). Wow, it's not just a dessert place. There were menus of Chicken Rice Balls, noodles and dumplings pasted on the wall. Wonderful! I can have the signature Melakan Chicken Rice Balls without even deliberately searching for it.
Does it taste nice? You'll know soon. :)
Here's what we ordered:
Chicken Rice Balls (rm6.50)
Prawn Dumpling Minced Meat Egg Noodle (rm8.90)
3 X Herbal Jelly (rm2.20 each)
Cakes from Secret Recipe
On our way back to Silverscape Residences, we saw a Secret Recipe shop and were reminded of the 1-for-1 cakes we had in Langkawi Island.
> RELATED: 8 Days Langkawi Itinerary: What to See and Do in Langkawi
Of course, we didn't expect this shop to offer the same promo – there was no promo. We just wanted to relive the memory of sinful calorie-indulgence during vacation, i.e. to have a slice of cake each. We normally share one on the rare occasion when we do eat cakes.
I chose the classic New York Cheese Cake while he ordered a Chocolate Indulgence (Rm19.60). 
Malay Fried Rice from a Food Truck outside Elements Mall, Melaka 
The last order of our lunch takeaway turned out to be a big mistake. What happened?
You see, there was a row of food trucks located outside the Elements Mall. It was a novelty to us as we hardly see food trucks in Singapore. And so we ordered a Malay Chicken Fried Rice from one of the trucks. 
Please make a guess how long we stood there waiting for our fried rice – yes, make a guess now. The answer will be revealed near the end of this post. Let me know if you get it right – I doubt anyone would. :)
After 20 minutes of standing under the intense heat, the single-portion food order was still not ready. There was no other customers at the stall. It was only later that we saw the stack of orders. Where did those orders come from? 
Don't underestimate the heat in Melaka. Although it was late October, it was scorching hot. Maybe because we were near the sea. Anyway, the point is that we were forced to retreat into Elements Mall, where we tried to shop a bit.
When we came out, the fried rice was still not ready. The Chicken Rice Balls and our dumpling noodle were turning cold, while our cakes were threatened by the tropical heat. Worse of all, we were famished. 
Darn it. It was already 2.20pm – our elderly might be starving too. Inconvenient as it was, we decided to return to our apartment without the fried rice – we would come down to collect it later.
When we were done eating the first part of our lunch, my partner went down to collect the Malay Fried Rice. I was expecting him to return quickly – I mean how long does it take to cook a plate of fried rice?
Guess what? He only returned at 3pm. Apparently, the order was still not ready when he went down.
Food Truck took One Hour to Fulfill Our Food Order
All in all, that single portion of precious fried rice took an hour to cook and it was a lull period for lunch. We thought the lady who took the order should at least pre-warn us of the waiting time. It's very inconsiderate for her not to do so, especially when she's running a food truck business where customers logically shouldn't be waiting for this long under the sun.
One hour is just outright unreasonable especially when there were no customers in sight. We had no clue it would take this long.
The important question now is: "Did the fried rice taste nice?"
I'm sad to say that it was below-average (3/10). Honestly, we were hoping that it'll taste good, especially after spending so much time waiting. I took one mouthful and stopped at that. "Why is this so sweet?" I don't know about you. But sweet main dishes don't appeal to me. The fried rice was also too moist (Note: taste is subjective).
The man consumed half of the rice and threw the rest away. What a food misadventure! Ha Ha! Total waste of time and money!
TIP: To be fair to food truck operators at Elements Mall, this could be a one-off incident. Also, other food trucks may be more efficient. Just remember to ask them what's the approximate waiting time, that is, even if you spot no other customers standing in line.
---
Food Review of Goh Signature Centre in Melaka, near Elements Mall
(2.30pm)
All thanks to the food truck operator outside Elements Mall, we only consumed our lunch takeaways an hour after ordering them. Here are our thoughts on the food ordered from Goh Signature Centre in Melaka.
Even after the long delay, the Prawn Dumpling Noodle still tasted good. It was delicious and approved by the elderly who has a well-developed palate (she cooks well). Sorry, no photo of the noodle as I didn't want our starving elder folk to wait any longer. 
The Chicken Rice Balls were not bad too. It tasted similar to our Chicken Rice in Singapore, except that it's all mashed up and rolled into balls. I love the concept and am relieved that it wasn't salty. I'd read many reviews of other Chicken Rice Balls stalls in Melaka selling over-salty balls.
Unfortunately, the chicken breast meat that I'd requested was a little tough. I know chicken breast is supposed to be tough, but this was tougher than usual. Maybe it's because of the time delay between ordering and consuming it? I don't know for sure, but it was quite chewy! :) You may not want to opt for chicken breast at this stall.
The herbal jelly which we'd consumed much later at night was soft, minty and cooling – we'd placed it in the fridge. Younger folks like us enjoyed it, but the elderly who had it lukewarm didn't appreciate it.
---
Afternoon Tea while Taking in Scenic View of Strait of Malacca
The Secret Recipe Cakes were meant for supper, but didn't survive an hour. How can one not have an indulgent afternoon tea when facing the gorgeous ocean?
We made ourselves some hot sencha tea (Japanese Green Tea) and finished off the calorie-laden cakes. I also spent some time working on this blog – yeah, typing away. It's a perfect place to write, isn't it?
So that's it to Day 1 (Part 1). Watch out for the next post in this Melaka Series. If you love what you've read and like to get notified of newly-published beauty reviews and travel stories, just click the button below to subscribe. I'll also give you some free and exclusive stuff. See you there!
SUBSCRIBE
Essential Info:
Accommodation: Airbnb at Silverscape Residences
Month of Travel: October
Itinerary for the Day: Breakfast at Kulai >> Getting from Singapore to Melaka >> Check in Silverscape Residence >> Explore Food Places around Elements Mall >> Ocean-facing Afternoon Tea >> Day 1 (Part 2)
Transport: Car, Walk  |  Options: Rent a car in KL or within Melaka)
Printable Travel Packing Checklist: Download
---
Related Posts:
Pin This!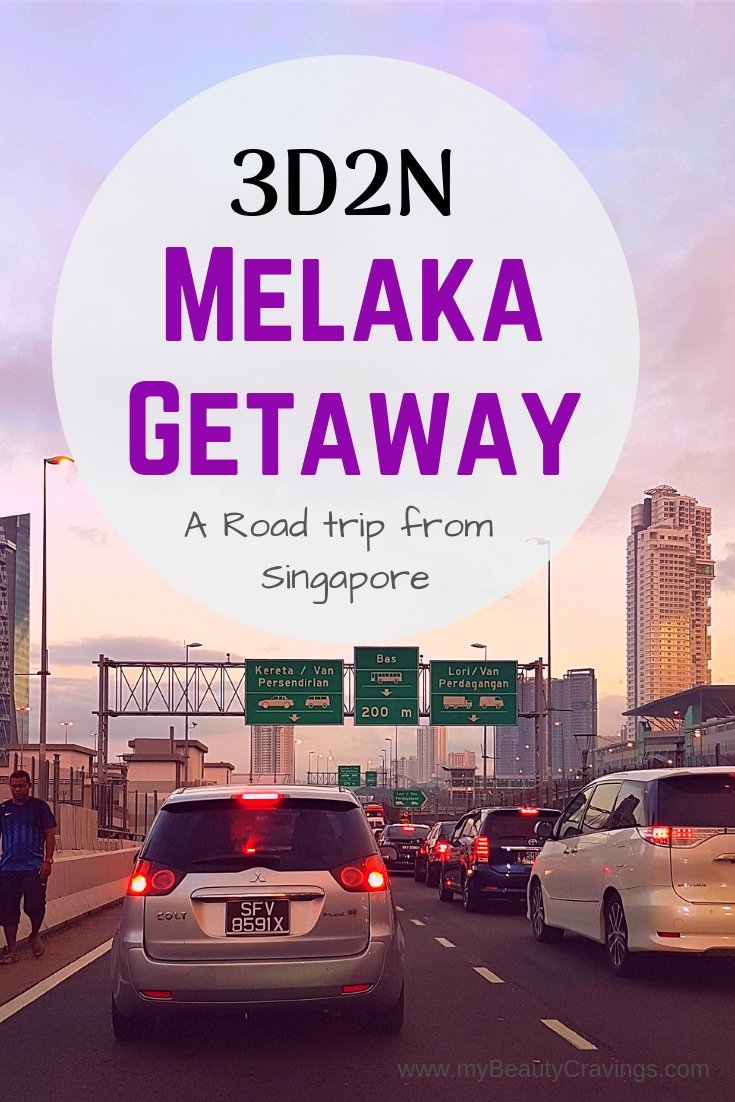 (Visited 1,322 time, 1 visit today)