How to visit 15 Melaka Attractions in a day? Well, it isn't really difficult because many attractions in Melaka are compactly located around Jonker Street. A google map and a working GPS on your phone are all you need to wander around Melaka like an expert. Of course, you'll have to first mark down these locations as part of your travel research.
In this post, I'll link you to these locations. What you'll need to do is to click on each location link, and then "save" them to your google map. Me nice or not? :)
Update (Jun 2022): This post was first published in Dec 2018, before Covid-19. Now that we are able to enter Malaysia easily, I thought you may find this post useful.

Do note that details may not be the most updated in this republished post. Pls verify with direct sources.
As shared in my earlier post, I spent only half a day to complete the Melaka attractions due to unique circumstances. Ideally, one full day would be better especially if you want to enter some museums or enjoy a more relaxing pace. 
Alright, without any further ado, let us start the official half-day tour of Melaka that began at 5.30pm. I'm listing these attractions in chronological order of my travel. Enjoy! :)
---
A Solo Walking Tour to 10 Touristy Melaka Attractions
(5.30pm)
My partner dropped me off at a big open-air carpark outside Menara Taming Sari, where I began my solo short tour of Melaka. He would join me in half an hour at the Queen Victoria's Fountain. Why so? Cause he needed to find a resting place for our elderly.
1. Menara Taming Sari (Revolving Tower)
Menara Taming Sari is an attraction that allows visitors to sit in a revolving structure that goes up to about 80 metres in height. That's about 25 stories tall.
As at the time of writing, Menara Taming Sari has been around for a decade. So, it's not the newest kid on the block. For the same reason, it is also not the tallest place to get a birds eye view of Melaka. However, Menara Taming Sari is probably the easiest to get to from major tourist attractions in Melaka.
Attraction Info
Price: RM23 / RM15 (adult / child)
Ride duration: 7 minutes
Alternatives: Where else to view Melaka from the Top?
Two other spots in Melaka also offer a panoramic view of Melaka. One is The Shore Sky Tower which is said to offer the tallest man-made structure in Melaka (43 stories). Admission is RM25 per adult and RM18 per child (see location).
From online reviews, the Sky Tower appears to be over-touristy. Other than being effectively the roof of a skyscraper (not a fun ride), you are not allowed to take photos at the most popular spot – "The Glass Platform". You'll have to engage the service of an official photographer and fork out about RM40 per photo. This is high by the country's cost of living. For comparison, our breakfast at a cafe this morning cost only RM15 per pax.
The second place to view Melaka from above is at Sky Deck@Hatten City, located on the 44th floor (see location). Hmm…it seems like Sky Deck@Hatten City is the tallest, not Sky Tower. Anyway, admission was at RM15 which included a RM10 F&B rebate (introductory price). Quite an awesome deal, isn't it? 
However, Sky Deck@Hatten City is located about 10 minutes' drive from Jonker street. You may like to visit it if you have easy transport or want to enjoy dinner at the rooftop restaurants. For info, the Elements Mall wasn't fully-tenanted out as at the time of our stay. So, shopping and dining options could be limited. But I read that the cinema and playground there were pretty good.
Update (Jun 2022): Sky Deck @ Hatten City is temporarily closed as at time of writing. 
2. Maritime Museum
The second place that I passed by was the Maritime Museum. The life-replica giant ship was quite attention-grabbing. I would have entered the museum if I'd the time. At RM10 per admission, I would be happy just to "board" the ship and take some photos.
Don't set your expectation too high though as I've read that the museum interior wasn't well-maintained and can be hot and stuffy.
Attraction Info
At the end of the day (my partner had joined me by then), we reversed back to our car and passed by Maritime Museum again. Unfortunately, it was closed for the day and I could only "look" at its bow. 
3. Bastion Middleburg
I continued my northeast trekking to Bastion Middleburg, a fortified defense structure built in 1660 by the Dutch.  It's a small area and won't take too much of your time. Although the entire structure is a reconstruct, it is still worth a visit because you would likely be nearby anyway. Furthermore, admission is free. :)
Attraction Info
4. St. Paul's Church
St. Paul's Church was the next place that I attempted to visit. I thought I could access it from the road near the riverside. After walking uphill through a deserted car park and not seeing sign of the church, I gave up. Time was not on my side and I had no data connection to do any research. 
TIP: You can book a 4G Sim Card online at an attractive rate. Choose between Malaysia Airport Pick-up or Singapore Pick-up. Many were pleased with the service saying it was fast and cheap.
If you are heading to St. Paul's Church on your own, please approach it from its right, uphill from A'Famosa Fortress. Check out this route.
Attraction Info
5. A Famosa
Since we are talking about A Famosa, I'll share some information as this is one of the top attractions in Melaka. You may not want to get this mixed up with A Famosa Resort which is located about an hour's drive from Jonker Street (see location). I'd visited A Famosa Resort more than a decade ago and don't think it's fair for me to give an opinion as things may have changed or improved.
Back to A Famosa, this fortress is located between Dataran Pahlawan Mall and St. Paul's Church. It is a former Portugese fortress built in the 1500s after Melaka was conquered by the Portugese. Today, only a small gate "The Porta de Santiago" remains standing. It is among the oldest European architectural remains in Asia.
Attraction Info
6. Melaka River
After failing to locate St Paul's Church, I reversed back to the bridge that links Jonker Street to the cluster of red buildings on the right. You can take a short break here and enjoy the view of the Melaka River or stroll along the river starting from this point and head towards the northeast. 
An easier way to enjoy the river view while avoiding the hot weather is to take a river cruise. Read on and I'll share my night cruise experience later.
Attraction Info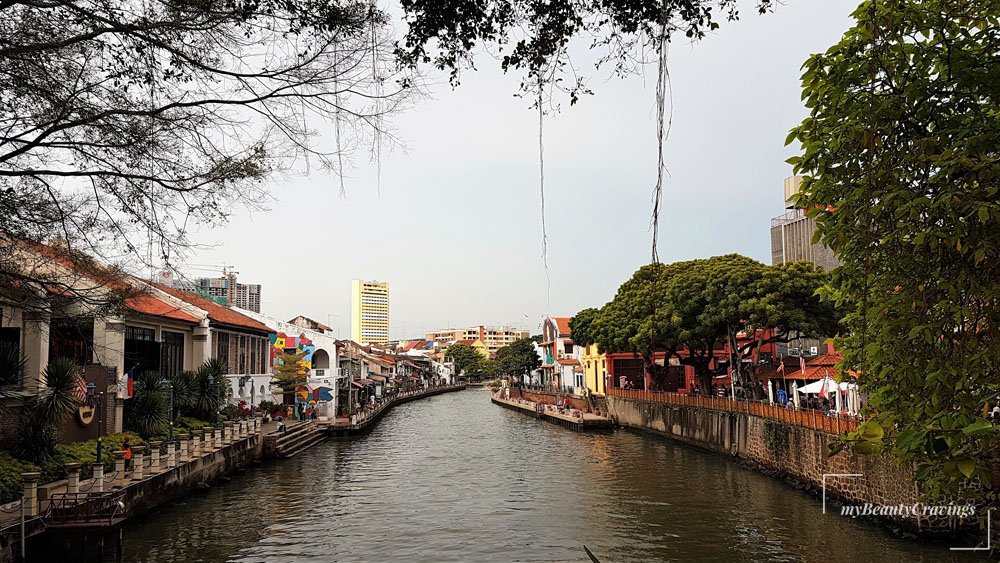 7. Melaka 0 Mile, Windmill Dutch Square & Melaka Clock Tower
I'm grouping these three attractions because they are located close to one another.
From Bastion Middleburg, I first reached a prominent roundabout. Surprisingly, this roundabout is also the location of an attraction – Melaka O Mile. :) Set within the roundabout is a small landscaping with a pole that serves as distance markers to cities in Malaysia and other countries.
Next, I made my way to the Windmill Dutch Square Melaka. It is an unimpressive structure, probably just one-tenth of the size of a real windmill. You can take a quick photo, but I doubt you'll be pleased with the result.
I then crossed the road to reach the Melaka Clock Tower. It is a clock set on a red-colored tower and was gifted by a Chinese philanthropic rich family in 1886.
Attraction Info
8. The Stadthuys (Plus History and Ethnography Museum)
Just a few steps away from the Melaka Clock Tower is a red building, known as The Stadthuys. It was built in 1650s and served as the office of the Dutch Governors.
Today, it houses the History and Ethnography Museum. You can learn about the history of Melaka dating back to 1400, and the culture and lifestyle of the different ethnic groups in Melaka. This is also the place to get onto touristy tricycles that are adorned with cheesy-looking hello kitty and pokemon decors, with loud music and flashy LEDs to capture your attention.
Attraction Info
Price: RM10 for the museum
9. Christ Church Melaka
The Christ Church is another top touristy place in Melaka. Similar to its neighbors, this Anglican church built in the 18th century is also red in color. Actually, these buildings were painted red only in 1911. Prior to that, the buildings were white in color.
Sunday services are held at Christ Church Melaka in different languages – English (8.30am), Mandarin (10.30am), Malay (4.30pm) and Merlimau (7pm).
Attraction Info
10. Queen Victoria's Fountain
Finally, my 30-minute very rushed solo travel ended at the Queen Victoria's Fountain. This is probably the most touristy resting place in Melaka and you'll see many tourists trying to get a photo with the fountain or the busker.
My attempt to rest there wasn't successful as I was approached a few times to help couples take photos. 
Tourists aside, the Queen Victoria's Fountain itself was an elegant and well-preserved structure that comes with intricate detailing. This was built in 1901 during the British colonial days to commemorate the Diamond Jubilee of Queen Victoria.
Finally, my partner arrived at the meeting spot, slightly late as it took some time for him to locate a suitable spot for the elderly to take a rest.
We would now continue to tour Melaka as a couple for the next 30 minutes. Yeah, finally I had someone to help take some decent photos for me. :)
Attraction Info
---
4 Instagram-Worthy Attractions in Melaka
(6.15pm)
I have covered the touristy and historical attractions in Melaka. Let me now share some pretty photo spots near Jonker Street. I'll continue to count from the list above so that we'll know at the end of the post, how many attractions can be covered in three hours.
Instagram fanatics, don't miss this!
11. The Orangutan House
This is a shop and gallery opened by artist Charles Cham. You can buy quirky T-shirts and artworks here or pose with the giant Orangutan mural outside his shop. The photos with striking and contrasting colors turned out really well, don't you think so?
Attraction Info
12. Cheng Ho Library
Strolling towards our next destination (see #14), we happened to pass by a few random spots and decided to snap some photos. They turned out to be really photo-worthy. For instance, look at this photo against an ancient-looking house. The signboard translates to Cheng Ho Library.
Did you know? Cheng Ho or Admiral Zheng was an explorer who made expeditionary voyages to Asia and East Africa in the 1400s. 
I'm not sure if a library really lies beyond that door because it was closed by the time we reached. Based on google street view, this could now be a Tea House and Vegetarian Restaurant.
Attraction Info
13. Traditional Provision Shop
I have to thank my partner for pointing out this nostalgic-looking photo spot. This unremarkable shopfront didn't even capture my attention when I walked past it. I gave my man a doubtful look when he told me to step onto the raised block of cement.
Then, I could only see dirty walls, a semi-hung ice cream banner and a not-very-pretty bicycle locked to the pole.
In the end, the photo turned out great! I was transported back in time, to the 1970s. How awesome! Hmm, maybe the modern signage gave it away lah. :)
Attraction Info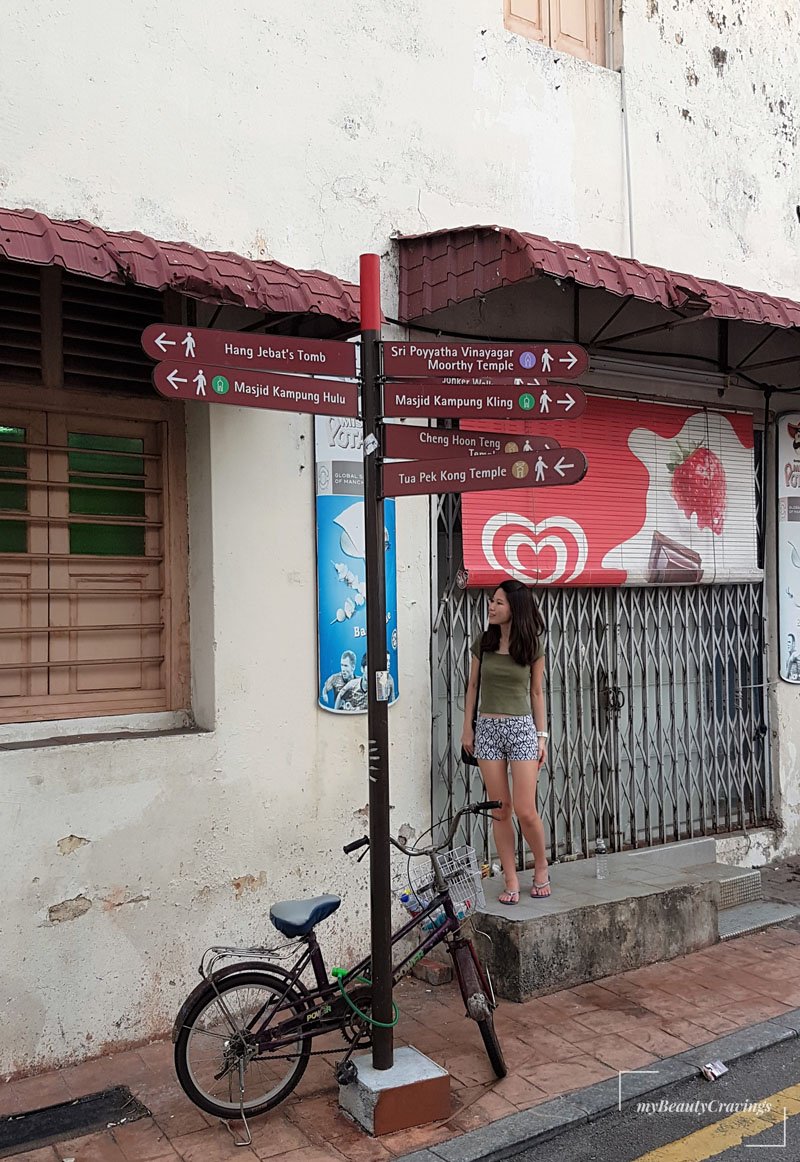 14. Melaka Street Art 
This was the final photo-travel spot we'd time to visit (and pose). It's just a small alley spanning probably just a few metres deep where you get to interact with interesting murals. Here's how I interacted with some of them.
Attraction Info
There are a lot more tourist spots that I'd wanted to visit such as the Baba & Nyonya Heritage Museum, House of Museums Malacca and The Shore. Not to worry though as I'm sure I'll have the chance to revisit Melaka again very soon.
---
This Final Attraction #15 is Great for All Ages
(7pm)
After a rushed touring of Melaka's touristy spots, we hurried back to Dataran Pahlawan Mall to pick up our elderly. She was resting at Starbucks, sipping her earl grey and playing Mahjong game with her iPad. Thank you, Steve Jobs. Thank you, Starbucks!
The next activity would be suitable to bring our elderly along. We'll be going for a night river cruise! 
15. River Cruise along Melaka River
(8pm)
I enjoyed this night river cruise along Melaka River more than I thought I would. As this post is getting too lengthy right now, I'll come back to share an in-depth experience of my Melaka River Cruise experience. You'll also read about our seafood dinner and our second visit to Jonker Street Night Market (on a Sunday). See ya soon!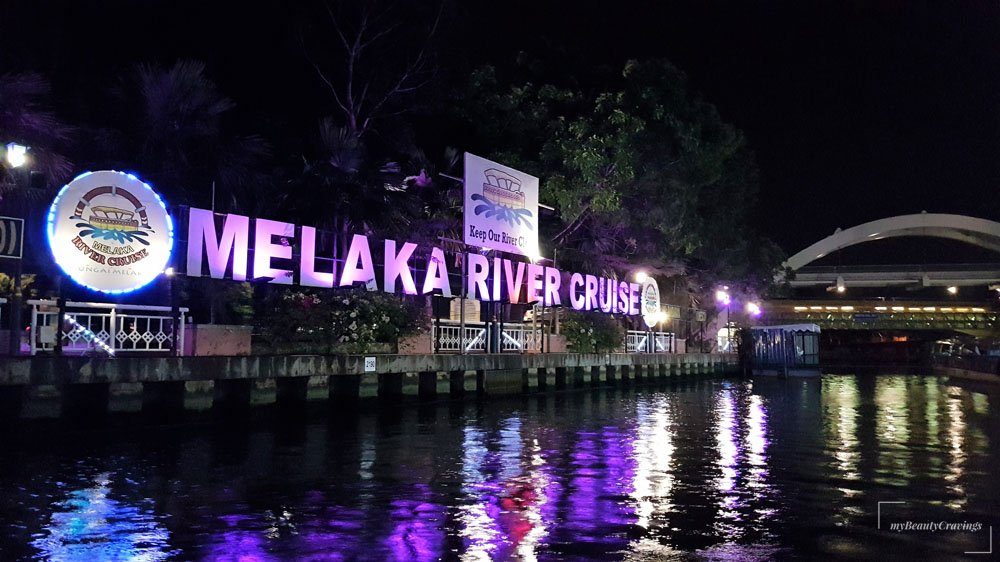 Attraction Info
Price: RM18 / RM23 (weekday/weekend) per adult; RM10 per child
Three jetties to board: More info in next post
Essential Info:
Accommodation:  Airbnb at Silverscape Residences
Month of Travel: October
Itinerary for the Day (part of): DIY Walking Tour in Melaka >> Photo-worthy Spots >> Melaka River Cruise
Transport: Car, Walk
Printable Travel Packing Checklist: Download
Before you go, you can click the button below to subscribe to newly-published beauty and travel reviews. You'll also get permanent access to free and exclusive stuff. See you there!
SUBSCRIBE
(This post was first published in Dec 2018.)
---
Related Posts:
Pin This!
This post may contain affiliate links, meaning I earn a commission if you make a purchase, at no cost to you. Read my full disclosure for more info.
(Visited 3,002 time, 2 visit today)