Hey there, if you are heading to Okinawa, here's a hotel you'll wanna know about – Mr Kinjo in Mihara. Here's a spoiler, this hotel costs only S$43 per night at time of my booking and it wasn't a shabby hotel – it was quite good actually.
I'm dedicating an entire post to Mr Kinjo in Mihara because this hotel does require a guide of its own, especially to foreigners. If you don't want to waste time finding where the hotel entrance and reception are, read on as I'll share our experience staying at Mr Kinjo in Mihara. 
---
Mr Kinjo in Mihara wasn't our first choice
Mr Kinjo in Mihara was a hotel that we'd chosen out of desperation. As you see, our prebooked Airbnb hotel in Chatan was canceled just two weeks prior to our arrival. We were impacted by Minpaku Law, whereby homeowners can only rent out their units for up to 180 days a year.
Popular Airbnb listings that had exceeded the quantum were forced to cancel existing reservations. It seemed like an abrupt launch as the number of Airbnb listings plunged by 80%.
You cannot imagine how frantic we were because Okinawa is, by my own advice, a place where 'booking hotels early' is a must.
> MUST-READ: 11 Tips You Need To Know When Choosing A Hotel In Okinawa
Two weeks' advance booking is considered extremely late by Okinawa's standard. Airbnb was basically off our consideration as there were only two units left by then. One was next to a big cemetery.
Enters Mr Kinjo in Mihara. It was new, relatively unknown and located in Naha, Okinawa. At the time of our booking, the hotel wasn't even marked on Google Map. The street view was showing an old building, probably photographed before Mr Kinjo had bought over the building.
Thanks to its obscurity, Mr Kinjo in Mihara was still available for booking. Given its attractive price and decent location, it was a godsend to us.
---
How to Check into Mr Kinjo in Mihara without any Hassle
My partner dropped me off a street near Mr Kinjo in Mihara to complete the check-in while he roamed around in his rental vehicle. Why couldn't he just park at the hotel and wait?
Well, that's because parking lots at Mr Kinjo in Mihara were limited and required separate charges. At that point, I hadn't decided to buy the parking lot – it was pretty expensive, relatively speaking. Imagine, the parking fee was one-third of the price we'd paid for the room. 
I walked one round of the small building, trying to enter the hotel but couldn't find any prominent welcome passage. There was a glass door, but it was locked. When someone exited through that door, I took the opportunity to sneak in.
After entering the hotel, the only obvious thing to do was to take a lift although I didn't know which level I was supposed to go to. There were posters pasted all over the wall of the lift, but they were in Japanese.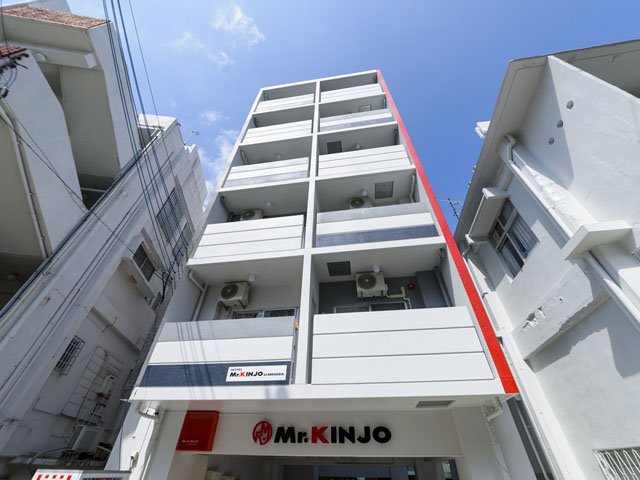 I exited at random levels like I was a kid playing with the lift. Nope, no sign of the reception. This was repeated a few times until I spotted someone who looked like a staff. She'd just exited from a room next to the lift on Level 2.
OMG! Can you believe the reception was located within a hotel room located on level 2? The door to that reception was no different from other hotel rooms. And it was closed all the time until I caught sight of the obasan ("auntie").
Mystery solved! Reception was located on Level 2, in a room located immediately to the left of the lift.
---
Mr Kinjo in Mihara: Google Translate came to the rescue
A friendly male receptionist attended to me. I stood by the main door and noticed that the reception's interior looked like a studio unit, similar to what we'd booked for our stay. It gave me the impression that he actually slept there.
Should I take off my sneakers? It's rude to enter a Japanese's home with shoes on, you know? But I haven't taken my shoes off since I landed in Okinawa 8 hours ago. And the climate had been scorching hot. Would my feet smell?
So many thoughts running through my head. In the end, I didn't take off my shoes but consciously grounded myself at the genken ("entranceway").
> MUST-READ: 18 Important Things To Know Before Visiting Okinawa
Limited English Spoken or Understood Here
Checking in would have been easy at this point as I just needed to show him my Agoda form. But I needed to clarify with him on parking. I wanted to know if the paid lots would be guaranteed.
As you see, there were very few lots there. What if someone who didn't pay for the lot drove in and occupy the lot? There wasn't any gantry to block the entrance. If the lot wasn't guaranteed, then we would rather park elsewhere.
Through gesturing and the use of Google Translate, I thought he had assigned us a guaranteed Lot No. 10 and hence we made payment.
We only realized much later that what he'd meant was that there were 10 lots in total. Ha Ha. Therefore, I'm still not sure if the lots were guaranteed. Luckily, we managed to get a lot every night – the last one actually as we were often the last to return.
Alternative Parking Lot 
If you cannot get a parking lot from Mr Kinjo in Mihara, there's an alternative parking area just opposite the hotel. I think that public carpark charged ¥600 for overnight parking.
---
What's Great about Mr Kinjo in Mihara?
1. Excellent Value
Given the size of the room, its location and how last minute we'd booked Mr Kinjo in Mihara, I think the hotel offered great value – we'd paid only S$43 per night. Do cater additional budget if you intend to rent a car. Our total cost inclusive of parking was S$55 per night.
2. Good Location: Walkable to Tourist Street
Mr Kinjo Mihara may not be considered near to others. To us, avid hikers, a 15-minute walk to the most popular street in Okinawa (International Street) is considered a very good location.
3. It's Clean, New and Modern
At this price, I couldn't believe that the unit came with its own balcony. This room was quite spacious, considering how small units can get in Naha. We loved the toilet area that was separated from the wet shower room. The wooden floor was solid and made of good quality.
Everything felt clean, new and nicely-renovated. That's the great thing about booking a new and relatively unknown hotel? Well, I guess we were lucky to have taken the bet.
4. Great Amenities
For the price we'd paid, I didn't expect too much from Mr Kinjo Mihara. I certainly didn't expect to see full-sized bottles of shampoo, conditioner, hand soap and shower foam. The toiletries were of good quality. If you stay in this hotel (or in most hotels in Japan), you can consider leaving your toiletries at home.
The unit also came with a washing machine, microwave, induction cooker, a large fridge and good WIFI. Don't forget to bring your own washing detergent if you intend to travel light like us.
You can also dip in the bathtub located next to the standing shower area. The bathtub, like most in Japan, is designed for Asians. It is small. :) Fits me well! Heh!
And let me tell you how comfortable the bed was. It caused me to oversleep two out of three days there.
5. Polite Staff
Remember that we needed to communicate with the staff through Google Translate? It was quite a lengthy conversation.
Even though this hotel clearly caters to Japanese customers (its official website is in Japanese), the male staff who checked us in was very polite, patient and accommodating. He tried his best to communicate with us using his limited English, even drawing on paper at times.
Great Savings: This Main Island Okinawa Enjoy Pass gives you access to 12 popular attractions, including Churaumi Aquarium. You can use it at a relaxing pace over 5 days. 
---
What's Bad about Mr Kinjo in Mihara? 
1. Hotel Check-in isn't intuitive
I've already shared with you the difficulty in finding the entrance or the reception. However, you need not worry because if you've read this review, you will know what to do and where to go. :)
2. No Free Parking
It isn't uncommon for hotels in Naha, especially those near to International Street, to charge a separate parking fee. We knew about the excess charges before booking Mr Kinjo in Mihara. So there was no element of shock. It doesn't seem to be the case for some people as they'd left negative reviews when caught off guard. 
3. Patience Required When Parking
There were limited parking lots at Mr Kinjo in Mihara. If I'm not wrong, there were only 10.
Scarcity wasn't the only problem. It was extremely difficult to get our car into the narrow lots. We were often the last to return and were forced to take up the least popular lot. That lot probably took us 10 three-point turns to get into. Ha Ha.
4. I missed my Morning Tea every morning!
If I'm not wrong, Kinjo hotels in Okinawa work on a no-frills concept. That is, you pay a very reasonable base fee. Anything extra that you need, such as parking and cooking utensils require additional charges.
That may be the reason why I'd found only two plastic mugs in the room. Eh, how to drink hot tea with that? I was sad to have missed my morning tea because I'm a self-declared tea addict.
---
Recommendation: Who would love Mr Kinjo in Mihara?
I enjoyed my stay at Mr Kinjo Mihara and recommend this hotel to anyone who likes to stay near the tourist street and don't mind a 15-minute walk. This hotel is clean, affordable and offers sufficient basic amenities to make your stay comfortable. Even though there were check-in and parking issues, those affected us only momentarily, like 10 minutes per day?
If you prefer hassle-free check-in, English-speaking staff and convenient housekeeping service, then this hotel probably won't fit the bill. To get new towels, you need to bring the old ones to the reception every morning.
The DIY housekeeping didn't affect us as we normally don't request for housekeeping service, whether it's a 3 or 5-star hotel. It's an intentional effort on our part to support eco-friendly initiatives. If I don't change my towels at home daily, I don't see why I need to change it daily at a hotel? Rating: 4/5
Do you find this post useful? If you like to get notified of newly-published travel stories, just click the button below to subscribe. I'll even give you some free and exclusive stuff. See you there!
SUBSCRIBE
This post may contain affiliate links, meaning I earn a commission if you make a purchase, at no cost to you. Read my full disclosure for more info.
Related Posts:
(Visited 1,762 time, 1 visit today)