Updates (2020): Nivea Extra White Firming Serum has been rebranded as Nivea Extra White Repair & Protect. I've tried the newer version and have included updates to this review.
Hooray! We have another affordable body sunscreen in the market that we can use on a daily basis. If my earlier review of Vaseline Healthy White Serum didn't convert you into a body sunscreen user, here's another attempt from me to persuade you to do so. :)
Say "Hi" to the new contender – Nivea Extra White Firming Body Serum (now known as Nivea Extra White Repair & Protect). By the time of this update, I've finished countless tubes and am still using it after 5 years.
Now that it has a new branding and packaging, I'll update this review and point out the minor differences between the old and new versions and also share all pros and cons.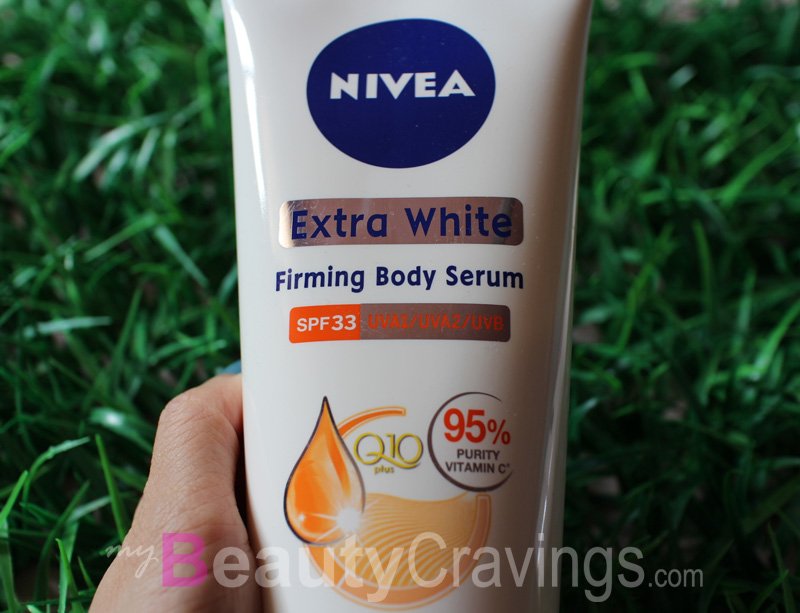 ---
What's Good about Nivea Extra White Repair & Protect?
1. Comfortable Application
Nivea Extra White Repair & Protect feels like a light lotion and sits as comfortably on the skin as its predecessor. Well, of course since the top 10 ingredients of both products are exactly identical and in the same order.
Ingredients (2020): Aqua, Octocrylene, Sodium Phenylbenzimidazole Sulfonate, C12-15 lkyl Benzoate, Butyl Methoxydibenzoylmethane, glycerin, Cyclomethicone, Distarch Phosphate, Polyglyceryl-3 Methylglucose Distearate, Alcohol Denat., Cetyl Alcohol, Ubiquinone, glycyrrhiza glabra Root Extract, Sodium Ascorbyl Phosphate, Myrciaria Dubia Fruit Juice, Malpighia glabra Fruit Juice, glyceryl glucoside, Propylene glycol, Trideceth-9, Sodium Carbomer, Hydroxyethylcellulose, Sodium Polyacrylate, Trisodium EDTA, Citric Acid, Phenoxyethanol, Methylparaben, Ethylparaben, Propylparaben, Benzoic Acid, Parfum
If we compare it to Vaseline Healthy White Serum, Nivea essence feels slightly heavier while Vaseline gets absorbed quickly into the skin.
In spite of that, I consider Nivea as a comfortable sunscreen because it does offer a lighter after-feel when compared to similar products in the market, such as Banana Boat and this Korean sunscreen. However, do note that it's not as lightweight as many Japan-made sunscreens which tend to contain higher level of alcohol.
To give you an idea of its texture, Nivea Extra White Essence feels like a sheer body lotion. Upon application, there may be a tiny bit of stickiness, but that fades within a few minutes to leave a lightly-moisturized feel.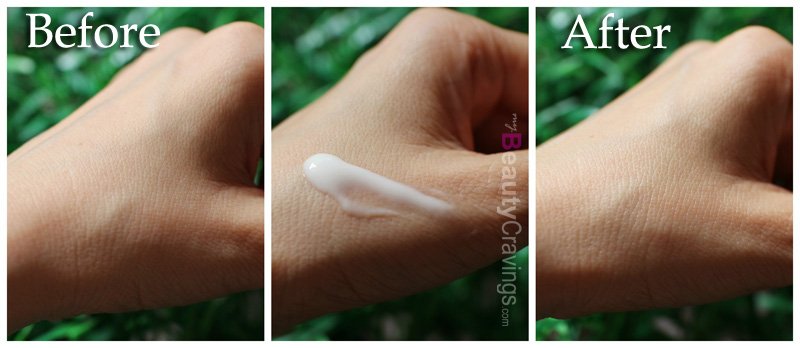 2. Sufficient SPF Protection for daily use
Nivea body serum used to come with SPF33 PA+++. Now, the sun protection of the newer product – Nivea Extra White Protect & Repair – has dropped slightly to SPF30 PA++. This makes its sunscreen factor exactly the same as Vaseline Serum.
What does a drop of 3 points mean to you? If you tend to get burnt under the sun in 10 mins, you will not burn for 300 minutes with the new product (vs 330 minutes of older product). But don't worry. An SPF of 30 is generally adequate and can block out 97% of the sun's UVB rays.
The newer product also comes with drop of a plus sign – at only PA++. This offers moderate protection from UVA rays, the main culprit that damages skin collagen and weakens elasticity.
Personally, I am not bothered by the change because this is a daily sunscreen that I use on days when I would not be under the sun for prolonged periods. If I am going to be hiking a mountain or lazing at the beach, I would reach out for water-resistant sunblock of at least SPF50 PA+++.
> RELATED: Review of Holy Grail Sunblock – Banana Boat Ultra Protect
3. No White-cast or Residue
Both Nivea and Vaseline serums do not leave white-cast or residue. However, do note that another product – Vaseline Healthy White (SPF 24) – which is still selling in the market leaves behind residue that resembles body dandruff.
4. It's Cheap
Same as Vaseline Serum, Nivea Extra White Repair & Protect Essence is priced affordably, at less than S$15 for a large bottle of sunscreen (around 400ml).
Other brands in the market may only give you a quarter of the quantity and still charge you more for it. Here's Nivea's latest online price.
Tell you a secret! You can get this product in Malaysia for about 20+ ringgit (about S$7 each).
> MUST-READ: 25 Things to buy from Malaysia from a Singaporean's perspective
5. New Packaging makes application easy
With the new packaging, the larger version of the product (350ml) comes in a pump bottle. This, as compared to its predecessor, is so much more convenient for use.
Instead of lifting the product, opening the cap and squeezing the tube, I only need to depress the pump to dispense the product. This is probably the best improvement made to the product. Oh, it also comes with an extra 30ml. :)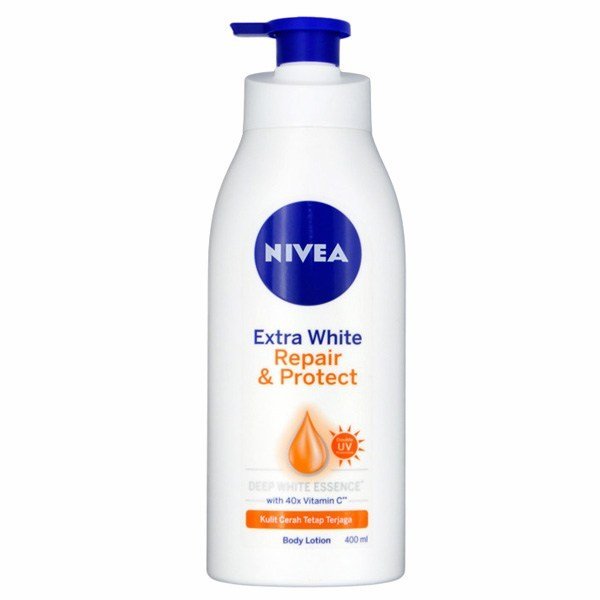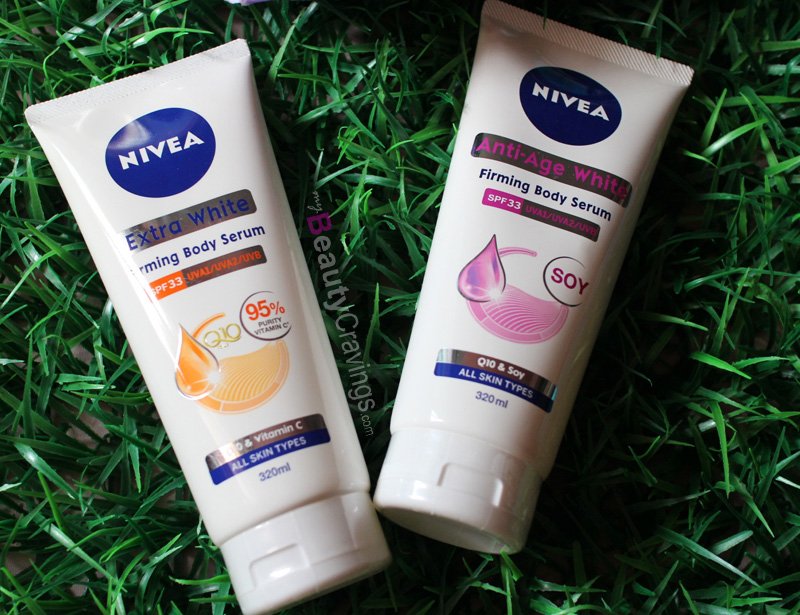 ---
What's Not Great?
1. Medium SPF Protection
Many UV products for the face come with SPF 50 PA++++ protection. Hence, Nivea Extra White Essence with its SPF 30 PA++ is considered a medium protection sunscreen.
Is this sufficient? As a daily-use body sunscreen, I think it is. I'm assuming a scenario of office workers or students who spend very brief periods under the sun each day.
If you have a routine where you need to be under the direct exposure of the sun for long hours, please use a specialized high SPF sunblock. Both are included in my SUPER Holy Grail List.
2. Not Waterproof
This is a daily-use body sunscreen. That's why it's made with light-weight formula. If you want a water-resistant or water-proof formula, you may consider Banana Boat or other sports brands.
> RELATED: Is Suncut Super Waterproof UV Protect Gel really waterproof?
3. Did skin become "extra white"?
I've tried two of Nivea's formulae – 1) Repair & Protect and 2) Firming & Smooth. Both contain vitamin C and promises fairer skin.
When I first looked at the ingredients, I wasn't hopeful that the product could offer significant brightening. As you see, the vitamin C – Sodium Ascorbyl Phosphate – was listed as the 14th ingredient, which indicates a low quantity. Also, I've always thought that L-Ascorbic acid (minimum 10%) would be a more effective form of Vitamin C than what was used.
In any case, I did not notice any visible lightening of my skin tone. But this doesn't bother me as I'm using this product to prevent sun damage (or getting darker), not to become "whiter". :)
---
Recommendation
Are you looking for an affordable body sunscreen that gives moderate sun protection, and is great for daily use? Do you prefer one that lightly moisturizes while it protects?
If you do, I highly recommend Nivea Extra White Repair & Protect Deep White Essence. I love its versatile texture that allows me to use it both in a hot and humid climate, as well as within an air-conditioned environment.
Best of all, its pocket-friendly price means I can slather the essence lavishly and diligently every day without worrying that it'll get emptied soon. This probably explains why I've been using it for 5 years (and counting). In fact, this body sunscreen is one of my Super Beauty Holy Grails. Rating: 4.5/5
View latest price HERE
---
Hope this review has been useful! Love more of such honest reviews? If you like to get notified of my new posts, you can click the button below to subscribe. I'll even give you some free and exclusive stuff. See you there!
SUBSCRIBE
(This review was first published in June 2015 and updated in March 2020 to include additional observations.)
Pin This!
This post may contain affiliate links, meaning I earn a commission if you make a purchase, at no cost to you. Read my full disclosure for more info.
(Visited 31,136 time, 1 visit today)