Hooray! We have another affordable body sunscreen in the market. More competition means cheaper price for us. Have you read my review of Vaseline Healthy White SPF 30 PA++ Serum? If that post didn't convert you into a body sunscreen user, here's another attempt from me to persuade you to do so. Say "Hi" to the new contender – Nivea Extra White Firming Body Serum.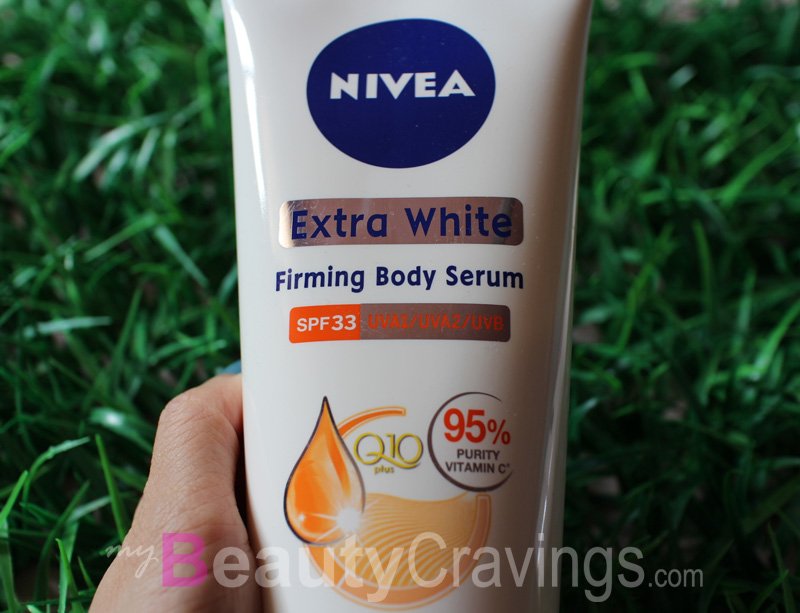 By now, I've finished a tube of Nivea Extra White Firming Body Serum. And there are two jumbo tubes sitting in my beauty closet, waiting to be activated.
Why is Nivea body serum worth stocking up? Read on for full review, plus comparison made against Vaseline Healthy White SPF 30 PA++ Serum, where applicable.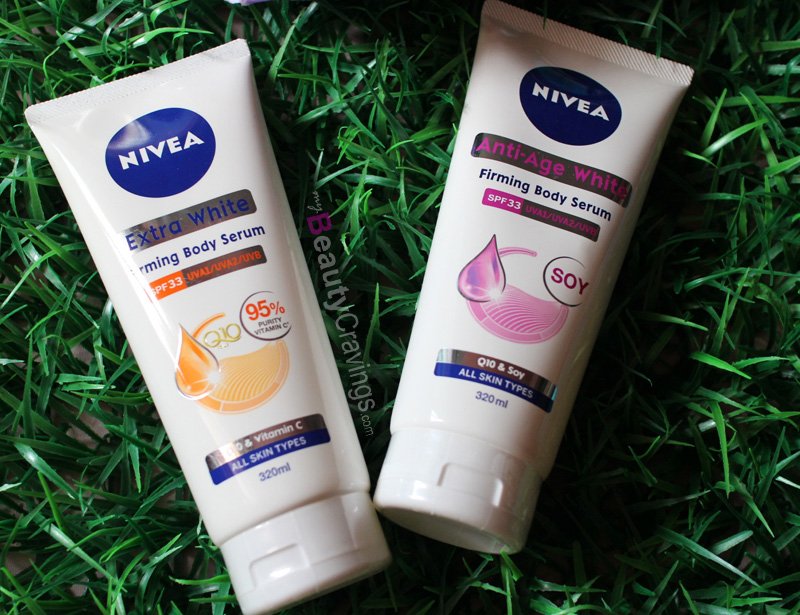 ---
What's Good about Nivea Extra White Firming Body Serum?
1. Comfortable Application
Nivea Extra White Firming Body Serum feels comfortable on the skin. The product label described it as having a texture that's extra light and non-sticky. Is it true?
Actually, I feel that Nivea Serum is not as light-weight as Vaseline Healthy White Serum. That's because Vaseline is super light, and gets absorbed into the skin extremely fast. Given it's lighter after-feel, I was surprised when I saw how Vaseline was less runny than the Nivea serums. The photo below shows how the Nivea serums gravitated downwards while Vaseline stayed firm.
Still, I think Nivea's product description is apt because it does have a lighter feel when compared with many body sunscreen out there in the market. To give you an idea, Nivea body serum feels like a sheer body lotion. Upon application, there may be a tiny bit of stickiness, but that disappears within a few minutes.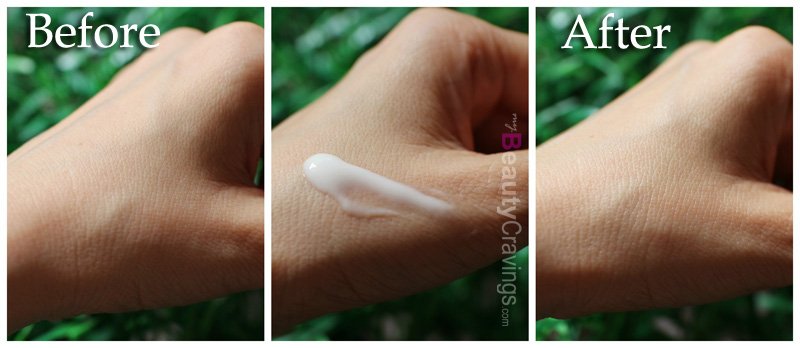 2. Higher SPF Protection than Vaseline
For the same price, you get 10% more sun protection if you choose Nivea over Vaseline.
That's SPF 33 PA+++ (Nivea) vs SPF 30 PA++ (Vaseline). What does an additional 3 points, and + sign mean to you? If you tend to get burnt under the sun in 10 mins, you will not burn for 330 minutes after applying Nivea (and 300 mins for Vaseline). You'll also get higher protection from UVA rays, the main culprit that damages skin collagen and weakens elasticity.
3. No White-cast or Residue
Both Nivea (SPF33 PA+++) and Vaseline HW (SPF30 PA++) serums do not leave white-cast or residue. However, please avoid Vaseline HW (SPF 24) which is still selling in the market. This older formula leaves behind residue that resembles body dandruff.
4. It's Cheap
Same as Vaseline Serum, Nivea Extra White Firming Body Serum (SPF33 PA+++) is priced at about S$10. In fact, I just saw it on sale for only $8+ at Guardian yesterday. For this price, you get 180ml of sunscreen. Other brands in the market may only give you one-third or half the quantity and still charge you more for it.
Here's the latest price on Ebay.
Tell you a secret! I brought back two jumbo tubes (each 320ml) from Johor, Guardian. Guess how much I'd paid? Ha Ha. I paid less than 20 ringgit (about S$7 each). That could have been a special promotion, but personal care products are generally about 30% cheaper across the border.
5. Promises Fairer Skin in 14 Days
I own two of their formulae – 1) Nivea Extra White and 2) Nivea Anti-Age Firming body serums. Both contain vitamin C and Q10, and promises fairer skin in just 14 days.
I didn't believe and hence couldn't be bothered to measure the difference via before-after photos. Through naked eyes, I couldn't tell any difference with my skin tone. But maybe that's due to user bias.
Why am I a non-believer? I'd doubted its efficacy in lightening skin tone because potent vitamin C wouldn't be priced so cheaply. Many good vitamin C products are also kept in dark, dropper-style bottles to prevent oxidation. But in any case, if it works for you, do let us know via the comment box below. 
---
What's Bad?
1. Medium SPF Protection
Many UV products for the face come with SPF 50 PA++++ protection. Hence, Nivea serum with its SPF 33 PA+++ is considered a medium protection sunscreen.
Is this sufficient? As a daily-use body sunscreen, I think it is more than sufficient. I'm assuming a scenario of office workers or students who spend very brief periods under the sun. If you have a routine where you need to be under the direct exposure of the sun for long hours, please use a specialized high SPF sunblock. Both are included in my SUPER Holy Grail List.
2. Not Waterproof
This is a daily-use body sunscreen. That's why it's made with light-weight formula. If you want a water-resistant or water-proof formula, Banana Boat or other sports brands may be more suitable.
---
Recommendation
Seriously, you need to start protecting your body, just like how you are fervently applying sunscreen to your face. Don't wait till ugly pigmentation start popping out everywhere. When that happens (further down the road), they'll come with a vengeance. Removing them would be a slow and costly affair.
With so many affordable body sunscreen in the market, cost is no longer an excuse to defer such protection.  
If you have decided to kick-start this new habit. Congratulations! I highly recommend Nivea Extra White Firming Body Serum as an everyday body sunscreen. I like how lightweight and non-greasy the serum feels on the body, and how it remains affordable for the quantity that you get. Rating: 4.5/5
View latest price on: Ebay.
---
Hope this review has been useful! Love more of such honest reviews? If you like to get notified of my new posts, you can click the button below to subscribe. I'll even give you some free and exclusive stuff. See you there!
This post may contain affiliate links. Read my full disclosure for more info.
(Visited 27,418 time, 4 visit today)