Not exactly an aquarium fan, I almost gave Okinawa Churaumi Aquarium a miss even though this popular attraction is regarded as Japan's best aquarium.
I'm so glad I didn't skip Okinawa Aquarium as it was far more entertaining than any other aquariums I've been to. The visit also gifted me a romantic sunset at Ocean Expo Park.
Check out how we spent a late afternoon exploring Okinawa Aquarium and its vicinity on Day 7. This post continues from a morning visit to Bise Village which is located a 10-minutes walk from Okinawa Aquarium.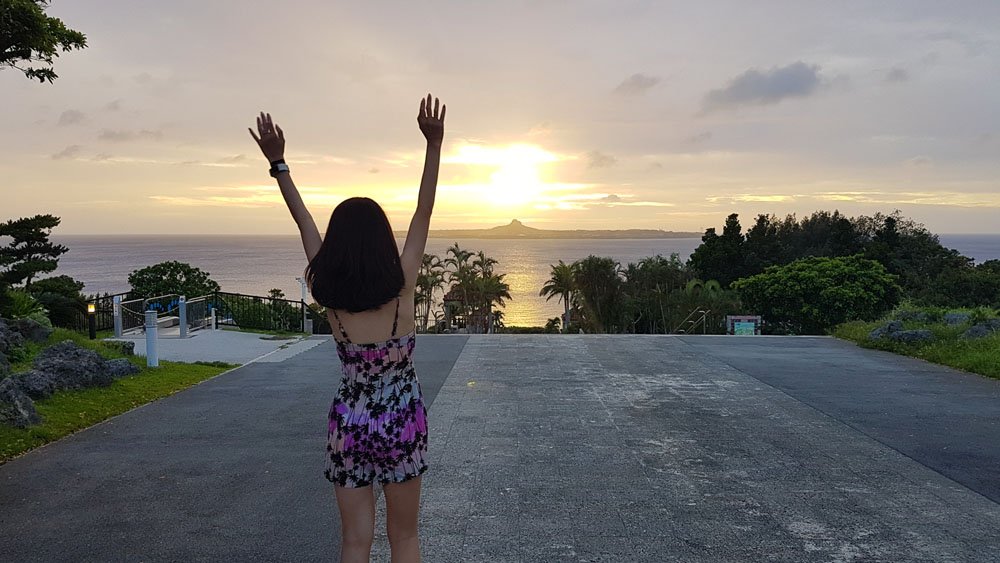 ---
How to Get to Okinawa Churaumi Aquarium?
(4.15pm)
From Bise Village, it took us only 5 minutes to get to Okinawa Churaumi Aquarium by car. We parked at the North Gate Multi-Story Carpark (see location) which offers free parking by the way.
TIPS: A great way to explore Okinawa is to self-drive (view latest car rental rates). But if you prefer not to drive, this day tour from Naha and Chatan will get you to Okinawa Aquarium. Alternatively, you can also DIY using a Okinawa Route Bus Pass. 
Then it was time to buy the admission ticket to Okinawa Aquarium. 
Great Savings on Admission Ticket
Now, did you know that you can enjoy significant savings if you enter Okinawa Churaumi Aquarium after 4pm? 
That's what we did since we weren't keen in visiting this attraction in the first place. Instead of giving up on Okinawa Aquarium altogether, we thought we would make-do with a quick walk-through and check out if this is indeed a must-visit attraction in Okinawa. 
Entering Okinawa Aquarium after 4pm shaved 30% off our admission fee. That's a great savings! But would it be too rush to explore the aquarium this late?
TIP: If you have already pre-purchased a normal admission ticket but decided to enter after 4pm, please approach the ticket center as you may be able to seek a refund of the balance.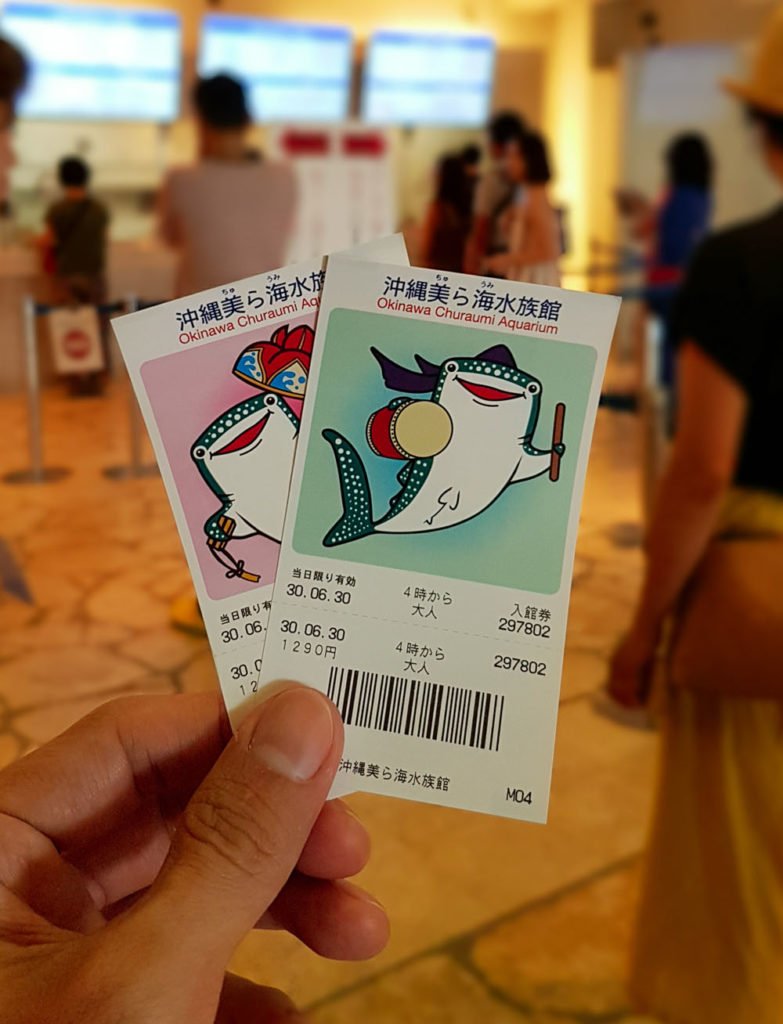 Enter after 4pm? Enough Time to Explore Okinawa Aquarium?
"Would you have enough time to explore Okinawa Aquarium if you enter after 4pm?"
Well, it depends on a few things such as your traveling profile and the months you travel in.
We were there during the summer months when the aquarium closed late at 8pm, giving us ample time to enjoy the experience (view operating hours). In addition, we were okay to miss aquarium programs such as movies and feeding shows, which typically have more show segments before than after 4pm. 
Here are a few questions to help you decide whether to get a normal ticket or a discounted one:
Are you travelling in the months of October to February? 
Are you travelling

with

kids and/or elderly? 
Do you like educational shows and movies?
If you answer 'Yes' to the questions above, then a normal ticket may offer you better entertainment and a stress-free experience. In fact, you should take a look at the Okinawa Main Island Pass which may offer you more savings.
TIP: The Main Island Okinawa Enjoy Pass gives you access to 12 popular attractions, including Churaumi Aquarium. You can use it at a relaxing pace over 5 days. I find this pass to be of exceptional value and wish I'd seen it prior to making my trip. Highly-recommended!
---
Let's Explore Ocean Expo Park First!
(4.20pm)
We've discussed the logistics. Let me walk you through what we did just before entering Okinawa Churaumi Aquarium, at Ocean Expo Park.
Once we got out of the car park, we were presented with the same island view we'd enjoyed at Bise. That's Le Island by the way! Quite a symmetrical work of nature, isn't it?  
TIP: There are many attractions located within Ocean Expo Park other than Okinawa Aquarium. You may want to arrive early if you find these attractions interesting. Additional admission fees may apply to some, e.g. Tropical Dream Centre.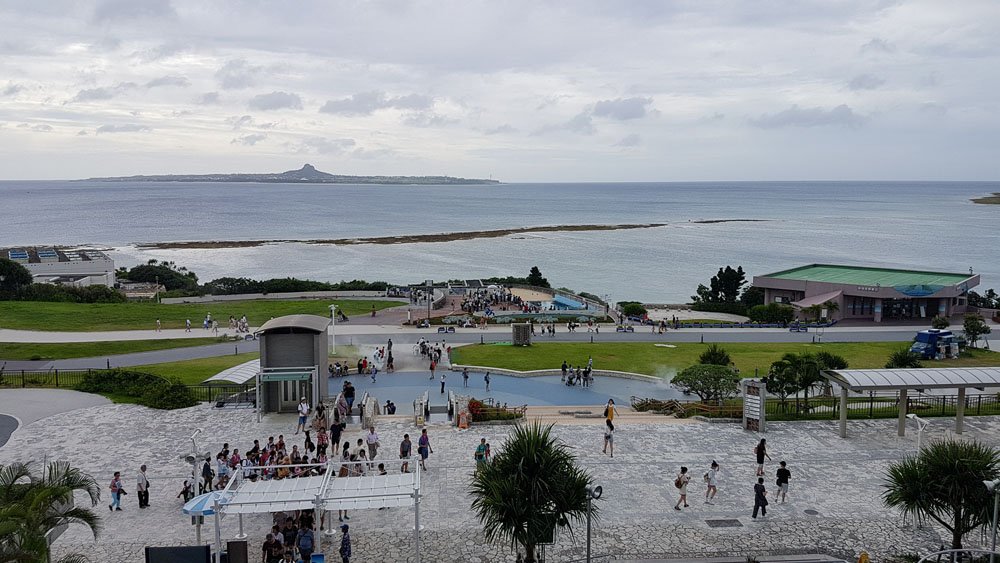 Free Marine Life Experience at Ocean Expo Park
Before entering Okinawa Churaumi Aquarium, we thought we should explore the outdoor marine enclosures first in case they closed early. 
The first was the Sea Turtles Pool, located right outside the aquarium (see location). It was entertaining seeing the large reptiles taking turn to surface for a breath. :)
Next, we moved on to the Manatee Pool (see location) only to see a sign indicating that it'd closed for the day (at 3pm).
We could also catch a Dolphin Show and Diver Show (see location), but the timing wasn't right and we couldn't afford to wait. 
TIP: You should arrive early and plan ahead if you like to catch the free shows. Click to view show time of Dolphin Show and Diver Show. 
---
Okinawa Churaumi Aquarium – It's Impressive!
(4.40pm)
What an impressive display of marine life and the underwater world!
Just a few steps from the entrance, I was already in awe with the huge variety of fishes and corals presented in the first few aquariums.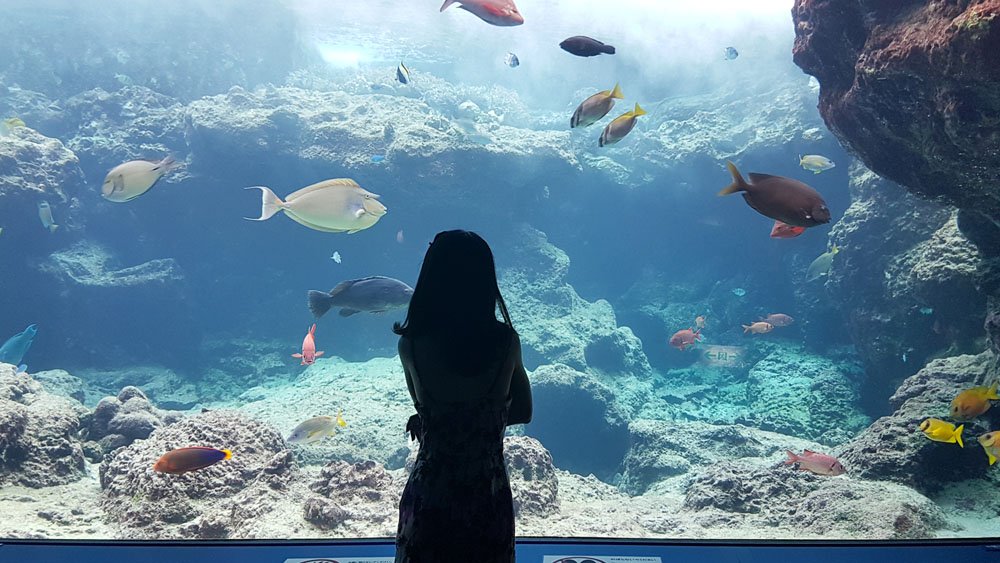 As I've said, I'm not a fan of aquariums or fishes (except those that can be eaten raw), but was stopped in my track at every single aquarium that I saw. I think they did an excellent job in mimicking the underwater world. The displays didn't even look like man-made aquariums.
It's just amazing, especially when you see something that you don't expect a fish to look like. :)
Other than fishes, Okinawa Churaumi Aquarium also showcased a wide diversity of marine life, including jelly fishes, sea worms, lobsters and more. 
The way the jelly fishes and "sea worms" danced slowly and gracefully were therapeutic. 
Oh wait, you can even touch and play with starfishes. I lifted a few starfishes and caressed a black soft creature that felt softer than a soft toy. Is that a hairy sea cucumber?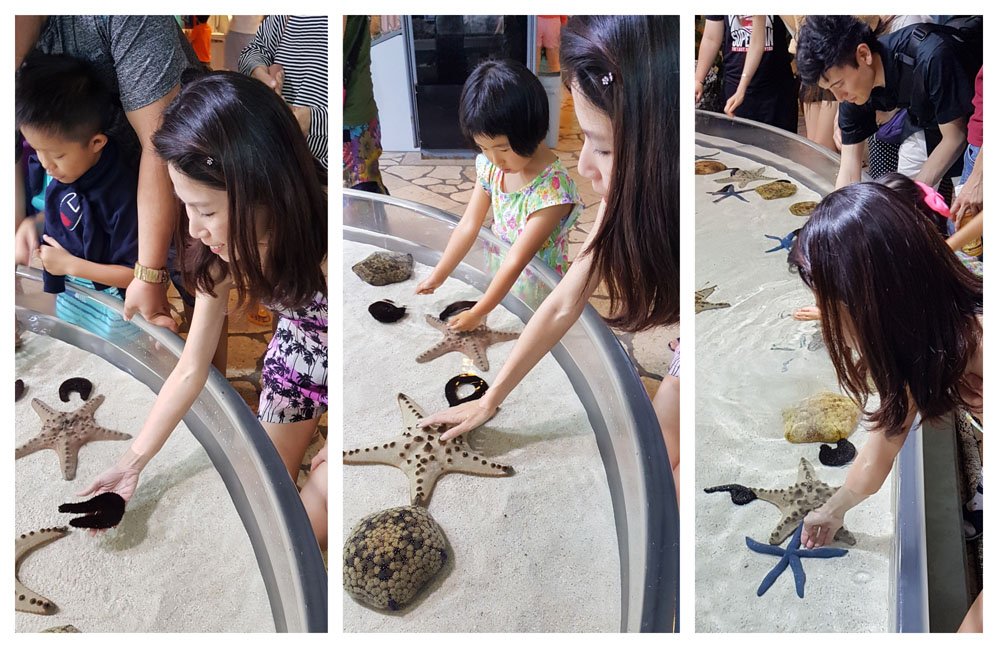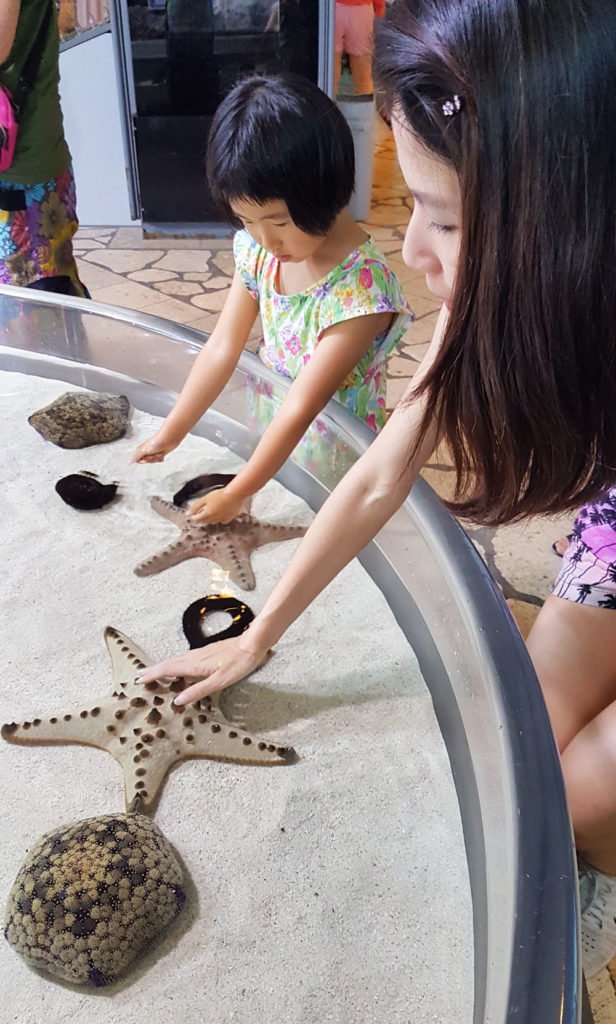 Whale Sharks and Gigantic Tank 
And how can we forget to mention the huge whale sharks that are often featured in the attraction's promotional materials?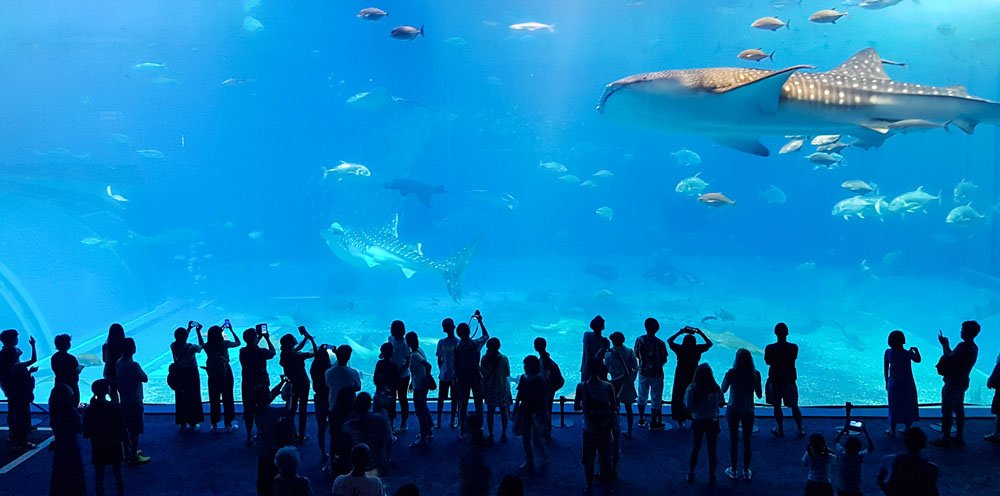 I've personally swam with whale sharks in the Philippines, so I wasn't super-duper excited seeing them again.
Instead, I was attracted to the school of fishes that swam in a coordinated manner as if they had pre-notified each other on what they would be doing next.
The manta rays with their long tails were interesting too! Don't worry, their long whip-like tail ain't poisonous. 
TIP: Don't forget to observe the gigantic tank from above. Take an elevator (near Whale Shark) to get to the top of the aquariums.
Before I end this aquarium tour, let's take a photo with a fake and handsome shark!
---
Sunset Moments at Ocean Expo Park 
(6.20pm)
Now that we were done with Okinawa Churaumi Aquarium, it's time to truly relax and explore what the Ocean Expo Park had to offer. We strolled about the big ocean-front park which had quieten down by this time.
The less crowded Ocean Expo Park made such a nice backdrop for photos that I couldn't help snapping photos like a crazy tourist.
Photo Spots at Ocean Expo Park, Okinawa
Check out the trees! Even a random tree in the park was so photogenic that I had to attempt to touch the crown.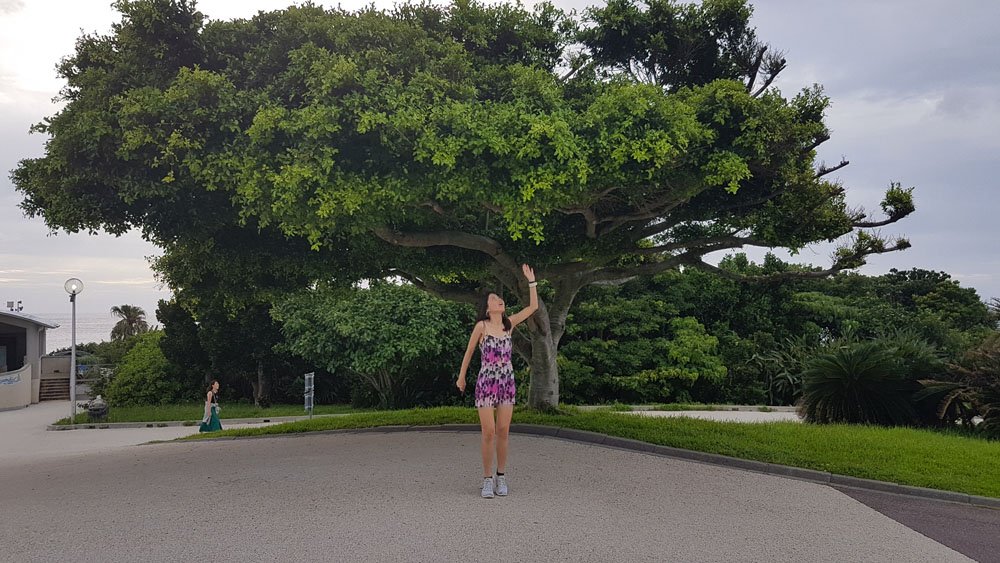 There's also a steep flight of stairs that would make a perfect backdrop for photos. It's located along the main walkway, near Okichan Theatre.
Walking further, we saw cute botanical display of marine life such as crabs, sharks and turtles.
Soon, I arrived at Native Okinawan Village. Too bad, it was closed for the day! Another reason why you should visit this park early and not laze around too much like we did in the morning.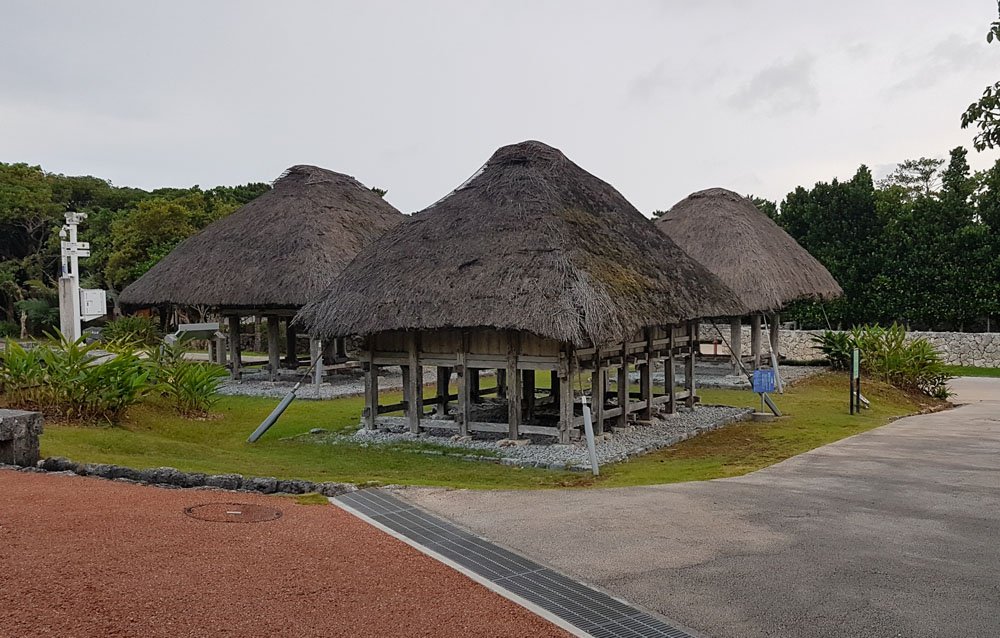 When making my way back to the carpark, I passed by a fountain and didn't think much of it until I turned around to face the ocean!
Amazing Sunset Near Okinawa Aquarium
(7.00pm)
Wow! Check out this sunset view enjoyed at the Fountain Plaza.
Isn't this a romantic sunset with the trees, ocean, island and sunset all captured in a single photo frame?
In spite of our aching legs, we were drawn to move towards the ocean to enjoy the glorious sunset. What a truly romantic moment we had! 
It's one of the most gorgeous sunset view I've seen, probably second to the one I've witnessed in Cingjing. 
No one told us that Ocean Expo Park is a great place to view sunset. I'm glad I managed to chance upon this beautiful moment! Let me be the one to share this great experience with you (Ya lah, let me take the credit, can? :))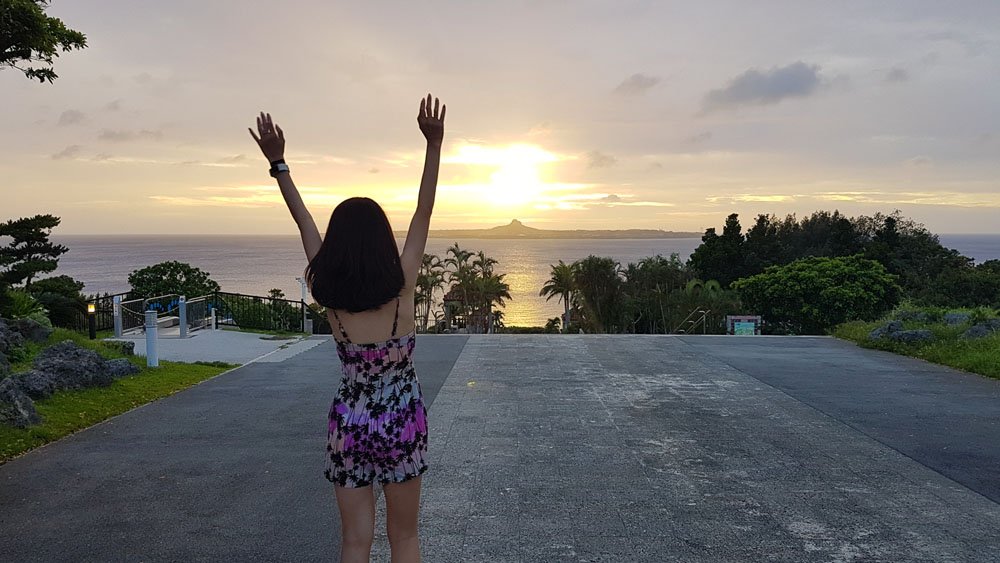 Walking away from the ocean, we continued to be amazed by the golden spray of colors over trees, cute crabs and all! What a great way to end the day. 
Attractions Info:
Admission Price: ¥1880 yen or ¥1310 after 4pm (view latest price)
Recommended Duration: 3 to 6 hours 
That's all for today. Stay tuned to the next post as we would visit a Japanese Sushi Restaurant in Nago that's worth a mention!
Don't forget to click the button below to subscribe to newly-published honest reviews. As a subscriber, you'll get access to free and exclusive stuff. See you soon!
SUBSCRIBE
---
Related Posts:
Pin This!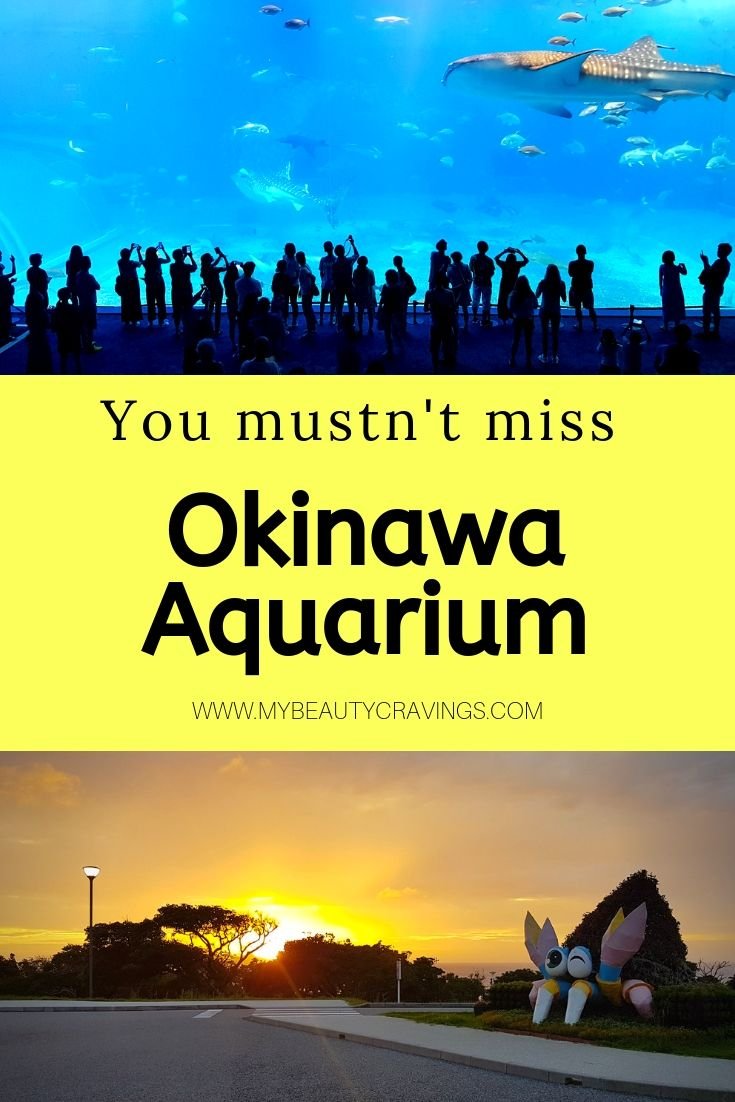 This post may contain affiliate links, meaning I earn a commission if you make a purchase, at no cost to you. Read my full disclosure for more info.
(Visited 875 time, 1 visit today)