I'd completed Hakone loop the day before. Today's post will share what I did on Day 2 in Hakone. 
Obviously, one day is not enough to fully explore and embrace Hakone, an onsen town located 2 hours from Tokyo. This is especially so as we also have to buffer for poor weather since most of the attractions in Hakone are outdoor-based.
Without any further ado, read on and check out the things I did on my second day in Hakone!
>> MUST-READ: 9 things to do in Hakone Loop Tour (First Day in Hakone)
---
Second Day in Hakone started ominously
I woke up to a heavy downpour and knew my only full day in Hakone would be disrupted. Things I'd planned to do today would mostly have to be cancelled or postponed to the next day – the day I was to check out.
But I was still hopeful that the rain wouldn't last long. Would it? 
It's ok. Let's start off with things that could be done in spite of the rain.
INFO: Too stretched to squeeze in an overnight stay in Hakone. This day tour from Tokyo can bring you to Mount Fuji and Hakone.  
Japanese Buffet Breakfast at Tenseien Ryokan 
(7.15am)
My accommodation package included complimentary breakfast, and I was looking forward to it. However, the breakfast at Hotel Tenseien was average by Japanese standard. 
Don't miss these posts!
I thought there were limited seafood and protein. Perhaps, my great experience at previous Ryokans (in Hokkaido) set the bar too high. Nevertheless, the breakfast was decent and many reviewers indicated that they enjoyed the breakfast.
You'll get boiled scallops, saba fish, small prawns, fish roe and some veggies. I guess I was hoping for more sashimi, e.g. hotate instead of boiled scallops. :)
Requesting a room change at Hotel Tenseien
I didn't enjoy changing hotel room especially since it was just for one more night. But due to some reasons (partially due to me being a very light sleeper), I had to do it.
I only managed to catch 2 hours of sleep the night before, and woke up with a sprained neck and a swollen lip. Worst of all, despite the hotel being a smoke-free property, my neighbour's cigarette smoke woke me up at 5am. I could actually see the plume of smoke wafting into my room. 
INFO: Activity in Japan especially at a Ryokan starts really early, both due to early daylight and the habit of locals going onsen before breakfast.
"Luckily", it was pouring and I had time to spare to make the room swap. The hotel staff was kind enough to provide a quiet corner unit, this time a Japanese room which I hope would offer me better sleep. 
TIP: If your room faces the mountain, please do not open the window insect screen. You'll never know what insect could fly in and bite you overnight. :)  
Check out my river-fronting Japanese Room
(9am)
In terms of scenery, this Japanese room didn't quite match up to my previous room (no mountain or waterfalls). But it has soothing sound of river. 
The Japanese room also looked a bit empty, as it didn't come with many furniture or decoration. Nevertheless, it was fun googling and learning how to set up my futon (traditional Japanese bed). 
Sitting cross-legged on the tatami most of the time was comfortable and memorable too (though I believe the Japanese would kneel instead).
TIP: Did you know the formal way of sitting on the floor is called Seiza, a kneeling method. 
Ok. I would take a short nap to recuperate from the lack of quality sleep. Wait a while for me to wake up! :)
Exploring Hotel Garden and Waterfalls in the Rain (Hakone Day 2)
(11am)
After a bit of shuteye, I was ready to get out of the room. The umbrella that I'd brought all the way from Singapore came in handy.
With it, I was able to explore the outdoor garden and waterfalls within Hotel Tenseien's premises despite the persistent rain. 
See the cute duckies? Their houses were within the ponds, directly beneath my first room. No wonder I couldn't sleep last night haha. Some "Quack Quack" that were only audible to very light sleepers.
Venturing out in the rain in Hakone
Done with whatever I could do within the hotel, and I couldn't wait any longer. This was the only full day I had and I had to go out no matter it's raining or not. But where could I go? 
Let's play by ear.  
---
Things I did on a rainy day: Hakone Day 2
(12pm)
Once again, I walked to Hakone Yumoto Train Station with my handy blue umbrella. Let's find a sheltered and yet scenic place in Hakone!
1. Scenic Bakery Cafe by Lake Ashi (Hakone Day 2)
(1pm)
Glad I'd done my research and marked down a scenic cafe located by Lake Ashi. I took Bus H from the Hakone Yumoto station and alighted at Moto-Hakone Port. From there, it took just a short walk to reach Bakery & Table cafe. 
The first floor sells takeaway bread while the second floor serves beverages. If you want some main course, you can go to the third level. 
I bought a "beef" bread (¥390) and went up to the second floor cafe where I ordered an Iced Match Latte (¥650). The bread was not bad, and the view was worth every yen spent here. 
I idled for half an hour and decided to do a hike in the rain (OMG!). Haha! 
2. Old Tokaido Road (Ancient Cedar Avenue)
(1.50pm)
From the cafe, I took a few minutes to get to the trail entrance (see map) of Old Tokaido Road (Ancient Cedar Avenue). The trail was just 550 metres and I thought it would be doable in the light rain. 
It was beautiful seeing tall and big cedar woods lining the path. Some of those trees have trunk wider than the diameter of my fully-opened umbrella. 
I struggled to take photos with one hand holding the umbrella and the other maneuvering the phone. Despite the short walk, I was a little scared as I didn't see a single soul. I mean, who would do a hike along muddy trail on a rainy day except silly tourist like me. LOL!
Exiting the trail (see map), I found myself at Onshi-Hakone Park. This park was on my optional list, as it was marked as a spot to view Mount Fuji.
I took a few hundred meters walk into the park, but decided to reverse out as I didn't see anybody. :) So the next thing I did was to cleanse off the dirt on my shoes.
3. Hakone Checkpoint
(2.30pm)
5 minutes walk from Onshi-Hakone Park brought me to Hakone Checkpoint, which I understand was an inspection facility used during Edo period to keep the city safe (akin to Woodlands Checkpoint?). 
You need to pay a small admission fee to enter a museum within. I was struggling with the cold and couldn't stay outdoor anymore – the temperature in Hakone had dropped to 13°C from 27°C the day before. 
My three layers of top brought for this spring season in May weren't sufficient to keep me warm in this rainy climate. Let's find a sheltered place quickly!
4. Misty Lakeside Stroll back to Moto-Hakone Port
While figuring out where to go, I found myself reversing my route towards Moto-Hakone Port.
Instead of taking the cedar wood trail that runs parallel to the road, I now walked by Lake Ashi. Under the gloomy climate, Lake Ashi took on a cloudy and misty form, vastly different from the vivid scenery witnessed the day before. 
I was so glad I embarked on the Hakone loop tour yesterday when the weather was good.
5. Amasake Traditional Teahouse (Hakone Day 2)
(3.20pm)
Visiting Amasake Traditional Teahouse was one of the most memorable experiences I had in Hakone, and I highly recommend that you include this in your Hakone itinerary.
Bus K from Moto-Hakone Port took me to this deserted attraction located in the middle of nowhere. But that's what makes it unique as Amasake Traditional Teahouse has been in existence for 400 years, serving travellers along the Tokaido Highway since then.
Transport Tip: Don't forget to get your Hakone Free Pass. It'll make your life in Hakone so convenient, covering all your transport needs – land, water and air. :)
The teahouse was dim and furniture was dark, with log-style tables and chairs. Instead of a depressing feel, I actually enjoyed the ambiance as the setting made me feel like I was transported back in time.
There was even a fire place with seats around where people could gather and sit on the floor.
Afternoon Snacks at Amasake Teahouse
I ordered a cup of Amasake (sweet drink made from fermented rice) and Sesame Mochi – all for about ¥900. The combination was a perfect afternoon snack on a super cold day as the tea was served piping hot. 
I don't normally appreciate sweet drinks, but enjoyed the Amasake as it has a unique taste – you can taste tiny bits (of rice). The mochi was also good and wasn't too sweet. 
A group of Japanese ladies who sat at the next table said, "Oishi!" many times. :) So, yes, this is a worthy place to visit if you happen to be in Hakone. 
Did you know? Another popular thing to do in Hakone is to hike the Old Tokaido Highway. Instead of my short cedar avenue walk (which was just a small part of the entire trail), you can hike between Amasake Teahouse and Hakone Checkpoint. 

I'd wanted to, but the floor was super muddy and there wasn't a single soul even at the most civilized part of the trail. So my calculated risk was to skip it as a solo traveler. 
6. Experience an unexpected cold temperature in Hakone
Done with the tea and I was out at the bus stop waiting for the bus. The rain brought the temperature in Hakone to a low of 11 degree Celsius. That's a 16 degree drop from a day before. 
Look at the misty road. It was so god darn cold! 
7. Shopped around Hakone Yumoto Station
(5pm)
Back at Hakone Yumoto Station, I shopped around a bit. Forgot to take photos, but I recalled seeing souvenir shops selling glass and woody handicraft and jewelries.
I bought a stick of spicy fishcake, as well as some pack-away dinner from Lawsons. Reason for not eating out was to rush back to the Ryokan to enjoy the outdoor onsen when there's still daylight. I wanted to see the mountain scenery! 
8. Onsen with mountain view was the best treat on a super cold day
On a cold day like today, soaking in an outdoor onsen that overlooked the mountains was a fantastic experience. 
The hot water nursed my cold and shivering body. 
9. Memorable simple dinner in Japanese room
After the long soak, I finished the day with a wonderful in-room dining of instant soba, paired with volcano eggs and Choya (Japanese plum liqueur). Oh, and not forgetting my spicy fishcake.
>> MUST-READ: Day 1 in Hakone, completing the Hakone Loop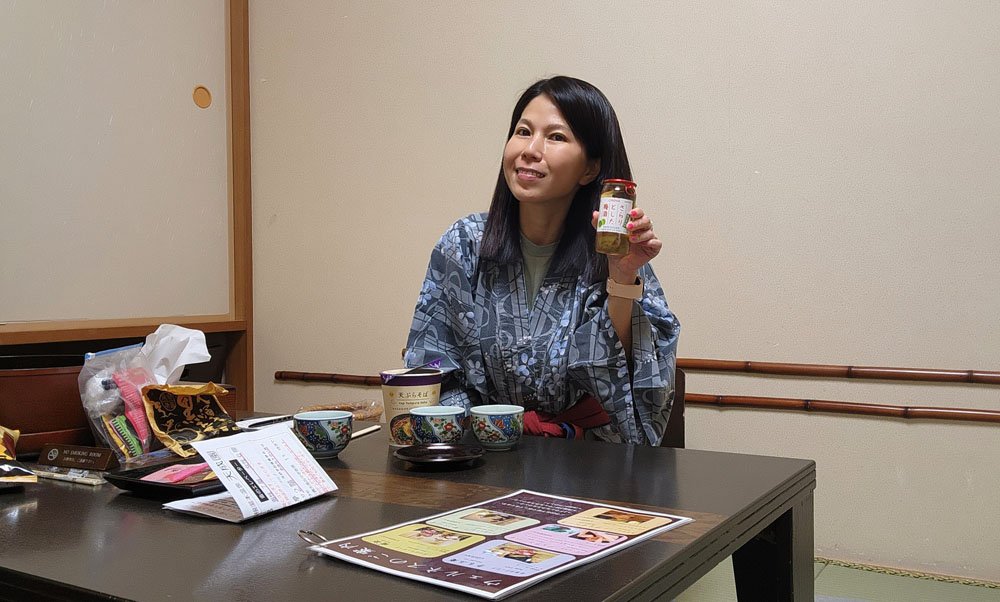 10. Sleeping like a Japanese 
It was a disrupted but still fulfilling day in Hakone, and I'm ready to have a restful night in my self-assembled "Futon" bed. Let's hope I would be able to sleep like a baby tonight, with the help of the soothing sound of river!
Tomorrow, I would make up for lost time and visit many attractions that I'd missed today due to the rain. Stay tuned!
Map Locations of Tokyo/Hakone Itinerary (Day 5)
Tenseien Hotel > Hien Waterfall > Tamadareno Waterfall > Hakone-Yumoto Station > Moto-Hakone Port > Bakery & Table Cafe > Old Tokaido Road (Ancient Cedar Avenue) > Onshi-Hakone Park > Hakone Checkpoint > Stroll along Lake Ashi > Amasake-Chaya Teahouse > Hakone Yumoto Station > Onsen at Tenseien Hotel
This post may contain affiliate links, meaning I earn a commission if you make a purchase, at no cost to you. Read my full disclosure for more info.
Related Posts:
(Visited 212 time, 3 visit today)