Orchard Hotel was the second hotel I stayed during my 3D2N staycation in Singapore. The experience was very different as compared to Goodwood Park Hotel which is also located within the same vicinity. Orchard Hotel's room is modern and newly-refurbished and the ambience seemed more "busy" than serene. 
Let me show you my full experience at Orchard Hotel – the goods and the bads.  
---
First Impression of Orchard Hotel
Having checked out of a calm and relaxing hotel at Goodwood Park Hotel, my senses couldn't immediately get used to the vastly different experience when I arrived at Orchard Hotel. It was like moving from countryside to a city. :)
> MUST-READ: What a fantastic sleep at Goodwood Park Hotel
At the entrance of the hotel, the staff asked me to fill up a declaration form. And so I stood at the non-airconditioned outdoor area to complete the form before being allowed to enter the hotel.
"Moving through factory line" was what I wrote in my diary, as I would now join the next line – a queue at the lobby.
Checking-in at Orchard Hotel
I was the 8th person in the queue at around 1pm (official check-in was 3pm), and it took about 20 minutes of waiting before I was served. There was no seats around for other waiting members to have a rest. So, we had to stand together with our luggage in tow. 
Not a great first impression especially after the great check-in experience at Goodwood Park Hotel.
But the kind of service level I experienced didn't come as a surprise as my first two emails to the hotel bounced when I requested for early check-in (email addresses gathered from two reliable sources were inaccurate).
When I reached the counter, the reception staff was very polite. Unfortunately, she asked me to sign something digitally on a tablet which had such poor resolution I couldn't make out what I was signing for. After squinting my eyes for a long while, the staff offered to print out the form for me.
Well, I hope everyone who requires anyone's signature would at least make the content legible. That's the basic, isn't it? What if they asked me to sell my body? :P  Just kidding – not that any one wants my aging body. LOL!
When registration was completed, I thought I would get an early check-in. But the staff told me to return at 3pm as all the rooms were not ready.
Gosh! So, what were those waiting and queuing for? The staff was apologetic and shared that the rooms were used for half-day booking (if I understood her correctly) and hence none of the rooms were ready.
How to have our lunch during no dine-out phase? 
Not being able to check in also meant we couldn't have our lunch at a decent place, since dining-out was not allowed during the time of our stay.
What should we do? It was super hot that day, and there's no way we could eat at outdoor area like what we did the night before.  
> RELATED: Review of Park Hotel Farrer Park in Singapore
We left the hotel feeling down and disappointed. As Orchard Hotel isn't located very close to places with good shopping and dining options, we had to walk more than 10 minutes to get to places where we could while away the time. 
That brought us back to Takashimaya again. But this time around, we wondered for a long time to decide on what food to buy and where we could have our lunch outdoor. We couldn't figure out the latter.
After a painful 2 hours, we finally bought some snacks from Taka food hall as well as Chirashi from The Sushi Bar. As the weather was really hot, we asked for some icepack to ensure that the sashimi would not spoil by the time we reached the hotel. 
Check in to Orchard Hotel (Part 2)
When we arrived at Orchard hotel at 3pm, the queue was unbelievably long. Ok, so the earlier queue was worth it after all as I could now skip the queue by approaching the same staff. She gave me the room key rather efficiently. Phew!
Next, I walked towards the lift lobby and found it guarded by two friendly staff. We had to show our IC and tell them our room number before we were allowed to take the lift. At the moment, we wondered why entry was so strict. But we later found out the reason. Share with you later, okay? Read on.
Now, let's check out how the room is like. 
---
Premier Room Review (Orchard Hotel)
Despite the not too perfect check-in, I was impressed with the room as it was modern and everything looked new. Love the sleek furniture and wooden floor too! 
And the somewhat "unblocked" view on the 10th floor was a nice contrast to what we couldn't have at Goodwood Park Hotel. By "unblocked", we meant not being too close to opposite building or feeling the need to draw the curtains.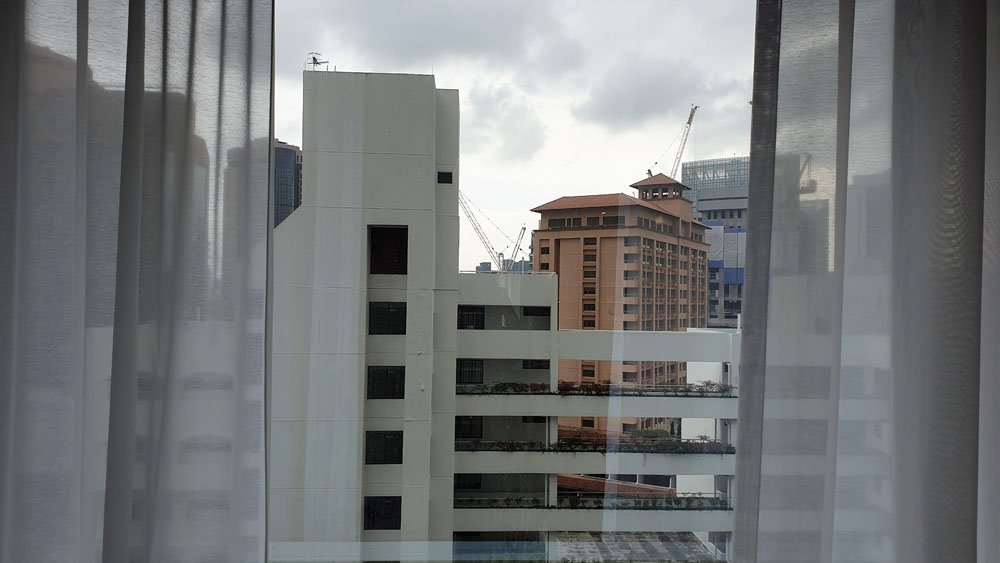 However, I thought the room was a little stuffy. There's this discomfort to the ear, and I had to turn on the TV to create some sound to sooth the vacuum feel. In addition, part of the room was quite dim, such as the study area.
It was also strange to have a TV so near the work desk as the noise and images were quite distracting when I tried to do some work later. But I reckon it would work for people who wanted to connect their laptop to a bigger screen?
In terms of the room size, it was comfortable and spacious. However, it appeared more like 26-28 sqm than the 35sqm advertised.
Ok, before we examine more of the room, let me have my sashimi lunch first as I was darn hungry at this late check-in hour of 3pm. 
Takeaway Lunch
Here's our takeaway lunch from The Sushi Bar. Love the thick slices of sashimi, but the feel was different when we ate it out of a clear container like this, over a small coffee table. Definitely didn't feel like a lunch worth over $60 (for two). LOL!
I miss dining at the restaurant. But we learn how to make-do. What to do? All thanks to the resilient Covid that refused to go away.  
Full and satisfied, let me now walk you through the rest of the room and its amenities. 
Room Amenities of Premier Room
I do not know the brand of the tea offered – Raffles Lighthouse. But it seems to be gourmet tea by Pryce according to Google.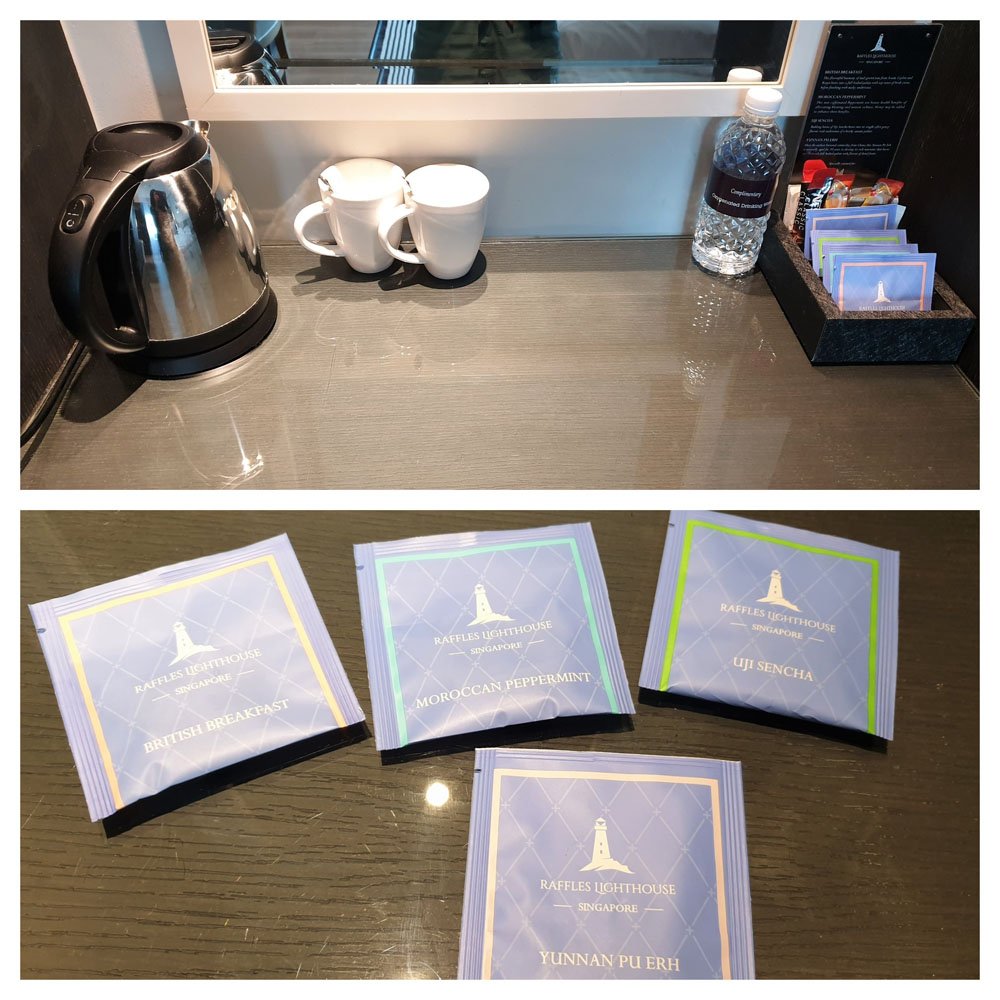 Other than that, the room also came with a good-sized safe box, full-sized ironing board and iron, and free masks.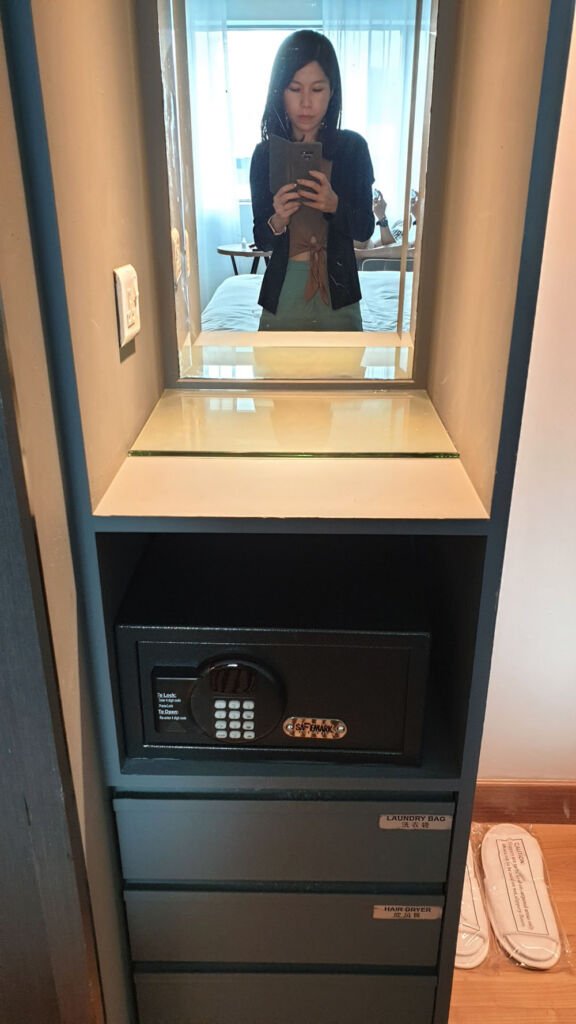 The wardrobe was large and would come in handy if you stay quite a number of days.
The digital connection such as WiFi and TV worked great too, though the TV wasn't as big as the one at Goodwood Park Hotel. The external frame around the TV was a good optical illusion to make it appear bigger.
Toilet of Orchard Hotel Premier Room
The toilet was great – better than Goodwood Park Hotel for sure!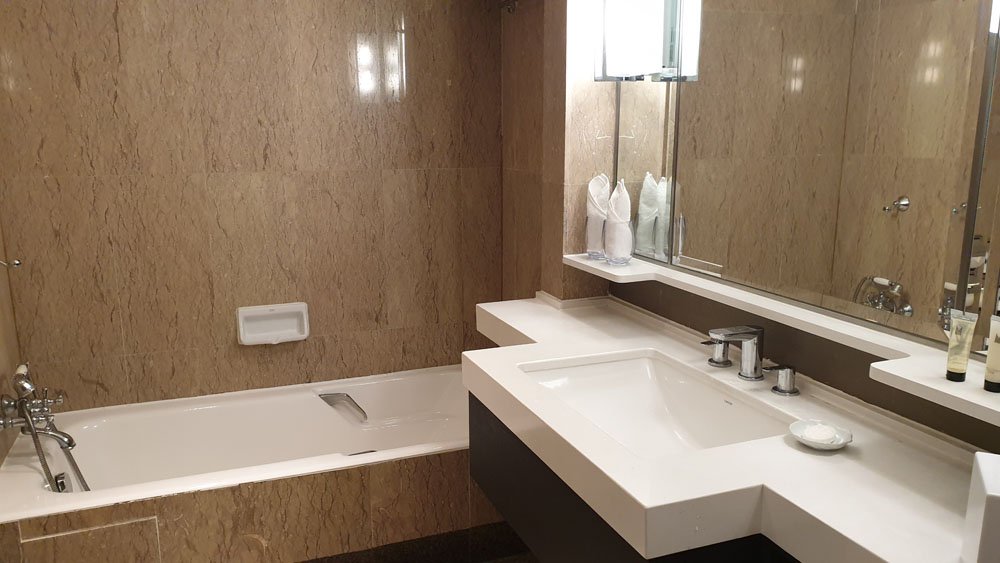 Modern, well-designed and very functional. I like it that the toilet came with both a standing shower as well as a bathtub, which I would realize later how lovely that bathtub was. I'll share more on that later. 
Continuing our "tour" of the toilet, here's the toiletries and the sanitizer.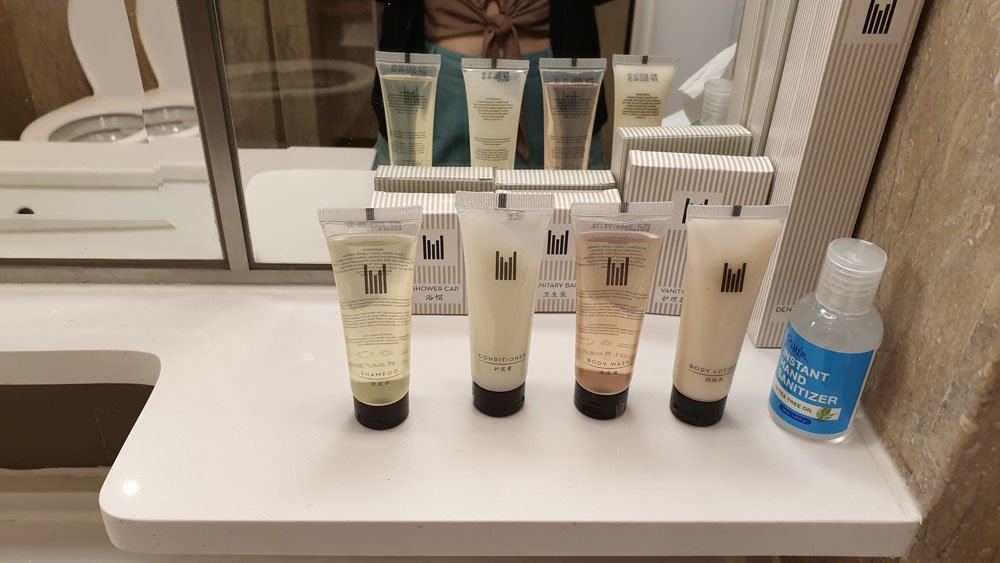 Water pressure was good and hot/cold water easy and quick to control. However, there was no bidet, which probably isn't uncommon in Singapore.
Done with the quick tour, it's time to find something to do at the hotel.
---
Entertainment within Orchard Hotel
There wasn't a lot of things we could do at the hotel given that we were there during Phase 2 Heightened Alert. And so, we checked out the pool self-service booking system even though it was drizzling.
Swimming Pool
Each room was allowed to book a one-hour slot at the swimming pool. When we scanned the QR code to access the booking system at 3.30pm, there was no slot available for the entire day!
In fact, even the next day's slots were fully booked except for a 1-hour slot early in the morning. 
We were puzzled as there weren't anybody at the pool when we glanced down. The booking system needed to be more flexible to reflect real-time situation and to cater for cancellation or no-show. 
In any case, we both felt really really really bored and even questioned ourselves why we booked a hotel during such times. I was so bored I went down to the pool just to take some photos while still wondering why no one could book the pool when there was clearly no one swimming.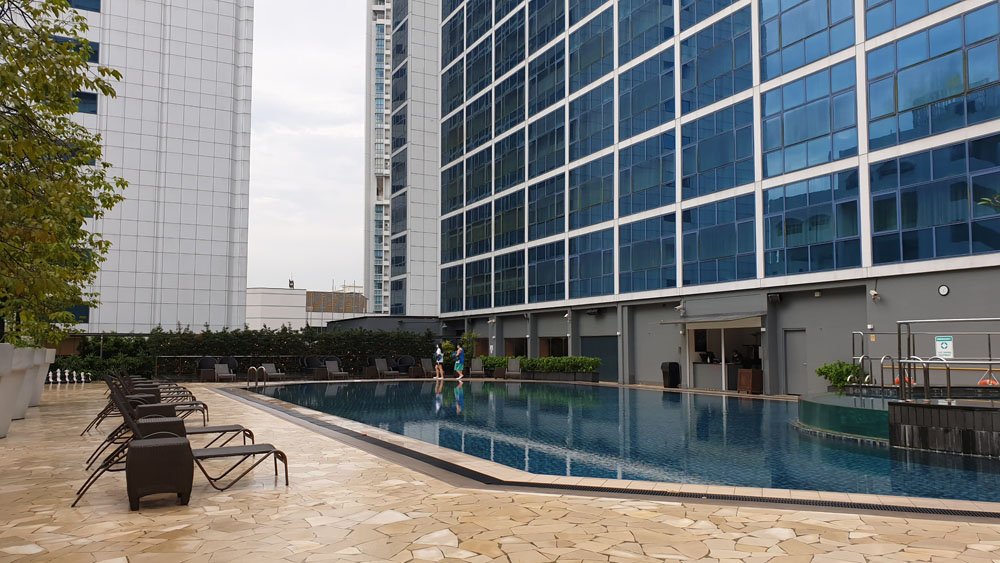 I also walked past the gym, which sadly was not opened to guests during this period.
Soon, I was back to the room. Still feeling bored, I finally found a valid reason to use the bathtub. :)
---
Bathroom was great! 
All thanks to the bath tub, I managed to kill quite a bit of time and had a wonderful me-time.
I brought in a bundle of snacks including some mini cheesecake that I got from Takashimaya, a glass of Teh C Peng and another glass of Vodka Orange (yeah, I packed well! LOL!).
Of course, the phone came in with me and I was busy swiping away, and yet felt totally relaxed.
The well-designed bath tub was of a good size and felt comfortable to be in. Water filled up quickly and remained hot for a very long time.
Thank you, bathtub. You've saved the day!
Why not go out and shop? 
Now you may wonder why we didn't go out and shop? You may if you are a tourist. But we are locals and in fact, had done quite a bit of shopping the day before when staying at a nearby hotel – Goodwood Park Hotel.
Hence, we were no longer keen on shopping. Furthermore, the earlier 2-hour wait prior to check-in killed our interest to be away from the hotel. No dine-out is really a bummer! 
---
What's for dinner? 
Since we are on this topic, I'll also share a bit about Orchard Hotel's location.
Location of Orchard Hotel
Similar to Goodwood Park Hotel, it's about 10 minutes' walk from the nearest popular mall. However, it's located on the other side of Orchard Road that is quieter.
If you see the blue circle and the arrow that it pointed to, those are the happening part of Orchard Road.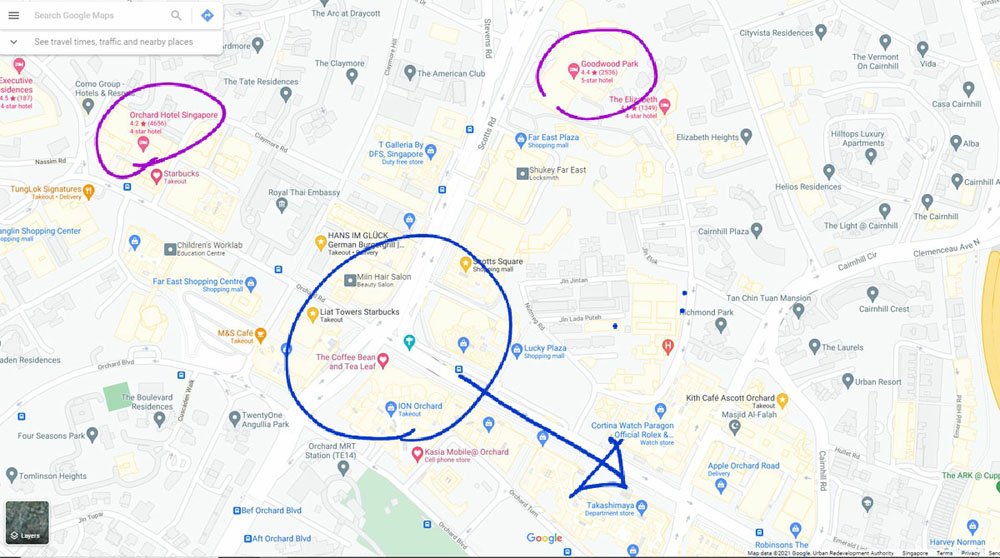 Though there's a Forum Shopping Mall opposite Orchard Hotel, this mall is not known for offering a wide array of food options. And definitely not if you are looking for pocket-friendly food, except for McDonald's. 
I went for Grab. LOL!
Takeaway Dinner at Orchard Hotel
All thanks to Grab, I discovered a protein-based food option nearby. Since Wafuken is located at the next-door Orchard Tower, we decided to do a "self-pickup". I was thankful that I didn't go there alone (which I'd intended to initially) as I couldn't find the "food outlet" even after entering two separate buildings of the old, run-down and kinda sleazy Orchard Tower.
A 5-minute walk became 20 minutes because the "food outlet" was actually a collection point accessible only by the road. From what I saw, it was frequented by delivery drivers. Due to strict entry/exit arising from Covid, we had to walk through dark and deserted alley to get there.
Goodness me! There should have been a warning. I would have paid for delivery leh! 
A Stay Home Notice (SHN) Hotel
On our way back, we found out why hotel lift lobby entry was so strict at Orchard Hotel. See if you know what I mean!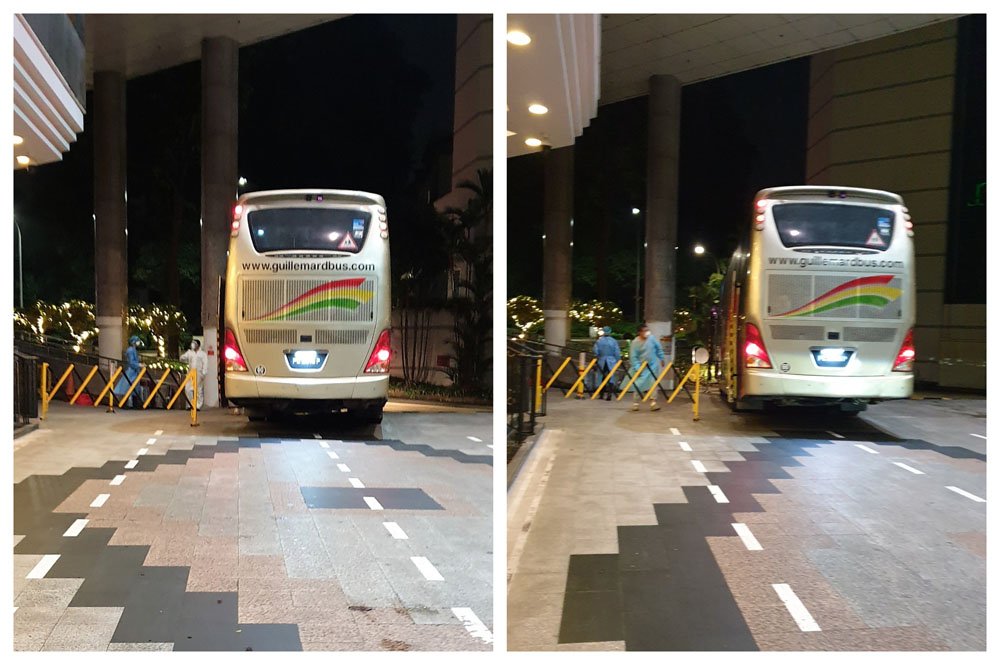 Yes, a bus was parked at hotel entrance with a few men in protective gear. Orchard Hotel seemed like a SHN-dedicated facility. 
We weren't fearful as I'd googled previously on such arrangement and knew the risk would be low. Furthermore, we were fully vaccinated. 
Wafuken Healthy Meal!
Look at my protein-based takeaway meal. It's great because I wasn't hungry. Wafuken allowed me to choose how much carb, protein and veggie I wanted. 
My portion comprised Chicken breast, onsen egg, sesame spinach, miso cauliflower, avocado and baked potato. It was delicious! In fact, we went back again a week later to tabao the food to East Coast Park.
Knowing the location now makes it easier to visit as the location by the road is convenient for drop off and pick up, i.e. partner (driver) dropped me (passenger) off to pickup. :) 
---
Good morning! Breakfast Time
The sleep at Orchard Hotel was comfortable and the king-sized bed was real (not twin-bed joined together). I really wanted to sleep in, but the check-out was earlier than usual, at 11am!
Actually, I felt kind of short-changed as their check-in/check-out time of 3pm and 11am meant the stay was shorter than usual. It was also not as easy to be granted early check-in or late check-out. But I went in with my eyes opened. So, there's no one to blame. 
Now, here's what I had for breakfast – Tai Cheong Bakery egg tart that I bought yesterday and a cup of coffee. 
---
The Price – Orchard Hotel Premier Room
For a good-sized room located at Orchard Road, the price we paid was cheap. I'd paid less than $150 and think the low price could be due to Covid as well as the fact that this hotel was a SHN-dedicated facility. During normal times, I expect the price to be way higher.
You can check out its latest price here.
---
Summary
What's Good? 
Modern and newly-refurbished room
Centrally-located in Singapore's popular shopping belt
Free parking at time of writing
Rather unblocked room view
Nice toilet design and lovely bath tub
Very affordably-priced!
What's Bad?
Average service level (overall guests' experience), e.g. check-in
Late check-in and early check-out
Working area too near to TV
It's a Stay-Home-Notice Facility if one is concerned
---
Recommendation: Should you book Orchard Hotel? 
Orchard Hotel's Premier Room was a nice room to be in. It was modern, new and nicely-designed. The toilet was also spacious, with a standing shower as well as a lovely bathtub to soak in.
Even though check-in experience wasn't as smooth as what we'd enjoyed at Goodwood Park Hotel, it could partially be attributed to the larger clientele that Orchard Hotel served. As a hotel with a tall building, it could take in more guests than Goodwood Park Hotel could.
Also, during normal times, guests would likely not be affected by the facility booking system that failed to react to real-time situation.
Therefore, all in all, I would recommend this hotel to everyone – Singaporeans and tourists alike – when facilities are opened to guests without the need to book. Rating: 4/5
---
That's all to today's review. Love more of such honest reviews? Just click the button below to subscribe. 
SUBSCRIBE
This post may contain affiliate links, meaning I earn a commission if you make a purchase, at no cost to you. Read my full disclosure for more info.
(Visited 144 time, 1 visit today)