How do you get between Osaka Kansai Airport and Osaka City Centre? One way is to take the Osaka Airport Limousine Bus. Today, we'll share how we made use of the bus to bring ourselves and our multiple pieces of heavy luggage from Osaka Station to Kansai Airport.
Now, although we use this Osaka Airport Limousine Bus on our return leg (to airport), you'll be happy to know that this bus service also offers transport from the airport (to city). Read on for its pros and cons and find out why we opted for the limousine bus instead of a train.
---
Why We Chose Osaka Airport Limousine Bus Over a Train?
There are two main methods to travel between Osaka Kansai Airport and Osaka City Centre. When we first arrived in Osaka, we'd made use of the Rapi:t Airport Express Train to bring us to Namba Station. So, why didn't we use the same train service to get us back to the airport?
Two main reasons prompted me to book Osaka Airport Limousine Bus for the return leg and they are as follows:
1. Door to Door Service from Osaka Station to Kansai Airport
On our return leg, we would be staying around Osaka and Umeda Stations (see map) ~ highly recommended area to stay in by the way.
If we use a train to get to Kansai Airport, we would need to do a train transfer at Namba Station which is cumbersome. Airport Limousine Bus, on the other hand, offers an almost door to door service to the airport.
2. Greater Convenience When Carrying Multiple Luggage
The second reason for choosing Osaka Limousine Bus on the return leg was because I knew by then, I would have bought so much stuff my second pack-able would be activated.
And I predicted correctly, because hello! This is Japan! You'll find too many things to buy, from beauty stuff to delicious snacks and fashionable apparels and accessories.
> MUST-READ: I'm missing Japan Badly. Here're 11 things I love about Japan and I know you would too!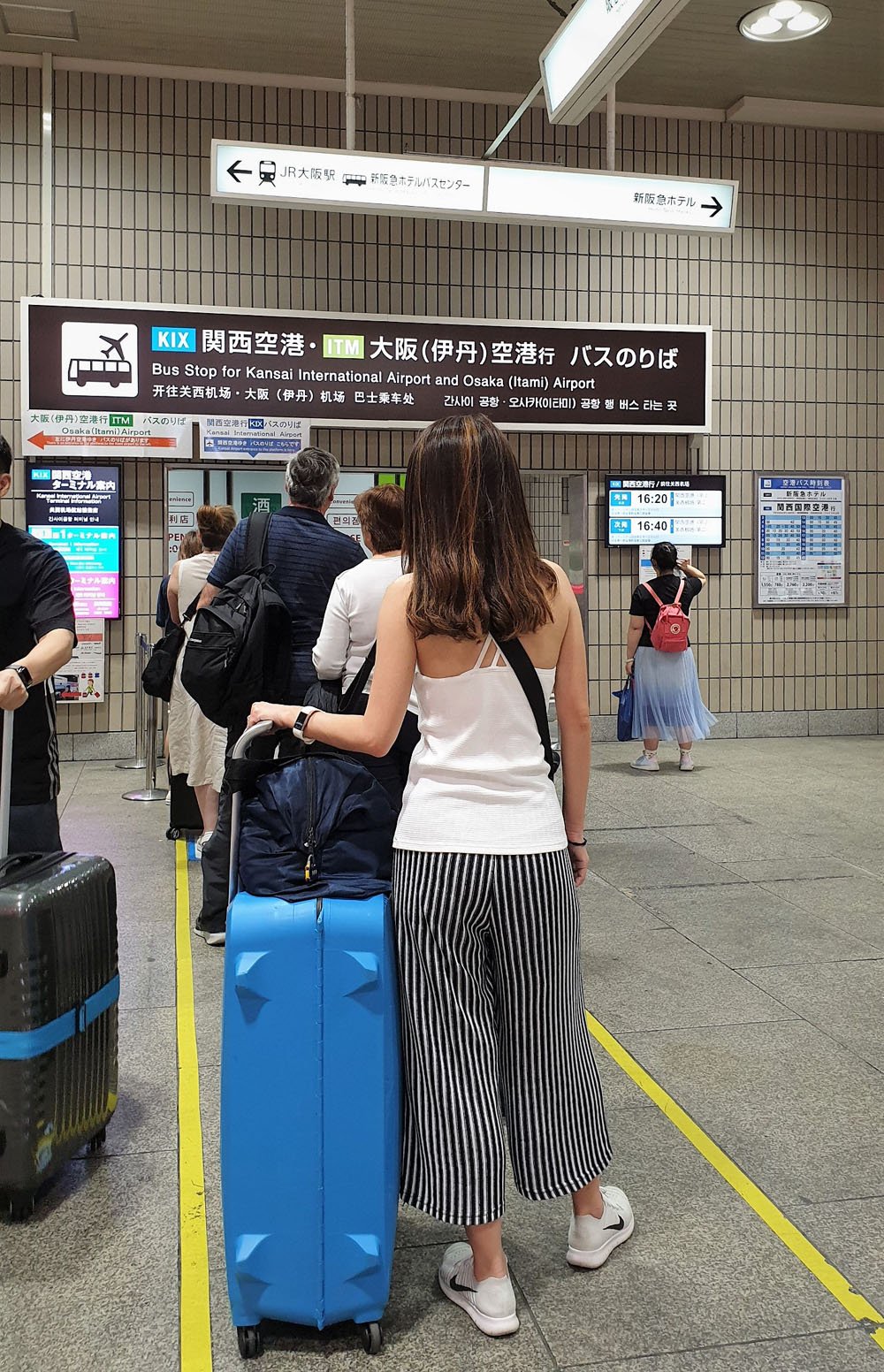 I found myself lugging a 20kg hard-trunk luggage, a big packable duffle bag, a sling bag and a backpack. Transferring between stations when carrying so many bulky items would be cumbersome.
When I gathered from online reviews how those traveling with kids and elderly were singing praises on this Kansai Airport Limousine Bus, I knew this would be the "return" transport option for me.
Related Readings:
---
What's Great about Osaka Airport Limousine Bus?
Now that you know why we opted for the Osaka Limousine Bus, let me share my actual experience using the service. As usual, we'll start with the pros and end with the cons.
1. Reasonably-Priced Ticket
I bought the Osaka Airport Limousine Bus Ticket online at S$15. This is cheaper than if I was to get it from the official ticketing kiosk (¥1550 = S$20). Furthermore, getting the ticket online meant we didn't have to deal with the hassle of figuring out how to use the ticket booth (with language barrier and all).
TIP: If you decide to buy from the ticketing booth, please choose carefully to make sure you get the one that's heading to Kansai Airport (KIX) and not Itami Airport (ITM).
Now, does S$15 sound expensive to get between Kansai Airport and Osaka City by bus? I'd initially thought so until I realized how expensive public transportation in Japan is. For instance, getting there via Rapi:t Train would cost about the same price.
2. Limousine Bus Ticket is Easy to Collect
How do you get the physical bus ticket after booking it online? It's so much easier than getting the train ticket.
When you arrive at Osaka Airport, exit the immigration, turn right, walk past the Tourist Info Centre and you'll soon see a HIS Counter on your left.
TIP: The date you enter when pre-booking Osaka Limousine Bus online is the date you intend to collect the ticket. You can collect it within 6 months from this date.
Show the staff your online or physical booking slip and they will issue you a physical bus ticket. You can use this open-dated ticket on any day.
TIP: Keep the Osaka Airport Limousine Bus ticket in a dedicated slot within your wallet because it is a thin piece of paper. Don't get it mixed up with your other shopping receipts especially if you are using it for the return leg (after many days of travel).
3. Limousine Bus Stop is Easy to Locate With Signage
We didn't use the Osaka Airport Bus from the airport. Those who did mentioned how easy it was to locate the bus stop at the airport.
If you are using it for the return leg like us and stay around Osaka or Umeda Stations, you can get to the Limousine bus stop here. It is located near Hotel New Hankyu. You can also get into the underground Osaka/Umeda stations and follow signage pointing to "Airport Limousine Bus".
TIP: Osaka Subway is a maze. I'm not even joking. If you can, try to recce your way a day before the actual departure to find out where the Airport Limousine Bus Stop is. Here's the route map and bus stop location info for your reference.
4. Luggage are Tagged and Kept Safely
One way Osaka Limousine Bus beats Rapi:t Airport Express is how we get a piece of mind over our luggage. Before boarding the limousine bus, the staff systematically tagged each of our luggage, just like how an airport does it.
They then deposited the luggage into the bus's baggage compartment, leaving you hands-free to board the bus and enjoy the ride.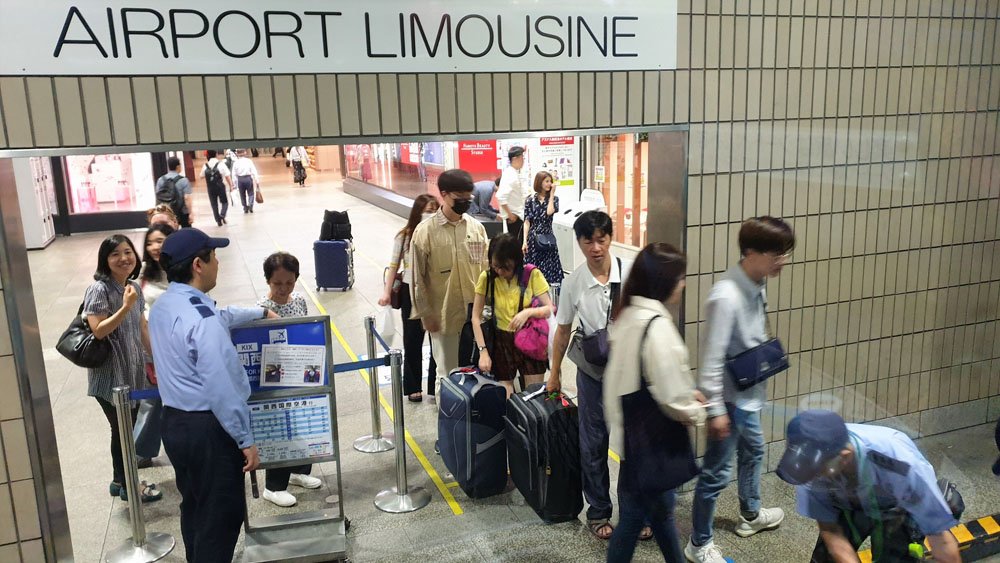 5. Punctual Departure Service (and Arrival to Airport)
When booking the Airport Limousine Bus, I was concerned whether the service would be affected by traffic condition, just like how I was caught in traffic jam when using Taiwan's airport bus transfer.
Luckily, it was a vastly different and better experience. First of all, the bus departed punctually, right on the dot. The bus then traveled almost non-stop to the airport via an expressway. Traffic was smooth and we wondered if that was due to the high cost of driving within Osaka city center. For info, we traveled on a Monday late afternoon.
INFO: Here's the timetable of Osaka Limousine Bus, departing from Osaka/Umeda Station. Refer to this official timetable for updated info.
The bus then miraculously arrived at 5.10pm, right on time. Amazing! The total ride took only 50 minutes to get to the airport. It felt short because we were enjoying the on-board experience – see next point.
6. Comfortable Experience on-board Osaka Airport Limousine Bus
Not only do you get to sit down comfortably and enjoy the spacious leg room, you can also recline your seat, deposit your F&B in the seat pocket and enjoy an on-board bus picnic.
That's not all! We got to enjoy free WiFi during the journey and the connection was fast and stable! I remember posting some Instagram stories, reading news and then dozing off. Before I knew it, I was already at the airport.
7. Reduced Risk of Lost Baggage
Most, if not all shuttle bus service I've been on never tagged the luggage or treat the retrieval process seriously.
Not for Osaka Airport Limousine Bus. I was already amazed at how they tagged every piece of our luggage. And this is not just for show. When the bus offloaded the baggage at the airport, we had to show our luggage tags before they allowed us to walk away with our luggage. Although it was a manual process, it was speedy because they seemed really seasoned in their job.
8. A Faster Service Than Airport Express Train
From where I stayed (around Osaka & Umeda Stations), it would take an hour or longer to get to Osaka Kansai Airport by train (according to Google Map).
With the Osaka Airport Limousine Bus, I was surprised that it could reach the airport faster than a train – only 50 minutes from end to end.
---
What's Not Great about Osaka Airport Limousine Bus?
1. What if the bus you want to get on is full?
Before we booked the ticket online, we were wondering what would happen if the bus we wanted to get on was full. Would we be late for our flight?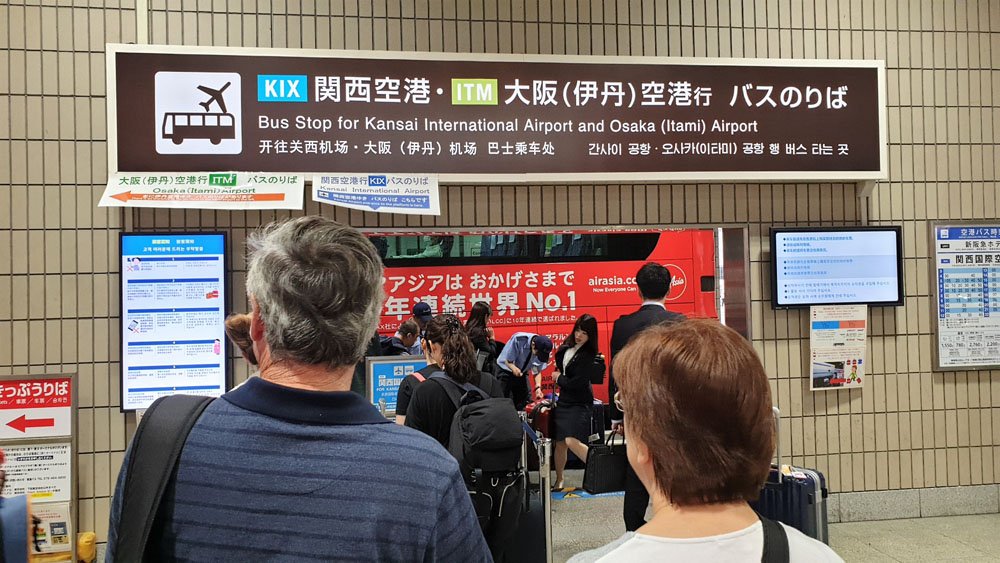 I'm glad to share with you my actual experience. When we arrived at 4.10pm, 10 minutes before the scheduled departure, we were only the fifth person in the queue. The queue soon grew and we saw a few who had to board the next bus.
TIP: Arrive early and aim to catch an earlier bus ride if you like to play it safe. The bus frequency is good – refer to official bus timetable.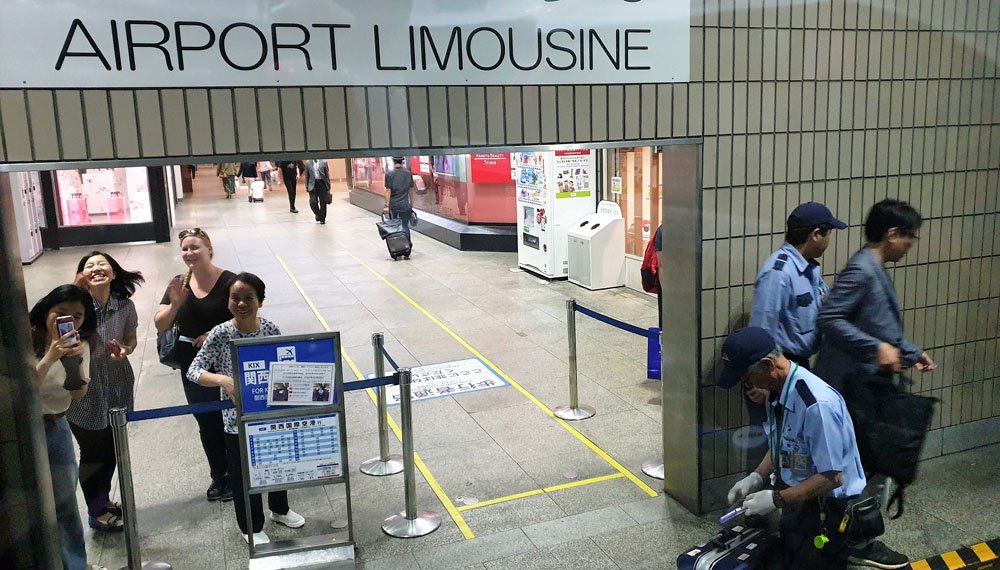 ---
Recommendation
I've had a wonderful experience using the Osaka Airport Limousine Bus and highly recommend this hassle-free experience especially if you are travelling with kids and elderly. Not only does this bus service offer a lot more drop-off points within Osaka City, it is also a comfortable, punctual and stress-free experience.
That said, I would like you to take a look at the Yokoso ticket review and consider using that for the first leg of your trip (Airport to City), provided you are staying around Namba Station. This transport bundle offers quite an amazing value. Rating: 5/5.
---
Thank you for reading and I hope you've found it useful. Stay tuned for more Osaka tips and recommendations which are coming up soon.
To stay connected, just click the button below to subscribe and you'll get notification whenever a new post is published. As a subscriber, you'll get access to free and exclusive stuff. See you!
This post may contain affiliate links, meaning I earn a commission if you make a purchase, at no cost to you. Read my full disclosure for more info.
SUBSCRIBE
Pin This!
(Visited 612 time, 1 visit today)