It's been a while since I last wrote about my overseas travel. Thought I shouldn't let Covid-19 stop me from sharing my Osaka story. I'll continue from where I left off, which was Day 2 when I spent an afternoon at Osaka Castle.
For better continuity, you may want to check what we did earlier in the day: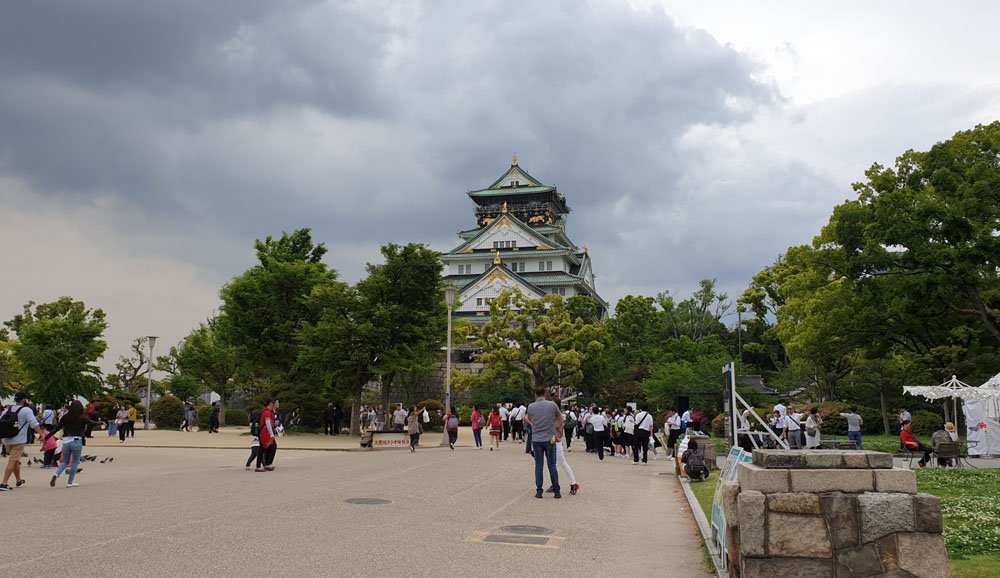 ---
Visiting Osaka Castle (walk from Morinomiya Station)
(12.40pm)
Right from the beginning, Osaka Castle wasn't high on our must-visit list as the city castle didn't look very impressive on photos. But since we had the unlimited 1-day subway pass, we thought there's no harm making a quick stop there. 
We took an east-bound train from Tempozan Ferris Wheel and alighted at Morinomiya Station, entering Osaka Castle Park from its south-eastern corner.
First things we saw: Fountain and Starbucks
The first thing we saw upon entering the compound was a fountain, or Osaka Castle Park Fountain as it is officially known. This fountain was surrounded by greenery and ample seating space.
A standalone Starbucks stood nearby for patrons to grab a cup of coffee and do some people-watching via the floor-to-ceiling windows.
As our main aim was to get to Osaka Castle quickly and get our "itinerary passport" stamped, we didn't linger for long and went in search for the castle building.
RELATED READINGS
---
An unexpected long walk to get to Osaka Castle
We totally underestimated the time needed to get to the city castle. If you didn't already know, the park was huge – at 61,000 square meters.
With multiple intersections at various junctures, you'll need Google Map if you want to get to the famous building in the shortest possible time. 
TIP: Allocate 2 to 3 hours if you want to explore Osaka Castle Park at a relaxing pace.
Along the way, we passed by a moat, saw some stone walls and thought the castle was nearby. Unfortunately, what we saw was just the outer moat. LOL!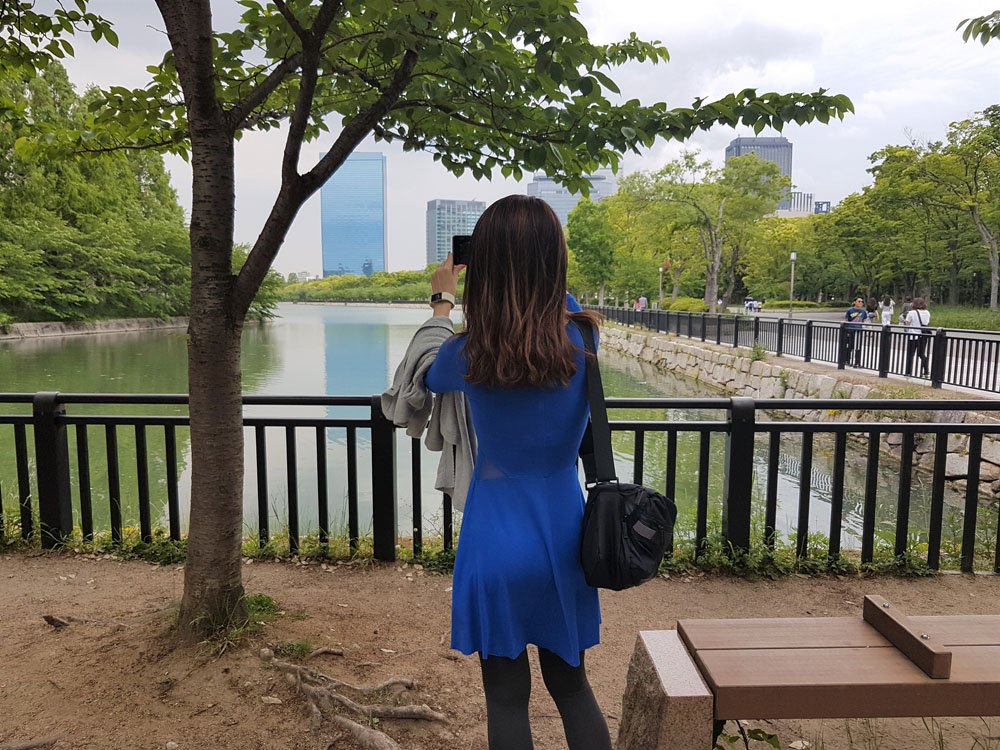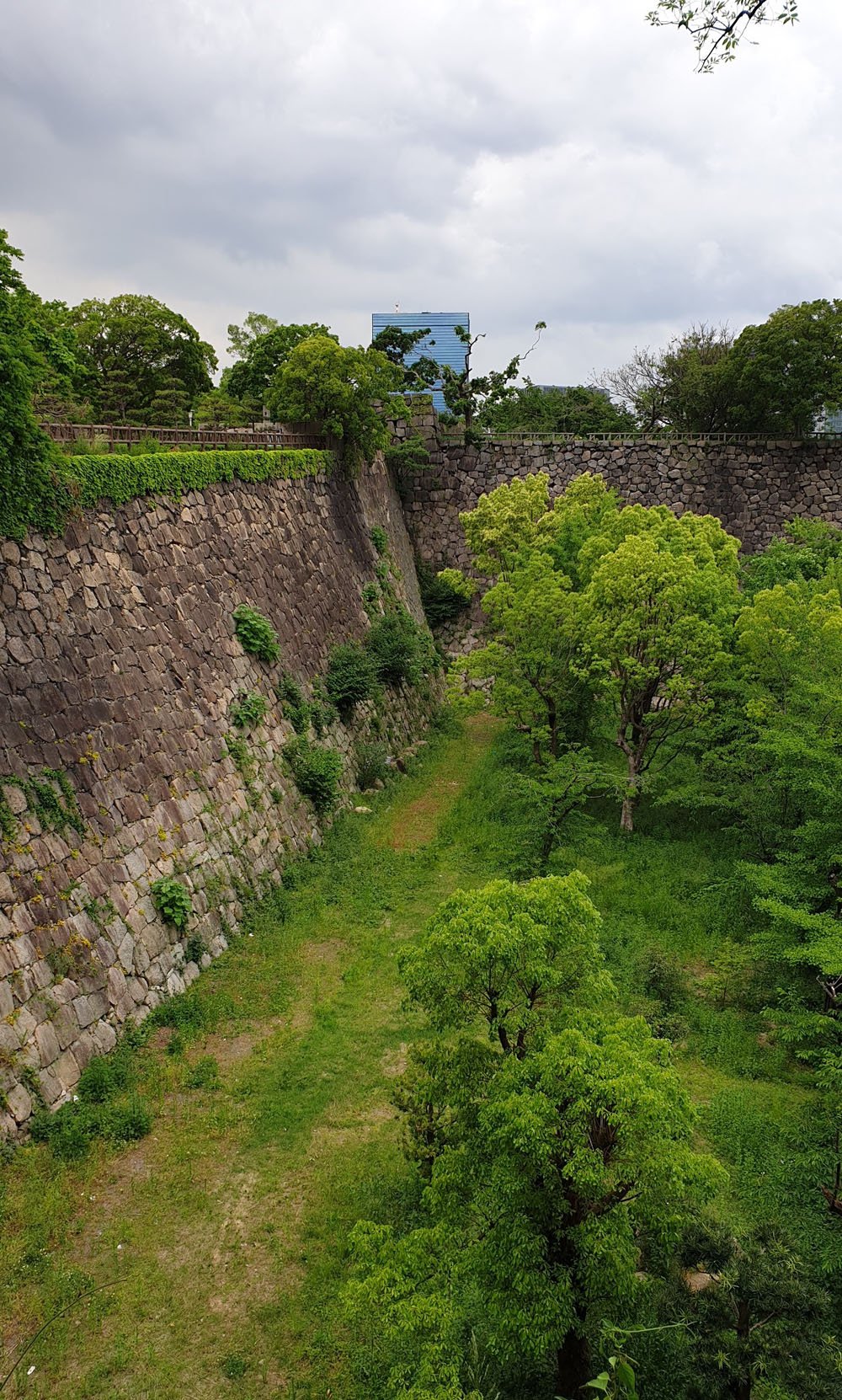 Continuing our walk, we reached the inner moat and saw a black-white structure thinking that must be the popular castle. But it wasn't.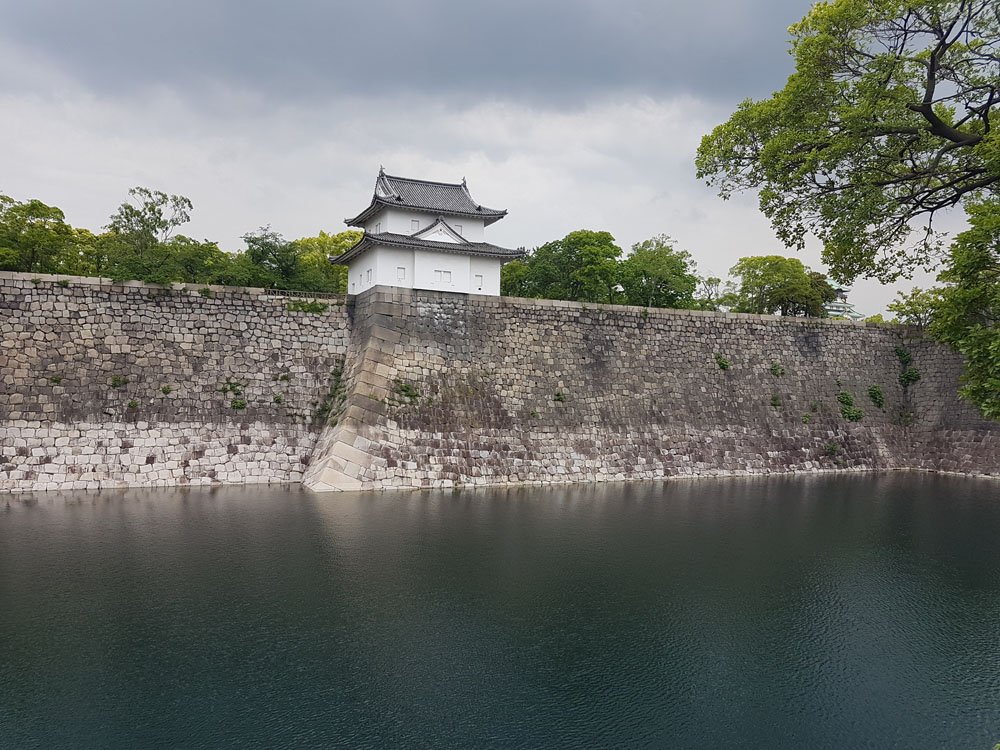 Many steps later, we passed by Miraiza Osaka-Jo – a mall within the castle park. But this wasn't the time to relax and shop yet until we get a glimpse of Osaka Castle.
Thankfully, the castle wasn't far from as we soon started spotting big crowds!
Here's our Honest Opinion of Osaka Castle
(1.15pm)
This portion of the park where the Osaka Castle stood, was a very touristy spot. As everyone was trying to take a photo of the castle, it would be near to impossible to have a clean shot without other tourists in your photo. 
Since we were never a fan of touristy places, we didn't appreciate the experience. But still, we felt obligated to take some quick photos especially after spending 35 minutes brisk-walking to the castle. LOL!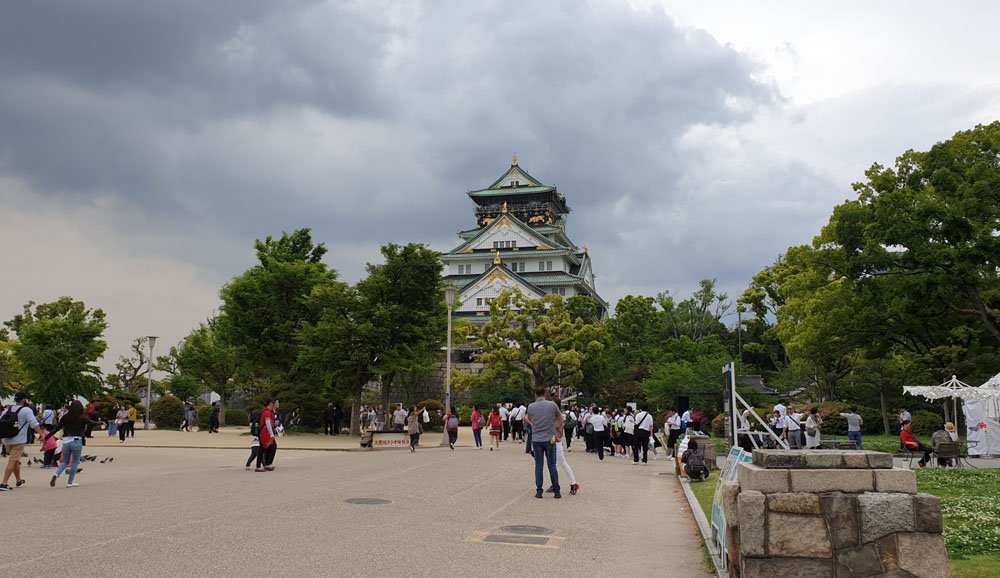 Did we find Osaka Castle impressive?
To be honest, our impression of Osaka Castle didn't vary much from our initial thoughts. The castle itself, be it its structure, colours or backdrop didn't leave us in awe. Therefore, we did regret making the decision to be there as it couldn't be a "quick stop" destination for us as we had wanted it to be.   
But you may choose to visit the castle
To be fair, Osaka Castle would probably leave a deeper impression to those who were willing to pay the entrance fee of 600 yen to get into the castle. We chose not to as our 15-day itinerary in and around Osaka would include numerous castle stops, many of which were free to enter.
Therefore, if you are only staying within Osaka city itself and not venturing to other castles, you may want to pay Osaka Castle a visit. 
TIP: If you hold the Osaka Amazing Pass, you can get free entry to Osaka Castle. 
Attraction Info: Osaka Castle
---
Miraiza Osaka-Jo – A mall within the Castle Park
When we were finally done with what we were supposed to do at the Castle Park, we retraced our footsteps back to Miraiza Osaka-Jo.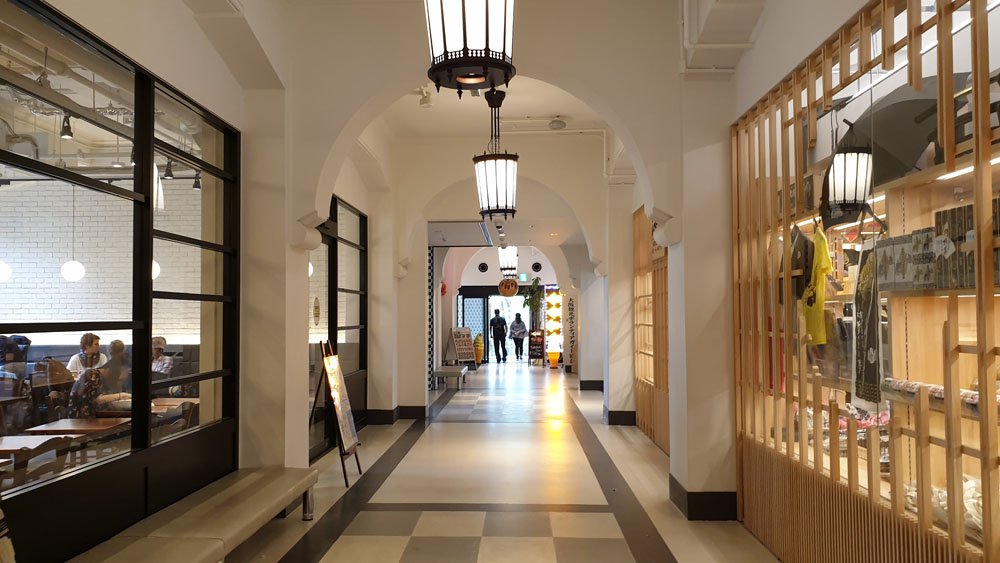 This mall within the park has a handful of gift shops, cafes and restaurants. But I would not categorize it as a shopping mall due to its limited shopping experience.
You may also want to note that the prices here – be it food or souvenirs – seemed to be priced for tourists.
There wasn't much to do at the mall, though we did find some decent spots to take some selfies. Yes, a tourist has to do what a tourist does. :)
TIP: For info, this building also houses the Illusion Museum (now temporarily closed).
Attraction Info: Miraiza Osaka-Jo Mall
Opening Hours: 9am to 10pm
Location: View map
---
Resting our feet at Osaka Castle Park Fountain
(1.50pm)
By the time we returned to our starting point, i.e. at Osaka Castle Park Fountain, we were dead tired and our legs were like jelly.
That's not due to just the 70 mins of return walk to and from Morinomiya station, but also because we had started the day really early to make the best use of our one-day unlimited subway pass. LOL!
Therefore, despite wanting to move on quickly to cover more places in Osaka, we were forced to take a rest by the fountain. Luckily, the weather was great and we enjoyed slowing down a bit to soak in the park scenery.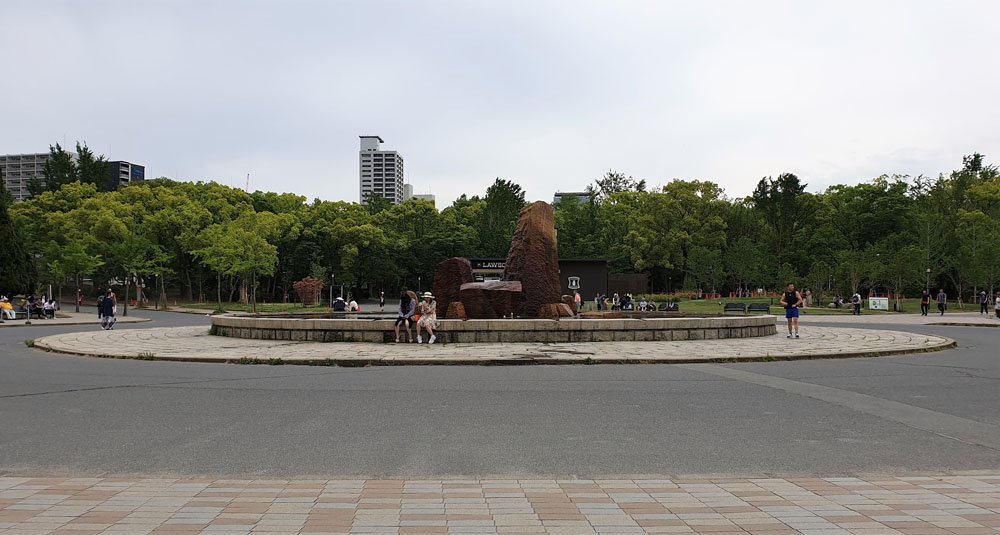 ---
And this concludes our visit to Osaka Castle. Hope it gave you some insights as to the time required for this destination! Next, we'll make our way to the very popular Kuromon Market.
Stay tuned! Click the button below to subscribe if you don't want to miss a post.
SUBSCRIBE
This post may contain affiliate links, meaning I earn a commission if you make a purchase, at no cost to you. Read my full disclosure for more info.
Related Posts:
(Visited 126 time, 1 visit today)