Ready for some ideas on your next holiday trip? How about visiting Philippines which by the way consists of 7,641 islands. Yes. You've heard me right – just 7,641 islands. =) It would probably take you just 20 years if you cover one island a day. I covered three islands in my Philippines 10 Days Tour that brought me to Cebu, Oslob, Bohol and Boracay.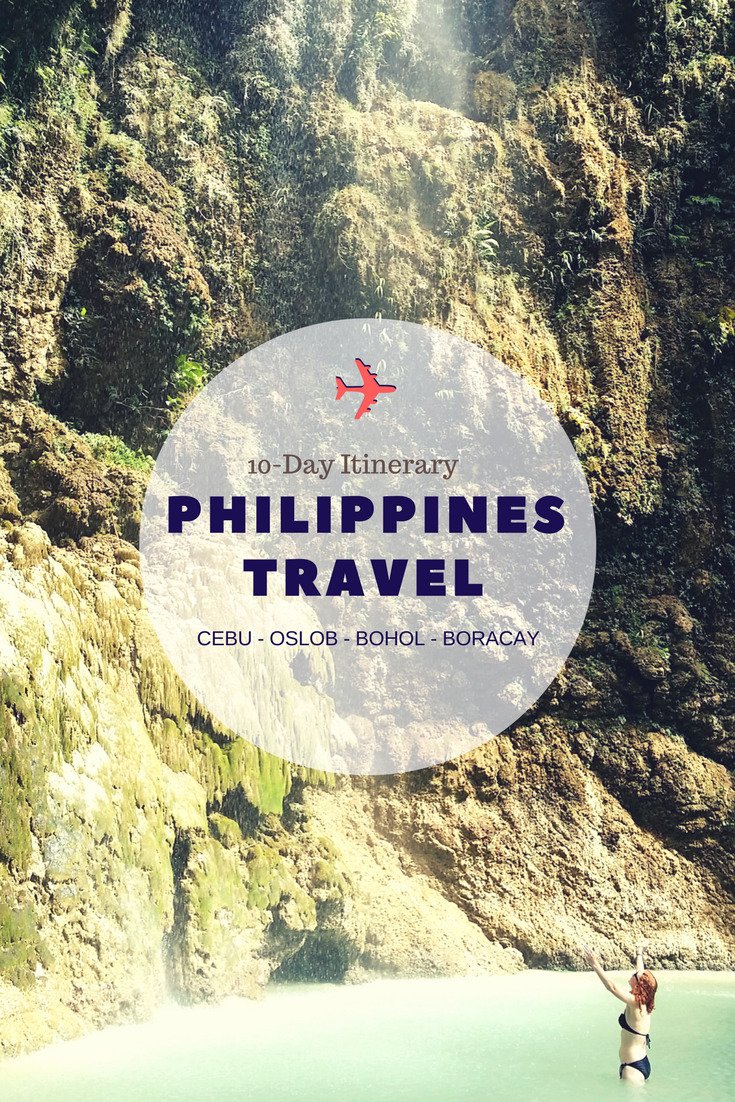 ---
Philippines 10 Days Tour – Cebu, Oslob, Bohol & Boracay
Let me tell you this – Philippines is an amazing country – pristine blue water and powder beach, tranquil waterfalls, mystical natural landscape and friendly people. I even got to swim with whale sharks! And don't forget – Philippines is an inexpensive country to be in. So, you'll really get good bang for your buck. 
As with all my travelogues, I'll be sharing in-depth information, logistics details and tips for a cool and hassle-free holiday. This Philippines 10 Day Tour travelogue would be especially relevant for those travelling on free-and-easy style – the only style I do for travelling.
Without any further ado, let's get the ball rolling….Day 1 of Philippines 10 Day Tour!
---
Singapore to Cebu: Departure from Singapore Changi Airport
Scheduled for a morning Tigerair flight at 9.25am, we stuffed ourselves with McDonald's big breakfast as early as 7am plus. Appetite wasn't great as last night's dinner had yet to be fully digested. But as a wise man once said, "You rather be overstuffed than starving." Turned out to be such an excellent advice which we would realized a bit later. 
How does TigerAir compare with other budget airlines?
Be prepared to take shuttle bus from boarding gate to the tarmac where the orangey-striped plane was. Then warmed up the knees to climb those steely metal stairs to the plane's entrance. Old folks be warned. 
Most other budget airlines I've traveled with did not torture me this much for the cheaper fares they charged – they would at least offer an aerobridge, for goodness sake.
So, why did I fly Tigerair? Because Jetstar – my favorite budget airline by the way – didn't and still does not fly direct to Cebu.  Also, how could I ever resist the $180 return fare offered by Tigerair? 
---
Getting from Mactan Airport to Cebu City
(1.00 pm)
After close to four hours of flight time, the plane arrived at Mactan-Cebu International Airport. It was a really tiny airport by international standard, and the arrival area was spartan with very limited facilities. 
Outside the Airport were some mobile food stalls selling drinks and finger food. 
Take the White Taxi to save money
(1.30pm)
Some online info were no longer valid. You can get to the White Cab easily.
Just exit from airport, turn right and walk on till you see yellow and/or white taxis. You don't have to walk for very long – probably just one or two minutes. Remember, you don't have to cross any roads or climb any stairs.
TIP: Please get ready small change for the taxi ride. Buy a drink from the vendor if you have to. I've read online reviews that some tourists ended up paying a lot more for their taxi rides because drivers claimed they had no loose change.
In fact, the white taxis were located along the same road as the yellow taxis. The queue for white taxi was so much longer but it cleared very quickly due to the never ending arrival of white cabs. In contrast, the yellow cab stood there looking rather pathetic with no customers in line.
Why? Some said the white cab is cheaper. Know why it's cheaper? Before I boarded the white cab, an on-site assistant scribbled something on a small white piece of paper and handed that paper to me. Indicated on that slip was the official cab rate and phone number we could call if we needed to report any errant drivers.
Good job, Cebu! Very tourist-friendly indeed.
Travel Time from Mactan-Cebu Airport to Cebu City
By right, it should take about 40 minutes by cab to reach Cebu City from Mactan-Cebu Airport. It took us about twice as long due to extremely bad traffic along Mactan bridge.
Taxi ride costs P260. That's about $7 for an 80-minute ride. Cheap cheap!
---
Our First Lunch in Cebu City
(3.45pm)
The Airbnb owners who appeared somewhat amused had probably heard the furious drumming within our stomachs. We were glad they made the checking-in process fast to release us for lunch.
Travel and Save: Enjoy S$45 off your first airbnb stay.
Walking under the intense afternoon heat along General Maxilom Avenue, we were expecting to see a bustling stretch with ample eating and shopping options. That was what was shown on Google Map.
See, so happening, right? 
The truth? It was so deserted in the afternoon, there were hardly any souls or activities! Just cars, pollution and angry glare from the sun. 
TIP: Use "street view" feature on Google Map to get a better sense of how the place looks like in real.
On random, we entered a half-empty restaurant located opposite Mango Square Mall. Mang Inasal served filipino fast food, such as the BBQ Fish set that I'd ordered for P120.
I was pleasantly surprised at how yummy the generous portion of BBQ fish was. Juicy, tender and sour, the meal whet up my already fantastic appetite. 
TIP:  BBQ food is so immensely popular in Philippines – it's their staple food. If you can't decide on what to eat, go for BBQ-anything. They do it so well, you can't go wrong ordering one.
---
Attractions in Cebu City 
With limited daylight hours left, we took a cab to Heritage of Cebu Monument (see map location). 
The monument that depicts symbolic events in the history of Cebu appeared somewhat misplaced. It sat next to an old basketball court and was surrounded by what appeared to be old and run-down buildings.
The Heritage of Cebu Monument wasn't spectacular, but it sure was photogenic.
Though the area that it occupied was small, the monument was tall. All in all, it should take you no more than 5 minutes to walk around it (add another 15 minutes for photo-taking).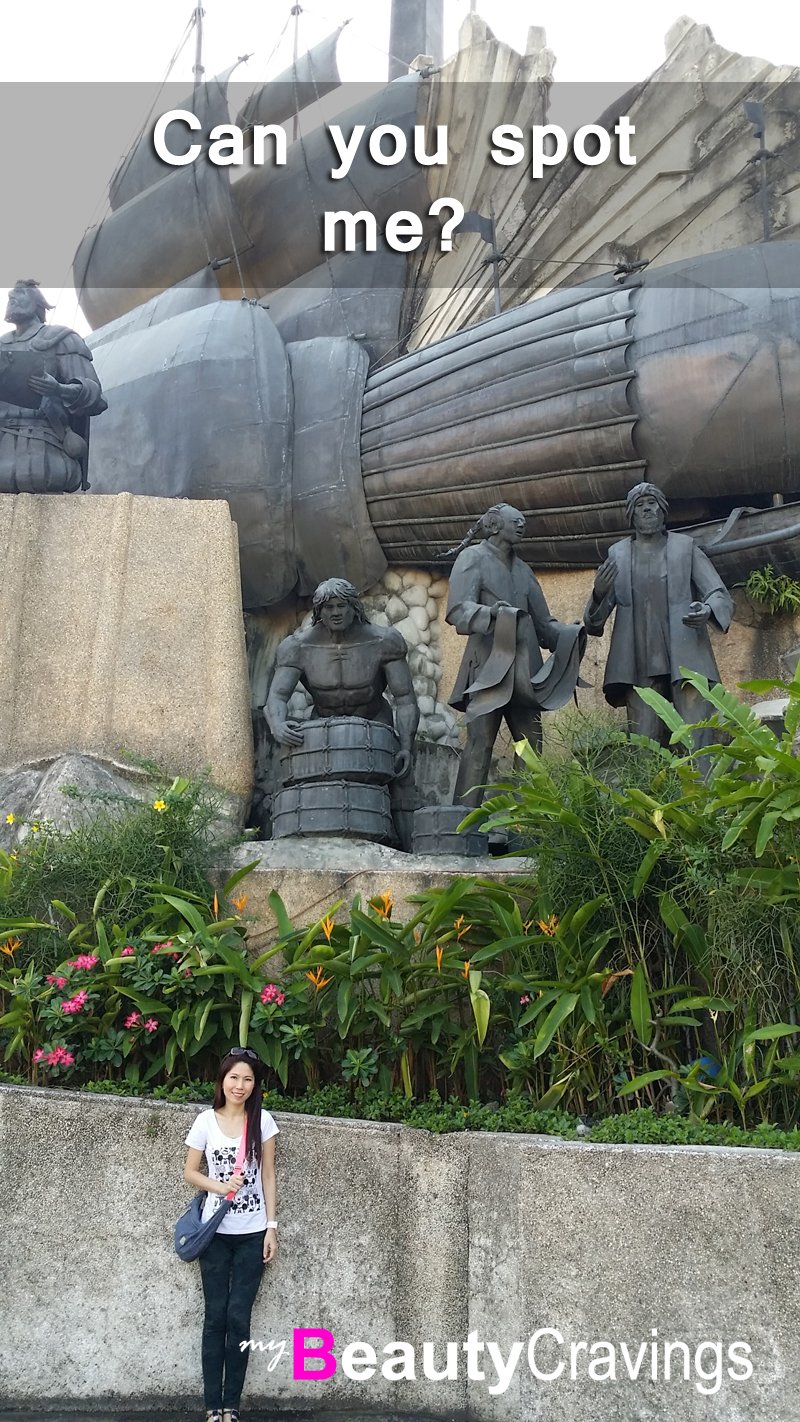 Across the road, you can see Sandiego Yap Ancestral House.  Visit it if you are into historical houses – we weren't and didn't (see map location).
TIP: Getting around City Cebu was easy. With cost of living being so low, just hail a cab. Most taxi rides within Cebu city did not exceed P90. At such an affordable pricing, we can save our efforts from figuring out complex Jeepney routes (In cebu, people do not take buses. They take "public" jeeps).
Next, a short walk brought us to Basilica Minore del Santo Nino – a catholic church built in 1739.  As a former colony of Spanish Empire, some old churches in Philippines including Basilica Minore del Santo Nino bore similar Spanish architectural design and structure. But it paled in shade in terms of its grandeur and dwarfed against those catholic churches I've seen in Spain. 
If you are a catholic and love ancient buildings, this may be worth a trip. I remember feeling a sense of peace and calm the moment I sat down on the wooden bench with my eyes closed and hands clasped (see map location). 
Just a few walks away was Magellan's Cross – a tiny chapel that houses a cross, said to be planted by Portugese and Spanish explorers when they first arrived in Cebu.
Unfortunately, Magellan's Cross was closed for ceiling painting that day. So I'd to resort to peeping through the metal gate to make the trip worthwhile. It was supposed to look like this.
What I saw was this (photo taken by squeezing the lens through metal grille gate).
It didn't appear like I'd missed much. The wooden cross that was displayed wasn't the real thing anyway. The real cross was said to be encased within the wooden cross to prevent vandalism. Some said that even the one inside might be a replica. Hmmm.
TIP: This Cebu half-day private tour offers hotel pick up and drop off and comes with your very own English-speaking guide. 
We continued our late afternoon walk to Fort San Pedro (P30 admission) – see map location.  What can I say? It is probably the smallest, shortest and most unimpressive fort I've seen in my life.
It's a pity that the views from the highest ground was blocked by trees and low-rise buildings.
Thankfully, there was a small gallery like the size of a classroom that housed some pretty interesting art pieces.
Oh…did somebody say this is a good place to view sunset? 
Seriously?
Cebu City Tour in 1.5 Hours
All in all, my DIY Cebu City Tour was completed within 1.5 hours, at a relaxing pace because everything was small and easy to comb through. We were surprised we could cover so much before sunset.
Of course, not everyone loves to walk as much as we do and figure things out along the way. If you like the comfort of a private transport and guided tour, then this tour will bring you around for half a day and over a few extra places, such as Taoist Temple and Plaza Sugbu. Admission fees to all attractions are included in the tour. 
---
Super-Huge Mall: Shopping at SM City Cebu Mall
(6pm)
Night time was dedicated to shopping at SM City Cebu – the 4th largest mall in Philippines (yes, Philippines, not Cebu). It's about thrice as large as Vivocity and a great place to get dinner, grocery or to just "shop till you drop" (see map location).
Our first dinner in Cebu was at Chikaan restaurant that served Filipino cuisine. Look at our food orders for two. 
The food was average and none was memorable. Though I'm a cheese-lover, I thought the scallops were overly-cheesy and the original taste of the shrunken scallops was totally masked. Another miss was the salad of ginger, tomato and stuff (I don't know what else was in it). It must have had been an acquired taste for we could only forced ourselves to consume 20 percent of the salad.  
The bill came up to P800 for two pax, quite pricey by local standard. Unfortunately, the premium pricing didn't translate to quality food. 
Let's Shop at SM City Cebu
After dinner was shopping time. The truth, I couldn't buy much even if I'd wanted to because that would mean lugging those things for the rest of the trip. Today was only Day 1 loh.
As with most trips, I'm not exactly a shopper when it comes to travelling. So far, only Japan, Taiwan and London proved otherwise because I couldn't resist beauty products and nicely-packaged snacks and toiletries. 
Cebu didn't appeal to me in that way. I couldn't recall seeing anything I was tempted to buy. I did however bought some Cebu Dried fruits – mango, banana, coconut…you name it, they have it. These were quite good and worth buying.  
---
Fun-filled Adventure Day Tomorrow
(9.00pm)
Quite a boring Day 1 huh? But that's typical of a first day itinerary.
Day 2 would be a fun-filled and adventurous day. Imagine, swimming with whale sharks and hiking several waterfalls. Stay tuned!
Essential Info:
Accommodation: Airbnb in Cebu
Month of Travel: February
Itinerary for the Day: Arrive Mactan Airport, Check in Airbnb, Heritage of Cebu Monument, Basilica Minore del Santo Nino, Magellan's Cross, Fort San Pedro, SM City Cebu Mall
Mode of Transport: Taxi, Walk
Printable Travel Packing Checklist: Download
Like to hear about the fun things I did as a traveler in Philippines? You can click the button below to subscribe, or connect with me through facebook or instagram. See you there!
---
Related Post:
This post may contain affiliate links, meaning I earn a commission if you make a purchase, at no cost to you. Read my full disclosure for more info.
(Visited 1,200 time, 1 visit today)