Aguinid Falls was next in line on our Day 2 tour itinerary, after having spent the morning swimming with Whale Sharks and bathing in icy-cold Tumalog Falls. Now listen, I highly recommend Aguinid Falls as a tour destination because it was so unbelievably FUN! Officially, this marked my virgin attempt in hiking up a gushing waterfall. How cool is that? 
I won't hesitate to rank Aguinid Falls as the top 3 highlights of our Philippines 10 Days Tour. 
---
How to Get to Aguinid Falls?
Getting to Aguinid Falls wasn't as easy as we'd liked it to be. First of all, there wasn't any marking on Google Map on the location of this waterfall. So reaching there via Public Bus was an adventure on its own, marked with a high degree of uncertainty – like where do we alight?
But don't worry, google map has since been updated. My travel companion told me he'd submitted the entry to Google Map. How nice of him. See location map.
Getting to Aguinid Falls from Oslob
The Habal Habal that took us back from Tumalog Falls dropped us at a bus stop along the main road (Natalio Bacalso Avenue). I believe it was a bus stop just outside Oslob Whale Sharks Watching (see location).
Step 1: Take a south-bound bus (P20 per pax) that's heading to western coast of the island and alight at bus terminal (last stop). The point where you alight is about 5km from Aguinid Falls.
Step 2: From the bus terminal, take another bus (north-bound) to Aguinid Falls (P9 per pax). What bus to take? Ask the drivers at the terminal – it's a tiny rural terminal. Everyone was within sight and there weren't many buses anyway. Do note that you may have to wait a while for the next service. Think we'd waited for at least 15 minutes.
The total journey from Oslob to Aguinid Falls took us less than an hour, including waiting time.
---
Arriving at Aguinid Falls
(12pm)
Aguinid Falls was located about 5 minutes walk from the highway where we alighted. It wasn't difficult to find as there was signage along the way. The entrance fee was P40 per pax.
Basic Amenities at Aguinid Falls
There were basic shower facilities available. So you can get changed there. Although there were no locker facilities, the staff helped look after our belongings which were placed in an open hut at the entrance. That hut seemed like a resting place for the guides.  
TIP: To be on the safer side, do keep your valuables with you, perhaps in a waterproof pouch. Because the hut was not manned by a specific person. Rather, it was "guarded" by a group of people – so I guess there might be accountability issue should any dispute happen.
Compulsory Guide at Aguinid Falls
If you can deduce from my love for free-and-easy style of travelling, you wouldn't be surprised how much I disdain having tour guides tagging along (or leading). I like to have freedom to choose how much time to spend in an area of interest, without someone ushering me on or making me wait.
Unfortunately, guide is compulsory at Aguinid Falls. What's worse? We were told to get one guide each.  So we had two guides guiding the two of us. Hmm…a bit excessive right? 
---
The 5-Level Hike up Aguinid Falls 
Hiking Aguinid Falls isn't difficult for adults, whether you are adventurous or not. My guides did it wearing flip flops. Me too, though I would highly recommend a hiking sandals instead. I'll tell you why later.
If you like to, you can do some pool plunging, sliding, easy rock climbing or get a fish spa massage and DIY mud facial.
Here we go in chronological order from Level 1 to 5.
Strictly speaking, there are 6 levels of waterfalls at Aguinid. The hike started from Level 0, which was a shallow multi-tiered falls shorter than my height (I'm petite by the way….Ok Ok. I'm short).
At Level 1, the water was still shallow, coming up to my chest at the deepest point. Look at the light turquoise colour of the water with rainbow over it.  This was only the beginning of a splendid and fun-filled afternoon.
Water within the pool was calm and hence allowed for easy walking even with flip flops. There wasn't any risk that the current of the water would dislodge my shoes.  Still, I do not recommend flip flops. Read on.
The first fun activity was a Jacuzzi session offered by mother nature. The gushing water gave a massage that's way better than man-made water jets. Balanced flow and no itchy spots, if you know what I mean.
Surrounded by the tranquility of the natural landscape and the soothing sound of water, can you imagine how relaxing it would have been? Alas, we were kind of "paisei" (translated as shy) to have the guides wait for us. So it was a short massage session lasting probably 1 minute.
Level 2 appears harder than it actually was. The climb was not difficult. First of all, the rocks weren't slippery. Secondly, there were hand-holds carved out of the rocks for you to grip on or step on to. Anyway, the most dangerous thing that could happen to us was sliding down back into the pool.  Nothing life-threatening. 
See the guide in blue could even stand upright.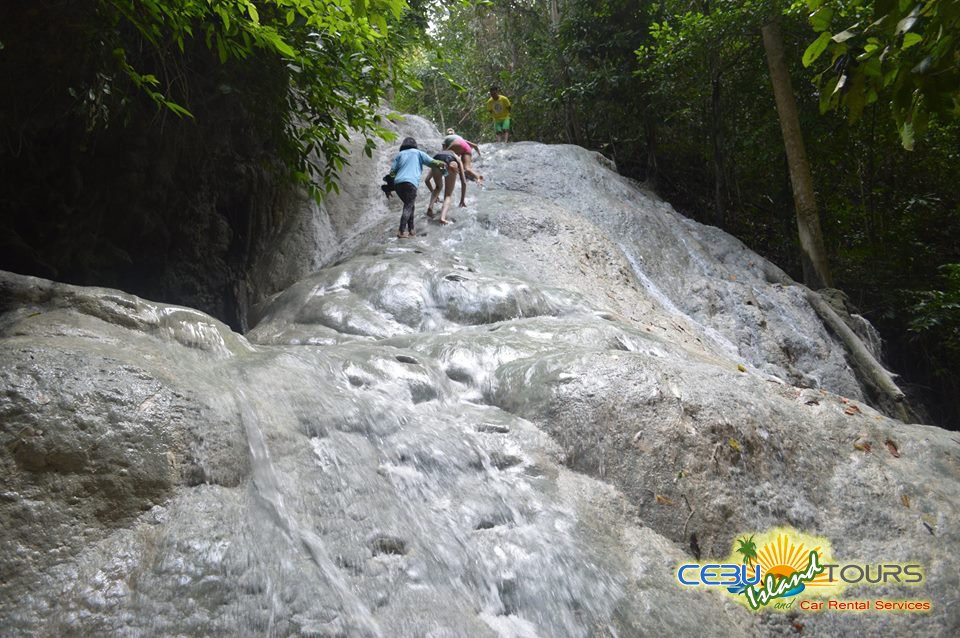 Next up was the fun pool-plunging experience. It was so fun, I'd made three jumps!
Someone just made the jump. Look at all the splash and bubbling in the water. I was happily waiting for my turn. 
(Seems like that local guy behind me was happy to see me jump. :))
Although the water was shallow, it was a safe jump because the guide told us the exact spot to drop into. Look at the guy in blue top. He was our bubbly and friendly guide. The other female guide was camera-shy.
Skip the Flip Flops at Aguinid Falls!
Unfortunately, this was the spot I injured my little toe. It wasn't due to the jump, but more of the lack of proper footwear.  After the jump, my flip flops came loose. Just one step on the riverbed and I felt the sharpness of the rocks piercing into my skin. A bleeding toe was the first and only injury of the day. Thank god!
TIP: Wear a proper footwear – either aqua shoes or hiking sandals. Something that won't come loose.
We carried on with a vertical climb to get to Aguinid Falls – Level 5.
Soon, we were directly under the waterfall, waiting eagerly for our first water slide of the day. Yes, the quickest way down is to SLIDE DOWN. Woo Hoo!
And that's it! Level 1 to 5 completed. Fun right?  
TIP: Don't forget to pair Aguinid Falls with a visit to Oslob where you can experience swimming with Whale Shark and dipping in the magical Tumalog Falls. Take a look at this Oslob tour package.
The journey out was to reverse track and go down the way we came from. Most hikers would know that going down is less strenuous but more challenging than going up as the motion is more prone to sliding or falling.  With the guide around, you don't have to worry. They provided great support.
In fact, I thought my lady guide was hand-holding me too much, I'd to remind her numerous times not to hold my hand as I wanted to enjoy this experience and conquer this waterfall based on my own effort and ability.
Aguinid Level 6 and Beyond
My travel companion and I parted at Level 5, as he went on to conquer Level 6 to Level 8. I'd wanted to continue too, but the guide told me not to. Perhaps, I appeared too dainty to him. :/ Can't judge a book by its cover, ok? 
In any case, it wasn't easy from Level 6 onwards. The water became deep (over the head) and the climb was vertical, with no man-made aid to ease the climb. Reluctantly, I heeded his advice, and returned to the entrance to take a shower, while waiting for my travel companion to finish his adventure. He came back via another route, part of it was on land.
---
Tipping the Guides at Aguinid Falls
This was one of the better guide services I've had in a while. And I did actually find their service "useful." They helped take lots of photos for us (using our camera) and were extremely friendly. Without them, we wouldn't know where to do the slides and jump, or to enjoy fish spa where tiny fishes nibbled off dead skin from our feet.
Still, I can't help wondering the intent of having two guides attached to the two of us. One would suffice for Aguinid isn't a difficult waterfall to hike, and we were fit and healthy adults.
How much to tip?
You will tip the guides at the end of the hike.  
Local blogs (Filipino) suggested a tip between P50 to P100 per guide.  Foreigners tend to give more, probably due to the stronger home currency they enjoy. It's really up to you.
---
Getting from Aguinid Falls to Cebu
(2pm) 
We ended our hike early, after a mere 1 hour plus. Some people said they'd spent 4 hours. Hmmm….how I wish I could take it a little slower there and enjoy the sight. But with tour guides around, I just had to move on when they did.
TIP: Another popular attraction is Kawasan Falls which we'd wanted to visit badly, but lack the time. It is located about an hour's drive from Aguinid Falls. If we ever return to Cebu, we would definitely want to do a Canyoning tour here.
After a shower, we made a wrong decision. That was, to skip lunch and proceed back to Cebu. The Ceres Bus (P185/pax) we took along western-coast highway took 5 hours to reach Cebu, more than the 3-4 hours as advised online. There were massive jams when approaching Cebu – so massive the bus was hardly moving. 
Couple that with being outright famished and a little "bursting" on the bladder, it was certainly a "memorable" 5 hours ride. Just a reminder, our first meal of the day was at 5am, munching biscuits on the bus. 
---
Dinner at Elizabeth Mall in Cebu
(7.20pm)
Once we were released from the bus prison cell, we made our way to the nearest place that offered food. Elizabeth Mall, a small-scale mall located just next to Cebu South Bus Terminal was the right choice, for food choices were abundant. We opted for a fast-food restaurant "Greenwich" and I ordered a large portion of sinful food, comprising a slice of Hawaiian Pizza, cheesy and meaty Supreme Lagsana topped with breadstick and a pile of crinkle-cut fries. And don't forget that cup of Iced Lemon Tea (P177).
I ate like a hungry ghost and finished everything on the plate in record time. It was delicious! Highly-recommended if you happen to see Greenwich – a pizza chain in Philippines.
---
Shopping at Colon Street
Colon street is the oldest street in Philippines (yah, oldest in the country). I was a bit hesitant about visiting the place as online resources mentioned about the risks involved, such as theft and pickpockets. Well, all I can say is that it should be alright if you practise basic vigilance and don't show off your valuables.
TIP: Carry a sling bag or waist pouch instead of a shoulder bag. And skip the gold or diamond jewellery. You should be fine. It didn't feel as dangerous as I'd initially thought it to be.
Colon Street was lined with interesting roadside stalls, shops and fast food restaurants, such as McDonald's and Jolibee. You can also load up on grocery at Coranade Supermarket. Or shop comfortably within the air-conditioned Metro for general merchandise.
TIP: There's a food court on Level 6 of Metro Department Store. 
I bought myself some doughnut, cupcake and cookies from Julie's Bakery and the total bill came up to just p15 (S$0.50). But I didn't think they were outstanding – a tad too sweet and rough for my liking.
After a long long day that started from 3am, we finally made our way back  to our Airbnb apartment (taxi: p60). 
What's on for Day 3? We would explore Bohol, an oval-shaped island in Philippines near to Cebu. Stay tuned!
Like to hear about the fun things I do as a budget-savvy free and easy traveler? Just click the button below to subscribe. I'll even give you some free and exclusive stuff. See you there!
This post may contain affiliate links, meaning I earn a commission if you make a purchase, at no cost to you. Read my full disclosure for more info.
---
Related Post:
(Visited 567 time, 1 visit today)