Day 2 of Philippines 10 Days Tour was an exciting and adventurous day that saw us swimming with whale sharks in Oslob, bathing under the mystical showers of Tumalog Falls and hiking up multi-tiered Aguinid Falls.
Swimming with Whale Sharks in Oslob
Do you love fish? No problem if you don't. I don't fancy fishes too. However, swimming with GIGANTIC fishes is a totally different thing altogether, and many would even think of such experience as a bucket list item. It sure gave me a beautiful memory that would stay with me for a very long time. 
To swim with big fishes, you need to sacrifice on your sleep and work on some logistics planning. 
Getting from Cebu to Oslob
(3am)
Oslob was located 4 hours away from Cebu city by bus. We woke up at 3am so as to reach Oslob by 6 or 7am. This was said to be the ideal time to swim with whale sharks as water would be "crystal clear" and the place wouldn't be that crowded. 
Here's how to get to Oslob:
Step 1: Take a cab to South Bus Terminal (see map location / Our cab fare: P70)
Step 2: Take Ceres Bus to Oslob (B

us fare: P165/pax)

Step 3: The bus driver told us to alight at MB Resort (see map location)
We departed from Cebu South bus terminal at around 3.30am and reached MB Resort at 6.45am. Once we alighted from the bus, the staff at MB Resort welcomed everyone with open arms. They then presented us with the following options:
Swim with Sharks: P1000
Stay on boat and watch: P500
Locker & Shower facility: P100
Rental of Fins: P100
The facilities provided were really lousy. The tiny locker was made of wood and could hardly close properly. All our belongings were secured with a vulnerable-looking rusty little lock – so don't bring too much valuables with you.
There were only one toilet and two shower facilities for all to share (like 20 of us per bus load). And the filthy and soiled shower room didn't come with any hooks for us to hang our stuff. 40 precious minutes were wasted just waiting for a chance to get changed into our swim suit.
As if the delay wasn't enough, we were told to get onto a jeep that would bring us to the actual Whale Shark Watching premises. By the time we got into water, it was close to 8am – way past the "ideal time" to get into water.
TIPS: When we decided not to rent the fins, the staff urged us to get it as he said the current was "very strong". Turned out that fins were not necessary at all as most of us were in our life vests. How fast and how deep can you swim with a life vest? In any case, we were kind of confined within a small area near our boat, and was told not to swim away. Glad we didn't listen to his sales pitch.
For some reasons, I'm wondering if there was a collusion between bus driver and MB Resort. Like, couldn't we have alighted straight at Whale Shark Location? Why did we need to alight at a private resort and pay to use their lousy facilities? Ok, I just googled. My instinct seems to be correct. 
According to this website, the facilities provided by Whale Shark Watching is free of charge. All of us on the bus might have been conned into alighting at a private resort. But what to do? If the bus driver won't drop you off at the right location, what are your options as a tourist?
---
Whale Sharks Experience
(8am)
We have to board one of the many small boats that would bring us a short distance away from shore where the whale sharks would be fed (by the boatman).
There were MANY whale sharks in the water. Some came as close as an arm's length away from me. Of course I got panicky and tried to swim away. I was afraid that the whale sharks would bump into me and knock me out or swallow me by accident.
He He. I was over-worrying. These whale sharks were intelligent enough to navigate through the water without brushing against any human beings (or at least me).  They were probably more worried about us touching them.
It was such a great experience swimming with these gentle giants.  Unfortunately, the water was murky and visibility wasn't great. Sorry for the poor quality photos. These huge mammals couldn't be squeezed into the frame of my camera. I only managed to capture "body parts". LOL.  But trust me that the actual experience left an imprint on me, far more beautiful than what are presented on these photos.
TIPS: Consider paying for photos to be taken by staff/boatmen (P500). As you could probably tell, it wasn't easy getting good photos on our own due to the massive size of these mammals. You need someone to "shoot" from afar to capture photos like the ones below.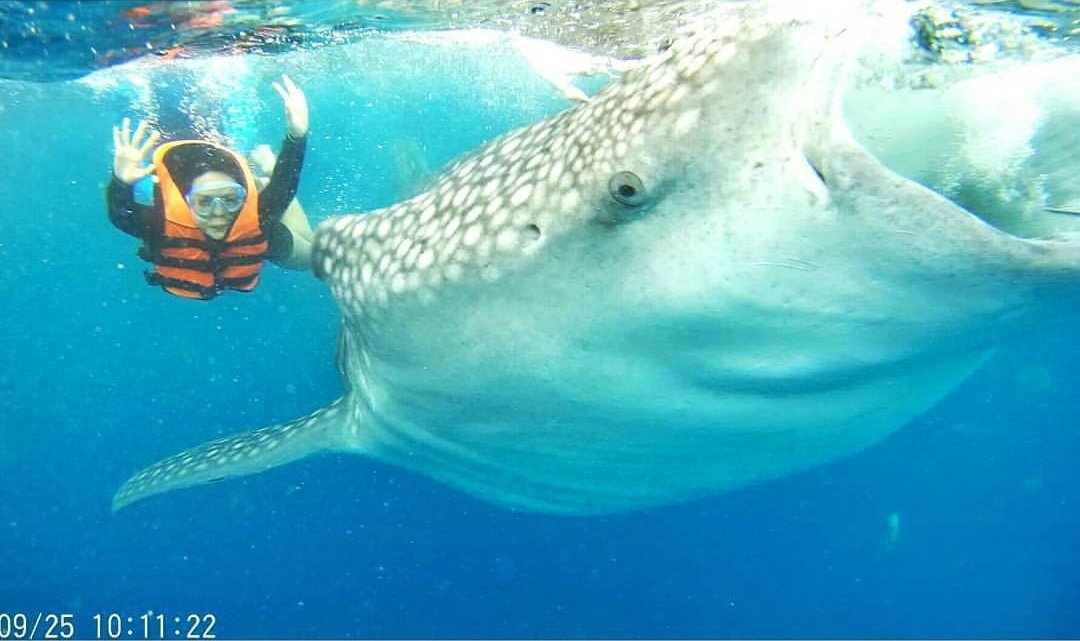 The entire experience wasn't perfect. There were too many people and each group was being confined to a small space within the water. I was kicked a few times and I myself kicked some people too. Chaos would strike whenever a giant swam past us as everyone would get all excited and start kicking haphazardly trying to swim towards the giant.
---
Tumalog Falls
(9.15am)
The next itinerary on Day 2 would be to visit the tall and magical Tumalog Falls. To do that, we need to begin our second mini adventure of riding a motorbike (1 rider carrying 2 pillions) up and down very steep slopes.
Excuse me, it's my first time on a motorbike, ok?
TIPS: In Philippines, motorbike "taxi" is known as Habal Habal.
Phew! luckily it was a short 15 minutes ride. Cost us P200 (two-way).
The habal habal rider dropped us at a location where we needed to walk down a steep slope for 10 minutes or hire another habal habal for an additional P30 or so. We opted to walk.
Why did I call Tumalog Falls a magical waterfall? You take a look at the magnificent shower that sprinkled from great height over emerald-green water and tell me what you think. I even saw rainbow that day!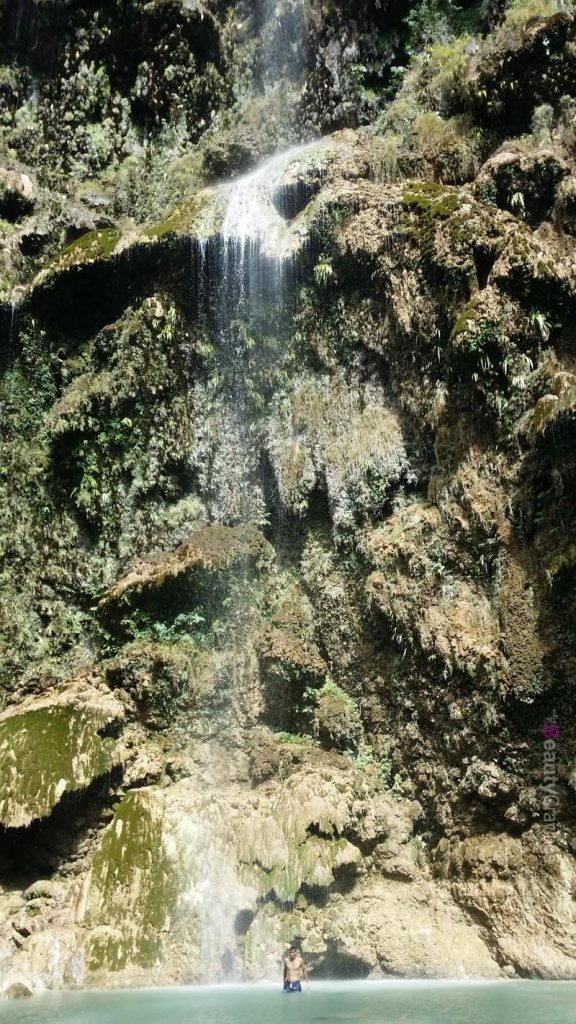 The water was surprisingly cold under a tropical climate. Running waist-deep, it made this fall suitable even for those who aren't confident in water.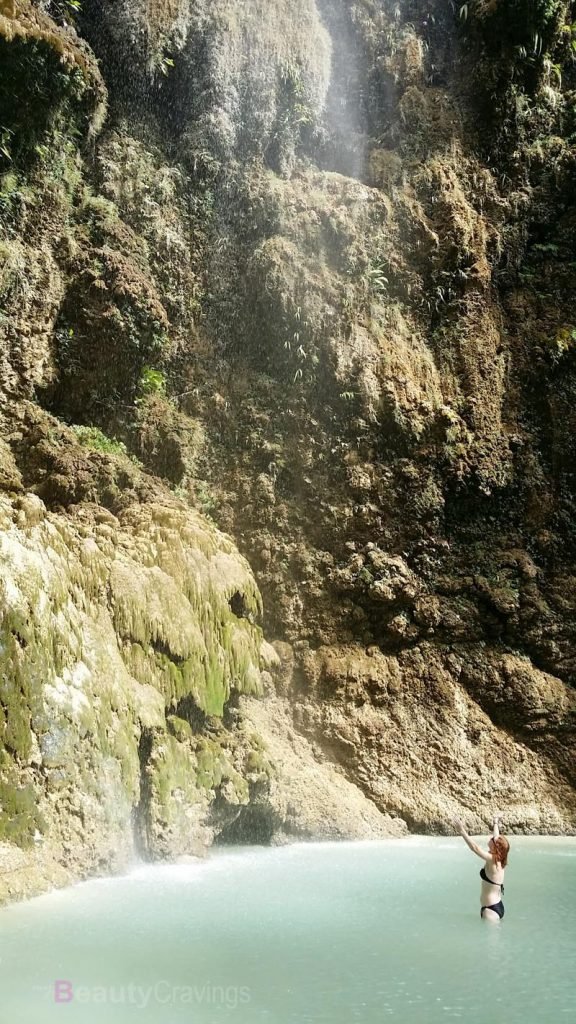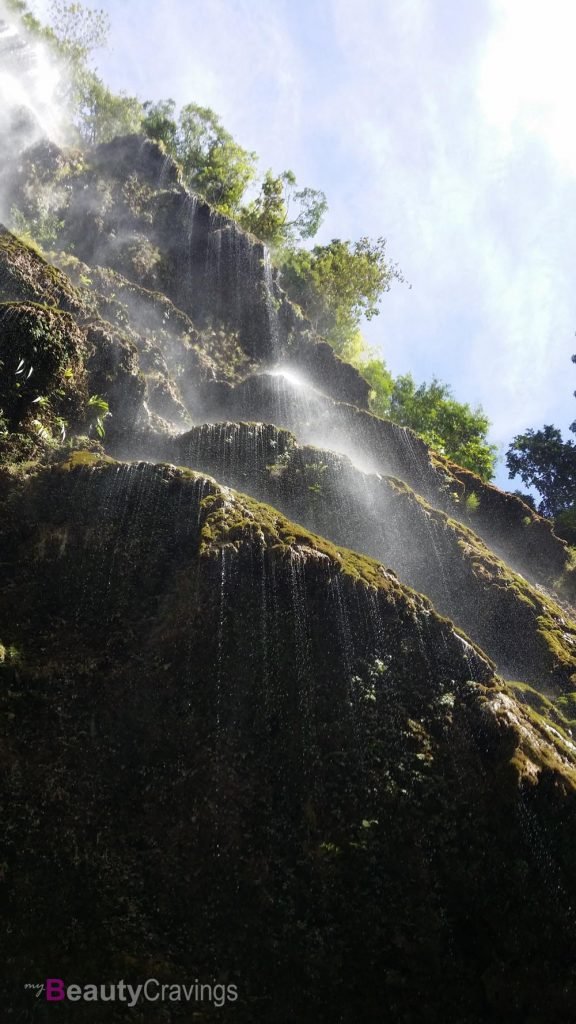 Here's how it feels when you are standing just underneath Tumalog Falls.
After an hour of playing in the chilly water, we walked back up via the steep slope we came from and took the same Habal Habal who was waiting for us. He then sent us to a bus stop where we would travel onwards to our third destination for the day – Aguinid Falls. 
I'll leave that to the next post. Stay tuned! =)
Look at the suction mark left behind by the diving mask during morning's whale shark experience. It's been a few hours and I still looked like I was snorkeling. LOL. 
Like to hear about the fun things I did as a traveler in Philippines? You can click the button below to subscribe, or connect with me through facebook or instagram. See you there!
---
Related Post:
(Visited 487 time, 1 visit today)