There are so many beaches in Boracay. Which is the best? I've had the chance to visit a few on Day 5 of Philippines 10 Days Tour, and let me show you in this post what I thought is the Best Beach in Boracay.
Read on, view the photos and see if you feel the same too.  Psst, I believe not many are aware of this part of the beach as of now. So let's keep it a secret, shall we?
---
Breakfast at Oasis Resort & Spa
What a beautiful morning, waking up to free ala carte breakfast at Oasis Resort & Spa. I chose "Happy Breakfast" from their menu and it came in large portion and was very filling.
My travel companion ordered this and I can't even remember what that red thing was. Heard it was just average.
---
Ilig Iligan Beach was our private beach for the day! 
Staying in a more remote part of Boracay (northern part) gave us the opportunity and convenience to explore two beautiful and serene beaches, which were within short walking distance from Oasis Resort & Spa.
5 minutes of leisure stroll brought us to Ilig Iligan Beach. In fact, it was so near, we could even see it from our resort's balcony.
Look at the color of the water. Layers of cyan, turquoise, aqua and deep blues! What a sight to behold! And the best thing about Ilig Iligan Beach was how quiet it was.
It was our PRIVATE BEACH. We could even change in the open without any worries. How cool is that?
The water was calm and easy to swim in. As a weak swimmer, I felt totally at ease, dipping in the clear water and taking in the sight of mini coves and the lovely horizon set between two tones of blue. Trust us, we had so much fun!
INFO: If you are staying elsewhere in Boracay, you can take this popular Boracay Island Tour. It stops at many beaches, including Ilig Iligan Beach and Puka Beach.
---
Best Beach of Boracay – Shhh…Don't tell anyone!
After briefly drying ourselves at Ilig Iligan Beach, we continued our venture to an unmarked Beach, next to Puka Beach on the map, but not connected to it by shoreline.
To reiterate, this was not the crowded Puka Beach where most tour operators would drop tourists at.  On the contrary, this was a beach enjoyed only by a handful of people. Let me differentiate and call this the Puka Secret Beach.
TIP:  It's located to the right of the popular Puka Beach. Basically, just walk along the road where Adventure World is located, right to the very tip of the road. 
On our way, we met two lovely girls just sitting by the walkway. We gave them one packet of chips and they were soooo happy! Seeing how happy they were also made us happy! :)
I'd thought Ilig Iligan Beach was the best beach on Boracay until I arrived at "Puka Secret Beach".
Another cyan blue sea with multiple tones of blue. The water was so shallow and calm over here, we could walk far out and still have our head above water.
What sets Puka Secret Beach apart from Ilig Iligan Beach was the abundance of rocks in shallow water. See the deep blue stretch? Those signals the presence of rocks beneath. Got to be careful on what you step on, okay? If possible, bring along an aqua shoes.
But ok lah, they are just rocks, not sharp corals. So not too bad, I supposed.
Oh wait! You could even reach a cave by waddling in the shallow water. Too bad I can't show you how the cave looked like because I'm shy (in swim suit lah). 
Look at the direction my partner was pointing at. That's the cave. Not too far from the shore, right? 
---
Lunch at Oasis Resort and Spa 
(2pm)
Look at what we'd ordered for lunch at Oasis Resort and Spa! Three sets of main course for two persons. We must be very hungry! 
---
Free Massage on Breezy Rooftop
(3pm)
The good thing about staying in Oasis Resort and Spa was the free 1-hour massage for two. But only one masseur was there when we arrived on the rooftop.  The other masseur whom we have booked decided to go AWOL. And no one could guarantee us another slot on that day. What a bummer!
While I was enjoying the massage, my companion decided to kill time by enjoying an afternoon nap in one of the hammocks on the roof top. He told me he loved it as it was so relaxing! The roof top was a great place even in the afternoon as it was windy and we could hear birds singing and waves crashing. What a superb experience!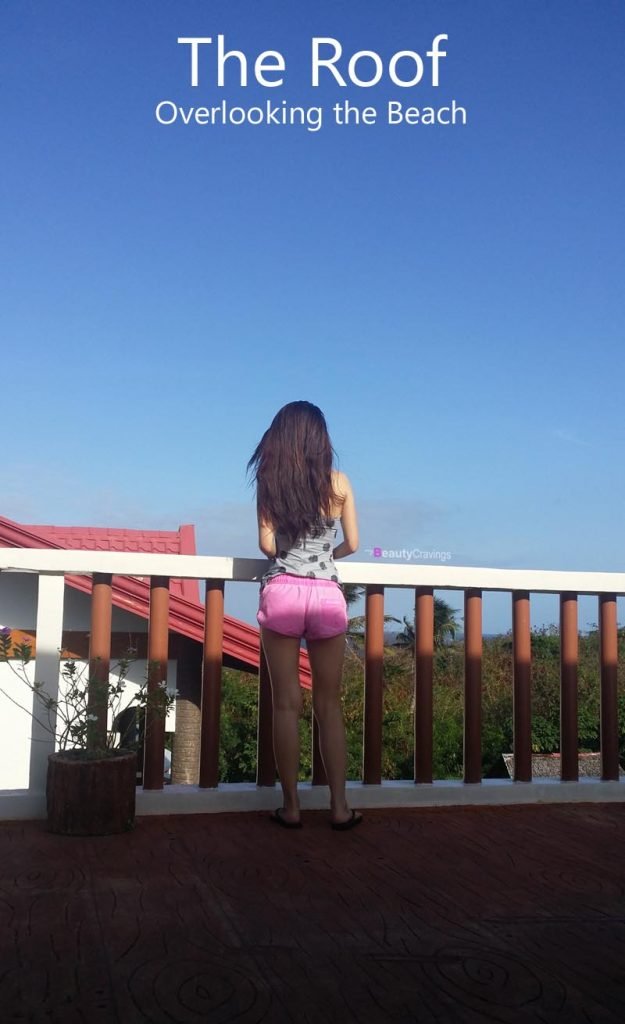 I loved the massage and gave the masseur a fat tip. She was grateful and offered to work overtime to give my travel companion a massage at 9pm the same night, without us asking. What a pleasant surprise! =)
INFO: Here's a highly raved spa massage located at White Beach, Boracay (near station 3).
---
Lazing and sipping red wine at the Balcony 
(4pm)
The best thing about beach and resort holiday is doing nothing.  I enjoyed a glass of red wine at the balcony, and took in the partial sea view while taking lots of selfies. It was such a relaxing moment.
---
Lovely Sunset at White Beach, Boracay 
(5.30pm)
We took a free shuttle from the resort and arrived at White Beach (station 2), just in time to catch the lovely sunset.
White Beach was a stark contrast to the two other beaches visited in the morning. It was super duper crowded. Other than the really fine white sand that felt cold to the touch, the rest was a disappointment. Color of water was boring. And the shore was full of algae, so much of it we didn't even want our feet to be in the water.
Update (2019): I hope the White Beach has improved after a recent 6 months closure of Boracay Island. 
---
Dinner at D Mall, Boracay
After a hot sunny day out at the beaches, we decided to cool ourselves down with Japanese cuisine. At Hama Japanese restaurant, I ordered a bowl of Chirashi Don while his was a bowl of soba.
And we had some sushi for sharing. Standard of the dish here was OK – not excellent but passable.
Drinks was some tropical juice and a mug of Sake Bomb. Sake Bomb was so fun!
I was told to bang the table with force, so that the sake would fall into the mug of beer.  I was a little embarrassed as banging table wasn't exactly a lady-like thing to do.
Quick, BANGED the table HARD!!! After a few attempts, the sake fell into the mug and created a spill. The staff was attentive and stood ready to clear the mess. They wiped the table and changed the table mat without me asking for the service. 
The meals cost about P700 per pax.
---
Stargazing on Rooftop
(9pm)
Now, it was my turn to enjoy the hammock while my companion received his massage at the rooftop of Oasis Resort & Spa. I brought along my bottle of red wine and chocolate pretzel, getting all ready for a night-time picnic and stargazing session.  
The chilly cold wind from Ilig Iligan Beach turned this place into a cool 25 degree Celsius. "What a fantastic holiday", I thought while making out the star constellations. This was one of the best places to do star gazing. There were sooooo many sparkling stars! Thousands. Millions. You get it, it reminded me of my stargazing experience onboard an overnight cruise at Halong Bay, Vietnam. 
---
That's all for the Day 5. Stay tuned for the next post as we moved to stay in another part of Boracay and continued to have great fun!
Essential Info:
Accommodation: Oasis Resort and Spa in Boracay
Month of Travel: February
Itinerary for the Day: Ilig Iligan Beach > Our 'Secret Beach' > Massage > Sunset at White Beach > D Mall > Stargazing
Mode of Transport: Walk, Hotel Free Shuttle
Printable Travel Packing Checklist: Download
Like to hear about the fun things I do as a budget-savvy free and easy traveler? Just click the button below to subscribe. I'll even give you some free and exclusive stuff. See you there!
---
Related Post:
This post may contain affiliate links, meaning I earn a commission if you make a purchase, at no cost to you. Read my full disclosure for more info.
(Visited 1,080 time, 1 visit today)