Hey guys, haven't seen me for a while? Well, I was exploring other parts of the world including El Nido, Puerto Princesa and Eastern Taiwan. Now that I'm back, let's continue to talk about Boracay. On Day 6 of our Philippines 10-day Tour, we bade farewell to Ilig Iligan Beach and waved a big "Hello" to Boracay White Beach!
Yes, we would change hotel and move to the most popular and crowded part of Boracay – the White Beach.
---
Checking out of Oasis Resort and Spa
(9.30am)
Let's have a filling and yummy breakfast before checking out of Oasis Resort and Spa?
Look at that plate of complimentary breakfast. That omelette is so darn huge! :) 
While waiting for our free shuttle at Oasia Resort and Spa, I decided to explore the resort's garden area, play with the friendly resident doggies and have a few rounds of table tennis.
It was so fun, except that the ball would either fly out of that black-framed window or bounce into the garden (behind photographer). I'll say the running and picking up of balls were more strenuous than the game itself. LOL!
---
Mini Review of Oasis Resort and Spa
Pros
The stay at Oasis Resort and Spa came at an extremely attractive price for the value that we got. At S$55 per night, we had a room that came with free breakfast, free massage and offered great proximity to Ilig Iligan Beach and Puka Beach.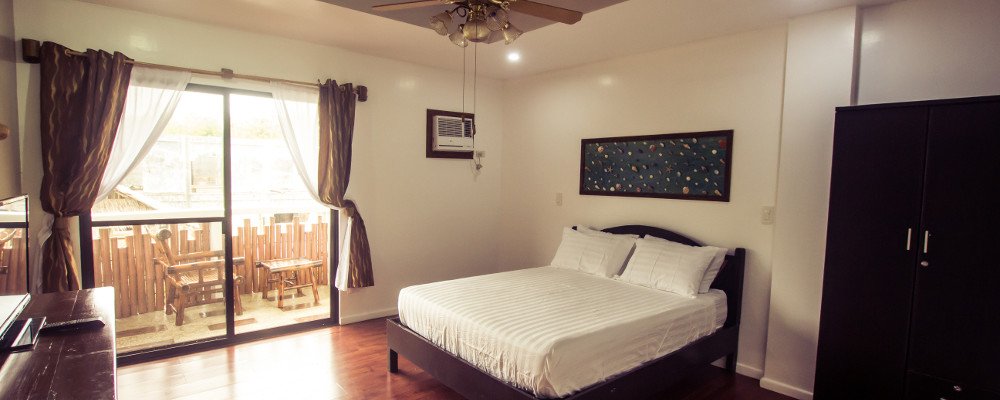 The room was tastefully done in Balinese style, and the balcony offered partial sea view. You can hear the sound of crashing waves and howling wind, right from the room, and you'll be amazed at how therapeutic that was. The lullaby from nature gave me a wonderful sleep.
In the day, you can take their free shuttle to D Mall. I have to commend Oasis Resort and Spa for the punctuality of their shuttle service, right to the minute.
At night, you can star gaze from the open roof, enjoy the soothing breeze and relax in their comfortable hammocks. 
Service was good and staff was friendly and eager to serve. Some of them appeared a little shy though.
Travel and Save: Enjoy S$45 off your first airbnb stay.
Cons
How about the imperfections?  Shower water took about 15 minutes to heat up. We'd turned on the tap on the first night, waited for what felt like forever, thought the heater was spoilt before deciding to bathe in chilling water *Shiver* (it was a cold night).  
There wasn't any in-room safe. Location was also a bit secluded from the popular Boracay White Beach, and that probably explained their affordable pricing. But you get compensated with free to/fro shuttle services.
And of course, this is a small resort. So don't expect hotel facilities such as swimming pool, gym or buffet spread in the morning. What you get is a rustic, original and very romantic experience.
Overall Rating: 4.5/5
---
Checking into Current by Astoria Hotel
(2pm)
After alighting at D Mall, we walked another 20 minutes along the beach to reach Current by Astoria hotel. This 4-star hotel is located at Station 3 along the White Beach.
TIP: Hotels at Station 3 are more competitively-priced than hotels at Station 2. The 20 minutes of walk from Station 3 to D Mall wouldn't feel laborious or boring because you will be walking along the beach and can take the stroll as another travel itinerary.
In comparison with our earlier resort, Current by Astoria was more commercialized, busy and modern-looking. Surprisingly, there were a lot of Asians, mostly Koreans, I believe.
Sadly, the room was not ready by check-in time. Not a problem though as the hotel served us a large and presentable glass of welcome drink. That kept me entertained for a while as I was busy taking photos of that drink. :) Unlike other welcome drinks, this chilled "Pineapple Lemon Tea" was exquisitely-made. It tasted like real fruit juice, mixed with home-brewed tea.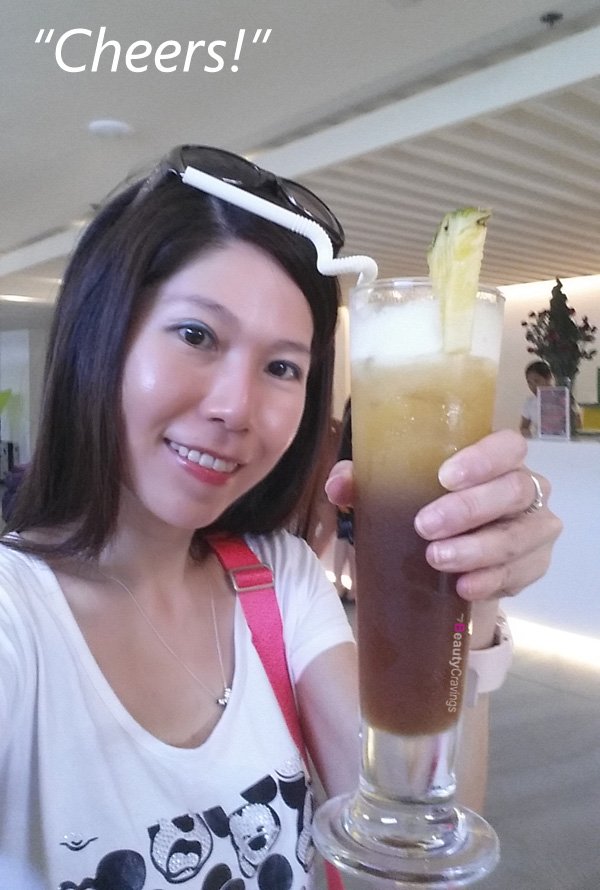 Our Room at Current by Astoria Hotel
Here's our modern-looking twin room. As at time of booking, all rooms came with twin beds configuration. I think this would appeal to the Japanese and Korean guests.
Although it was described as twin beds, each of the bed was a double-bed. Both of us slept on one throughout the stay and left the other untouched.
First Impression of Current by Astoria, Boracay
The safe couldn't work and the wifi couldn't connect. After calling them for assistance at 2.30pm, they were still not here by 4pm. We got tired of waiting and decided to go out for our late lunch.
Note: The impression of Current by Astoria would improve with time. So, look out for my subsequent posts where I'll share a mini-review. Don't write-off this hotel yet! It's a good choice!
---
Late Lunch at Sunny Side Cafe, Boracay
(4.20pm)
For our late lunch, we popped by a highly-raved cafe – Sunny Side Cafe and ordered Shrimp Arrabiata, Ice-cream toast and Corn and Shrimp Chowder (p350).
The food was alright but not outstanding. With Sunny Side cafe being ranked number 2 in Tripadvisor, I was expecting more. Perhaps the outstanding dishes are those related to eggs, going by the name of the restaurant?
If you intend to visit The Sunny Side cafe in the afternoon, do note that the sun beamed right through into the restaurant. As such, we were literally sun-tanning while having our meals within the enclosed dining area. For the sake of beauty and anti-aging, I had to re-apply sunblock mid-way through my meal. For the same reason, the restaurant was stuffy and warm!
---
A Stroll Along White Beach
The White Beach at Boracay offers a beautiful and long stretch of shore that you can walk non-stop for half an hour, from Station 1 to Station 3. The sand is powdery and clean, and the place is bustling with activities and people. You'll can find shopping and food options along this touristy part of Boracay.
Without the algae near the shoreline, this could easily be the best beach on the island for sea activities and people gazing.
Update: Boracay has gone through a clean-up exercise in 2018 and is probably cleaner by now.
D' Talipapa, Boracay
D' Talipapa is listed as one of the top tourist attractions in Boracay that offers souvenirs, beach apparels and water gears. Many also visited the place for fresh seafood.
I visited D' Talipapa twice in this trip. Today was my first visit and I think it's good to miss. The place was quiet at 5pm and the vendors looked bored. Things on sale didn't appeal to me – but that's really a subjective matter.
I walked straight through the market and was out within minutes. Perhaps, I was there at the wrong time. :)
Booking Paraw Sailing in Boracay
Another errand on our list was to book our tour activity for tomorrow. After some research, we shortlisted Red Pirates located at the far end of the beach (south of Station 3).
The 8 minutes' walk from our hotel brought us to a rustic hut that also functioned as a beachfront bar (see map location). 
Red Pirates quoted P500 per pax for a 1-hour paraw-sailing experience during sunset. We gladly accepted the offer and placed our deposit, looking forward to a romantic evening out at sea on a Valentine's day.
INFO: Here's a place where you can book your Paraw Sailing online. I'm glad to see that they offer life jacket as my tour operator didn't. Another highly-raved activity is the Boracay Island Tour. You'll hop around islands and beaches, do some snorkel and enjoy buffet seafood lunch for a very good price.
---
Night-time Activities at White Beach, Boracay
(7.30pm)
Have you ever had a picnic at night, on one of the top beaches in the world? The great thing about the White Beach at Boracay was how soft and powdery the sand was. The sand was actually cold to the touch, and we found ourselves burying our feet into the clean, fine sand.
How can a picnic be without food? We had a takeaway from "Chooks to Go" outlet and the chicken was probably the BEST Roasted Chicken we have ever had. Darn delicious, tender and juicy!  OMG….I do miss it now. A whole chicken for only p220!
The stall was located on the busy road running parallel to the white beach (near Station 3). You'll pass by this road on your way from the port.
INFO: Locals seemed to patronize shops and food options offered along this noisy, polluted and less attractive road, while the pricier offerings by the beach are clearly targeted at tourists. 
Add on local Red Horse beer, some chips and a gentle mix of country music (from nearby bars) and sounds of gentle waves, that was a perfect dinner by the beach. 
Swimming in Boracay
After our romantic picnic by the beach, we decided to burn off some calories by swimming at the strategically-placed pool at Current by Astoria's. This swimming pool overlooks the beach and was shallow enough for weak swimmers like me. 
Following the cold swim, I returned to the hotel to enjoy a hot bath-tub soak while sipping red wine and chilling further. What a blissful and relaxing holiday!
That's all for Day 6. Join me in the next post where I'll share our Paraw sailing, Helmet-diving, Island Hopping experiences and more. See ya!
Essential Info:
Accommodation: Current by Astoria Hotel in Boracay
Month of Travel: February
Itinerary for the Day: Check in Hotel, White Beach, D' Talipapa, Beach Picnic, Night Swim 
Mode of Transport: Hotel Free Shuttle, Walk
Printable Travel Packing Checklist: Download
Like to hear about the fun things I do as a budget-savvy free and easy traveler? Just click the button below to subscribe. I'll even give you some free and exclusive stuff. See you there!
---
Related Post:
This post may contain affiliate links, meaning I earn a commission if you make a purchase, at no cost to you. Read my full disclosure for more info.
(Visited 640 time, 1 visit today)