Here's one highly-recommended activity in Boracay – Paraw sailing! Anyone keen? Now that we had shifted our base from the secluded Ilig Iligan to the very populated White Beach at Boracay, what awaited us were island tours and fun water activities that would keep us occupied for the next few days.
Paraw sailing, helmet diving, snorkeling and more beach activities, here we come!
---
Great Buffet Spread by Current by Astoria Hotel
We kicked off Day 7 of our Philippines 10 Days Tour with a complimentary buffet breakfast at Current by Astoria Hotel.  I was amazed at the quality spread which made the hotel pricing all worthwhile. Well, not to say that the hotel was expensive, though it was then double the price of what we'd paid for in Ilig Iligan.
The photo below captures just one of the many plates of items that entered my stomach that morning. LOL.
Not only were we pleasantly surprised with the yummy breakfast, we were able to enjoy our delicious spread having White Beach in direct view. Yes, the restaurant faced the beach and was just metres away from it. Cool, isn't it?
---
Strolling to Willy's Rock
A good stroll is great for digestion, especially after a heavy one. That stroll took us from one end of White Beach where we stayed (Station 3) to the other end (Station 1), all because we wanted to visit Willy's Rock. An hour was needed and was inclusive of time taken to negotiate and secure tour bookings from roadside tour agencies.
Along the way, we saw a couple of simple sand sculptures with time-specific theme. For instance, that day was about "Valentine's Day", with the date imprinted on the artwork.  As excited as any tourists would be, we tried taking a photo with it as a backdrop only to be shooed away.
Ah! Soon we realized this wasn't charity work. You've gotta pay if you want to have your photo taken together with the artwork.  
We did pay to have our photos taken, just not with the one that shooed us away. Near to Willy's Rock, we stopped at a sand sculpture manned by a little boy, probably 10 years of age. He charged a much lower rate (think P50), was appreciative and enthusiastically offered to take more shots after the first. This little boy was very good at what he did for a living. 
---
Green Beach or White Beach?
Sadly, the beach view we "enjoyed" along the way was well, as mentioned in previous posts, full of algae. Yeah, the entire stretch of the beach was algae-"infested", so much so that the water looked green instead of the turquoise blue seen at Puka and Ilig Iligan Beaches.
Must-read: Best Beach in Boracay
Without these green contamination, Boracay would have easily been the best beach on the island! The beach stretches forever and the sand was clean, soft and fine. What a pity!
TIP: Google for the most recent photos of "Boracay White Beach" before you book a tour, just to ensure that the season comes without such contamination. Tripadvisor is a good source to view such photos. Of course, even with these contamination, Boracay has other great beaches too to warrant a visit.
We didn't have any mood to get into the water. Nay! Not even gonna dip our feet. It was such a huge turn off, don't you think so?
---
Willy's Rock, Boracay
Willy's Rock is a small rock formation sitting near the shoreline, with a shrine of Virgin Mary atop the rock. You probably need only allocate 10 to 15 minutes for this activity.  I would say it's worth a visit because it is so easily accessible, FOC and you need not sign up any tour to visit it. But do take note of the time required to walk there (and back), especially if you stay far away from Station 1.
TIP: Cater 1 hour of walking (or 2 hours return) if you stay near Station 3. 
Despite our reluctance to get our feet into the greenish algae water, it seemed like we had no choice when we reached Willy's Rock. It wasn't a long stretch between dry land and the stairs that led to the top of the rock. Though, we soon realized how "clingy" the algae was when it came in contact with our skin. We were basically green feet monsters thereafter. 
Hairy feet not mine, by the way. ;)
(12pm)
Walking back from Willy's Rock was of course another hour of walk and was less comfortable then because of the intense afternoon heat.  Out of great thirst, we stopped by Jonah's Fruit Shake (near Station 1) and ordered an orange juice. The outlet was packed to the brim and long queues stretched all the way to the entrance.
Only when I'm back in Singapore and while typing this, did I realize Jonah's great reputation. It was supposed to serve the best juice in Boracay, as claimed by many. I thought the juice was just ok. Hmmm…
We also passed by Ariel's Point, a place where you pay a sizable sum of money to enjoy cliff diving, kayaking, snorkeling, lunch buffet, free flow of beer and more. When we were doing our research, this attraction was high on our list of to-dos.  With limited time on the island, we decided to cover this another time. 
TIP: Here's where you can book the Ariel's Point Cliff Diving. It's an extremely popular activity in Boracay, great for those who are adventurous and brave. 
---
An Afternoon Swim at Current by Astoria
(1pm)
One of the things I love about Current by Astoria Hotel was her swimming pool and the beach view one could enjoy while having jacuzzi on the stone lounge bed.
Yup, I swam again today and ordered San Miguel beer from the bar by the pool. Swimming and beer a potent match? Don't worry. The pool was quite shallow. Won't drown. He He.
---
Paraw Sailing at Boracay
(5pm)
Great, we were due for the 1-hour Paraw Sailing sunset experience with Red Pirates. When we reached their bar (yes, the tour agency is also a bar), they informed us of a change in plan and the Paraw Sailing would have more people on board than what we'd signed up for. They voluntarily lowered the price from P500 to P250 per pax.
We were perfectly fine with the idea. The more the merrier! While waiting to board, I ordered a Rum Pineapple (P70) from Red Pirates. It was strong and good! OOoo….love it!  =)
INFO: You can book your Paraw Sailing online. I'm glad to see that this operator offers life jackets as compared to mine. 
And so a large group of people, including a toddler, some older folks and other hunky men joined us – 12 pax in total including three crews.
Surprisingly, even though the Paraw didn't come with any engine and was mainly moved by the power of wind, the speed was amazingly fast. We felt like we were on a huge speed boat, with the wind slapping on our face and the waves splashing up to make us totally wet.  
Wet + Strong Wind = So cold, alright?
Watch the video below right to the end (it's only 1 minute long) to see how fast this paraw moves with just the power of wind. With the speed it was moving, it was like going on a fun thrill ride bouncing up and down choppy water. The only imperfection was the cloudy weather and hence, the sunset view wasn't that great.
TIP: Red Pirates didn't offer us life jackets. Even the toddler went on board without any protection. The Caucasian dad seemed perfectly fine with the arrangement. Well of course, the crew appeared very experienced. However, based on my assessment on the water condition and the speed of travel, a life jacket is a MUST.

Please check if the tour includes provision of life jacket before committing. Here's a Paraw Sailing Operator that offers life jackets. 
When alighting from the Paraw, the wind blew, and the heavy and thick wooden sail pole smacked right onto my forehead and nose. Super big ouch. In fact, my face felt numb for a while after the smack.
The fat wooden pole caused some swells and bruises on my face. The staff was very apologetic and I deemed them to be very responsible staff as they had assumed responsibility even though I didn't blame them at all. I did blame the wind though. ;)
Would I recommend Red Pirates? Yes, as they appeared skillful, were polite and appeared honest in their pricing.  There's a condition though on hindsight – please ask them if they provide life vests.  Maybe they do if you ask.
---
Dinner at Lemon Cafe, Boracay
As it was Valentine's Day, most restaurants were fully packed. Seeing available seats at Lemon Cafe and still remembering the great experience and good food we had on the previous day, we decided to just made do with our dinner there (again).
I ordered Seared Tuna and Banana Coconuts Crush. He had some soup and sandwiches . The bill came up to about P750 per pax.
Not sure why, we weren't wowed this time by the food we ordered.
---
Second Trip to Talipapa, Boracay
We happened to pass by Talipapa and decided to explore it again.  As it was raining, the wet market was wet and smelly, but was more bustling than on our first trip there. Seems like activities only picked up at night, huh?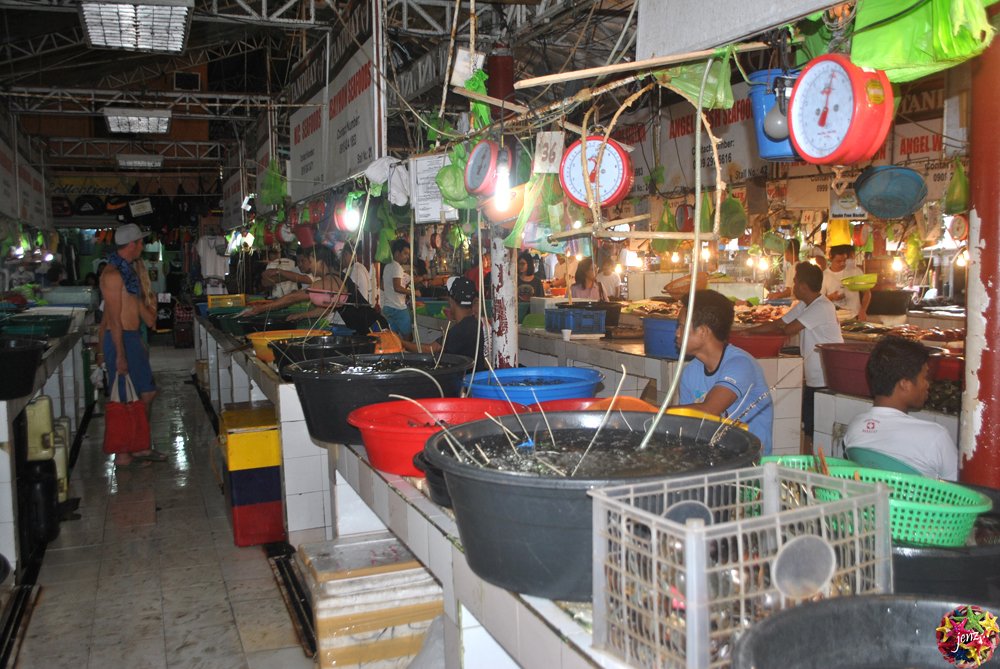 Walking through the dark and wet market dirtied my lower calves and I didn't really want to stay for long =). We'd read that you could buy seafood from the wet market and pay to get nearby restaurants to cook it for you. 
Prices quoted at the seafood market stalls appeared exorbitant – and it seemed like you can easily get it cheaper at fine restaurants in Boracay.
TIP: The indicated prices are "Tourist" price and bargaining is required, which I really dislike because I thought of it as a time-wasting process. If you are a great bargainer, I read that you could get the price down by half. Also, beware of vendors swapping to smaller portion of the seafood after getting them weighed.
We saw people eating seafood (fish, crab, prawns, etc) in an outdoor, dark and not too clean environment just outside the market. Didn't exactly look like a great environment for a meal. But of course, I believe there are other cleaner restaurants around where you could bring your loot to for cooking.
That's all to Day 7. Look out for Day 8 when we walked on seabed with a big air-bubble helmet aka 'Helmet Diving' and went on an island-hopping excursion.  See ya!
Essential Info:
Accommodation: Current by Astoria Hotel in Boracay
Month of Travel: February
Itinerary for the Day: Willy's Rock, Afternoon Swim,

Paraw Sailing

, D Mall, Talipapa 
Mode of Transport: Walk
Printable Travel Packing Checklist: Download
Like to hear about the fun things I do as a budget-savvy free and easy traveler? Just click the button below to subscribe. I'll even give you some free and exclusive stuff. See you there!
---
Related Post:
This post may contain affiliate links, meaning I earn a commission if you make a purchase, at no cost to you. Read my full disclosure for more info.
(Visited 729 time, 1 visit today)