Day 8 was one of the most happening days in our Philippines 10-Day Tour.  We combined two day tours on that day, starting with helmet diving at 8.30am and Island Hopping an hour later.  
Some of the places explored included Crystal Cove Island, Crocodile Island and Puka Beach. This Puka Beach is different from the 'private section' that I'd covered on Day 5 and which I thought was the best beach in Boracay. You can take a look and compare the Puka most tourists visit against the one I'd visited on Day 5. 
Ladies who are going under water for activities such as Helmet Diving in Philippines, please read on as I'll highlight a tip that can save you from unnecessary harassment. Parents with kids, do check out the tips too.
---
How much does Helmet Diving cost in Boracay?
A day earlier, a tour agency by the name of "Allan B" quoted us P800 each for helmet diving. This price included free videos and digital photos which would be sent to our hotel in the form of a CD by the end of the day tour.
After some negotiation, Allan B lowered the price to P1200 per pax for a combined tour of Helmet Diving and Island Hopping. Check the latest price of Helmet Diving here. 
TIP: For helmet diving, opt for the earliest slot as water is more calm and offers better visibility. The fishes also appeared very hungry and hence "approachable".
---
Helmet Diving in Boracay
After gathering at the beach at 8.30am, Allan B referred us to the operator – "Milky Dive". We then boarded a small engine boat that brought us to a floating platform, right in the middle of the sea.
This platform was strategically built above a very shallow part of the sea, as we later found out that our feet could touch the seabed by just climbing down a short ladder. So in actual fact, the word "diving" was misleading. 
On the platform, we received a quick briefing such as underwater hand signals.  When it was our turn to "dive", the crew placed a 25kg helmet over our heads with the weight resting solely on the shoulders.
I'm only 40+kg and didn't have a lot of shoulder fats to cushion myself against this monster helmet. Do expect some minor bruising if you are as petite as me, okay?  
Thankfully, the 25kg weight only lasted a few seconds because once I was underwater, the monster shed a massive weight to become a mere 2kg.
Just 2kg? It was light, relatively speaking. But 2kg on bony shoulders ain't something to be completely relieved of. It was still uncomfortable.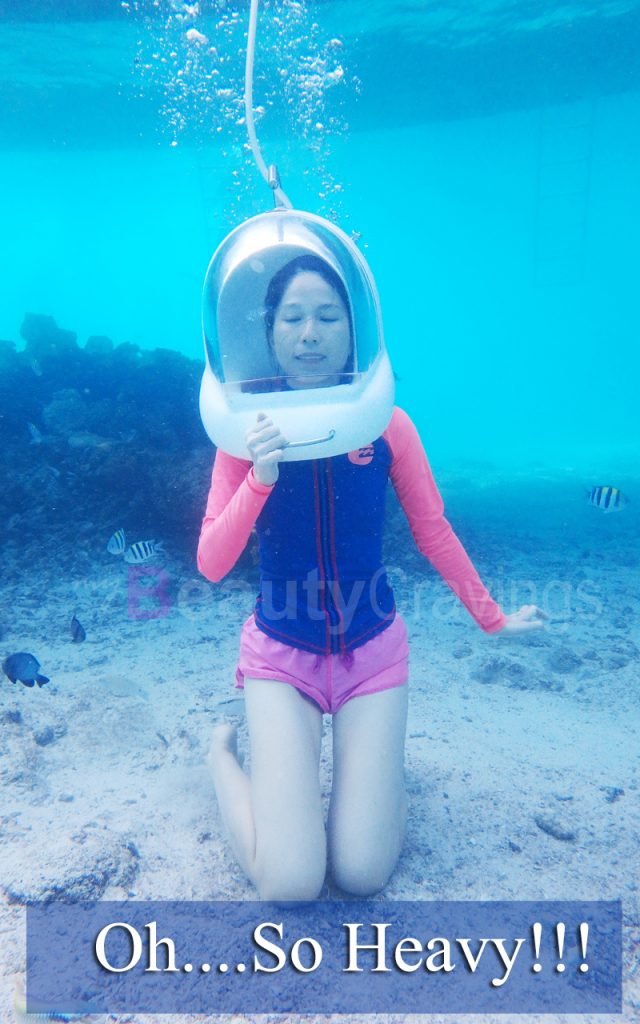 I found myself in this posture – one hand lifting the helmet, throughout the entire underwater "exploration".
---
Helmet Diving: What we did on the Seabed
It seemed like a standard routine. Like a circuit training, visitors approached the closely-spaced sculptures one by one, posing photos with these rock mammals under the instruction of the scuba-diver/photographer. 
If you look at the photos, the part above my chin stayed dry and I could breath normally, all thanks to the oxygen pumped in through the tube which was connected to the boat. 
TIP: One must-do activity in Boracay is to go for an Island-hopping Tour. You'll hop around islands and beaches, do some snorkeling and enjoy buffet seafood lunch at a very good price.
So when we were underwater, we saw lots of intertwining tubes as we were not the only ones under water. I was then wondering what would happen if the tubes get entangled and compressed, blocking the oxygen flow. Scary thoughts, huh? ;) 
There were many fishes (limited varieties though) and they appeared rather hungry approaching us with much eagerness, and nibbling off bread that we'd held on so tightly.
TIP: Don't lose hold of the bread. You won't get a replacement. Bread gone means fishes gone. 
See. This yellow fish is posing for the camera. ;)
---
Taking Helmet off Under Water
Another standard routine was the scuba diver asking you to hold your breath and lift off the helmet momentarily for a different type of photo shoot.  Different in the sense you would appear without helmet in the photo.
It's an option for you. I regretted lifting off the helmet as my eyes were stinging with pain probably from a mixture of salt water and sunblock. I was struggling to open my eyes after that and it wasn't pleasant as I couldn't rub my eyes.
Subsequent photos taken didn't appear nice as my eyes were blood-shot red.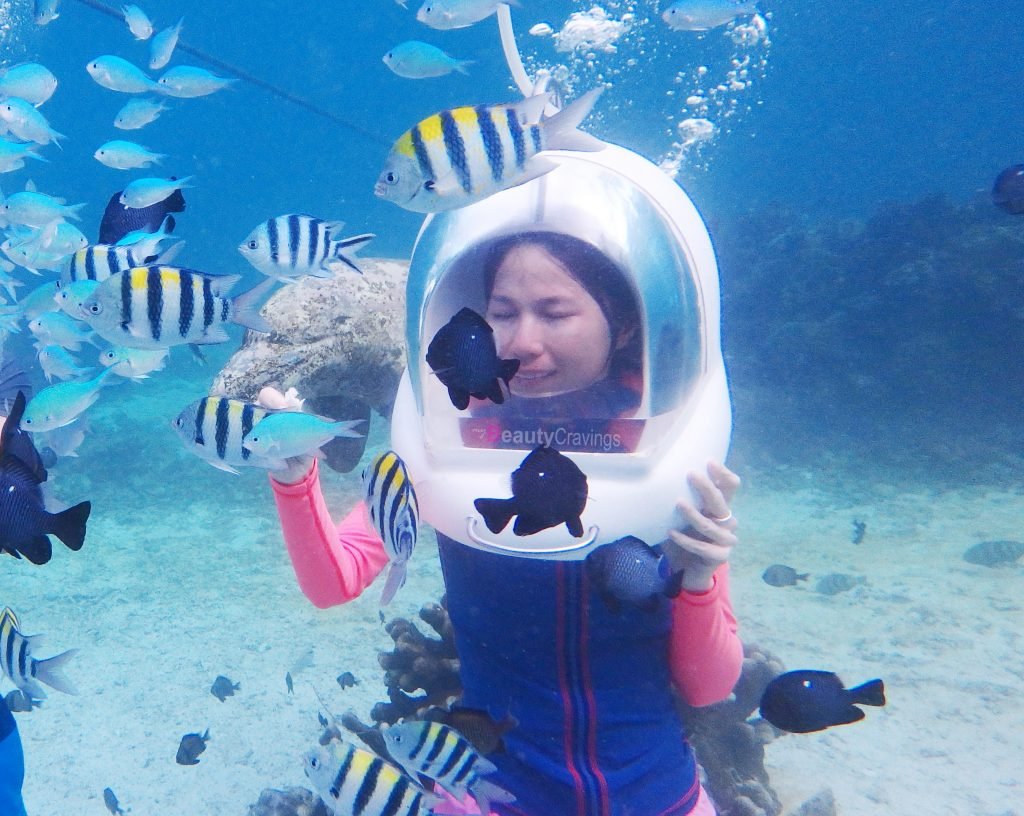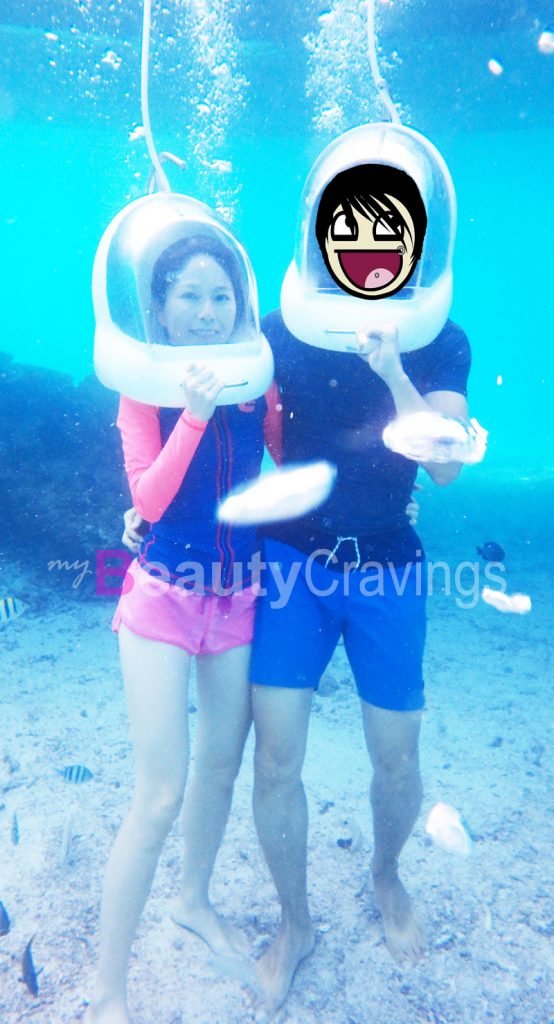 ---
Beware of Opportunistic Monsters!
There have been known incidents of molestation cases happening in activities such as these in this part of the world.
Stay vigilant. One can become vulnerable when in an unfamiliar territory such as underwater. Here are some stories to keep you on your toes.
Case 1 (Girl molested while Scuba-diving in India)
"My instructor had my breathing equipment in his control and my oxygen tank in his hands. But as we swam across the corals, the fish and the fluorescent-coloured plants at the very bottom of the Arabian Sea, his hands were no longer on my diving equipment. First one hand, then the other and finally both…The shock slowly turned to fright when his hands began to move across my body…" (Source)
Case 2 (Girlfriend touched inappropriately while Zip-lining in Bohol, Philippines)
"My partner and I flew over together on the first ride as it is a two cable system. The return journey is one cable so everyone takes turns. I went over first. My partner came over after and seemed okay at first. Then began describing how the guys fitting the gear felt her up as they did so. One of them suggestively saying, "you like bananas? We got lots of banana". (Source)
Case 3 (Girls molested in Waterpark in Hanoi, Vietnam)
"Whenever they saw girls, they started attack them by splashing water and WORST part was, they pushed her head down, DROWNING her and at the same time, RIPPED OFF HER BIKINI and started MOLESTED her…" (Source)
Case 4 (Boy molested underwater, Dubai)
"The Indian boy was enjoying a swim when the 31-year-old Pakistani driver, S.R., grabbed him from behind and forcibly held him underwater as he molested him…" (Source)
TIP: Let the man or men enter water first. Let them be the last to exit.  Ask them to keep an eye on you and to stay near you at all times.
When one is helpless and deep under water, that's when people can become opportunistic. Stay vigilant as you just need one black sheep to spoil your holiday.
---
Is Helmet Diving in Boracay Recommended? 
After 15 minutes or so underwater, we climbed back up and returned to shore via a small engine boat. This activity lasted an hour including boat trip to and from the helmet diving area. 
It was a great experience being able to walk on seabed and breath normally while feeding colorful and hungry fishes that present themselves in abundance. The water was clear and photos turned out great. In terms of visibility and interaction with fishes, this ranked top among all my previous snorkeling experience.
Highly-recommended especially for first-time helmet divers. Alas, this activity was tainted by inappropriate actions of the scuba diver. Otherwise, it would have been a perfect experience. 
TIP: Join one with public reviews to get decent tour operators – here's a Helmet Diving tour with public reviews.
---
What's Next? 
Back at Allan B tentage on the beachfront at 9.30am, we waited for our next day tour to begin. Look out for the next post where I'll share what we did in Boracay Island Hopping tour.
Like to hear about the fun things I do as a budget-savvy free and easy traveler? Just click the button below to subscribe. I'll even give you some free and exclusive stuff. See you there!
SUBSCRIBE
This post may contain affiliate links, meaning I earn a commission if you make a purchase, at no cost to you. Read my full disclosure for more info.
---
Related Post:
(Visited 1,416 time, 1 visit today)