After an early morning session of helmet diving in Boracay, let's continue with another tour – Boracay Island Hopping Tour.
This tour on Day 8 of our Philippines 10-Day Tour would bring us to Crystal Cove, Crocodile Island and Puka Beach.
---
Touristy Crystal Cove Island
(10am)
The first itinerary on Boracay Island Tour was to visit Crystal Cove – an island so close to Boracay it took only 10 minutes to reach by boat. I remember my first impression of the island – "Wah. So commercialized ah!" Indeed, it seemed like a place specially built for tourists.
INFO: Here's the itinerary of the Boracay Island Hopping Tour
There are goods and bads to a place being touristy. Facilities such as walkways, toilet and signage were well-placed by the standard of a developing country.  How about the bads? Read on and I'll try to recall as I write. ;)
Admission Fee to Crystal Cove
Yes, you've heard correctly. Admission fee of P200 was required for one to enter Crystal Cove – an island that forms part of the itinerary that we'd already paid for. And do note that this wasn't mentioned to us when we made our booking.
After having visited many islands in Philippines including a subsequent trip to El Nido and Puerto Princesa, this Crystal Cove is thus far the only island that required an admission fee. LOL. It better be pretty!
Things we did at Crystal Cove
One hour was all we were given to explore Crystal Cove island, on free and easy style. Luckily, there was a useful map prominently placed.
The great thing about a commercialized and touristy island was availability of great spots for photo-taking against the backdrop of sea and rocky formations. We couldn't help behaving like a typical tourist and snapping photos non-stop, only to find out later that they didn't turn out quite photogenic (sea not blue enough?). 
There were nicely-paved walkways to help us navigate around the small island. And the abundance of rustic huts protected us from the scotching sun whenever we needed shade.
The hike between island destinations was short and easy. As a fervent hiker, I was a little disappointed as I was hoping that the trail would be longer and more challenging.
A very important activity on the island was to visit her two Coves.
Cove 2 was slightly more challenging as we needed to bend down almost to our knees to get through the opening of the cove. What followed next was a short stretch in a dark tunnel where we had to walk in squatting position because of how low the ceiling was. If you can squat, this shouldn't be tough.
Too bad, we couldn't swim or snorkel in the cove as we were given only one hour on the island. Even if we'd wanted to, where do we get the snorkeling gear? Our tour operator just left us there on the island without telling us what was available or helping us make arrangement.
We also visited a super tiny Shell Exhibits and a 3D musuem that were amateurishly done up. When they said it's a tiny museum, they probably meant super-tiny. 
Back to the question of the cons of a touristy island – well, there was nothing memorable about Crystal Cove island. I've had to rely very much on my diary and photos to recall my experience here.
---
Snorkeling at Crocodile Island
The next activity of Boracay Island Hopping Tour was to snorkel at Crocodile Island which we were given 40 minutes to do so. There's an environmental fee (P20) that we've had to pay before being able to jump into the water. Couldn't they have included everything within the package fee? It was really a hassle having to make payment when in swim gear.
This snorkeling was memorable, but not in a good way. The snorkeling site was very small, and the only thing I could recall was trying to swim away from nearby boats "parked" very near us, with their engines still on (I think). The current was so strong, I'd spent more time trying not to drift to the other boats than enjoying my snorkeling experience. I was afraid the boat engine would slice me up. Seriously! Perhaps, I've watched too many horror documentaries. =P
It's great that the water was clear and there were shallow corals. Fish variety was limited though.
---
Boracay Island Hopping Tour – What's for Lunch?
Lunch was included in the tour package at somewhere near Crocodile Island. The local food served appeared very basic, but tasted great. 
---
Picture-perfect Puka Beach
(2pm)
Puka Beach was truly beautiful. Unlike the algae-filled White Beach, Puka beach has long stretch of white sandy shore that was set against truly blue and crystalline water.  
Puka Beach was as beautiful as "Private Puka Beach" (name coined by me) – the best beach in Boracay in my opinion – but with one difference.
The current over here was too strong. I took a dip near the shoreline and was immediately washed up back on shore.  I took a second attempt to get into water and once again the waves swept me off my feet (literally) and then washed me up the shore. 
Fine! I gave up, ordered a Buko (Coconut) and rested on the beach chair while enjoying a volleyball match played between crew members and some tourists.
TIP: Price of coconut are marked up a lot at Puka Beach, sometimes triple the price. You can bargain it down. We did and bargain it down from P150 to P100 which was still at a premium because we aren't great bargainer. ;)
And that's all to our Boracay Island Hopping Tour that started at 10am and ended by 3pm. It's quite a short and loosely-packed day tour if you asked me.
---
How much is Boracay Island Hopping Tour? 
To recap, we'd paid P1200 per pax for 2 separate tours which we booked along the street after heavy negotiation in 2016.
You can find online prices of these tours here: Helmet Diving and Boracay Island Hopping Tour. 
---
Love the Pool at Current by Astoria Hotel
(3.30pm)
As it was still early, we decided to take a dip in the lovely pool at Current by Astoria. It was refreshing to soak in chlorine water for a change (as compared to salt water).
By the way, this was my third consecutive day swimming in the hotel. With daily swim here, you would know how much we loved the pool. It's the first time I'd swam this much in a hotel. Hmm…maybe it's because the real sea water just a few steps away were lined with Algae? 
Ok Ok. I really should stop harping on this. LOL. 
UPDATE: Boracay's beaches has gone through a major clean-up. I hope it's in a better state now.
---
What's up for Dinner at Boracay?
It was our third night in Boracay and we read that Tilapia 'N Chips near Station 2 served great food. It took us a while to find it as it was quite inconspicuous.  I asked a local for direction even though the restaurant was right in front of me. Get what I mean? Ha Ha.
We ordered a mixed platter, San Miguel Light beer and a Buko. Price was reasonable (P630) and food was not bad, but nothing to shout about. Picture below is grabbed from internet as my photo didn't turn out well. 
---
Night Stroll along White Beach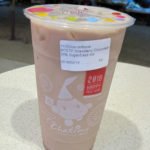 After dinner, we took a late night stroll along Boracay beach and saw Chatime – a Taiwan bubble tea franchise store I'd first came across in Malaysia which apparently also set up stores in Philippines.  
I ordered a Strawberry Chocolate Milk Tea and Cheddar fries in the cosy outlet set up right in front of the sea (P185). Can't really admire the sea because it was pitch black. But it was a good spot to watch the night scene in Boracay and how its pace slowed down with each passing minute. 
That's all to Day 8 of Boracay Tour. In my next post, I will share how we made our way back to Cebu on Day 9 and our experience staying next to Ayala Mall. Stay tuned for more travel adventures!  
Like to hear about the fun things I do as a budget-savvy free and easy traveler? Just click the button below to subscribe. I'll even give you some free and exclusive stuff. See you there!
SUBSCRIBE
This post may contain affiliate links, meaning I earn a commission if you make a purchase, at no cost to you. Read my full disclosure for more info.
---
Related Post:
(Visited 760 time, 1 visit today)