This 10-day Philippines travelogue is finally coming to an end. Today, we would be bidding farewell to Boracay. Join me in this return journey where I'll share some minor mishaps (sob!) as we made our way from Boracay to Cebu. There, we would have a short stay near Ayala mall before catching a next-day flight home.
---
Journey from Boracay to Cebu
(5am)
Such a bummer to have to depart hotel early in the morning and miss the sumptuous and free buffet spread, right? Well, no choice as we had a morning flight to catch. And not forgetting how 'convenient' it was to travel to Caticlan Aiport by trio-mode of tricycle + ferry + walk and how 'little' time that would take.
Okay, I was being sarcastic. ;P  Let's see what time we would reach Cebu, located 55 minutes away from Caticlan by flight.
Step 1: Tricycle from Boracay Hotel to Boracay Jetty Port
(6.15am)
The hotel check-out from Current by Astoria took what I thought was longer than usual especially at this hour. We had to wait for the housekeeper to check the room. Sigh. I could have used that time to grab something to bite from the hotel restaurant. It was only after 20 minutes that we were given the permission to leave. 
TIP: Cater more time for hotel checkout in Boracay and probably in Philippines. Don't think hotel self check-out service would be available here anytime soon.
Then, it took us another 15 minutes to hail a tricycle off the road to get us to Boracay Jetty Port (p100 for 2 pax).
In the slow-moving tricycle, I felt colder than I was in an air-conditioned room. It was surprisingly windy and chilly early morning in this tropical island that I quickly donned my jacket for comfort. Thankfully, the journey was short and we reached Boracay Jetty Port within 10 minutes.
Step 2: Take ferry to Caticlan Jetty Port
(7am)
At Boracay Jetty Port, a terminal fee of p100 each was payable. We then got our boat tickets (p50 each) and stepped into the small wooden boat.
Once again, people were so quick to get the already-wet life jackets on even though it was for just a 10-minute ferry ride. No instruction from the crew was needed. My guess – recent water accidents maybe?
TIP: Grab a life jacket as soon as you board. If you wait a little longer, you may not get functional ones. 
Breakfast Search at Caticlan Ferry Terminal 
(7.15am)
With some time to spare, we searched for a place where we could have breakfast. Andok's Fast Food Restaurant located just outside the ferry terminal was probably the only place that was opened this early. It's a 24 hours eatery by the way.
The menu didn't look quite appetizing for breakfast as it was rice, noodles and Asian cuisine. I was craving for western-style breakfast such as salad, yoghurt and sandwiches. With limited options, I ordered Sardine & egg with Rice and he got himself Pancit Canto (Cantonese noodle) – all for p150. Very affordable especially when we just came from Boracay – a touristy island where everything costs a few times more!
He said the noodle was nice. But mine tasted exactly like canned sardine.
Service at Andok's was extremely slow. The fast food came 30 minutes after order was taken forcing us to devour our food in record time. Hot oily air (those from food exhaust) was also blown directly at customers in the enclosed area. Definitely not a recommended eatery unless you have no choice.
TIP: If you have little time to spare and prefer better quality breakfast, it's better to get it at Boracay or get some packed sandwiches. 
Step 3: Walk to Caticlan Airport
From Caticlan Jetty, it was a 10 minutes walk to Caticlan Airport, via a straight-forward and scenic path where we saw cattle and lush greenery. You could also pay for tricycle to get you there at p50/trip.
INFO: Take a look at this hassle-free Caticlan Airport Transfer that handles all the "land+ferry+land" bookings and brings you right to your hotel in Boracay. 
Step 4: Take a Flight to Cebu Airport
(8.45am)
See that queue extending out of Caticlan airport?  That's how tiny the airport was. We stood in that queue for 50 minutes due to limited service counters and stricter-than-usual security checks.
The number of security guards (or police officers?) was overwhelming we thought they'd just received a terrorist threat (maybe they did?). These officers held rifles, not pistols okay?
TIP: Remember, Caticlan Airport is very strict in baggage weight (5kg per pax). Buy excess baggage allowance in advance if you think you would exceed that. Find out more relevant tips in this post.
After paying the terminal fee of p200 each, we were lucky enough to find a place to sit in the transit area as those who came in later had to stand.
TIP: Grab a seat as soon as you see one or you may be left standing for indefinite period due to reasons I'll share later.
I was so bored I started counting the number of bruises and cuts I'd earned from this Philippines Tour. Nine bruises and one cut on the toe when I was pierced by sharp rocks at Aguinid Falls.  But it's all worth it! My partner only had a single injury – severe sunburnt! Ha Ha.
TIP: You can get WIFI password at the transit area. The strange thing was how we were directed to get the password from a roaming security guard.  Don't expect high WIFI speed, okay?
Flight delay again?
(9.30am)
15 minutes had elapsed since our scheduled boarding time, but no announcement was made. That was when we found out that the flight was put on hold due to landing congestion. We only managed to board the plane an hour later. 
Honestly, I can't recall how many times we'd experienced delays in Philippines flight and sea transportation.
TIP: For those planning for flight connection, please cater for time buffer, just in case. 
---
Arriving at Mactan Cebu Airport
(11.30am)
Finally, after 5 hours in transit, we'd arrived at Mactan Cebu Airport. Learning from our earlier experience when arriving from Singapore, we exited the airport and turned right to get to White Taxis Stand.
TIP: Don't board the yellow taxis. Read more relevant tips in this post.
Due to some roadwork, it took us one hour to reach Mandarin Plaza by taxi (p215) which was just 13km away. We tried our luck for early check-in at 12.30pm, but was denied.  That's alright! With our hotel so strategically located from Ayala Mall, we could just cross the road to get lunch. 
And to the earlier question of "How long it would take to travel from Boracay to Cebu?", that's 6 hours from door to door via land-water-air-land.  
---
Lunch at Ayala Mall – One of Cebu's Largest Malls
(12.30pm)
At Ullis Streets of Asia (it's a restaurant name, not a street), we ordered Laksa, Yang Chow Fried Rice and Cheng Tng, all of which are well-known Singapore/Malaysia dishes. We must have missed Singapore food too much to be ordering local food in a foreign country. And we learnt our lesson not to do so in future.
The fried rice was hard and bland with important ingredients such as char siew pieces (roasted pork) and shrimp missing.  The Cheng Tng desert was a joke. It tasted like another desert – Longan Grass Jelly. Both didn't even taste like the food they were named after – not even close.
The saving grace was Swage (freshwater shrimps) which was not bad as it tasted like prawns. =)  Maybe because it's not a dish from my country, so I couldn't judge.
---
Mandarin Plaza made us queue for 1 hour
(3pm)
What a scene! There were queue poles placed at the reception of Mandarin Plaza, Cebu! We were there after check-in time of 3pm and still had to queue this long. Argh!
See that red signage? Is this a normal check-in experience of a 4-star hotel? I've only seen worse at Genting Highland's First World Hotel. =)
Based on my observation, this problem could have easily been tackled. I noted hotel's reluctance in allowing early check-in as they didn't bother to check for room vacancy during my earlier request.
The staff probably asked all guests to come back at 3pm thereby causing unnecessary bottleneck. It was rather unusual for a four-star established hotel to have such mediocre check-in process.
"I apologized to tell you that we do not have any room on 16th floor." The reception staff said in response to my casual request for a higher unit.
She then added: "We only have 20th floor available."
I wanted to roll my eyes, but I tried to remain polite. OMG, 20th storey is better than 16th storey, isn't it? She just made those guests behind me wait a couple more minutes. The whole process was slow with a lot of manual form entry by staff. By manual, I meant 'hand-written'. And staff seemed inadequately-trained. As such, the whole check-in and queuing took close to an hour. Yes, I'd to stand this long.
After passing me all the necessary stuff, the staff asked: "Have I passed you the passports?" *_*
---
Huge and Modern Ayala Mall 
Ayala Mall was so super huge I could get lost in it. For some reasons, malls in Philippines have the tendency to compete on size. Some would keep expanding and acquiring neighboring plots in the process.
As with most of these big malls, you can find cinemas, supermarkets, restaurants and departmental stores as well as international brands.
They have a few levels of terraces that looked like great place for dining. And we chose Casa Verde, a western restaurant, a change from the Chinese cuisine we had in the afternoon.
We ordered steaks and green mango shake.  The green mango shake was so good because it was something I'd never tried before and wasn't too sweet, bringing a little tangy note to it. The medium rare tenderloin didn't do too well. It was tough on some parts and too raw on others. I think it's probably better to stick to Filipino Cuisines or pizzas and pastas in Philippines.
After dinner, we shopped the rest of Ayala Mall till late night. It was a good place to load up on food gifts. You can get them from the supermarket located at B1 of Metro.
Those cebu-made dried and preserved fruits would be going home with me to Singapore!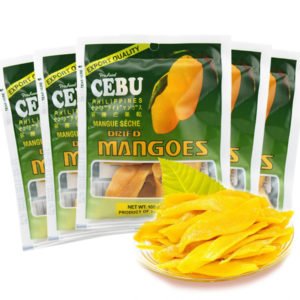 ---
That's all on Day 9. Thank you for following my journey. We are nearing the end of this Cebu-Oslob-Bohol-Boracay tour. One more post to conclude this story and I would move on to my Taiwan Eastern Coast experience.
Like to hear about the fun things I do as a budget-savvy free and easy traveler? Just click the button below to subscribe. I'll even give you some free and exclusive stuff. See you there!
SUBSCRIBE
---
Related Post:
This post may contain affiliate links, meaning I earn a commission if you make a purchase, at no cost to you. Read my full disclosure for more info.
(Visited 783 time, 1 visit today)