Hey all, I'm back with Part 2 of Phu Quoc & Ho Chi Ming Itinerary. To recap, we spent 4 days in Phu Quoc and another 4 in Ho Chi Minh.
I've already shared the fun things we did in Phu Quoc from Day 1 to 3. Read it first and then we can move on to cover our 4th day in Phu Quoc as well as the things we did in Ho Chi Minh.
---
Day 4: Exploring Southern Phu Quoc
Today, I woke up feeling exhausted, probably due to fatigue from flight delay and the packed activities we had over the past 3 days in Phu Quoc.
One thing we wanted to do before we leave the island was to take a "cable ride over the sea". Unfortunately, the standalone "cable-only" ticket was no longer available. You'll have to pay for a bundle ticket that includes admission to Sunworld Phu Quoc, which is mostly a water theme park.
As we had already visited a waterpark within VinWonders just two days ago, we weren't keen to pay for the bundle ticket. But we had no choice! By late morning, we decided to…haiz…..just go for it lah! It's not everyday that we get to take a cable over the sea, right?
TRAVEL SAVING: Check out this Phu Quoc Pass which can give you significant savings! Alternatively, you can also get your standalone Sunworld Phu Quoc ticket online.
Once-in-a-lifetime cable ride over the blue sea!
I'm glad we decided to pay more for the bundled ticket, because the 25-minute cable ride over the blue water was nothing short of being spectacular.
This is a definitely a must-do activity on Phu Quoc island, even if it meant paying extra for theme park that we weren't keen to visit.
IMPORTANT: The cable ride doesn't operate continuously throughout the day. There are some breaks in between. So plan your trip well to avoid waiting at the cable station. Refer official website for the cable schedule.
Sunworld Phu Quoc in Hon Thom Island
After reaching Hon Thom island, we once again pondered for a very long while before deciding to change into our swimsuit. I know I've said it before, but we were really tired leh! And the sun was blazing hot during the time of our visit, around noon.
Sunworld Phu Quoc comprises a waterpark (aka Aquatopia) and a dry theme park known as Lang Exotica. As compared to the Typhoon World in VinWonders, Aquatopia seemed bigger and stood out with its gigantic sculptures of sea creatures. Definitely great for those who love taking photos!
>> MUST-READ: How we spent an interesting time on Phu Quoc island!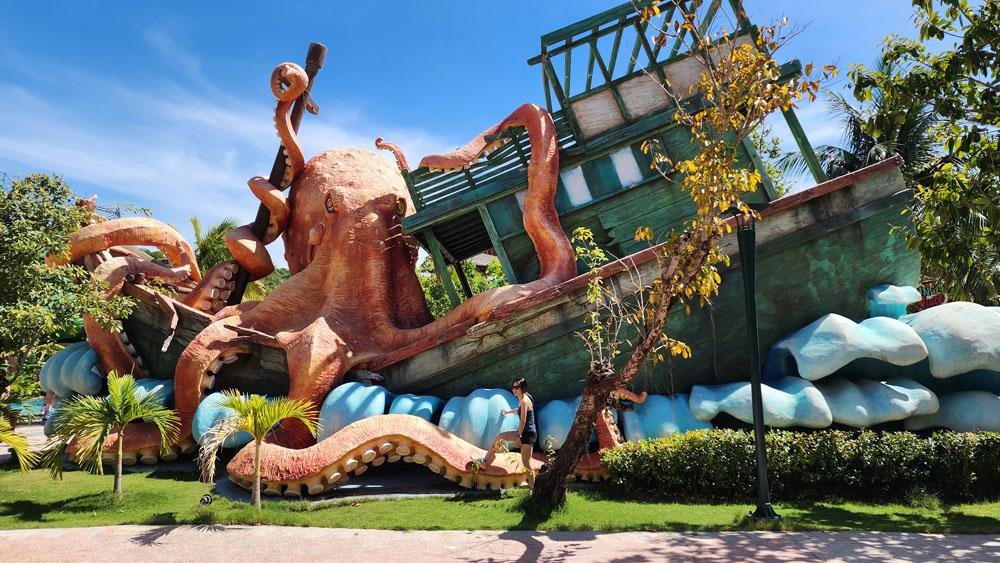 Aquatopia also came with a more established and friendly locker system (30k VND) where you can DIY and retrieve your items as many times as you like via a digital tag.
TIP: When we returned to the changing area at 2.30pm, the spacious area turned into chaos. Perhaps, the tour group had descended on the island. :)
After enjoying the water-based thrill rides, we called it a day, totally giving Lang Exotica a miss. Not that we don't like theme park, but we already spent one whole day at VinWonders.
If you think returning to the main island was easy, do note that we queued for 30 minutes before being squeezed into a sardine-packed cable car.
>> RELATED: Is Ba Na Hills in Vietnam worth a visit? Here's what I think!
TIPS in Southern Phu Quoc: Attractions around the southern part of Phu Quoc include Chua Ho Quoc Temple, Bai Sao Beach, Khem Beach and Prison @ Nha Tu Phu Quoc. We would have gone for Island-Hopping Tour if time was on our side.

Don't forget to check out Klook Phu Quoc Pass which includes Island Tour as one of the attractions.
Sunset Viewing at Seashells Hotel
Fast forward the scooter ride, and we were back at our lovely hotel. Coincidentally, we returned at a time when the sun was setting and managed to enjoy an awesome sunset view by the balcony.
After that, we switched our sunset-viewing location. I changed into my bikini and went to the hotel pool to watch the sun set into the horizon. I didn't bring my phone to the pool, but here's a photo taken on another day to show you the view from the pool. Nice, hor?
TIP: Another popular place to view sunset in Phu Quoc is at Sunset Sonato Beach Club. With artistic sculptures on the beach, you can take IG-worthy photos. We would have visited it if we had more time on the island.
After the swim, we went to Bach Dang Night Market again (not because it's a good night market, but because it's within walking distance).
Once again, we ordered some grilled seafood. Luckily, the food turned out to be better than what we had the past few nights, but still not great. :)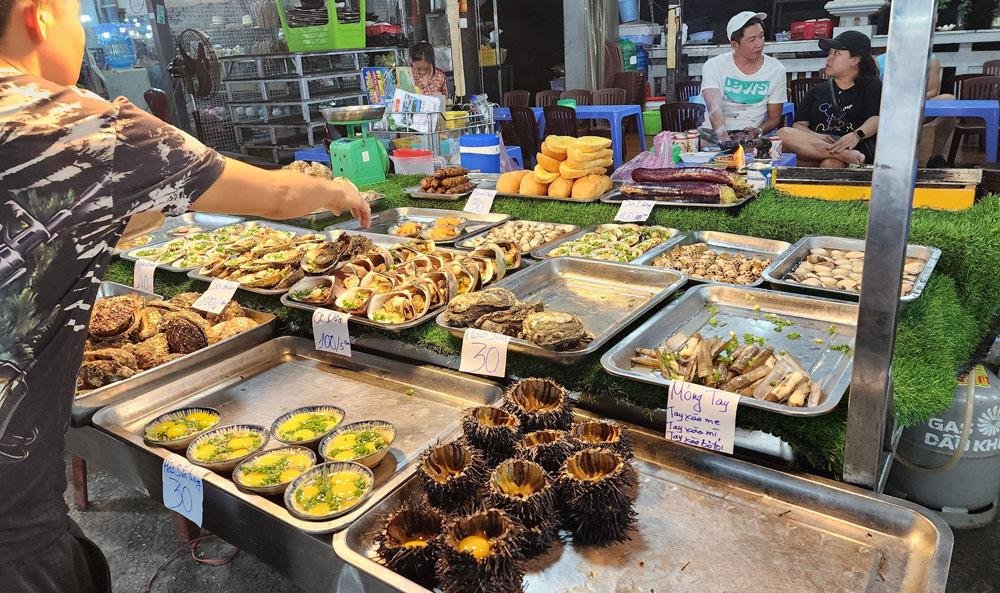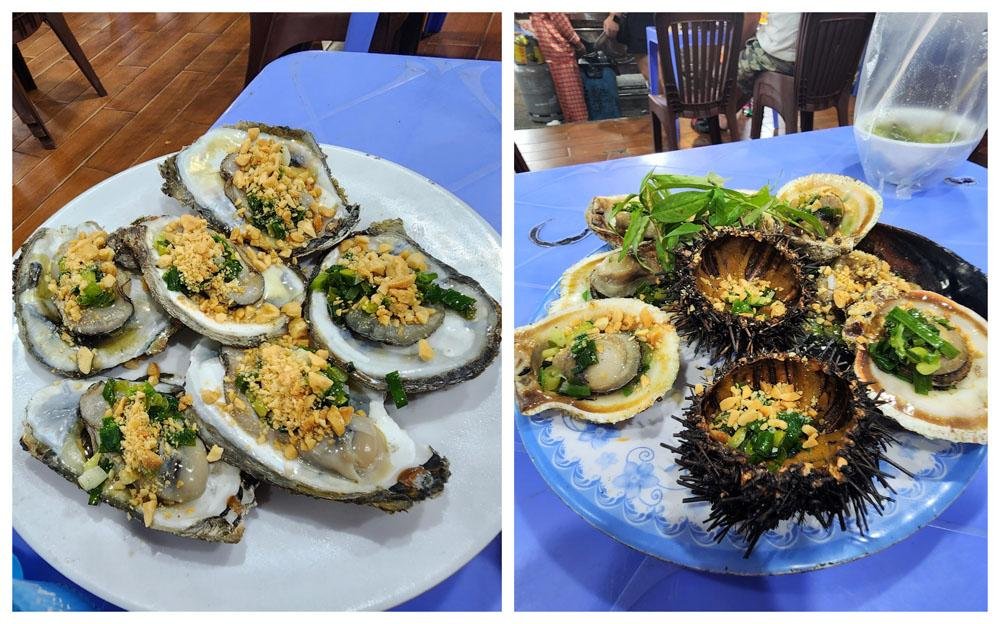 For info, we paid about 400k VND for oysters, scallops, oyster egg and sea urchin. We were just thankful that most items didn't have a foul taste. LOL!
Map Locations For Day 4 Phu Quoc Itinerary
Breakfast at Seashells Hotel >> Hon Thom Departure Terminal >> Sunworld Phu Quoc >> Sunset Viewing at Seashells Hotel or Sonato Beach Club >> Bach Dang Night Market >> Pho at Random Stall
---
Day 5: Getting from Phu Quoc to HCM City
After 4 days of fun in Phu Quoc, it's time to bid goodbye. Once again, we woke up feeling exhausted. I mean, how many would do waterpark twice within 3 days?
That's why I reiterate that you should consider dedicating more days in Phu Quoc. You would also have read about the many places we missed, such as Island-hopping tour and Grand World Phu Quoc.
>> MUST-READ: 10 Days in Da Nang, a beach city in Vietnam!
Last Day in beautiful Phu Quoc!
We had our last day of breakfast at Seashells hotel, before returning to the room to enjoy the view over a glass of wine.
Sayonara, Seashells Hotel. Goodbye, Phu Quoc!
Flight Delay Again in Vietnam
Not surprising anymore, we were glad that the flight delay was only for 30 minutes. Just hoping it would not get further extended like how it happened several times during the first leg of the trip.
The man was hungry again and ordered an expensive pho at the airport – it was a huge bowl of vermicelli. I wasn't hungry, but learnt my lesson from the earlier flight delay (stuck in plane with no food) and forced myself to eat.
Ordered a Char Siew Baguette and Coconut Coffee (150K VND). Ah….I forgot that baguette is not Banh Mi. Gosh, the bread was hard and the Char Siew dry and tough. :(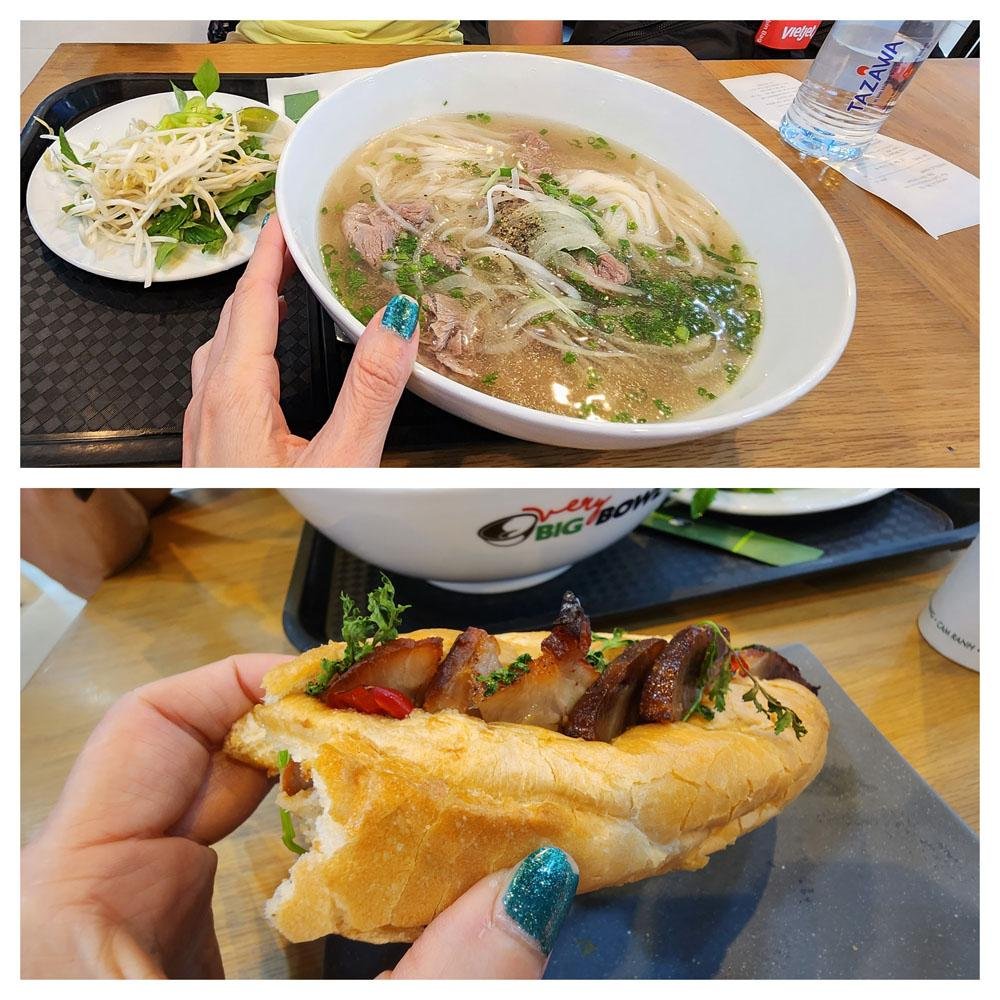 Consolation? The view when taking off from Phu Quoc was beautiful! Check out these aerial views!
Hello, Ho Chi Minh City!
Soon, we were back at HCM. From the airport, we took a grab ride (130k VND) to Citadines Regency Saigon – our hotel for the next 3 nights. It's a little apartment that came with kitchen, separate sleeping room, big sofa and the usual "apartment" stuff.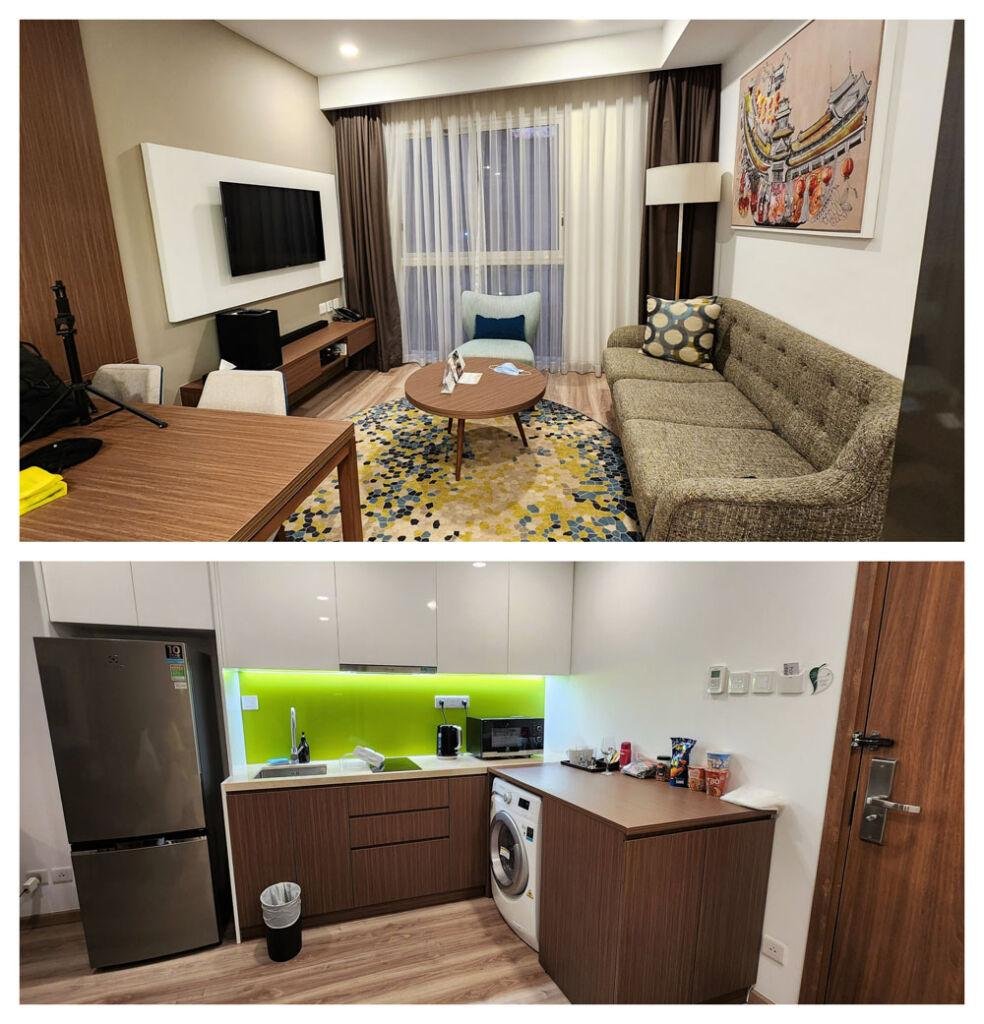 What I like about Citadines Regency is its great location as I could walk to most attractions in HCM city. I also like the washing machine! :) However, please don't look forward to its breakfast. But in the first place, I didn't expect an apartment to offer breakfast lah.
For light sleepers, I recommend that you bring ear plugs as we would be staying in one of the most populous areas in Vietnam.
First Dinner at Vincom Center, HCM
What's our first dinner in Ho Chi Minh city? We walked to Vincom Center and enjoyed a great Japanese meal at Sushi Hokkaido Sachi (905K VND). Finally, we could enjoy decent seafood without a fear of foul taste or overly-chewy meat!
After dinner, we shopped around a bit at Vincom Center which is a modern mall with lots of international brands.
Bui Vien Walking Street is not for everyone
Soon, we found ourselves at Bui Vien Street – a party street laden with booze, neon lights and extremely loud music. Be prepared to be grabbed or pulled by young men and ladies who want you to patronize their bars.
I felt so out of place and extremely uncomfortable as I'm not used to being touched by strangers even if they were just grabbing my arms. At one point in time, I even felt cornered as the vehicles caused a human jam and I couldn't escape from the grabbing hands of the touters.
Therefore, my advice for you is to visit Bui Vien Street ONLY if you love partying and can stand the ear-deafening music and "octopus" tentacles of touters.
For us, we quickly retreated to a nearby Cheers convenience store and bought a healthy coconut drink instead of booze. =) Calling it a night!
Map Locations For Day 5 Phu Quoc & HCM Itinerary
Wine by Hotel Balcony >> Free Airport Transfer from Hotel >> Phu Quoc International Airport >> Ho Chi Minh Airport >> Citadines Regency Saigon Hotel >> Vincom Center >> Bui Vien Walking Street
---
Day 6: A Glimpse into Vietnam War (Day Tour)
Today, we would be visiting Cu Chi Tunnel, which is about a 2 hours bus ride from HCM city centre. Still recovering from fatigue, we'd intentionally chosen an afternoon tour to give us more time to sleep.
Traveling to Cu Chi Tunnel
As our hotel was located outside the pick-up area for the Cu Chi Tunnel tour, we'd to walk to a nearby hotel. The bus that was supposed to arrive at 12.30pm came one hour late. Haiz! We really had to get used to things being late in this part of the world.
To our dismay, there were only two seats left and they were at the last row. It was so cramp and squeezy I had to slant my thighs throughout the journey. That was darn painful – imagine sitting in such a position for 2 hours (or 4 hours return)! My initial plan to sleep through the ride was dashed.
TIP: I recommend that you book your Cu Chi Tunnel tour online to ensure quality of the tour is upheld. We'd booked ours via a random roadside tour agency and think the service was sub-par.

Our tour guide did not manage the group well. For example, he allowed a family to split up with each member occupying two seats, while we were forced to take the squeezy, non-reclinable seat at the last row. He also skipped many attraction spots at Cu Chi Tunnel.
On the way to Cu Chi Tunnel, we stopped by a souvenir shop that was said to be selling merchandise painted by the disabled. Hmmm…things were very expensive even by tourists' standard – like 500k VND per souvenir. For info, we saw some of the products at a day market in HCM, selling at a fraction of the price.
What we did at this pit stop was to fuel up – you can find simple food such as instant noodles and fruit juices. I ordered an avocado juice at 50k VND.
What we did at Cu Chi Tunnel
After 2 hours, we arrived at Cu Chi Tunnel and started the tour by watching a 30 min educational video. We also had a chance to climb into a small hole, which served as an entrance to the underground tunnel.
For info, this immense network of tunnels was where Vietnamese soldiers had hid and lived during the Vietnam War.
Another interesting activity was a chance to crawl through a dark tunnel for about 100m. Many tourists backed out mid-way due to claustrophobia. I am petite, so it was more manageable.
You will also see an exhibition of guerilla traps used during those days to injure enemies. For those who love guns, you can try live rifle shooting for a fee (60k VND per bullet). All in all, we spent less than 2 hours at Cu Chi tunnel, but 4 hours in total commute.
By the time we returned to HCM, it was 7pm. Although I hate the commute, the tour was educational and Cu Chi Tunnel is worth a visit. Of course, please find yourself a reliable tour operator.
TIP: You can book Cu Chi Tunnel tour online. We didn't as we couldn't find a PM tour on Christmas eve.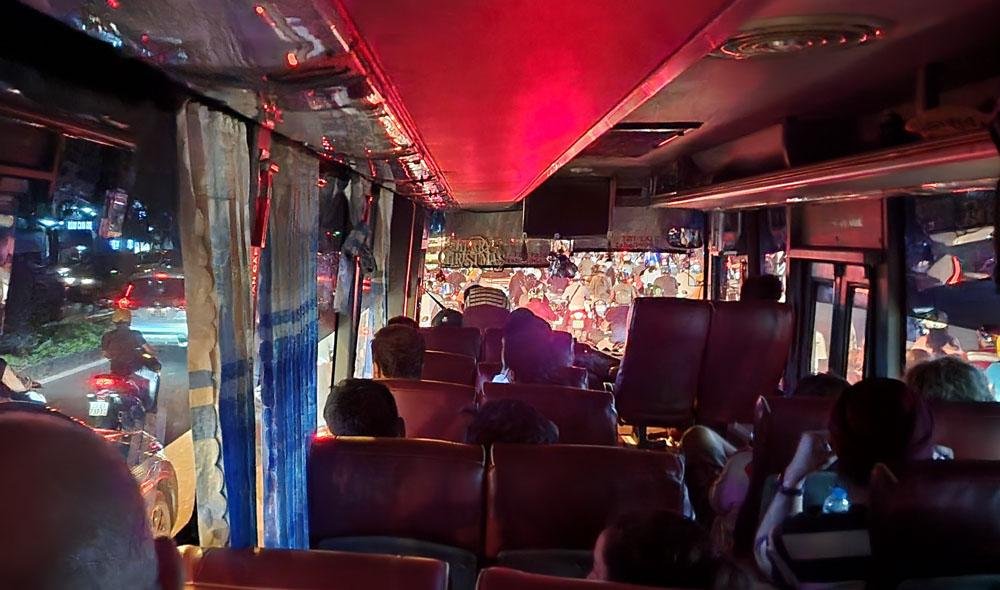 Dinner at Takashimaya HCM
Back at HCM city centre, we walked to Takashimaya HCM in search of food. The basement was crowded with ample food choices, but limited seats.
We settled for a soup dish by a counter/ledge (see that man in checkered shirt on right). The meal was decent!
After dinner, we strolled about and happened to be near Ben Thanh Market. There, we chanced upon a popular local cafe, known as Katinat Ben Thanh. The man ordered a Sakura Matcha, while I had an Oolong Tea that turned out to be very sweet. Yes, I think they used condensed milk even for Oolong.
If you are always hungry like my man and need food at weird hours, there's also a 24h McDonald's (I've marked out the location below).
Map Locations For Day 6 Ho Chi Minh Itinerary
Nguyen Dinh Chieu Supermarket >> Au Lac Legend Hotel (Pickup for tour) >> Tour Stop (Art Shop) >> Ben Dinh Cu Chi Tunnel >> Takashimaya HCM City >> Ben Thanh Market >> Katinat Ben Thanh Cafe >> 24h McDonald's
---
3 Must-Visit Attractions in Phu Quoc and Ho Chi Minh
So, which are the 3 attractions that you shouldn't miss. Here's my take based on places I've visited:
VinWonders – Great for adults and kids alike! My favourite themepark in Vietnam – Read part 1 to see what's on offer at VinWonders.
Cable-car ride to Hon Thom Island – One of a kind experience to ride a cable over the sea. Fantastic panoramic view on offer. Don't miss it!
Cu Chi Tunnel – This tour gives you a good glimpse of Vietnam War. Not easy to get to, but very educational! Find yourself a good tour operator!
That's all to Part 2 of HCM-Phu Quoc itinerary. Stay tuned for Part 3 of HCM Itinerary in which I'll share an interesting solo walking tour in HCM and other travel insights!
Connect with me if you like to get notified of my latest and 100% honest reviews!
SUBSCRIBE
This post may contain affiliate links, meaning I earn a commission if you make a purchase, at no cost to you. Read my full disclosure for more info.
(Visited 77 time, 1 visit today)