Another half a year has gone by since I last shared my Product Empties. Make a guess how many products I've managed to empty in the first half of 2019. It's 15 full-sized products. Whoa! That's a lot by my standard. I'm so proud of myself! Heh!
I'd deliberately forced myself to finish a beauty product before moving on to the next so that my vanity top won't get overly-cluttered. In this way, good products get the chance to live a fulfilled life and won't "die" in vain (past expiry)! Ain't I noble? ;)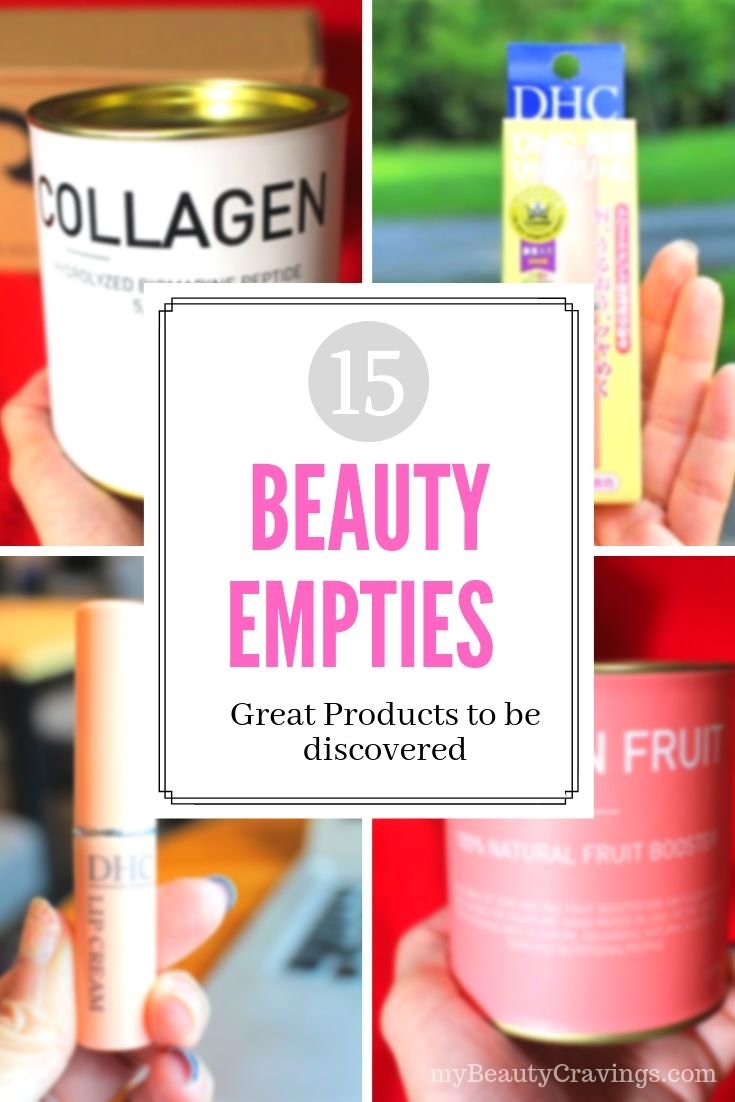 Now, for every product that I've emptied, a feeling of euphoria rushed through me as if I've completed an impossible mission. I've explained in an earlier post why we get so happy for finishing our "precious" beauty products.
Now, there's actually a second level of joy that I experienced which I'll share more in a bit. For now, let's check out these 15 products that were (mostly) good enough to be successfully emptied.
---
Product Empties (Vol. 3) – Have you used any of these? 
I've grouped the empties according to their product categories – skincare, makeup, toiletries and health supplements. We'll begin with Skincare.
SKINCARE EMPTIED
1. Biore Mild Cleansing Liquid
I emptied another bottle of Biore Mild Cleansing Liquid, one of my Super Beauty Holy Grails.  This makeup remover has been really easy to use because it cleans effectively and you can use it over dry or wet skin.
Just massage over and rinse. This makes life so much simpler than a Micellar Water.
Unfortunately, I may not be replenishing Biore Mild Cleansing Liquid anytime soon as I've come to a point in time when I'm forced to switch to gentle skincare that caters to mature and dry/dehydrated skin.
But we'll see how it goes. If I can't find anything as good, I would likely return to this fabulous and affordable Japan makeup remover. In fact, I almost bought it yesterday when I was loading my essentials in Johor, Malaysia.
For the latest price on Amazon, click HERE.
2. Clinique Smart Night Custom Repair Moisturizer
I enjoyed using Clinique Smart Night Custom Repair Moisturizer every night. It provides sufficient hydration and doesn't feel greasy or break me out.
For the latest price on Amazon, click HERE.
3. Suncut UV Protect Gel 
This should be my fifth Suncut UV Protect Gel emptied thus far. I love how lightweight it feels on the skin and how quickly it gets absorbed.
I've since purchased two different product versions – the Super Waterproof one for wet use and Essence type which is said to be moisturizing.
For the latest price on Amazon, click HERE.
4. DHC Lip Cream 
This is another Super Beauty Holy Grail of mine. I love it so much I actually wrote a new review of DHC Lip Cream after 5 years. See why I keep emptying and replenishing this Japan-made lip cream.
For the latest price on Amazon, click HERE.
5. Timeless Hyaluronic Acid 
I'm feeling lukewarm about Timeless Hyaluronic Acid.
It's supposed to boost skin moisture and improve lines and wrinkles, but I wasn't able to observe significant benefits from using this serum. Maybe it doesn't suit my mature skin type.
For the latest price on Amazon, click HERE.
MAKEUP EMPTIED
6. Integrate Curl Mascara
I took a long time to empty Integrate Curl Mascara (bought 5 years ago) because the effect was overly-natural for my liking. Luckily, it thickened with time and I was able to use it much later in its life.
During a revisit to Japan, I took a bet and bought the newer version – Integrate Curl Waterproof Mascara – and fell in love with it. I'm still using it right now, almost on a daily basis.
For the latest price on Amazon, click HERE.
7. Etude House Lipstick (discontinued)
Sorry, guys! This lipstick has been discontinued. That's how long it takes for me to finish a lipstick. Honestly, I think I hardly finish one, other than DHC Lip Cream and some tinted lip balms, which are technically not lipsticks. :)
Anyway, I'm glad that I managed to empty Etude House Lipstick after many years. It's a sheer lipstick with light but visible color payoff. Even though it didn't have a prestige texture, I was glad this Korean-made lipstick felt comfortable when used on my dry and sensitive lips.
TOILETRIES EMPTIED
8. Tsubaki Damage Care Conditioner
Tsubaki is one of the few shampoo/conditioner brands that I alternate among brands such as Herbal Essence and Moist Diane.
I like this Japan-made conditioner because it's neither too rich nor greasy and is able to provide my chemically-treated hair the right level of moisture.
For the latest price on Amazon, click HERE.
9. Watsons Nail Polish Remover
I'm not in love with Watsons Nail Polish Remover. Being acetone-free, I find that it's slow and requires a lot more cotton pads and liquid to get the job done.
Are all acetone-free/moisturizing nail polish removers slow in performing their job? I'm not sure but I know I'll likely be getting more efficient polish removers and won't rule out those containing acetone.
Yes, those may be harsh and harmful. It's a trade off I'm willing to make in exchange for my precious time. I'm also assuming reduced contact time with chemicals when using acetone removers.
TIP: Glittery nail polish can often take a lot more effort to remove. As such, you may want to consider using acetone polish remover to remove such nail polishes.  
For the latest price on Amazon, click HERE.
10. Marks & Spencer Aloe Vera Hand & Body Lotion 
I've been using Marks & Spencer body lotion since I was a teenager and often associate their lotions as something that smell great without being overpowering.
This alcohol-free Aloe Vera Hand & Body Lotion (300ml) has a lovely scent that smells so much better than what I thought an Aloe Vera smells like. It also comes with a lightweight texture that absorbs quickly while leaving the skin softly-moisturized.
For the latest price on Amazon, click HERE.
11. St Ives 24 Hour Deep Restoring Almond & Linseed Body Lotion
Although St Ives Almond & Linseed Body Lotion feels more moisturizing than Marks & Spencer's body lotion, it isn't uncomfortably greasy. In fact, I used this lotion more often than any other lotion that I own (including Bath & Body Works, Crabtree & Evelyn, L'Occitane, Vaseline Intensive etc).
That's how I was able to empty this large 621ml bottle quickly. To me, this is the perfect moisture level for everyday use.
According to its product label, this lotion is paraben-free and suitable for use on sensitive skin. It is also made with 100% natural moisturizers. I think I'll replenish this soon.
For the latest price on Amazon, click HERE.
SUPPLEMENTS EMPTIED
12. Blackmores Bio Calcium 
I only take two types of health supplements regularly – Calcium and Glucosamine. On days when I don't take enough calcium food such as milk or tofu, I'll pop a Blackmores Bio Calcium tablet.
Each tablet contains 500mg of Calcium and 200IU of Vitamin D3. The latter helps with absorption of calcium which can enhance the formation and maintenance of bones. This is important in preventing Osteoporosis. I'm now on my new bottle.
For the latest price on Amazon, click HERE.
13. Blackmores Glucosamine 1500
Some recent studies said Glucosamine is not effective against arthritis and joint stiffness and pain. Since I have runner's knees and often experience patella pain, I think I rather believe that it works as doctors are still prescribing it to older folks.
I've been consuming Blackmores Glucosamine 1500 for a long time. The reason why I choose the "One-a-day dose" is because of its convenience. Just one tablet a day will do. Easy peasy. :) In fact, I've just replenished another trio pack (30 tablets per bottle) for just rm99 – see list of things to buy in Malaysia.
INFO: When buying Glucosamine, please note the difference between Glucosamine Sulfate Sodium Chloride Complex and Glucosamine Sulfate. You need 1890mg of the former to make up 1500mg of the latter. Got it hor? This means you should look out for Glucosamine Sulphate and make sure it comes at the dose that you need. 
For the latest price on Amazon, click HERE.
14. Collagen Powder & Fruit Booster from Project B
I was introduced to a collagen powder by this Malaysia company known as Project B. To be honest, I was skeptical because I used to take Meiji Amino Collagen in my twenties and didn't notice any improvement (I might have been too young to reap any benefits then).
However, after a few weeks of taking Project B's Collagen Powder, I noticed my skin appearing more radiant and taut. And best of all, my knees no longer hurt and I could resume my jog after a 2-months hiatus. I cannot be sure if the improvement was really due to the collagen powder. But that happened to be the timeline of events.
Do note that I cannot verify the safety of products that are sold online. What I can share is that I've since consumed two cans of collagen powder since Jan 2019 (5 months ago) and didn't experience any side effects. In addition, unlike the scam company highlighted here, you can find Project B's registered company details and address on their website.
(And no, this is not a paid sponsorship. Although the products were given as press samples, I was not obliged to blog about it. That explains the long time lapse between receipt of samples to publishing date.)
15. Natural Fruit Booster from Project B
On its own, most collagen powder taste fishy because of what they are made of. That's probably the reason why Project B sent me a can of fruit booster which is to be mixed with the collagen powder before consumption.
Being health-conscious, I tend to avoid food that contains excessive sugar or carbo. I'm glad that the fruit booster is 100% natural and contains no added sugar. Another thing I like about the fruit booster is how I can adjust the quantity to control the sweetness. I normally just use half a teaspoon and treat this as a refreshing late-night drink.
I've tried both Kiwi and Passion Fruit flavors and highly recommend the Passion Fruit. It totally masked any fishy taste or smell and made the drink an enjoyable dessert.
---
Second Tier of Joy for Emptying Products
That's all to volume 3 of my Beauty Empties. Before I go, I like to share with you the second-tier of joy that I experienced after emptying the products. That joy was to "discard unwanted stuff".
Right after taking group photos of these empty bottles and cans, I threw them into a recyclable bin. It's a wonderful feeling to finally declutter after accumulating these packaging for up to 6 months. Tough life of a blogger! LOL!
Another inconvenience of being a blogger is delayed gratification. For instance, I'm not able to start using my newly-acquired beauty stuff from Osaka because I've yet to schedule them for a photo shoot. Don't think used products would look as nice on photos.
Okay. That's all for today. Hope you've enjoyed the post. Can't get enough of beauty empties? Check out the empty archives. And stay tuned for more honest beauty and travel reviews. You can get new post alert by clicking the button below.
(This post was first published in June 2019)
This post may contain affiliate links, meaning I earn a commission if you make a purchase, at no cost to you. Read my full disclosure for more info.
(Visited 744 time, 1 visit today)