Hey folks, there's no better time than now to upgrade your skills and to start tapping on your SkillsFuture Credit. Just like many Singaporeans, I'd procrastinated on the use of the $500 training credit even though it was given to us way back in 2016. But today, I am ready to take action! And I will tell you what's giving me the push to start utilising my SkillsFuture credit.
Read on as I believe the factors that are motivating me would likely give you a nudge too to kickstart your lifelong learning journey!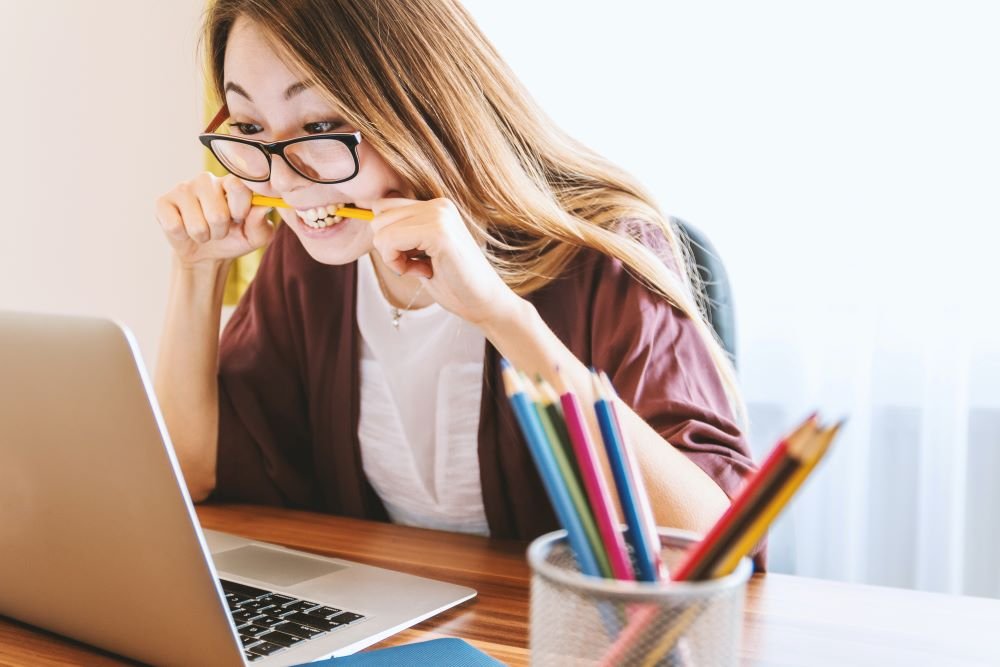 ---
5 Reasons to tap on your SkillsFuture credit today
Here's a little background to help refresh your memory. Since 2016, all Singaporeans aged 25 and above were given a $500 SkillsFuture Credit which they can use to upgrade their skills. They can be at any stage of their life – students, employees, job-seekers or retirees – as the objective of the scheme is to encourage a mindset of continuous learning.
Ooh, I love that as I've always been excited in picking up new knowledge! But, why didn't I make use of the credit earlier? When there isn't any expiry to the $500 credit, we "lazy human" tend to lack the urgency to take action.
Things have changed though. Right now, I am actively shortlisting courses online. Let me share with you the 5 reasons that are spurring me to tap on my SkillsFuture credit. 
1. Mid-career persons can better stretch their SkillsFuture Credit
Have you heard of the SkillsFuture Mid-Career Enhanced Subsidy? I've just learnt that those aged 40 and above can enjoy attractive course subsidy of up to 90%. This means that you may only need to pay 10% of the course fee. Woah! Do you know how affordable that is? 
A 2-day course typically priced at S$400 would now costs as little as $40. This enhanced subsidy stretches the SkillsFuture credit and allows mature workers like me to take on more courses for free. That's why I said this is the best time for mid-career persons to start utilising the free credit. 
But what if you are younger and below 40? Not to worry as the general training subsidy level is still attractive. Based on what I've seen, many courses are available at 70% off actual course fee. 
TIP: To know the exact amount you have to pay, login to MySkillsFuture.sg. Select your preferred course from the top menu. You may want to look out for courses with "nett fee" indicated, as these are courses that enjoy government subsidy. The nett fee that you see after the login page would likely be the amount you need to pay. Please double check with the training provider(s). :)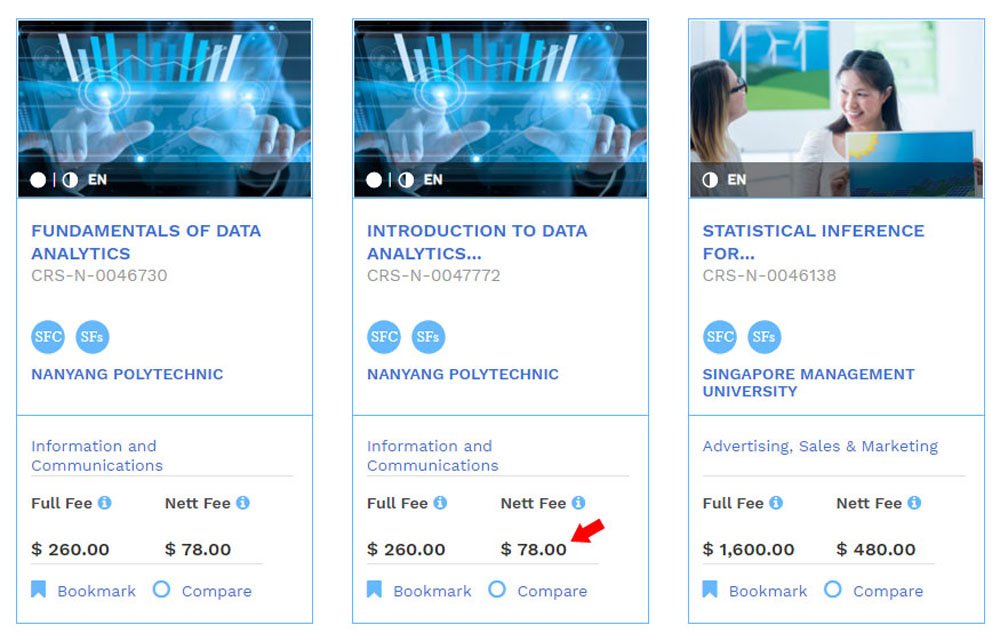 2. Get an edge over competition in challenging job market
Now that jobs are hard to come by and retrenchment news are on the rise, it is more important than ever to make sure that you stay relevant at the workplace.
One good way to achieve this is through constant reinventing, upgrading and upskilling. Doing so will not only keep you updated on the latest in-demand techniques, trends and developments, you may also gain an edge over the competition. This would put you in a more advantageous position during job search, promotion or even retrenchment exercises (choy!). 
Other than deepening and updating skills, mid-career switchers may consider picking up skills from other sectors or fields. This will expand their job opportunities and ease their transition into other areas of work. 
3. More Skillsfuture Credit coming your way
What else is motivating me to spend my $500? The answer – knowing that more SkillsFuture credits would be coming our way. 
With effect from 1 October 2020, eligible Singaporeans aged 25 and above will be able to utilise an additional $500 top-up for all SkillsFuture Credit-eligible courses. 
Mature workers get to enjoy an even better deal! They will receive an additional top up of another $500 if they are aged 40 to 60 as at 31 December 2020. All in all, mid-career individuals like me can receive a total of $1,500 credit.
TIP: Check how much has been credited into your SkillsFuture account by logging in at myskillsfuture.sg
Ok, I'm feeling so excited already just thinking about the number of courses I can take up for free. LOL! Thank you, gahmen! :) You have been very kind in encouraging Singaporeans to embark on a lifelong learning journey. 
TIP: The first $500 given in 2015 has no expiry. But the top-up(s) will expire on 31 December 2025. 
4. You get paid to upgrade your skills 
On top of the free and generous SkillsFuture credits of up to $1,500, some segments of the population get paid to attend courses. Yes, you've heard me right. "Some of us can receive training allowance simply by taking courses, which may potentially be FOC".
Firstly, self-employed get paid $10 per hour to embark on eligible training courses. This can potentially go up to $11 per hour for NTUC Union Members.
PROMO: Sign up as NTUC Union member through this link and you'll receive an OTO Spinal Support worth $238 (valid till 31 Dec 2020). This membership comes with a slew of benefits including higher training allowance, free insurance, cash rebate and more. 
Another group that get paid to attend courses are low income workers who will receive $6 per hour of training. Additionally, they can earn cash rewards of up to $1,000 per year. The more courses one completes, the more reward he or she would get.
If you belong to either of the groups mentioned here, hesitate no more! Get your skills updated and sharpened today before the training allowances potentially revert to their original lower levels!
TIP: Self-employed can apply for NTUC Training Fund (SEPs), while low income worker can refer to qualifying criteria under the Workfare Skills Support Scheme.
5. So easy to attend courses these days
All thanks to social distancing measures, we now learn to adapt to new ways of interaction which is mostly through virtual communications. The same applies to learning.
I've browsed through the SkillFuture-eligible courses and found many that are conducted through "synchronous e-learning". What this means is that course participants are live, present and learning at the same time, although they may be physically apart.
This remote learning greatly cuts down commuting time and logistics arrangement, and makes it easier to incorporate learning amid one's busy schedule.
---
What courses are eligible for SkillsFuture Credit?
As shared earlier, there are numerous courses that would allow you to tap on the SkillsFuture Credit. Visit MySkillsFuture.sg and hover over the top menu, under "Courses" to choose your training based on industry, area of training or emerging skills. 
For a start, I recommend that you browse through courses listed under SkillsFuture Series. These are emerging skills that would likely be in demand. I also understand that many of these courses enjoy high subsidy.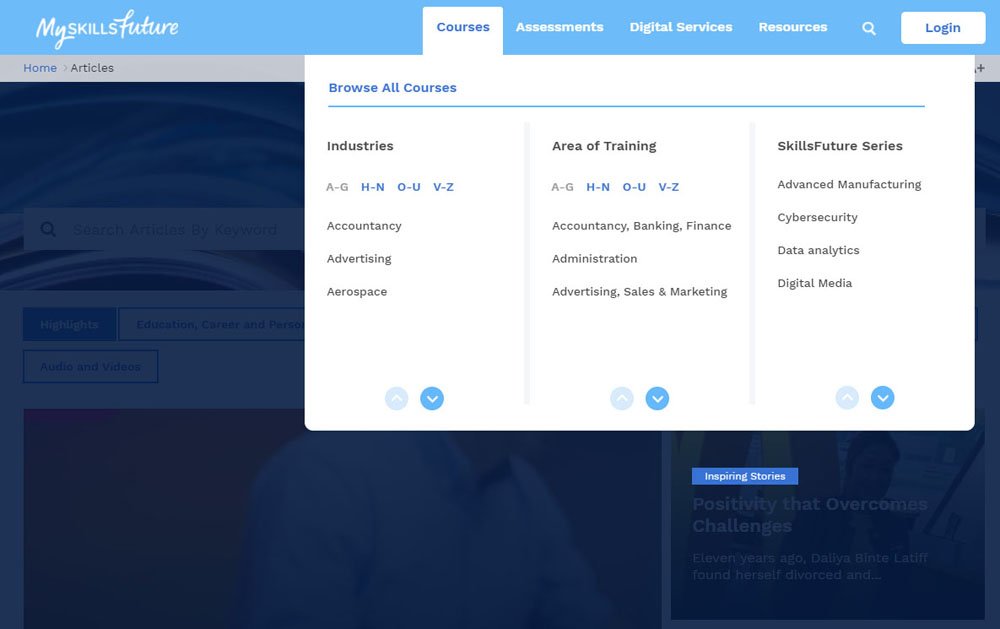 If you are a self-employed, you can also check out sector-specific training programmes that are specially curated by NTUC Freelancers & Self-employed unit. 
Remember to look out for the SFC and/or SFs logos on the course listing before applying. If I interpret it correctly, "SFC" refers to courses that allow you to tap on your SkillsFuture Credit while SFs are courses categorised under the SkillsFuture Series (i.e. emerging skills).
Understand hor? Hope I got it right too lah! :)  
---
Recommendation
This is the best time to upgrade your skills and to tap on your SkillsFuture Credit. Other than the generous SkillsFuture top-ups and substantial course subsidy, some of us may even get paid to attend courses.
Therefore, if you are aged 40 and above, self-employed or low wage workers, I think there is no better time to reinvent and upskill yourself. 
To take action, ensure you qualify or have made the necessary applications (see point 4). Then, you can login to your SkillsFuture account and start shortlisting courses. Once you have finalised your decisions, contact the training provider and begin your learning journey.
This harsh climate has reinforced and shown us how great it is to be a Singaporean! 
This post may contain affiliate links, meaning I earn a commission if you make a purchase, at no cost to you. Read my full disclosure for more info.
---
That's all for today. Hope you have found the article useful. Do check out other great deals and connect with me if you like to get notified of my latest and 100% honest reviews – just click the button below. See you soon!
SUBSCRIBE
(Visited 395 time, 1 visit today)