A lemon a day, keeps aging and blemishes away. Did you know that lemon can reduce wrinkles and keep the pimples away? Not only that, it keeps you slim without the need to starve yourself. 
A while ago, I kick start a new beauty routine that promises healthier body and skin. It has given me more energy while making me less greedy too. I am so eager to share with you how easy it is to have lemon included into your daily diet.
3 Good Reasons to Have Lemon Every Day
Half a lemon with water first thing in the morning (before any food intake) can help:
1. Slows formation of wrinkles
Lemon is a good source of anti-oxidant and can help fight the aging process. Not only does it help prevent the free radicals from damaging your cells, it also increases the production of collagen. What this means to a layman is firmer and more elastic skin that's less prone to wrinkles.
2. Clears blemishes
Want blemish-free skin? Get a lemon. Its rich source of vitamin C purges toxins from your body and gives you clear and radiant skin.  
3. Slims you down
Craving for a slimmer body? Do it the healthy way and let lemon retard hunger cravings.
---
Recipe for Lemon Drinks: 3 Simple Steps
Come come. Take a glimpse at the three simple steps to get this power juice ready in the morning.  
Step 1 – Peel the Lemon
Half a lemon is all you need.
You can extract the lemon juice with a squeezer. But my preference is to peel it with a knife. You get 100% of the juice and fibre. None of the goodness is wasted.
Step 2 – Put Lemon into Blender
Cut the peeled lemon into small pieces.
Put them into a blender.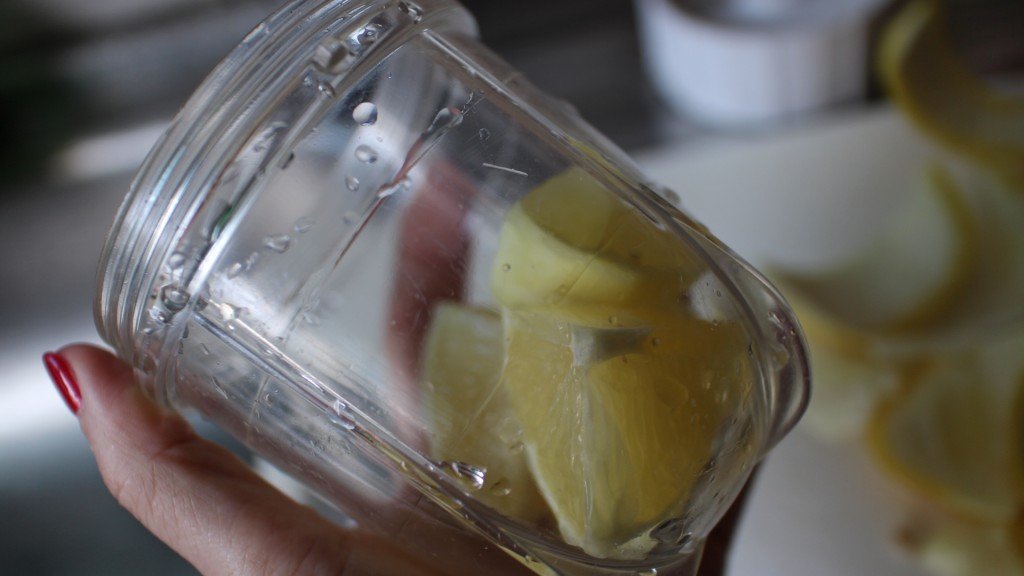 Add a small amount of water and close the lid.
Step 3 – Blend it. Drink it.
Years ago, I bought a really good blender (see similar ones here). It cuts down the steps required to make a cup of juice. Let me show you how.
Pressing the cup downwards initiate the blending mechanism. After blending, open the lid and add water to make up one cup of lemon juice. And there you go, the juice is ready for consumption, right from the container that was used to blend the lemon.
Dish washing was also cut to the minimum – just rinse the cup blender and the lid.
How to drink Lemon Water? 
Drink this lemon juice every morning on an empty stomach. For best results, consume food only after about 30 minutes.
---
Need more reasons to embark on this Lemon Journey?
Listed below are other benefits of having lemon in your diet:
Lemon can improve your immunity against common colds and flu. It can also cure throat infection

Lemon helps in digestion, and relieve symptoms of indigestion such as bloating and heartburn

Lemon can be used to detox your body of unwanted materials

Lemon gives you more energy

Lemon freshens your breath
Try it and let me know how you like it.
Love what you've read? If you like to get notified of my new posts, you can click the button below to subscribe, or connect with me through facebook or instagram. See you there!
This post may contain affiliate links. Read my full disclosure for more info.
(Visited 302 time, 1 visit today)