I'm a financially-savvy value hunter and have always been on a look out for great products and services that give more bang for the buck. What you'll see in this section are tips accumulated over the years that can help you save or make money. And they are not just limited to Travel or Beauty.
SG COUPONS
1. Giga Telco: Enjoy a discounted rate when you enter this Giga Promo code – nsnUaM. I am using this digital telco and highly recommend it. See 7 reasons why I switched to Giga Plan.
2. Shopee: Get S$10 off when you enter referral code – MBCLE222 at checkout for your first purchase. See 6 reasons why Shopee is my most preferred shopping app.
3. Foodpanda: Get S$10 off your first food order. This app is great even if you are doing food takeaway!
---
SAVE MONEY ON BEAUTY PRODUCTS
1. Be
auty Must-Haves: View a list of highly-recommended beauty products including my holy grail must-haves. Getting the right product on first attempt can help you save lots of money.
2. Japan Top Beauty: Check out Top 30 Japan Beauty to grab from the land of the rising sun.
---
SAVE MONEY WHILE YOU TRAVEL 
1. Airbnb: I've been an Airbnb user for a couple of years and highly recommend it. It is almost always cheaper than hotel, many times giving the same value for just half the price or less. You can get S$65 discount off your first Airbnb stay and experience.
2. Booking.com: Booking.com is an established hotel-booking portal and has been been around for more than 20 years. Enjoy 15% or more off your next hotel stay (valid till Jan 2021). 
3. Klook: You can get fantastic travel discounts when you book your tours, admission tickets, WIFI and transport through Klook. Most of the time, their prices are significantly lower than even the official rates. I've personally purchased products off Klook's user-friendly portal and highly recommend it. If you are a new to Klook, you can get S$5 credit.

4. RentalCars: Love exploring places off the beaten path? Rent a car from the world's biggest car rental service and you can compare rates from different car companies to get the best deal! Rentalcars is a sister company of top-leading accommodation portal, booking.com. So rest assured of its quality and reliability!
5. Top Travel Services: From transport passes to WiFi and tour packages, let me show you the ones I've used and highly recommend. These top-notch travel services helped trim my travel expenses and allowed me to see more for less.
6. Great Accommodations: View a list of highly-rated accommodations that I have personally stayed in and would recommend wholeheartedly.
7. Travel Printables: Need some help in travel planning? I've prepared itineraries, must-buy lists and more so that you can download it as a reference when you travel. Get these travel printables for free. 
---
SAVE MONEY WHEN YOU SHOP
1. Amazon.com: I am not an avid online shopper, but would buy certain brands from Amazon. Check out what I've bought on Amazon that were significantly cheaper than what I could get elsewhere. 
2. What to buy online? Take a look at some of the things I've shopped and bought online. This should give you some ideas on what to add to your shopping carts. :)
---
EARN MONEY BY BLOGGING
Start a Blog using the Right Tools
To make money from blogging, you will first need to have a blog. Start it right as some of the things would be very difficult to change later. I know it because I am spending days and nights trying to alter some elements of the blog now. Below are my recommendations based on first-hand experience.
1. Bluehost (Hosting): If you are just starting out on a blog or website, choose a low-cost hosting company. At this stage, speed and up-time isn't critical because you will be spending time on the basics, such as working out your intro pages, customizing your website design, setting up your social accounts, learning SEO and a whole lot of stuff. Bluehost is one of the cheapest hosting companies and comes free with a domain, SSL and a user-friendly dashboard. It's easy to get your wordpress website up through Bluehost's one-click installation. Plus, there's a 30-day money-back guarantee.
I started off using Bluehost for the first 2 years while growing my content and pageviews. Starting it cheap was great as I didn't need to commit a lot monetarily in case this passion didn't last, but it did of course. As of now, I'm still registering my website domain through Bluehost – since 2014.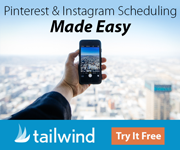 2. Tailwind (Scheduler): I pay monthly subscription for Tailwind Plus because this tool helps increase my pageviews and simplify my life. After trying out its free trial for a month, my Pinterest views increased from 3,000 to 80,000 (yes, within one month). My blog traffic and Ads revenue also surged.
After the free trial, I stopped using Tailwind Plus and saw my blog statistics took a deep plunge. That explains why I'm now paying for the service. Give this Pinterest-scheduling tool a try! You can enjoy a free trial by signing up through my link.
3. Blogging Tips (Vol. 1): I've been blogging for a while (since 2014) and am ready to share with you 10 Blogging tips that will help you increase pageviews, loading speed, subscribers and revenue. 
So, the blog is up. How do you earn money? Stay tuned as I will be sharing with you the things I've learnt in my blogging journey since 2014 and how this passion in sharing my thoughts with the world earns me passive income. 
---
I'll keep updating this page whenever I come across great products. Great products are either one that help you save money, earn money or improve your life substantially. To ensure that you get the latest updates and honest reviews, click the button below to subscribe.
SUBSCRIBE
(Visited 2,524 time, 1 visit today)