"Are you sure you want to rent a car through this website? Not many reviews yet, you know?" I'd asked my partner. I was referring to a Taiwan Car Rental listing on Klook.com.
I've no qualms about being a guinea pig when it comes to testing hotels and Airbnbs. But testing a car is a serious matter. If a car breaks down in a foreign land, it is no small joke. There's a lot of hassle, cost and time involved. And let's not forget about the elevated stress level when you are supposed to be relaxing.
Update Mar 2023: This post was first published in Jan 2019 and updated to include latest information.
Eventually, we decided to proceed for reasons I'll share later. Thankfully, it turned out to be a pleasant and hassle-free car rental experience. In the video above, you can see us driving up Hehuahshan in Central Taiwan using the rental car.
Read on for pros and cons of our Taiwan Car Rental experience. I'll also throw in some Taiwan Self-Drive Tips.
Side Story: I was once stranded on a highway in Australia during wee hours. You cannot imagine the stress level when huge trucks aka road trains zoomed past our stationary car in the pitch-dark highways. The car would literally vibrate. We didn't dare to step out of the car as it is Australian desert that we are talking about. Like would there be venomous snakes or spiders lurking around?

So we just sat in the vibrating car, called the police (because that's the only number we knew) and waited anxiously for a toll truck to come and rescue us. :) Long story short, we were conned when someone handed over a Ford in a lousy technical condition, leaving us stranded a few hundred kilometres from the city. :(
---
Renting a Car in Taiwan – Is it Safe to Book through a Third Party Travel Portal
Our natural instinct and preference would always be to rent directly from car rental companies than to go through middlemen, such as Klook. We thought going direct would result in lower cost and better accountability should anything go awry. Furthermore, we are well-versed in Chinese and do not need middleman to help with communication.
That's exactly what we did when we booked our car from a local company in an earlier 2016 Eastern Taiwan Trip. At NTD2,000 per day, that was the best deal we could find.
> RELATED: Should you rent a car in Taiwan or hire a driver?
In our most recent 2019 Central Taiwan trip, we did the same online research and found a great deal on a Taiwanese car rental website. A car would cost just NTD1700+ per day (SGD75). Just before confirming our booking, I did something that would change the way we look at car rental options again. 
How We Ended Up Renting Our Car through a Middleman
I casually mentioned to my partner about a car rental listing on a third-party travel portal, Klook. It was more for information-sharing than to get him to switch course. To my surprise, my partner studied the listing and came back saying that he would book the car from Klook.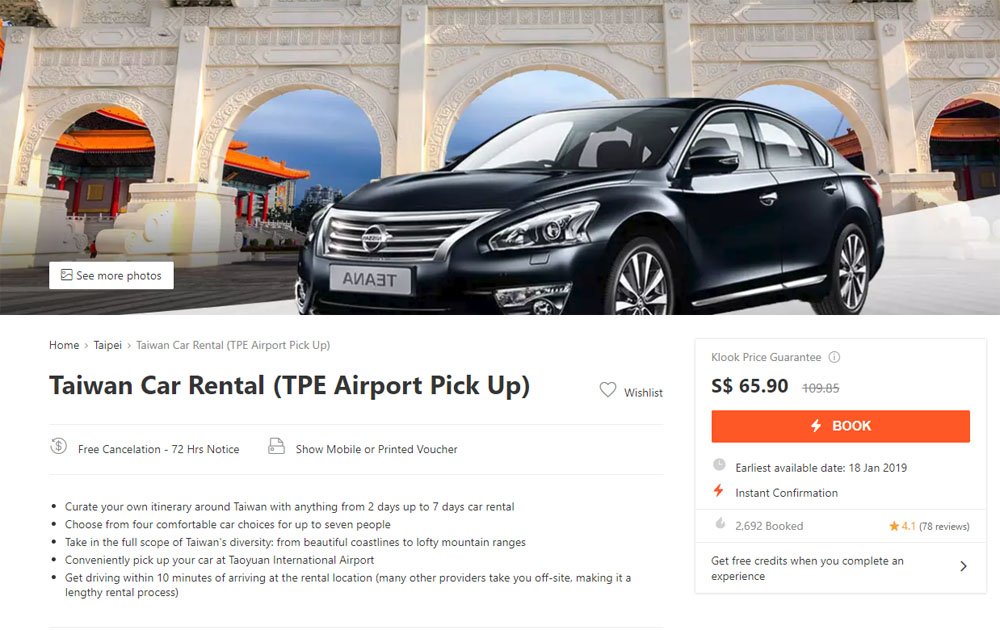 I was apprehensive and worried because the review score of the car rental listing wasn't very high. Also, there weren't many reviews. But my partner wasn't a tiny bit worried.
"Forget about those reviews!", he said before reminding me of the numerous occasions when we were conned by online reviews (those on established portals). LOL!
It turned out that he was right. The pros outweigh the cons much to my relief. I'll share the pros in the next section, followed by the cons.  
Updated (Mar 2023): Though this listing is currently unavailable, you now have more car rental options under this updated link. 
---
What's Good about Taiwan Car Rental from Klook? 
1. It's Surprisingly Cheaper
After doing extensive research, we were surprised to see the car rental listing on Klook offering the cheapest rate for our needs. Our 8 days rental of a Toyota Vios cost just S$65 per day (actually we paid only $60 per day after some X'mas discount. :)).
TIP: In the updated car rental listing, don't be scare off by the high price that you see. Choose a later date and you should be able to see the price coming down substantially as compared to the default "immediate" date.
2. Easy Booking of Car 
It was an easy process booking car through Klook. We selected the type of car we wanted (a 5-seater Toyota Vios), the number of days needed (8 days for us) and viola, the total price emerged on the next screen. This price was similar to what we'd seen on the first screen and we did not have to deal with additional tax charges, such as those 15% added on the final page of hotel portals.
The price we first saw was the price we needed to pay.
However, please note that you'll need to pay road tolls through car rental companies when you return the car. That's because Taiwan doesn't collect road toll via traditional toll booths. Instead, the tolls are recorded electronically by overhead gantries.
TIP: In Singapore, we have cash card deduction through electronic gates. In Malaysia, we pay toll either through cash or touch n go card at toll plazas. In Taiwan, you won't know how much toll fee you have incurred until you return your rental car. :)

It's not a lot – about NTD300 incurred in our 7 days trip and we drove quite a lot, from Taoyuan Airport to Taichung, Sun Moon Lake, Cingjing, Hehuanshan (twice) and reverse back to Taoyuan.
RELATED READINGS:
3. Quick Collection of Rental Car
For our specific car rental listing, the pick-up was at Taoyuan International Airport.
After stepping out of the immigration at T1, the counter was almost right in front of us. There's a prominent blue signboard "Car Rental & Limousine" located next to the tourism service counter. 
Based on the time stamp on my photos, I was comfortably seated in the rental car within 15 minutes from the time we approached the counter staff.
TIP 1: When should you schedule the pickup timing of your car? Our flight ETA was at 8.45am and we booked our car to be collected at 10am. The timing was perfect! And by 10.15am, we were already on the way to our first attraction in Taiwan.

TIP 2: Please make sure you have an international driving permit when collecting the car.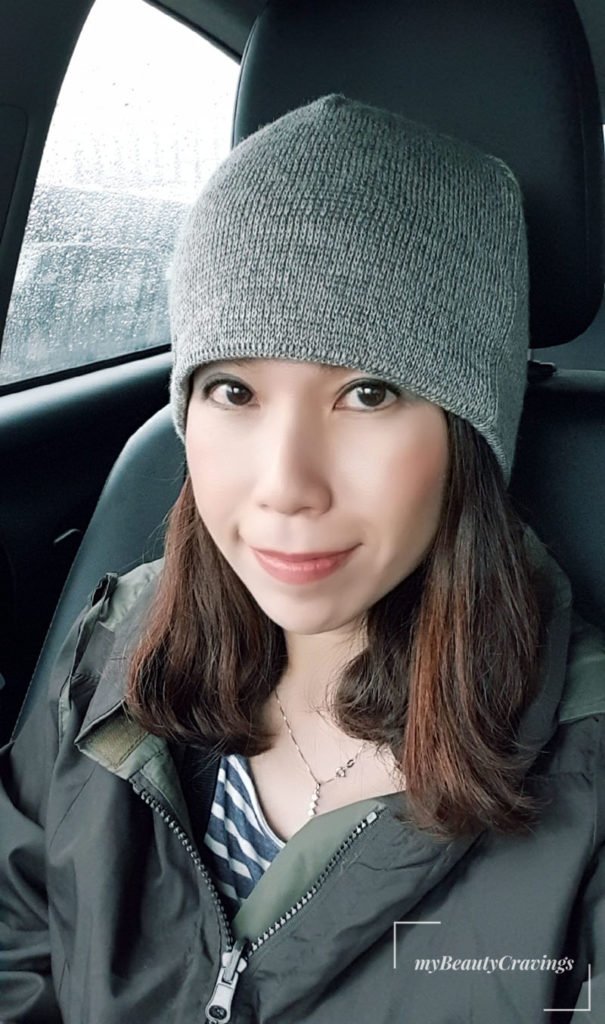 4. Convenient Collection of Rental Car right at the Airport
Unlike our car rental experience in Okinawa, renting a car through Klook was so convenient because the car was picked up right at the airport (T1 Arrival Hall). That saved us a lot of time and hassle.
TIP: If you intend to start your car rental experience right from the airport, remember to choose Taoyuan Int'l Airport as pick-up location. Otherwise, you can also select other pick-up locations such as Taipei Main Station. 
TIP 1: In Taiwan, driver sits on the left, with the control on his right. He drives on the right side of the road. In Singapore, driver sits on the right, has his controls on the left and drives on the left.

TIP 2: Please remember to bring along your car mobile holder, i.e. if you intend to use Google Map as your GPS guide. We didn't even touch the GPS device that came with the car because our "saved locations" and "favorites" are all marked in our Google Map.
5. No Upselling or Hidden Cost
In our experience, there was no up-selling of additional insurance unlike our experience in Okinawa. Basic insurance was covered and the staff was just too busy to be bothered with any stuff other than to hand us the car quickly.
6. Car was Clean
The car was clean when we picked it up. I'm referring to both interior and exterior. Nope, no cockroaches, food remnants or any sort of those stuff. It was my comfortable second home in Taiwan for a week.
7. Phew! No Technical Issues 
This is the most important factor. And I'm happy to say that the car worked perfectly fine even when we drove the small-capacity car up Hehuanshan twice, to a height of above 3,000 metres in altitude. :)
> RELATED: 9 Days Taiwan Itinerary Around Taichung (A Self-Drive Trip)
Here's a video of us driving up Hehuanshan under bad weather.
8. Efficient Return of Car at the Airport
We drove the car back to the same spot where we picked it up (T1 Arrival Hall) and approached the same counter. Within 5 minutes, the staff was at the car.
He walked one round to examine the car condition. Thereafter, my partner followed him to the counter to pay the toll fees. All in all, the process took less than 15 minutes.
---
What's Bad about this Taiwan Car Rental Service? 
This section refers to a specific car rental listing that is currently unavailable. When you book your car in this updated Taiwan car rental link, you can read the reviews under each listing, and watch out for points on the following, e.g. whether the company is transparent about toll collection.
1. Toll Collection could be more transparent 
As said earlier, we would need to pay road toll (known as e-Tag) through the car rental company. In our 2016 East Taiwan trip, the car rental company showed us the e-Tag computer screen which indicated the toll fee incurred during our rental period.
However, for this 2019 car rental, we were only told verbally on the amount that we needed to pay. So, there was no visual proof.
As you see, the booth at the airport counter was a small one and that chap had to give the HQ a call to find out the rate. Since the quoted fee at NTD300 seemed reasonable, we didn't request for further proof. 
2. Not the Friendliest Staff
I interviewed my partner for this segment because he handled the car rental while I dealt with the 4G Pocket WiFi rental. Yes, we work as a team for great efficiency. Heh!
According to my partner, the staff appeared like he was unhappily stuck in a monotonous job. Well, he was sleeping at the counter and not exactly very friendly. In case you aren't aware, Taiwanese are ranked one of the friendliest people in the world. So this staff may appear a little "off" from the norm. :)
Still, it doesn't affect us as long as the car works fine and is value for money. At least, the staff wasn't rude, just somewhat dispassionate. Know what a rude person is? You can read about my worst Airbnb experience.
---
Recommendations
Our experience renting a car through Klook platform was a great one. Having a car allowed us to tour Central Taiwan so efficiently and yet cost less than what we would have paid if we'd liaised directly with car rental companies. We were able to visit many inaccessible destinations in Taiwan. 
Most importantly, it saved us time and effort to navigate through Taiwan car rental website, that were in Chinese. Not forgetting that Klook has a check and balance, aka "Review" system to ensure that scams cannot survive on the booking platform. 
I highly recommend booking a car through this Car Rental link and would do it again without batting an eye. Rating: 4.5/5.
And don't forget to complement your car booking with a 4G Pocket WiFI which I've reviewed and given a 5/5 rating. This can give you better GPS location accuracy and allow you to research food/places/reviews on the go.
Okay, hope this review will help you guys save more money when travelling in Taiwan. I'll be back to offer more tips on my 2019 Central Taiwan Trip. Stay tuned! :) Connect with me if you like to get notified of my latest and 100% honest reviews – just click the button below! See you.
SUBSCRIBE
(This post was first published in Jan 2019 and last updated to include latest information.)
---
Related Post:
Pin This!
This post may contain affiliate links, meaning I earn a commission if you make a purchase, at no cost to you. Read my full disclosure for more info.
(Visited 5,900 time, 7 visit today)