What to do after landing in Okinawa? Rent a car of course! Today's post is an expansion of my 9-Day Okinawa Itinerary and I'll share in greater details what we did on Day 1 in Okinawa. You'll see why it took us more than an hour to get hold of our pre-booked rental car in Okinawa. I'll also show you the fabulous first meal we've had at Itoman Fish Market. As always, tips and logistics information will be added along the way.
Ready for Day 1 Okinawa story? Great, let's dive into the beauty of Okinawa Island.
---
What to do after Arriving at Naha Airport? 
(8.10am)
If you are flying into Okinawa from Singapore via Jetstar flight, you may be taking an overnight flight like we did that departs at 2am. The great thing about an overnight flight is how we always get to view sunrise up-close from above the clouds (and not forgetting the cheap fare). The bad thing? Well, it's hard to get a good rest.
Our flight landed at Naha Airport on schedule at around 8am, local time (GMT: +9). Singaporeans can set their watch one hour faster at this point. 
After getting through the immigration and just before exiting the airport, we saw a Visitor Information Counter. There's a rack with lots of brochures. Do spare 5 minutes to scan through the brochures. Look out for three that will help you save some money. 
Pick up these Discount Brochures from Naha Airport
Here are three brochures I'd found useful as a tourist in Okinawa.
1. Okinawa Travel Info Coupons
Okinawa Travel Info Coupons is a useful brochure especially if you'll be visiting a lot of tourist attractions in Okinawa. For instance, my admission fee to Daisekirinzan was reduced by 10%. You can also print out the online coupon from the comfort of your home.
INFO:  Here's another great deal – a Main Island Okinawa Enjoy Pass that gives you access to 12 popular attractions, including Churaumi Aquarium. You can use it at a relaxing pace over 5 days. Highly-recommended!
2. Don Quijote Brochure
On top of tax-free shopping, Don Quijote brochure offers additional discount and cash rebates when you shop at its outlets. The more you spend, the higher the discount would be. For instance, I enjoyed about 13% total savings when I spent above ¥10,000 in Don Quijote Ginowan. 
3. Aeon Brochure
Similar to Don Quijote, you can get additional discounts on top of the 8% tax rebate when you present Aeon Brochure at her outlets. I'd enjoyed a total of 12% discount when picking up my beauty stuff from Aeon Rycom.
---
Pick up Rental Car in Okinawa: Not as easy as we'd expected
(9.00am)
Unlike some countries where you get to pick up your rental car quickly from the airport, Okinawa is a little different. You need to collect it at an office located a 20 minutes' drive from the airport.
Here's what you'll do if you rent a car from OTS Car Rental. Walk out of Okinawa Naha Airport and turn left. You will notice some bus bays. Stop #1 is the place to wait for the free shuttle bus that will bring you to OTS Rent-a-Car Office (see location). If unsure of where to wait, just approach anybody who looks like a staff. We'd probably waited for about 10 minutes for the bus to arrive.
TIP: Don't forget to apply for international driving licence before arriving at Okinawa. Singaporeans can apply it at AA for a fee of S$20.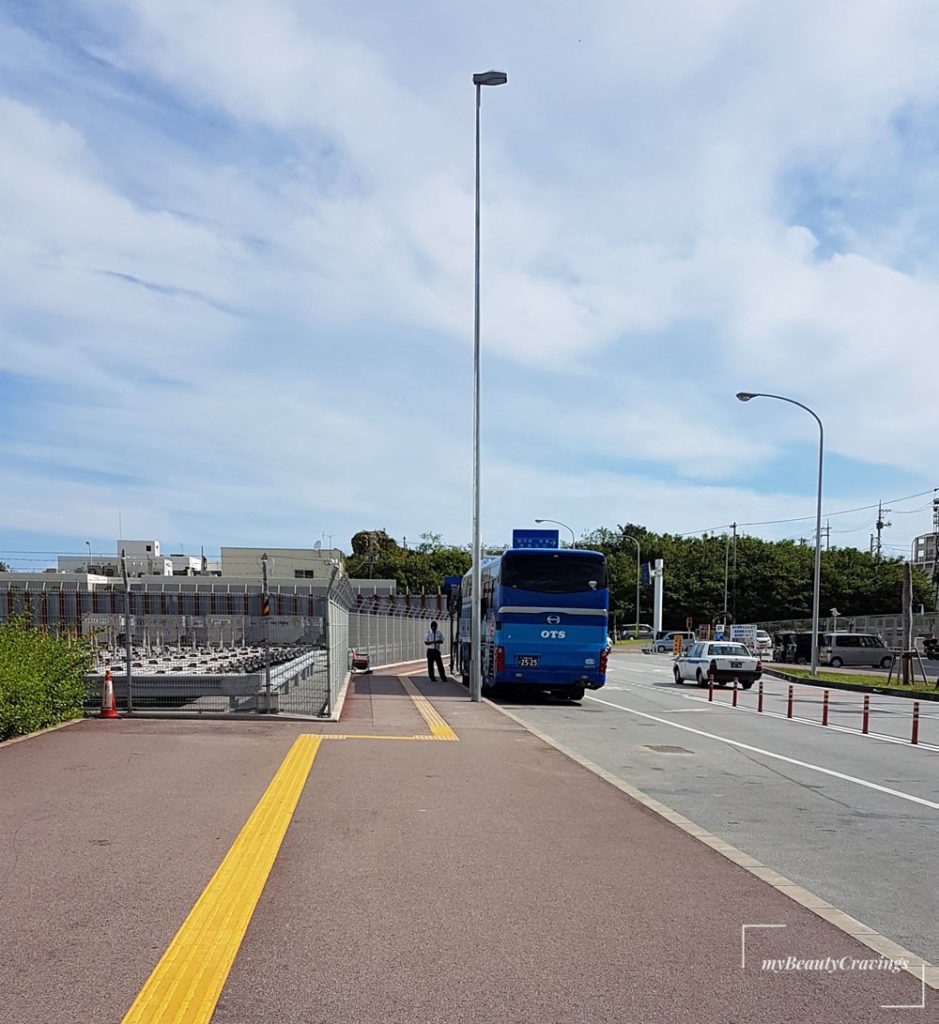 Long Queue and Waiting at OTS Rent-a-car Office
(9.30am)
We certainly didn't expect car collection to take up so much time. Other than the 20 minutes shuttle bus ride to OTS Rental Office, it took another 40 minutes before we got hold of our pre-booked car. As you see, there was a long queue at the office. For a moment, I thought I was at the bank, you know? :)
Queue was one thing. Up-selling was another. We were told to upgrade our car insurance that would cost an additional ¥540 to ¥1080 per day. Yeah, that's like 33% more than what we'd confirmed during booking.
Apparently, the basic insurance that was included in online booking didn't cover simple things like a flat tyre. So, if a tyre is punctured for instance, not only do you need to pay repair fees, you'll be slapped on further with a Non-Operation Charge of ¥50,000, it seems (refer website). Stressed, huh?
> MUST-READ: 18 Important Things To Know Before Visiting Okinawa
When we chose not to take up the add-on insurance, the manager was 'summoned' to persuade us further. Nope, we didn't budge. LOL. We were bold (or silly) like that.
Note: We are not encouraging you to skip the additional insurance like we did. If you want a peace of mind, it may be worthwhile to consider their safety packs. You can read more about the add-on insurance so that you have a chance to work it into your travel budget.
TIP: Book your car early and book it online to save money. If you refer to OTS Rent-a-Car Website, you can see a 'Promotions' tab. That's the place to look out for early bird and internet discount promotion (if any).
How much to Rent a Car in Okinawa?
Our car rental for 8 days came up to ¥24,600, making it an affordable USD30 per day. This rental was made between June and July which may be a low season. FYI, no deposit was required when making an online booking. They collected the full sum when we arrived at their office.
Other than OTS, you can also check out this website that offers car rental service – the reviews seem quite good. Click here to view the live car rental rate.
---
Itoman Fish Market – A Great Place for First Meal in Okinawa
(10.30am)
Itoman Fish Market is just a 5 minutes' drive from OTS Rent-a-Car office. Since it's located adjacent to Itoman Farmers Market, we decided to pop into the small supermarket first. This local market sells mainly vegetables, fruits and ready-to-eat bento and snacks (see location). 
Although this place seemed popular among the locals, the prices of fruits and vegetables just didn't appeal to us (South-East Asian folks). It's hard to adapt to pineapple that cost 8 times the price of that in Singapore or a small box of mangoes that exceeded ¥4000.
Luckily, we didn't have to worry about steep fruit prices as a tourist. All we cared about were snacks that could be consumed immediately, such as Ikan Billis with Soybean and Black Sugar Steamed Cake.
We paid for our stuff, exited Itoman Farmers Market and took a short stroll to our meal destination. What welcomed us when we entered Itoman Fish Market were plentiful mouth-watering options – fresh sashimi, grilled lobster, assorted sushi, exotic seafood and more.
As I walked further in, I started to appreciate the size of the market. It was neither overwhelmingly-big nor too small, making it quick and easy for us to decide on what to get. I also love the way the seafood were presentably displayed. It made me salivate even before I could lay my hands on those yummy raw slices of fish.
Another thing I like about Itoman Fish Market is how prices are clearly displayed. There's no ambiguity and there isn't a need to haggle. This makes the whole experience an honest, hassle-free and efficient one unlike those I've experienced in some other Asian countries.
Here's What We Ordered at Itoman Fish Market
Ready to indulge with us in our first meal in Okinawa? Scroll down and I'll slowly introduce our food orders. :) 
This photo shows our semi-eaten supermarket takeaways plus Cubed Tuna (¥300) and White-Fish Sashimi (¥300). Ha Ha, sorry, I don't know what fish that is because I can't read Japanese.
Next, we have Scallop (¥500) and Large Prawns (¥300). The scallop was the only order that I thought wasn't value for money. I know Scallop is pricier and I'm fine with paying more, which we did. However, we were disappointed to see that there were only a few thin slices, resting on top of a thick pile of sliced radish. 
We ended our feasting with a platter of Assorted Sushi (¥500) and a stick of Fried Fish (¥100). 
Best Fish Market Experience in Okinawa – Itoman Fish Market
Among the three fish markets I've visited in Okinawa, Itoman Fish Market ranks No. 1 (see location). Other than offering great food options, the ambiance was right. It wasn't too quiet. Neither was it over-touristy. Best of all, there were tables for us to dine properly unlike in Tomari Fish Market. 
All in all, we spent a combined duration of one hour in both Itoman Fish Market and Farmers Market. 
So, that's it for Day 1 Okinawa Itinerary (part 1). More travel tips to come. Stay tuned to my next post.
Love what you've read? If you like to get notified of newly-published beauty reviews and travel stories, just click the button below to subscribe. I'll even give you some free and exclusive stuff. See you there!
SUBSCRIBE
This post may contain affiliate links, meaning I earn a commission if you make a purchase, at no cost to you. Read my full disclosure for more info.
---
Related Posts:
(Visited 4,009 time, 1 visit today)