I couldn't believe how cheap Chifure Lipstick S was when I saw it in my trip to Okinawa. It was elegantly displayed alongside other well-known Japan brands such as Shiseido, Kanebo and Integrate. At ¥350 (before tax) for a Japan-made lipstick, Chifure Lipstick S was unarguably a steal. I couldn't resist the temptation and grabbed two – one for me and another for mom.
Since then (2018), I've gone on to repurchase a few more colours in Osaka and will soon be replenishing my favourite colour in Singapore.  Which colour is that? And does price equate quality? Read on to find out.
Update (Mar 2021): This post was first published in Aug 2018 and last updated to include more colour swatches and latest opinion. 
---
About Chifure Lipstick S
Chifure is a brand that has been around since 1947. That's an impressive 70+ years of history. Its philosophy is to produce quality cosmetics at affordable prices and I think it has succeeded in doing so. Based on its website, Chifure is also available in Taiwan, China and Thailand.
Of the different types of lipsticks sold by Chifure, the product being reviewed today – Chifure Lipstick S – is the cheapest (¥350). It contains hyaluronic acid and is said to be moisturizing. Here is her official marketing promises:
"Moisturizing lipstick that glides on smoothly to create plump, feminine lips. Formulated with the same concentration (0.2%) of moisturizing hyaluronic acid as in Chifure Alcohol-free Serum."
Let's go through the good things about this cheap lipstick before moving on to her weaknesses.
---
What's Good about Chifure Lipstick S?
1. Sheer and Natural-Looking
Chifure Lipstick S produces a sheer finish and works more like a balm than a lipstick. It provides enough color to brighten the face, but without the harshness of a pigmented lipstick. I can apply it without a mirror and not be afraid that my less-than-perfect lining would show.
The finish would vary depending on what color you choose. For this orangey color (#421) that I got, it has a creamy and light-gloss finish.
2. Great for Dry Lips
Chifure Lipstick S lives up to her marketing promises of being a moisturizing lipstick. My dry lips feel comfortably hydrated even a few hours after application. In fact, I find myself reaching out for this lipstick very often, treating it more like a tinted lip care cream than a lipstick.
3. It's really cheap!
I seldom describe a product as being cheap, often preferring to use the word affordable instead on products that deliver great value. However, in this instance, I have to call a spade a spade.
Chifure Lipstick S is cheap! It retails at ¥378 (with tax) and you know what? I got it at an even lower price of ¥333 nett (S$4). That's 12% of savings and was achievable by making good use of travelers' discounts (read tips below).
> ALSO SEE: 18 Important Things to Know Before Visiting Okinawa
How about its latest online prices?
Still pretty affordable though marked up for obvious reasons. Here are the latest prices on Ebay and Shopee SG.
4. Many Colors to Choose From
There are many colors to choose from at Chifure's sales rack. I'm lucky that the color I chose (No. 421) was really flattering on my fair and cool Asian skin tone. You can check out the full colour range at Chifure's Global Website.
The color I chose for my mom (#371 Purple Pearl) was a little too light for her because she has a darker skin tone. Due to its sheer nature, I recommend that you get a color that's more prominent than what you would normally go for.
Additional Purchase in July 2019 (Osaka)
And these are the colours I bought a year later from my trip to Osaka:
#154 (Brownish Pink)
#517 (Red Pearl)
#416 (Orange Pearl)
Here're how they look like on my arms. I've included swatches of the earlier purchase on top, i.e. #371 (Purple Pearl) and #421 (Orange).
Chifure Lipstick S Swatch
– Color #154 resembles Clinique's Blushing Nude, but at a fraction of the price. :) This has a creamy and slightly glossy finish.
– Colors #517 and #416 looked quite different on the tube, but when applied on the arm or lips, they appeared very similar in shade, i.e. orangy-red. These two shades produce a light shimmery effect.
I actually bought #517 for mom thinking that her darker skin tone would need something deeper in shade. But she appeared washed out in it. Luckily, the lighter shade which is more shimmery (#416) made her look radiant. As for me, both colors looked quite the same on me as you can tell from the photo collage below. :)
– Color #421 is the color I bought earlier. You can check out the swatch by scrolling up. Similar to Color #154, this has a creamy and slightly glossy finish. 
– Color #371 was what I got for mom earlier. Among the 5 lipsticks, this has the most shimmery effect. Actually, it looks quite nice on my cool skin tone, huh? 
---
What's Bad about Chifure Lipstick S?
1. Quick Fading of Color
The color faded too quickly even when compared to tinted lip balms such as my favorites from Clinique or Elizabeth Arden. I was surprised when I saw the color lightened just after 20 minutes, and that was without any food intake.
Here's a before-after photo. I'd used my finger to tap lightly on the applied area thrice immediately after application to simulate our natural act of pursing our lips.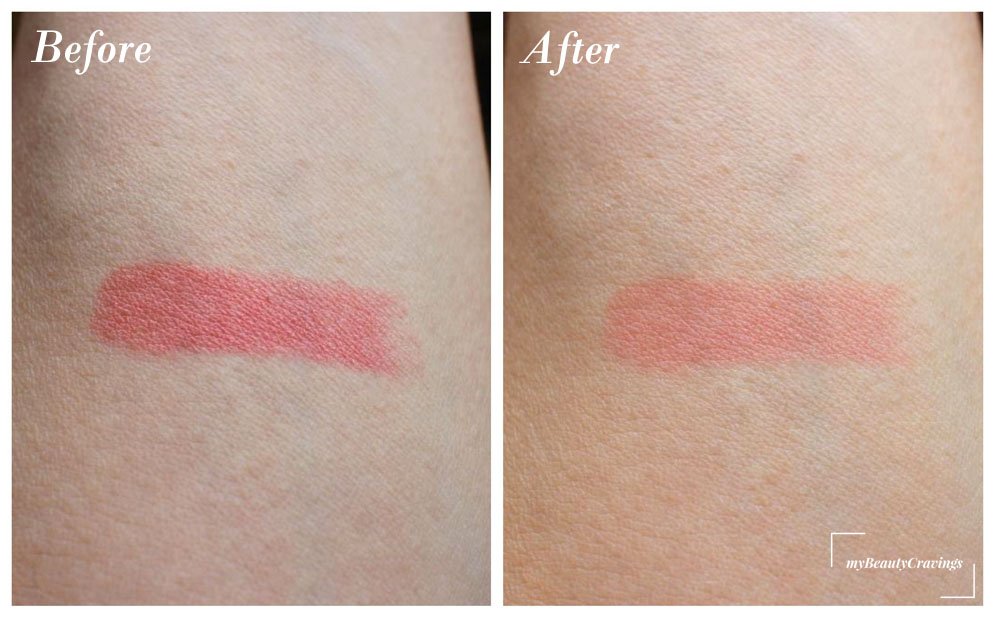 2. Patchy Fading of Color
Other than quick fading of colour, there was unevenness. Some parts of my lips looked fainter in color than others. But don't worry, it shouldn't be obvious to others unless they stand within inches of your face and start scrutinizing your lips. 
3. Steeply-slanted Triangle Tip
On the first few applications, I couldn't adapt to Chifure Lipstick S's overly-slanted triangular tip. I found myself placing slightly more focus when applying the lipstick. The great thing was how I got used to it after a few weeks as human beings are known to be quick-adapting creatures. That's probably also due to the tip becoming less slanted over time.
4. What? Did I need a separate casing? 
Here's what happened. When I swatched Chifure Lipstick S at the counter, the tester came with pretty casing and all. So I just grabbed the wrapped package (see image above) in the color that I wanted and placed them into my shopping basket. It's only when I returned to Singapore that I realized the lipstick that I bought was the unadorned core. It needs to be placed into a pretty casing that is sold separately ¥100.
I don't think it is obvious to a shopper that a case is sold separately, especially so if one is unfamiliar with the brand or the language. I don't know about you, but most if not all lipsticks I've bought doesn't require a separate casing. So I wasn't expecting that one was needed in the first place.
Still, I have to commend the company for such Eco-friendly practices. If you are getting Chifure Lipstick S, please remember to look out for the separate casing. 
Additional Purchase in July 2019 (Osaka)
I've since purchased the separate casings. Here're the lightweight and plasticky casings in champagne and white (¥100 each). If you don't mind paying more, you can also get metallic casings at ¥300 each.
---
Recommendation: Will I Repurchase Chifure Lipstick S?
Chifure Lipstick S is not a perfect lipstick as it faded fast and does so unevenly. But surprisingly, this turned out to be one of my favourite everyday lipsticks. I love how comfortable, hydrating and natural-looking the lipsticks are. Furthermore, the price is absolutely a steal!
All these reasons are what kept me returning for more of Chifure Lipstick S. After 2 years of usage, I can confidently tell you which is my favourite colour – it's #421 and I'm about to empty it. Will definitely be replenishing it and also getting more colours to try! Rating: 4/5. 
To find out the latest price on Shopee (SG), click HERE. 
---
Love honest reviews? If you like to get notified of newly-published beauty reviews and travel stories, just click the button below to subscribe or connect with me through facebook or instagram. See you!
SUBSCRIBE
(This post was first published in Aug 2018 and updated in Jul 2019 to include more color swatch.)
This post may contain affiliate links, meaning I earn a commission if you make a purchase, at no cost to you. Read my full disclosure for more info.
Pin This!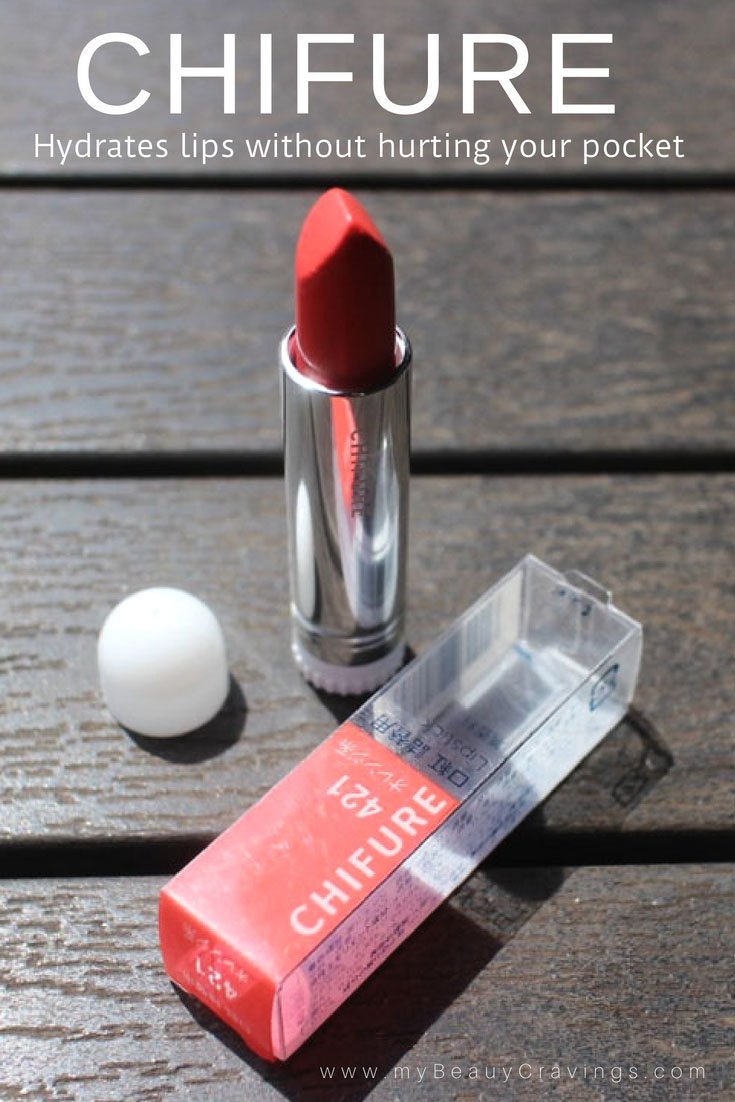 (Visited 2,883 time, 2 visit today)