Cure Natural Aqua Gel was one of my first reviews when I launched this website in 2014. After 7 years, I'm still loving it and am updating this post to reflect latest opinions. If you are looking for a gentle exfoliator that can cleanse your skin of roughness and whiteheads, you'll want to know more about what this Japan-made gel can do for you.
For info, I've just tried it after quite a long break and am having amazingly-smooth and soft skin. Read on! 
---
More about Cure Natural Aqua Gel
Way back in 2014, I was a frequent user of at-home chemical peel as it worked well in revealing new-born skin. However, such lactic or glycolic peels can be drying to the skin. That's when I discovered an alternative exfoliator – Cure Natural Aqua Gel. 
> RELATED: Review of At-Home 40% Lactic Acid Peel
Cure Aqua Gel helps remove dead skin cell using a gentle approach, i.e. without any acid. It comprises 91% of hydrogen water and is also free from fragrance, color and preservatives. Some said why pay for something that's made mainly of water? Well, many beauty products are made of water, such as toner and serum. Even our body is made mainly of water too – 73% to be exact?
As long as the product works, I don't see any reason why that would be a concern. In any case, Cure Natural Aqua Gel's formula is able to react with protein (i.e. dead skin cells) and removes them gently through rolling motion. As compared to scrubs, acid or microdermabrasion, this is totally abrasion-free! Therefore, for those with dry and sensitive skin, you now have another option to achieve baby-soft skin.
Ingredients of Cure Gel
For those who are interested, here are the ingredients: 
Water, Glycerin, Crosspolymer (Acrylares/C-10-30 Alky Acrylate), Dicocodimonium Chloride.Steartrimonium bromide, Aloe barbadensis leaf extract, ginko biloba extract, rosmarinus officinalis (Rosemary) leaf extract, Butylene glycol.
---
Application of Cure Natural Aqua Gel
Here are the steps to applying Cure Natural Aqua Gel.
Step 1: Cleanse & Massage
First, wash your face and dry it well. Then apply the gel to the desired area and massage in a circular motion for 30 to 60 seconds. 
You will notice circular bits on your skin. Some have debated that these little balls are not dead skin. Well, whether they are dead skin or residue of product after chemical reaction, it doesn't matter to me. All I needed to know is whether after the application process, did my skin get exfoliated? Is my skin smoother? Are the whiteheads reduced? 
By now, you'll know that the answer is yes. Otherwise, I would not be writing about this after 7 years of usage.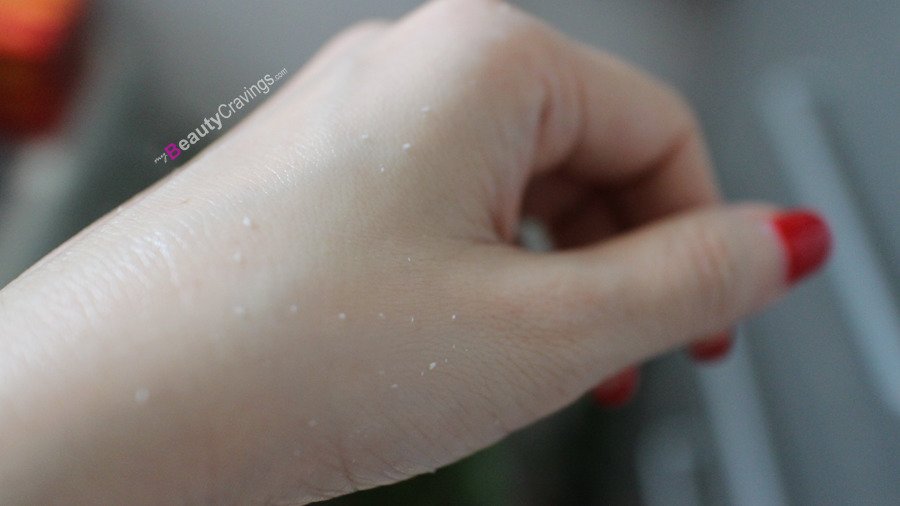 Step 2: Rinse Off
The official instruction says it's sufficient to just rinse the face with water and follow up with your regular skincare regime. For me, I do a second cleansing using a foam wash (currently using this) because I have pimple-prone skin and want to make sure my face is thoroughly cleansed. 
---
What's Great about Cure Natural Aqua Gel?
1.  Great for use in-between peels
Since I can take well to chemical peel, why did I buy this gentle product in 2014? Well, Cure Natural Aqua Gel comes in really handy in between chemical peels.
At time when I first published this post, I had just gone through a medium-depth peel and was not ready to subject my skin to further 'abuse' over the next few months. Cure Natural Aqua Gel was the perfect option to maintain smooth skin, as it is gentle and can officially be used twice weekly. 
2. Clearer & Smoother Skin
In 2014, I said how my skin improved significantly after using Cure Gel, as the product helped remove whiteheads and unclog my pores. 
Now in 2021, what prompted me to edit this old review is because I just used it yesterday and am so impressed this morning with the results. My skin feels soooo smooth, without the roughness of white heads or stuff trapped within pores.
All in all, it's a very positive result and I will continue to use it. To be honest, I don't exfoliate often (too lazy) and am still using the 2014 bottle. Maybe that's why I notice a drastic Before-After results. :)
> READ: How Cure Natural Aqua Gel prevented a new round of breakout
3. Absorbs Moisturizer Better
My skin feels so soft! With the barriers of dead skin removed, I believe my skin is able to absorb lotion better.
4. Hassle-Free Application
Unlike other similar products in the market which are thicker and gooier, Cure Natural Aqua Gel is water-based. It has a thin and non-sticky consistency.  Sometimes, you may even have a little bit of the liquid running down your neck. This is comfortable for use and easy to wash off.
5. The Price has gone down
The price for Cure Natural Aqua Gel has come down quite a lot. It used to retail at S$50. Now, you can get it significantly cheaper.
For instance, I'm seeing it retailing in Singapore for $29 (promo rate). And here's the latest online price. If you think it's still pricey, do note that this 250g of gel can lasts a long long long long time. As a comparison, most beauty products come in 30ml or 50ml.
Update (2021): I'm still using my expired 2014 bottle. Finishing soon and will replenish! :P 
---
Recommendation
If you see this Japan gel selling at a good price, do consider giving it a try. Cure Gel will give you smooth and clear skin instantly. It is especially useful if you have dry or sensitive skin and cannot afford to subject your skin to harsher exfoliators. 
Cure is also a product I feel safe applying on my loved ones or to offer them as a gift, as there's no implications to worry about unlike acids. So for moments when you want to pamper your hubby or boyfriend, this is one good option. They won't push you away for sure!
I highly recommend Cure Natural Aqua Gel though I do face some difficulty finishing them before their expiry. Maybe I should start applying to my body. For the large quantity that you get, you can even consider sharing with friends. Rating: 5/5
To find out the latest price on Amazon, click HERE
---
That's all I have for you today and I hope you have found this review useful. Do you enjoy such honest reviews? If you like to get notified of my new posts, just click the button below to subscribe. I'll even give you some free and exclusive stuff. See you there!
SUBSCRIBE
(This post was first published in Sep 2014, and last updated to include latest opinion)
This post may contain affiliate links, meaning I earn a commission if you make a purchase, at no cost to you. Read my full disclosure for more info.
(Visited 18,749 time, 2 visit today)