Today, let's check out Essano Rosehip Foaming Cleanser – a soap-free facial cleanser from the kiwi land. Ever since I turned "mature" in age, I've been looking out for less drying cleansers, and Essano Rosehip cleanser is one of the recent ones that I've tried.
I like its claim of being gentle and nourishing. While non-foaming cleansers, such as cream-based type would likely be even gentler on the skin, I found myself leaning towards foaming cleanser as the foam and lather assures me that my face is properly cleansed.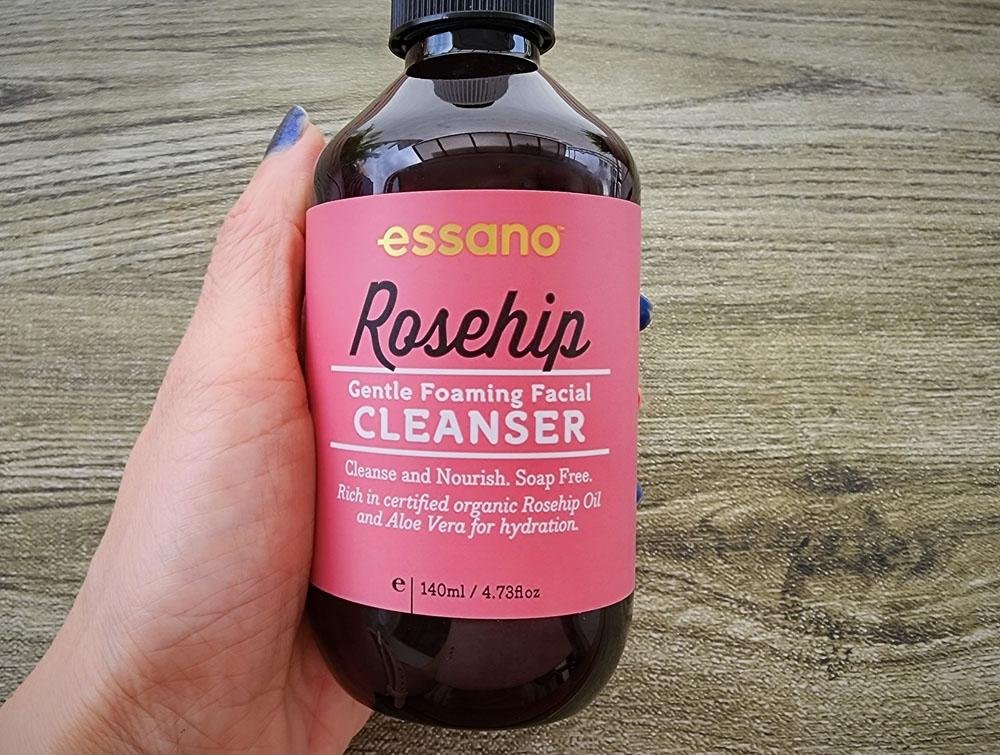 Now that I've been using Essano Rosehip Foaming Cleanser for quite a while, I'm ready to share the pros and cons of this facial cleanser. Can this soap-free facial wash cleanse well? You'll find out in a bit.
---
More about Essano Rosehip Gentle Foaming Cleanser
You may have seen Essano products in local pharmacies such as Guardian or FairPrice. I first got to know about this brand when my sis-in-law gave me a few of its products to try, such as Essano Moisturiser.
>> RELATED: Review of Essano Rosehip Moisturiser
While I didn't rate that moisturiser highly, I found the brand trustable as a basic skincare product as I didn't get any pimples.
That's why I decided to buy Essano Rosehip Gentle Foaming Cleanser when shopping in Malaysia – the price there was attractive. Also, as compared to other facial cleansers that normally come in a tube, Essano seemed a little more interesting with its pink pump bottle.
>> MUST-READ: 25 Things to buy in Malaysia
What's so special about Essano Rosehip Foaming Cleanser?
As shared earlier, Essano Rosehip Foaming Cleanser is soap-free and contains Rosehip Oil, an ingredient known to hydrate, heal and brighten skin.
I was hopeful that this cleanser can "gently cleanse without drying" my mature skin as indicated in its marketing label. Most importantly, I like it that this soap-free cleanser is able to foam unlike many other gentle cleansers I've used.
But Essano cleanser does have its drawback. Read on and see if this cleanser would suit your needs. I still enjoy using it, by the way. :)
---
What's Good about Essano Rosehip Foaming Facial Cleanser?
1. It's soap-free!
Yes. I've said it a few times by now. Its' "soap-free" formula was what prompted me to buy Essano facial cleanser. I also found it intriguing that a soap-free product was able to foam.
So what exactly does soap-free mean? I googled and found that soap-free refers to products that are free of fats and alkaline ingredients. Made of synthetic surfactants and plant-based ingredients, they are normally gentler on the skin.
2. Essano comes with lots of natural ingredients
Other than rosehip oil, Essano cleanser also contains Aloe Vera that is known to be soothing and hydrating. In addition, 97% of its ingredients are of natural origin.
It is also free of parabens, sulphates, silicones, mineral oil and other undesirable ingredients.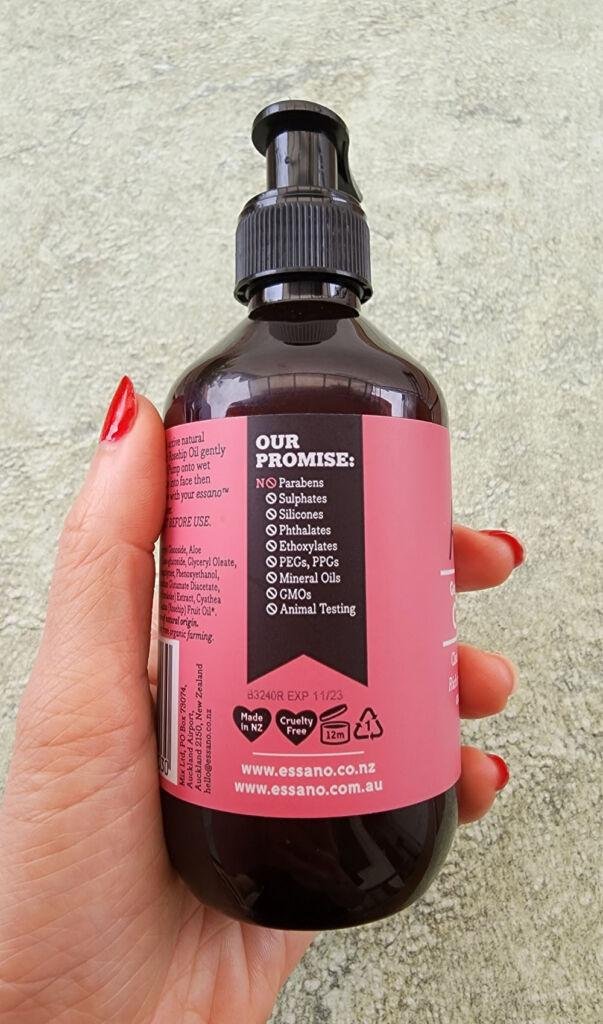 Here's the list of ingredients if you are curious.
Ingredients: Aqua (Water), Caprylyl Glucoside, Aloe Barbadensis (Aloe Vera) Leaf Juice*, Coco-glucoside, Glyceryl Oleate, Acrylates/C10-30 Alkyl Acrylate Crosspolymer, Phenoxyethanol, Ethylhexylglycerin, Phormium Tenax (Harakeke) Extract, Cyathea Medullaris (Mamaku) Extract, Rosa Canina (Rosehip) Fruit Oil*, Sodium Hydroxide, Tetrasodium Glutamate Diacetate, Parfum (Fragrance).
3. Generous Quantity
You get 140ml of product, which is pretty generous. A tube cleanser normally offers just 100ml or so.
On top of that, the gel is thick which means that it's more value for money than diluted and watery ones. However, you do have to expend a bit more energy when pumping the gel out.
4. Foams and Cleanses without Drying
I'm happy to share that Essano Rosehip Gentle Cleanser does produce foam, albeit very lightly. Although the foam is not apparent visually, the skin feels clean after the wash – no excess slipperiness that is often associated with non-foaming cleansers.
The process didn't differ much from a normal foaming cleanser unless you are someone who loves a big ball of foam and lather. If that's the case, this cleanser may suit you better.
5. Attracted by its Packaging
Now, if you are sick of tube cleansers like how I was, Essano's pump bottle offers a refreshing experience. One step is all you need to get the product out – just pump!
I was also attracted by its simple and feminine pink & gold packaging.
---
What's not great about Essano Foaming Cleanser?
1. Can only be used in the morning
I only use Essano Foaming Cleanser in the morning to remove my natural sebum. As for end-of-day use, I wasn't sure if Essano – a soap-free cleanser – could properly cleanse off my oil-based makeup remover.
My intuition was proven right! For the sake of this review, I tried using Essano as a second cleanser, after removing my makeup with a cleansing oil. Guess what? I ended up with a few pimples the next morning.
That being said, I wasn't really bothered by its ineffectiveness in cleaning off makeup oil as I have other "normal" foaming cleansers to do the job at night. These are the few that I recommend:
Therefore, as long as I can make half my daily face-wash routine gentle, I am contented.
2. It's more expensive!
Essano Rosehip Foaming Cleanser is priced at $23 in Singapore, about three times more pricey than say, Perfect Whip. You may be able to get it at cheaper price if you frequent Johor Bahru or Malaysia. :)
3. Thick Gel takes effort to dispense
You wouldn't face any issue dispensing the thick gel if you place Essano Cleanser on a sturdy table top and depress it using your palm. However, if you intend to hold it in your palm (like I did in the photo below) and pump via your index finger, then good luck.
You need a very strong finger. :) The gel is just too dense!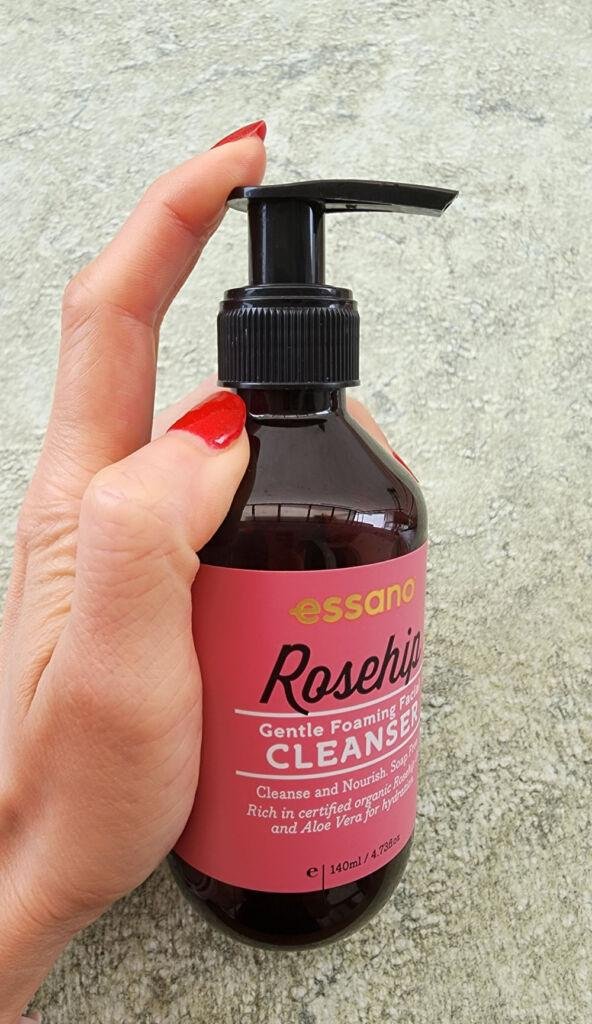 ---
Recommendation: Should you buy Essano Rosehip Foaming Cleanser?
I enjoy using Essano Rosehip Foaming Cleanser, and like it that it's soap-free and contains good ingredients such as Rosehip oil and Aloe Vera.
Would I repurchase it? Yes, sure, I might if I see it on a good sale. However, at my current mature age, it is also likely that I would force myself to try non-foaming cleansers soon. Alternatively, I may continue to search for foaming yet gentle cleansers that can work effectively in removing makeup oil, such as Clinique Liquid Facial Soap (Mild).
If you are looking for a cleanser that is natural, soap-free and non-drying, Essano cleanser is worth a try. Rating: 4/5.
To find out the latest price on Amazon, click HERE.
---
Love more of such honest reviews? If you like to get notified of my new posts, you can click the button below to subscribe. I'll even give you some free and exclusive stuff. See you there!
This post may contain affiliate links, meaning I earn a commission if you make a purchase, at no cost to you. Read my full disclosure for more info.
SUBSCRIBE
(Visited 145 time, 1 visit today)