Finally, I've found a face powder that works perfectly – concealing pores without heaviness and cakiness, enhancing the look with subtle radiance and yet so affordable. I'm declaring this right now, "Innisfree Mineral Ultrafine Pact is my new love!"
By now, I've been using Innisfree Mineral Ultrafine Pact for about 3 weeks. Every usage renews my adoration for the powder and carries with it a consistent afterthought:
"Why didn't I discover this earlier?"
8 Reasons why you should give Innisfree Mineral Ultrafine Pact a try
Innisfree Mineral Ultrafine Pact is advertised as a powder that:
Provides "a smooth fit"

Blurs pores

Gives a natural coverage
Does it live up to its claims? Here are the 8 reasons that made me fall in love with this powder.
1. Conceals pores
Some of you may know that one of my major skin concerns is enlarged pores. Innisfree Mineral Ultrafine Pact was able to hide my pores, giving me an almost flawless look. It's by far the best powder I've used in a long time. I'm astonished that a powder in this price range can give such an outstanding result.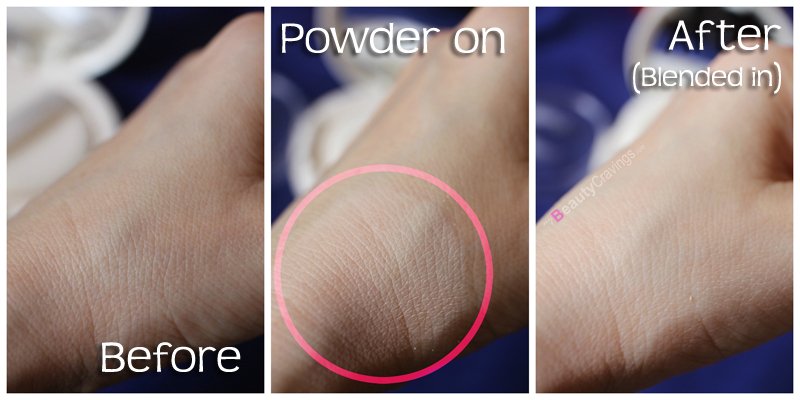 Compare this with the expensive Lancome Teint Miracle powder that didn't even work, and we'll know 'pore blurring' ability cannot be taken as a given.
2. Good coverage
The puff picks up a good amount of powder and provides a medium coverage. It reduces residual stickiness and shine of liquid foundation, BB/CC cream and Cushion.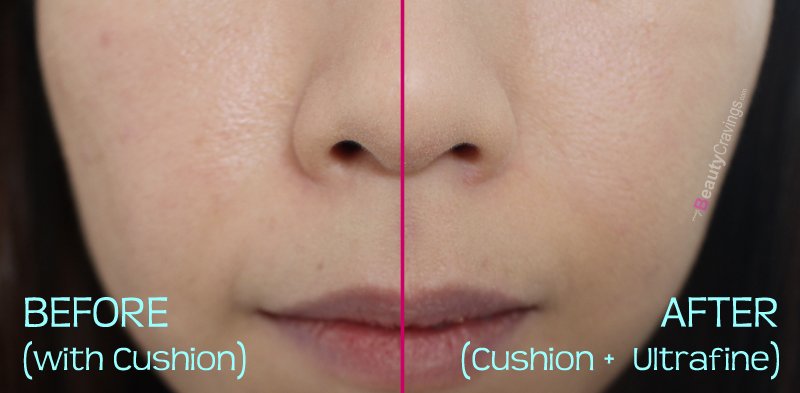 For your benefit, there are no filters and edits to all face shots. 
3. Natural look with subtle radiance
The lightest shade, No 13 (light beige) matches my skin tone. The powder may appear whitish, powdery and flat initially. Be patient. Give it a moment to work its magic. Soon, you'll notice the powder melting and blending in so well, it gives you great coverage while providing that tiny amount of sheen that resembles a healthy glow.
Despite the great coverage, there was no heaviness or cakiness. I looked natural. I could even pull off as someone born with great skin. 
4. Long lasting staying power
What I like about Innisfree Mineral Ultrafine Pact is its long staying power. In fact, it seems to look better with the elapse of time. It is also great in controlling shine as my face never once looked greasy even after an entire day out under the hot climate.
The long staying power was unexpected. Innisfree carries 3 types of powder. For those looking for long-lasting powder, they should be picking up Mineral Creamy Pact. Somehow, Ultrafine works well too.  
Add another benefit to this – Innisfree Mineral Ultrafine Pact works almost like a primer, bringing out the colors of makeup that are layered above it, e.g. blusher and eye shadow.
5. SPF Coverage
This powder comes with SPF25 PA++ which is quite a decent coverage for a pressed powder.
6. No Breakout
This product is safe to use for my blemish-prone skin. I even tested it under the sweltering heat while queuing long hours to pay respect to Mr Lee Kuan Yew, the founding father of Singapore. Heat will expand pores and cause them to clog when a wrong product is used. This didn't happen.
7. Hygienic Packaging
The puff sits on top of a plastic tier which you can flip over to access the powder. It's a good idea not to let the puff be in contact with the powder.
8. Cheap and More
At just $25 a pop, this is so much cheaper than my ex-favorite powder – Benefit's "Hello Flawless" which costs above $50.
Related: Favorite Face Powder | Benefit 'Hello Flawless!' Powder
What's more? Innisfree Mineral Ultrafine Pact comes with 11g of powder which is a decent amount. FYI, "Hello Flawless" has only 7g of product.
---
Ingredient List 
---
Innisfree – My Favorite Korean Brand by Now
I bought the powder from Bugis Junction outlet and was left in awe with Innisfree's excellent customer service. Every staff I spoke with (3 of them) – from beauty advisor to cashier – did not fail to leave a deep impression on me. The staff were helpful without being pushy. They didn't tail behind me and hence, there wasn't a single moment of discomfort during the entire shopping experience. When I needed help, one would be standing nearby.
After testing the powder on my face, an advisor walked away only to return with a face mist. She'd noticed the dryness of my skin (I just had laser facial) and wanted to make sure I looked good for the rest of the day. 
Must-read: Laser Facial | Pimples cleared in 7 Days
Another staff, a cashier shared with me how I could get more samples and displayed patience while I was registering for my new membership. The affable lady took pain in describing the purpose of each of the 9 samples she was giving me, and how to use them. Have I said enough how much I love Innisfree by now? It's my favorite Korean brand right now because of these positive experiences. 
By the way, I've been using Korean products since 2006 but have never really blogged much about them. I've always thought of them as mass-market products that are decent, pretty and usable but far from being excellent. The price is also heavily marked up outside of Korea. My trip to Korea numerous years ago reinforced the thoughts as many of these shops can be found in less-classy places like bus interchanges/depots and supermarkets. But Innisfree is changing my perception. I will give (some) Korean brands more attention now.
---
Final Thoughts
Innisfree carries at least three types of pressed powder, targeting people with different needs. If you are concerned with pores and prefers a natural look, go for Innisfree Mineral Ultrafine Pact. I give my full endorsement to this product. This is holygrail material. Rating: 5/5
See the latest prices on Amazon Here
---
Love more of such honest reviews? If you like to get notified of my new posts, you can click the button below to subscribe, or connect with me through facebook or instagram. See you there!
This post may contain affiliate links, meaning I earn a commission if you make a purchase, at no cost to you. Read my full disclosure for more info.
(Visited 11,362 time, 1 visit today)