What is the likelihood of you getting pimples breakout from using a new sunscreen product? I get it quite often. The hit rate stands at 50% (or probably higher), i.e. 1 out of 2 UV products will cause me to breakout. That's why I was really thrilled when I discovered Kiehl's Ultra Light Daily UV Defense.
It is one of the few UV Protection products I've tried that has proven to be suitable for pimple-prone, and probably acne-prone skin.
My Beauty Routine with Kiehl's Ultra Light Daily UV Defense
On normal days, I do not use a specialized sunscreen product as both my Holy Grail makeup base 'Shu Uemura POREraser' and foundation 'Lancome Teint Miracle' comes with some UV protection. There are however two circumstances when Kiehl's Ultra Light Daily UV Defense comes in handy:
When do I use Kiehl's Ultra Light Daily UV Defense?
When I know I'll need to be outdoor or under direct sun exposure for a long period, and hence require high UV protection.

When I intend to put on zero or light makeup. This means that I'll be skipping my primer and foundation and hence require a specialized sunscreen.
---
What's Good about Kiehl's Ultra Light Daily UV Defense?
1. No Breakout
I've tested it long enough to be able to share that this oil-free product doesn't clog pores or contribute to pimple issues. 
2. Lightweight and Lasting
Sunscreen products come in different texture, from gel-based to cream-based.  Gel-based sunscreen is probably the lightest in texture across the full spectrum. However, it does not seem to last as long as a cream-based product.
Kiehl's Ultra Light Daily UV Defense seems to have found the right balance, offering a cream-based sunscreen that is long-lasting and yet remained lightweight in feel. On a scale of 1 to 10 (with gel-based sunscreen belonging to 1 and cream-based body sunscreen belonging to 10), Kiehl's consistency stands at 4/10.

3. High UV Protection
Kiehl's Ultra Light Daily UV Defense has an SPF factor of 50, which means it can block out 98% of UVB rays. It also has the highest PA rating (PA+++) and offers maximum protection against UVA rays. UVA rays are the long rays that cause wrinkles and photo-aging.
4. No White Residue
Being colourant-free and fragrance-free, Kiehl's Ultra Light Daily UV Defense does not leave a white cast unlike many other sunscreen of high SPF factor.
Kiehl's truly deserves a big pat on the back for coming up with such a great product.
---
What's Bad?
1. Humble Packaging
Packaging is too humble-looking. My first impression when I first saw the product was, "Wow. This is expensive considering how tiny the tube is."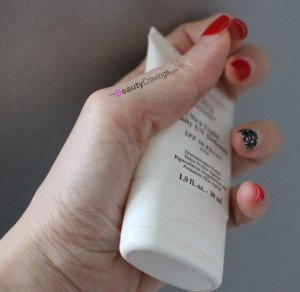 It only became apparent to me later that Kiehl's Ultra Light Daily UV Defense holds the same quantity (30ml) as compared with most of the face sunscreen products sold by other high-end beauty brands.
Somehow, it appears to offer less quantity because of its lightweight plastic tube and shorter body.
---
Highly-Recommended!
For those who want a cream-based, colour-free sunscreen that's lightweight and yet long-lasting, you may like to consider giving Kiehl's Ultra Light Daily UV Defense a try. There must be some good reasons why it is listed as the Top 3 Customers' Favorites among its entire range of products. Rating: 4.5/5
I hope you have enjoyed this review. If you like to get notified of my new posts, you can click the button below to subscribe, or connect with me through facebook or instagram. See you there!
This post may contain affiliate links, meaning I earn a commission if you make a purchase, at no cost to you. Read my full disclosure for more info.
(Visited 5,328 time, 1 visit today)