MUAC Gly-Luronic Acid Serum is a great skincare product I've discovered in 2016 and am still using it now in 2020. If you are looking to achieve younger-looking skin and pimple-free complexion, check out this review.
Did you know that Gly-Luronic Acid serum is my go-to pimple-buster? It kills pimples fast while helping me achieve firmer and more radiant skin at the same time. In case I've made this acid serum sound like a pimple cream, it's not.
Gly-Luronic Serum is an exfoliant that contains 15% Glycolic Acid. It works by removing dead skin cells to reveal baby-soft skin. Here are its published benefits: 
– Minimizes the look of large pores
– Softens scars
– Reduces skin discolorations of all kinds
– Refines skin's texture and natural tone
– Brightens skin
Does it live up to its claims? We'll find out soon.
---
7 Things I Love about Gly-Luronic Acid Serum
1. Kills Pimples Quickly
Every time I suffer from a breakout, I would instinctively reach out for Gly-Luronic Acid Serum. It works speedily in killing my active pimples…like within 2 days. And my complexion would recover in record time.
2. Firmer Skin and Smaller Pores
After using Gly-Luronic Acid Serum for a week, my pores appeared less visible. Fast forward another few more weeks and I started noticing how taut and firm my skin was.
The nasolabial folds also didn't bother me as much as before. 
3. More Radiant Skin
With the killer combination of Gly-Luronic Acid Serum and Vitamin C serum, my skin looked more radiant. No more dullness. 
4. No Purging Phase
Unlike MUAC Mandelic Acid Serum that worked well but came with an initial purging phase, Gly-Luronic Serum was safe on my pimple-prone skin.
There was never an instance when my face broke out, whether before, during or after application. That's why I've been using this product since 2016. 
> RELATED: The only serum I dare use before a jog – PURITO Centella Serum
5. Moisturized Skin
What makes MUAC Gly-Luronic Acid Serum stand out is the combination of Glycolic Acid (15%) and Hyaluronic Acid (50%). The former is dehydrating while the latter is famous for its water-retaining ability.
After applying the exfoliating serum, I didn't feel an immense need to layer on with a moisturizer. In fact, I've occasionally skipped moisturizer when I feel lazy. :) 
6. Reasonably-Priced Anti-aging Serum
The price has gone up by a few dollars since I first published this review in 2016. Right now, it's priced at US$25 for a 30ml bottle. 
I think it's still reasonably-priced for an anti-aging serum that comes with good and proven ingredients. Many serums out there with the same ingredients would easily cost double or triple the price.
7. Great Packaging
MUAC products typically come in fuss-free and under-labelled bottles. Gly-Luronic Acid Serum is different as it belongs to MUAC's premium "Bell Evolve" range.
The silver and sturdy pump bottle provides hygienic and easy application. One pump delivers just the right amount for a one-time application. You can also find clear instructions at the back of the bottle.
---
Should I use Gly-Luronic Acid Serum or DIY Chemical Peel? 
My holygrail DIY chemical peel is 40% Glycolic Acid Peel. So what's the difference between using Gly-Luronic Serum and Glycolic at-home peels? Can they be used together?
First of all, Gly-Luronic Acid Serum contains only 15% glycolic acid, while DIY chemical peels can contain 30% to 70% of acid. With the serum's lower acid strength, it can be used daily or on alternate days as part of your beauty routine. On the other hand, DIY chemical peels can only be used weekly or fortnightly.
How do I combine the usage of both? I used to use DIY peels fortnightly until I discovered Gly-Luronic Acid Serum. Since the latter is easier to apply, I find myself relying less on DIY Chemical peels. Here's my new routine:
I use Gly-Luronic Acid Serum on alternate days or daily when I have pimples
I use DIY Chemical Peels once every few months as I find application a hassle
Do note that I never overlap their usage on any given day. I would refrain from using any harsh or exfoliating products 3 to 5 days before/after a chemical peel 
---
How to apply MUAC Gly-Luronic Acid Serum? 
Here's the official instruction:
Cleanse, allow skin to dry. Squeeze a few drops of serum onto a cotton ball or cotton pad. Apply thoroughly all over your face, neck and chest. Do not rinse.
Layer your other skin care products on top, as desired.
For me, I skip the cotton pad and simply dispense the serum onto my palm and dab it onto my face using my finger tips. I thought it's less wasteful and my skin gets better contact with the acid.
---
Ingredients – MUAC Gly-Luronic Acid serum
Here's the ingredients:
Purified Water, Glycolic Acid, Ammonium Hydroxide, Hyaluronic Acid,  Ethoxydiglycol,  Aloe Barbadensis leaf extract, Hydroxyethylcellulose, Phenoexyethanol, Ethylhexylglycerin.
---
What to Expect after using MUAC Gly-Luronic Acid Serum? 
1. Texture
MUAC Gly-Luronic Acid Serum leaves a slightly sticky afterfeel. As such, my skin feels lightly-moisturized which allows me to skip the moisturizer at times.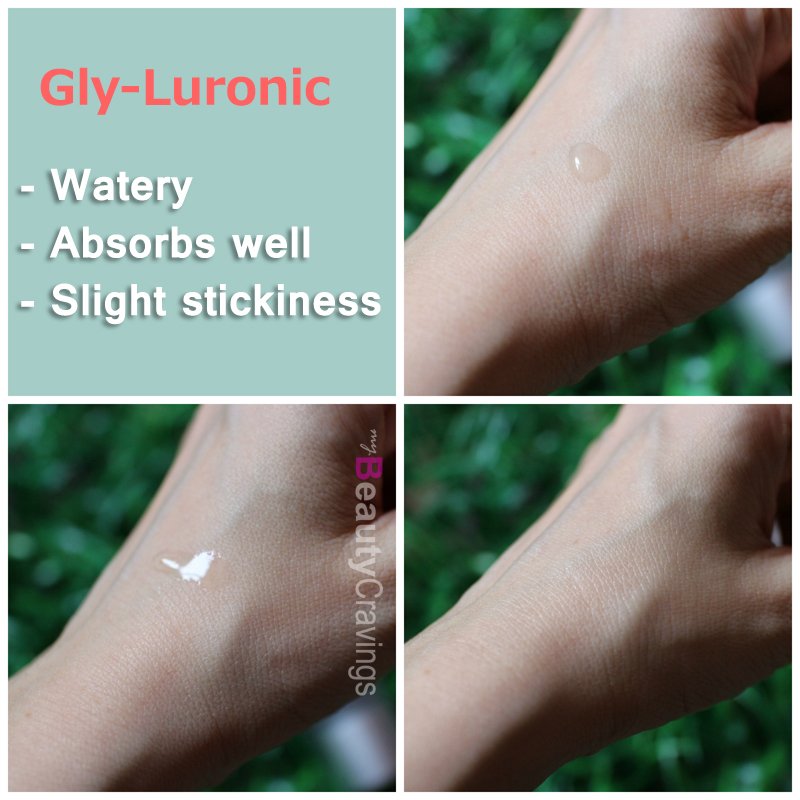 2. Pain Level
I feel a slight stingy sensation at times (when skin was more dehydrated) and only on certain parts of my face (the drier portion). On a scale of 1 to 10, the pain level is just 1/10. 
3. Any skin peeling? 
I have not experienced any visible peeling or flaking of the skin. Therefore, this serum is great because you get exfoliated skin without having to suffer any downtime.
4. Dried-up Sebum in Pores after 1 week
As with all acid products I've used, I would feel dried-up sebum (like white-heads) in my pores after a week. That's when I would reach out for my Cure Natural Aqua Gel which would efficiently remove most, if not all of these white heads.
> MUST-READ: Cure Natural Aqua Gel | A gentle exfoliator that works
---
Recommendation
I'm up to the last few drops of MUAC Gly-Luronic Acid Serum and would likely be repurchasing it. It's an effective everyday acid serum which I would recommend to those who have the following skin concerns:
Dull skin
Acne-prone skin
Large pores
Mild sagging of the skin (start with this before moving on to higher-strength peels)
Rating: 5/5
---
Love more of such honest reviews? If you like to get notified of my new posts, you can click the button below to subscribe. I'll even give you some free and exclusive stuff. See you there!
SUBSCRIBE
(This post was first published in March 2016 and last updated in April 2020.)
This post may contain affiliate links, meaning I earn a commission if you make a purchase, at no cost to you. Read my full disclosure for more info.
(Visited 5,834 time, 1 visit today)