Today, Innisfree Apple Juicy Cleansing Oil will be put to the test. How does it measure up to Shu Uemura, the No. 1 makeup remover brand in many Asian countries such as China, Hong Kong and Korea? We'll soon find out. But before that, you may like to check out my review of Shu Uemura Cleansing Oil and find out why it is my holy grail cleansing oil.
Must-read: Editor's Favorite Makeup Remover | Shu Uemura Cleansing Oil
The Battle: Innisfree Apple Juicy VS Shu Uemura Cleansing Oil
1.  Which cleansing oil works better?
If you use both cleansing oils in the recommended way (which is to apply it on dry face, massage and then emulsify with water), you'll find that both are equally effective in removing makeup. This is the same result as my experience with DHC Cleansing Oil.
Related: Review of DHC Cleansing Oil | Is it better than Shu Uemura?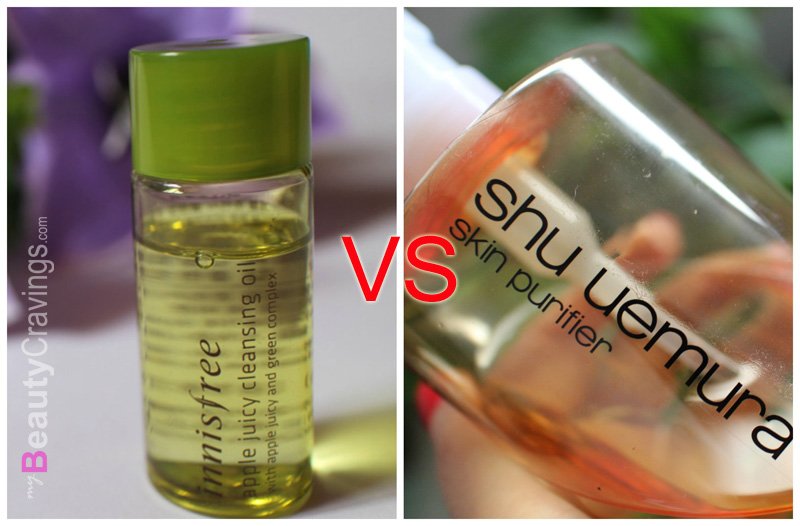 If we have to force an answer out of the above question, we will have to alter the usage method slightly:
The Experiment
Instead of massaging both cleansing oils on makeup and then emulsify with water, I will NOT incorporate any 'massaging action'. I will only include gentle swiping action, one swipe at a time, to see which makeup comes off first. Let's begin.
Step 1: Apply smudgeproof makeup
I've drawn two hearts using Lancome and Clio Gelpresso eyeliner. The latter has been known to be super smudge-proof and hence is a good candidate for this experiment.
Related: Best Smudge-proof Pencil Eyeliner | Clio Gelpresso Waterproof Pencil Gel Liner
Step 2: Cover makeup with cleansing oils
This is done gently without any massage actions.
Step 3: Wet facial cotton and place it on top of test areas
Press the cotton pad gently for 5 seconds. 
After lifting off the cotton, we see that the left cotton pad (Shu Uemura) was more evenly stained, and carried with it a distinct outline and body of the "heart". On the other hand, the right cotton pad carried a blurred image of the drawing.
Step 4: Give it one swipe
The test areas were each given one swipe. Makeup on the left area (Shu Uemura) was 90% removed while there was still some obvious residue on the right area (Innisfree).
Step 5: Give it a second swipe
With a second swipe, both areas were completely stain-free.
Answer Revealed
Shu Uemura Cleansing Oil seems to work faster in removing makeup. This is unexpected. Let me tell you why.
Both Shu Uemura and Innisfree offers a range of product to suit different skin types. The apple version from Innisfree is marketed as a deep-cleansing oil, great for those with pores issue. Shu Uemura also has a pore-care formula (Pink Bottle). Unfortunately, the one I have with me right now is a gentle formula meant for Sensitive Skin. Hence, I was expecting Innisfree to be the winner since it is a "deeper cleaner". But, it didn't.
2. Comparing the Smell
Innisfree Apple Juicy Cleansing Oil has a sweet fruity-smell of apple with a hint of something extra. It may be a "sour scent" as described on its website. But my first impression was, "What a strange artificial apple smell!" Although I didn't fall in love with it, I think many people would appreciate the apple fragrance. This is a personal preference. I've not been a fan of sweet, fruity fragrance. 
Shu Uemura has no distinct smell. Maybe just the smell of oil.
3. Is double cleansing required?
Shu Uemura Cleansing Oil does not require you to double-cleanse, i.e. you do not need to use a foam cleanser. It is unclear if Innisfree requires double-cleansing. Here's what I've lifted from its website:
"Wash off with lukewarm water or double-cleanse using Innisfree Cleansing Foam" ~ www.innisfreeworld.com
Seems like Innisfree does not have a firm stand on whether double cleansing is required or not.
4. Which is more moisturizing?
Without the need to double cleanse with foaming cleanser, Shu Uemura leaves the skin feeling more moisturized. For those who double-cleanse anyway, this shouldn't be a main concern since serum and moisturizer would be added in the later part of the beauty routine. 
5. Which is cheaper?
150ml of Innisfree Apple Juicy cleansing oil costs about S$20, while the same-sized bottle of Shu Uemura costs S$55 from local retail outlets. 
Innisfree Apple Juicy Cleansing Oil is clearly a lot cheaper than Shu Uemura Cleansing Oil.
6. Does it Sting?
Whether the cleansing oil stings or not is never really a major concern of mine as I do not use them to remove eye makeup. I find them less effective than specialized eye makeup remover.
For the sake of those who do intend to use such oil on the eye area, I deliberately dabbed the emulsified oils in my eyes. Ouch! Both Shu Uemura and Innisfree Apple Juicy Cleansing Oil stung.
Ouch again! 
---
Ingredients
CETYL ETHYLHEXANOATE, TRIETHYLHEXANOIN, POLYGLYCERYL-10 DIOLEATE, HYDROGENATED POLY(C6-14 OLEFIN), PEG-8 GLYCERYL ISOSTEARATE, CAPRYLIC/CAPRIC TRIGLYCERIDE, PENTAERYTHRITYL TETRAISOSTEARATE, PENTAERYTHRITYL TETRAETHYLHEXANOATE, CYCLOPENTASILOXANE, HYDROGENATED POLYISOBUTENE, CYCLOHEXASILOXANE, PYRUS MALUS (APPLE) FRUIT EXTRACT, CITRUS UNSHIU PEEL EXTRACT, ORCHID EXTRACT, CAMELLIA SINENSIS LEAF EXTRACT, CAMELLIA JAPONICA LEAF EXTRACT, OPUNTIA COCCINELLIFERA FRUIT EXTRACT, BUTYLENE GLYCOL, FRAGRANCE
---
Final Recommendation
Although Innisfree Apple Juicy Cleansing Oil did not fare as well as Shu Uemura in the experiment, there was no distinct difference when it was used in the right way. Both removed makeup efficiently and effectively.
If you do not mind double-cleansing, Innisfree Apple Juicy Cleansing Oil is definitely a good option considering its huge price savings as compared to Shu Uemura. To be frank with you, I am tempted to make the switch. But I think I will give apple a miss and consider the other fragrance options, such as green tea and olive.  4.5/5 
To find out the latest price on Amazon, click HERE. 
---
Love more of such honest reviews? If you like to get notified of my new posts, you can click the button below to subscribe, or connect with me through facebook or instagram. See you there!
This post may contain affiliate links, meaning I earn a commission if you make a purchase, at no cost to you. Read my full disclosure for more info.
(Visited 10,526 time, 1 visit today)