What do you use to beautify your nails when you are short of time? I find myself constantly reaching out for Innisfree Nail Polish. 
In fact, I've since repurchased over 30 Innisfree Real Color Nail since this post was first published in 2015. As such, I thought it's timely that I update this review and share with you my renewed thoughts.
I'll also take the chance to show you swatches of the newer colors (2019). These are the ones I've recently grabbed over the last few weeks because they were on mega sales, probably making way for a new range of FALL colors. 
---
What's Good about Innisfree Nail Polish?
1. Quick-drying 
One of the reasons that kept me repurchasing Innisfree Nail Polish for years is how quickly it dries. 30 seconds are all that is required for a layer of the nail polish to dry up COMPLETELY.
This has been extremely useful especially on occasions when I was about to step out of home, but noticed a less-than-perfect nails. I also used it often in between my gel manicures, to repair the portion of color that has chipped off.
2. It's Cheap!
I seldom buy normal nail polish these days, since I'm more into gel manicure. Innisfree Nail Polish is the only one that I would succumb to because it's just too cheap, at only S$4 a piece. 
Granted, the quantity of 6ml is lower than other nail polish in the market (about 10ml to 12ml). However, I prefer it this way, especially when nail polish is known to dry up on its own overtime. I'll rather have smaller quantity at a reduced price. With that, I can grab more colors, like what I did recently with a 10-piece haul. :) 
Check out these Innisfree Nail Colors which were (and still may be selling) at 40% off in Singapore. This works out to just $2.40 a piece. Amazing deal! 
3. Innisfree Nail Polish is Easy to Remove 
Another reason why I love Innisfree Nail Polish is how easy it is to get it removed. Just a single cotton pad is sufficient to remove the nail polish on each hand. 
There is exception of course. If you choose those with glittering bits, such as the black one below (#67), be prepared to spend more time and effort to remove it. 
4. Healthy Nails
I've always thought of Innisfree Real Color Nail as a "healthy" version of a nail polish. Other than being easy to remove, Innisfree Nail Polish also doesn't stain the nails as easily as others do.
Most importantly, my nails remain strong and healthy-looking in its natural pinky-beige tone (not yellow!).
Healthy Ingredients: Innisfree Nail Polish contains calcium, argan oil and tangerine oil to provide nourishment to damaged nails. 
5. Wide brush for Easy Application 
Innisfree Nail Polish impressed me with its flat and wide brush, which would take me just a few strokes to get my nails covered. However, I noticed a shrinking brush width over the years when writing this update and placing an older version (2015) side by side with a 2019 version.  
But worry not as Innisfree's nail brush is still wide enough for a quick coverage. In fact, this may be a good size to reach the nail edges without smudging the skin around it. 
---
What's Bad about Innisfree Nail Polish? 
1. Chips off quickly 
In life, we often have to deal with trade-off. The same goes with Innisfree Real Color Nail. While the polish is easy to remove, it also chips off easily. 
I find that the nail polish can only remain in a perfect condition for two or at most three days*. What I do to boost its longevity is to layer another two coats over the old ones on Day 3. This will give it about 5 days of presentable coverage.
*Note: I've applied Innisfree nail polish without the use of base or top coats. 
2. Innisfree Nail Polish or Metal Varnish
The finish that you get from Innisfree Real Color Polish may differ from the creamier ones from other brands. I would describe it as more of a metal varnish finish – an effect that's thin and glossy, but not the kind of gloss you get from gel manicure. 
One layer of polish is definitely insufficient for coverage. Two layers may still reveal nail ridges and imperfections. So far, three layers work best for me. Thank god Innisfree Real Color Nail dries fast.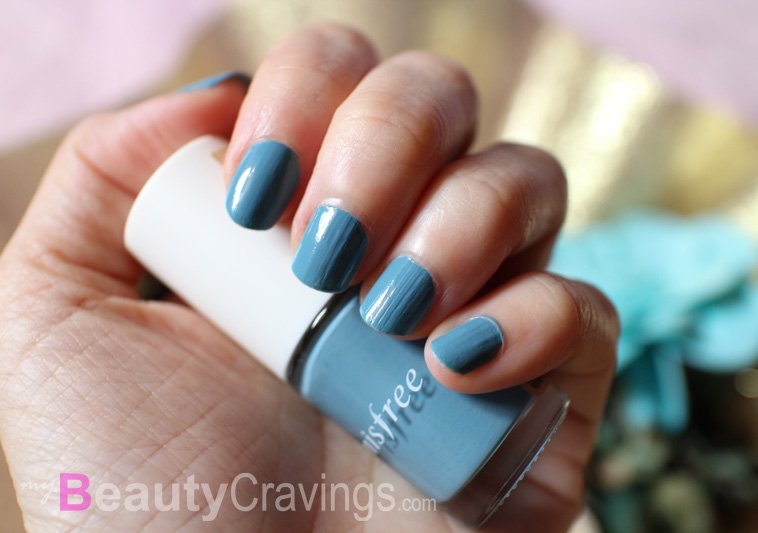 The best way to continue using Innisfree Nail Polish is to file your nails and not be lazy like me. See, I filed my nails in this 2019 photo (below). :)
You may also find that shimmery and glittery nail polish colors work better in camouflaging nail imperfections as compared to the matte/creamy ones. 
---
Recommendation
I highly recommend Innisfree Nail Polish as one that you can use when time is not on your side. It dries quickly, is easy to remove and seems less harmful as compared to most other nail polish in the market.
Just try to be diligent in filing your nails so that the imperfections won't show through the thin varnish. Rating: 4/5 
To find out the latest price on Amazon, click HERE. 
---
Hope this review has been helpful! If you like to get notified of my new posts, you can click the button below to subscribe. I'll even give you some free and exclusive stuff. See you there!
SUBSCRIBE
(This post was first published in Jul 2015 and updated in Aug 2019)
This post may contain affiliate links, meaning I earn a commission if you make a purchase, at no cost to you. Read my full disclosure for more info.
Pin This!
(Visited 7,631 time, 1 visit today)