I was surprised to see myself repurchasing Majolica Majorca Jeweling Pencil multiple times over the last 6 years. Unlike most eyeliners available these days, Majolica Marjoca eyeliner isn't perfect because it smudges easily. However, it does so in a natural way by creating a soft and smokey line that somehow manages to make the eyes look bigger.
If you find this review familiar, that's because I'd first published it in 2015. Now that I've almost depleted two more Majolica Majorca eyeliners that I got from Taiwan early last year, I thought it's time for an update. Let's read on to find out its pros and cons. I'm also going to show you the swatch and how I look wearing my favorite color.
---
More about Majolica Majorca Jeweling Pencil
Majolica Majorca hails from Japan and is also widely sold in Taiwan and Korea. With its whimsical and lovely packaging, I believe this brand targets young ladies who are probably in their teens or twenties.
I'm obviously passed the age, but I believe certain makeup categories are age-proof – some of which are eyeliner, brow pencil, eye shadow and mascara. Anything that is non face-related should be a safe bet for mature ladies. :)
Coming from the Shiseido family, Majolica Majorca Jeweling Pencil promises to achieve the following:
Adds shimmer and sparkle to the eyes
Creates a big-eye look
Let's see how this jewel eyeliner fare in this updated review.
---
What's Good about Majolica Majorca Jeweling Eyeliner?
1. Easy Application to Give a Natural Finish
Majolica Majorca Eyeliner glides on smoothly and deposits a rich and intense color in just one swipe. The line is thick and yet soft and natural-looking.
If you look at the swatch below, you'll see that the line isn't harsh or defined at the edges.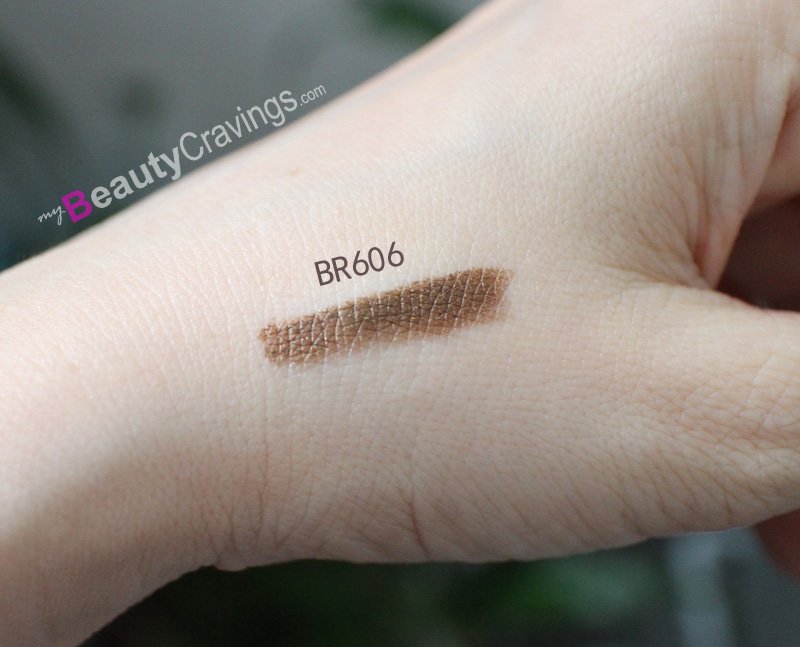 2. Shimmer, Glitter & Sparkle
The main selling point of Majolica Majorca eyeliner is how it adds shine and sparkles to the eyes. All the colors come with a soft shimmery finish. Depending on what colors you get, you may also see glitter powder added to the shimmery base.
If you are worried about looking too glam for a casual outing, don't be! Majolica Majorca controlled the glitter ratio well. Therefore, what you'll get is just a subtle touch of radiance.
3. It's an Affordable Eyeliner
Majolica Majorca is priced reasonably. You can get it for under S$10 in Japan and Taiwan. Tell you a secret – Majolica Majorca is cheaper in Taiwan than in Japan. This is a little strange since I thought prices would normally be cheaper in the country of origin. Ah…now you know why I bought this in Taiwan instead of Japan huh?
Not visiting these two countries anytime soon? Don't worry. You can easily find them online – here's the latest price on Shopee.
4. Lovely Color Options
Majolica Majorca Jeweling Pencil comes in 7 colors. So far, I've tried four as follows:
Marble (71) is an off-white color that is generally used to highlight the inner corners of the eyes. This is my least-used as I prefer an ultra-natural look.
Gold Nugget (BR606) is a brown with yellow undertone. This is my favorite color by the way. You'll see me wearing it later.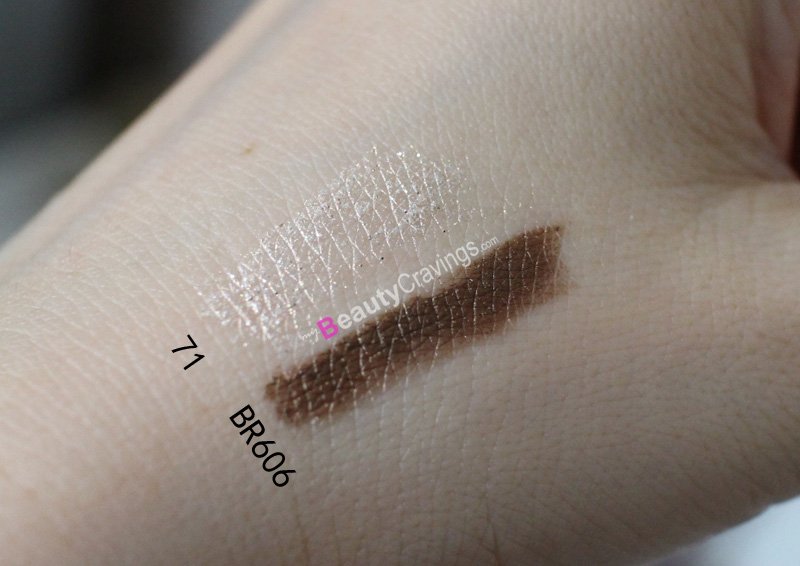 Amber Fragments (BR633) is a deeper brown with red undertone. It contains slightly more glitter specks than Gold Nugget.
Black Diamond (BK901) is a black that contains glitter bits, just like Amber Fragments.
What's your favorite color among the four? You can view the full color range on Majolica Majorca's official website.
5. Easy to Remove
One good thing that comes out of an non-smudge-proof eyeliner is how easy it is to get it removed. Majolica Majorca Jeweling Pencil comes off easily, with or without a specialized eye make-up remover.
Um…actually, you can just rub it off. ;)
6. Long Lifespan
I've had Marble (#71) for more than five years and it's still working fine. It didn't die (or dry up) even though I'd not touched it for a long long time. I just did a swatch on the back of my palm and the eyeliner glided smoothly and distributed the shimmery pigment evenly. Wonderful!
---
What's Bad about Majolica Majorca Eyeliner?
1. It Smudges
Majolica Majorca Jeweling Pencil smudges easily if you rub it. Even if you don't, the color may fade to a lighter shade after a few hours. Similarly, the line will become less distinct over time.
Although I categorize this as a con, I actually like this naturally-smudging feature. :)
Why Smudging is Good?
Because of the presence of shimmer and glitters, the darker shades such as brown and black do not appear harsh on the eyes. On days when I prefer a soft and casual look, I find myself reaching out instinctively for Majolica Majorca Jeweling Pencils.
And because it smudges on its own, I get a smokey and natural big-eyed look effortlessly. The great thing about this smudging pencil is how I never felt the need to wipe off any excess. So if you are afraid of being caught in an embarrassing state, don't be. This self-limiting pencil is an intelligent creature. Maybe it has some AI chips in it. :)
Skip the Lighter Tones
I recommend that you skip the lighter tones because it can literally vanish after the natural smudging process. That's the reason I hardly use the Marble shade (#71).
If you need to highlight the inner corners of your eyes, go for smudge-resistant ones such as Clio Gelpresso. It looks more natural too (without the glitter specks).
2. Contains Less Quantity
Majolica Majorca Jeweling Pencil contains only 0.8g of product, about 30% less than my Bourjois eyeliner (1.2g). The product also comes in a soft and creamy texture and hence may run out faster than other eyeliners.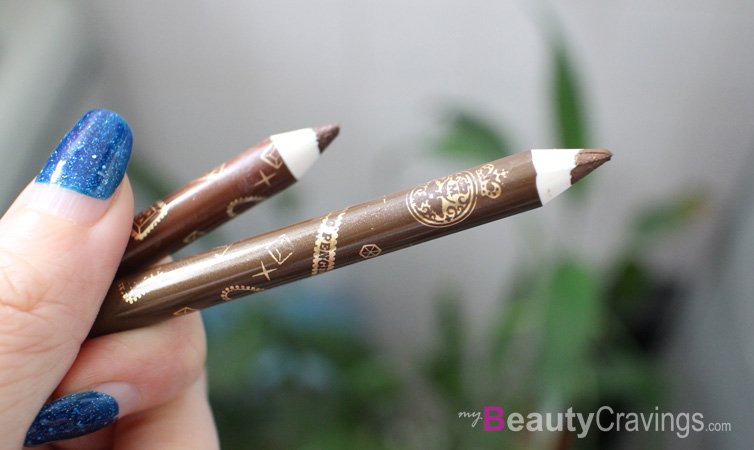 ---
Recommendation: Who will like Majolica Majorca Eyeliner?
You'll love Majolica Majorca Jeweling Pencil if you are looking to achieve a natural big-eye look without the harsh lines and all. If you have the habit of touching your eyelids when there's no reason to do so, then you'll probably want to skip this and consider smudge-proof eyeliners instead.
I don't have the habit of touching my makeup. That's why Majorlica Majorca Jeweling Pencil is included in my Japan Must-Buy List. I'll also add this to my Taiwan Must-Buy list. Rating: 4/5.
To find out the latest price on Shopee, click HERE
---
Love more of such honest reviews? Please feel free to connect with me if you like to receive more useful and honest reviews. Just click the button below to subscribe and you'll also get access to all my exclusive contents. Chat soon!
SUBSCRIBE
(This post was first published in 2015 and last updated in Dec 2020).
Pin This!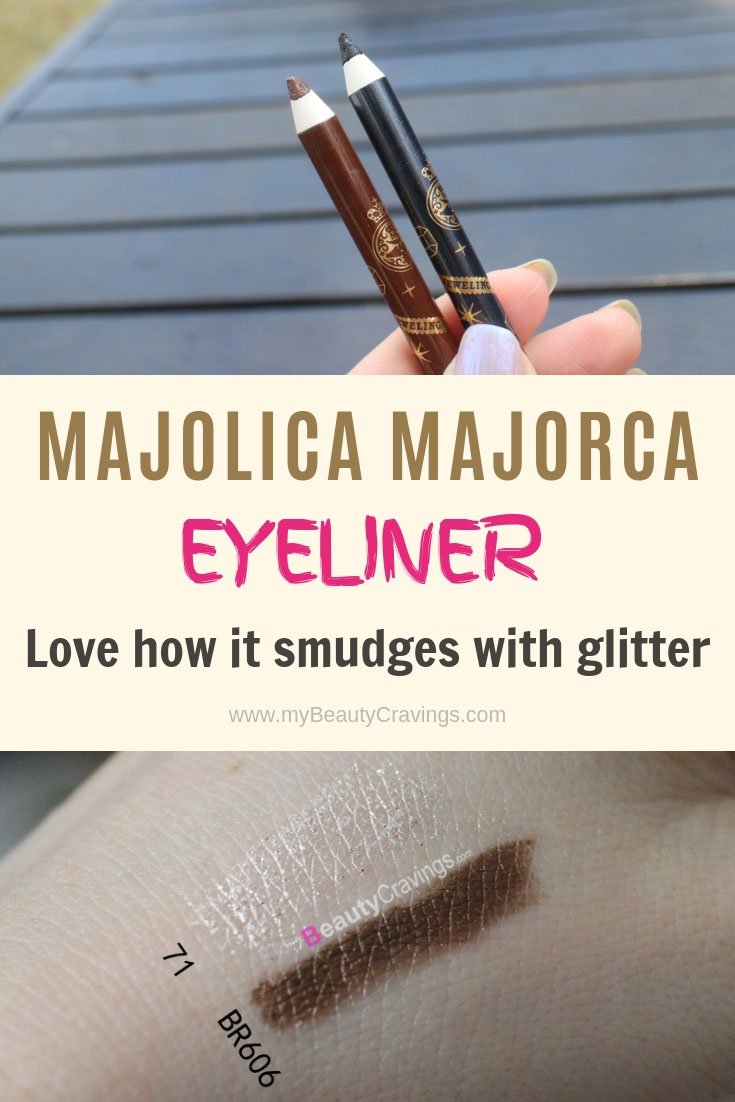 This post may contain affiliate links, meaning I earn a commission if you make a purchase, at no cost to you. Read my full disclosure for more info.
(Visited 1,824 time, 1 visit today)