An online research prior to my visit to Japan led me to some of the 'must-buy' beauty products in Japan. Shiseido's Senka Perfect Whip foaming Cleanser is one of the items on the list.
The selling point of Senka Perfect Whip is how much it can foamed up.  Watch the video below for a demo.
Is it really worth all the hype, other than it being able to whip up into a big marshmallow?
---
How to Apply Senka Perfect Whip?



If you think it's easy to generate the foam shown in the video, it's not. At least not with bare hands. The way to do it is to 'lather, add water, lather, massage, add water' and do it repeatedly until the foam is formed.  
I have to admit that I prefer efficiency and simplicity in life. So if I need to spend 2 minutes to beat up the foam, or to get another aiding device (such as a beauty net), then most likely I'll end up using it like a normal cleanser (i.e. without generating the thick marshmallow-like foam).
This means that it's main selling point is lost on me. 
---
The Price of Senka Perfect Whip
If you'd thought that this is a premium product just because it bears the brand name of Shiseido, it's not. This is sold at drug-store and reasonably priced at 376 yen (about S$4.50 or USD3.50) in Japan. In Don Quijote, this thing was sold right out from its carton box (view latest price on Amazon, Ebay and Walmart).  
With most Japanese beauty products being priced at a premium of 40% when sold in Singapore, why is Senka Perfect Whip retailing at almost three times the price (at $12.90)? 
If you are getting it in Japan, I'll highly recommend you to do so. If you have to pay something more premium than drugstore prices, then you may want to reconsider and read on. 
---
Testing the Foaming Ability of Perfect Whip
I tested Senka Perfect Whip against a random cleanser.  Each product was given 2 minutes to foam up, using the 'lather, add water, lather, add water' technique.  
Senka Perfect whip generated a creamier and thicker foam than what 'Random cleanser' generated. However, that doesn't mean it works better.
Let's put it to another test! 
---
Can Senka Perfect Whip remove makeup?
Having used beauty products for a long time, I've learned that I couldn't depend on foaming cleanser as a makeup remover. Will this change my expectation? Does this cleanser clean better than other foaming cleansers? Can this replace specialized makeup remover?
For this experiment, I'll be testing it against another randomly-chosen cleanser – a cleanser from Faceshop that costs about S$10.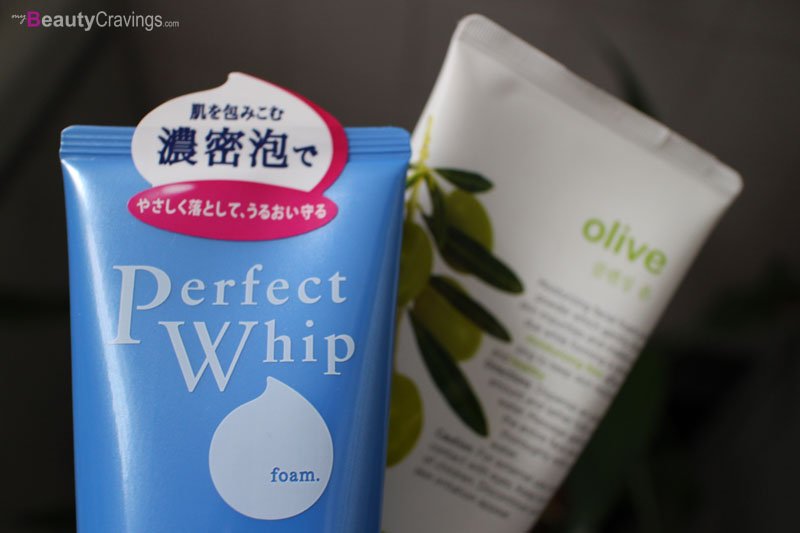 Senka Perfect Whip (Shiseido)
I applied two types of makeup to my arm – 1) normal liquid foundation, 2) Smudge-proof Eyeliner.
Step 1: Beat up lather
I spent a few minutes to beat up the lather with bare hands. Only for this test! Life is too short to spend a few minutes a day beating up a lather. 
Step 2: Placed foam on makeup
Step 3: Rub for 1 minute
I've given it one whole minute. I don't normally lather my face for that long, probably just 10 seconds or less.
Step 4: Result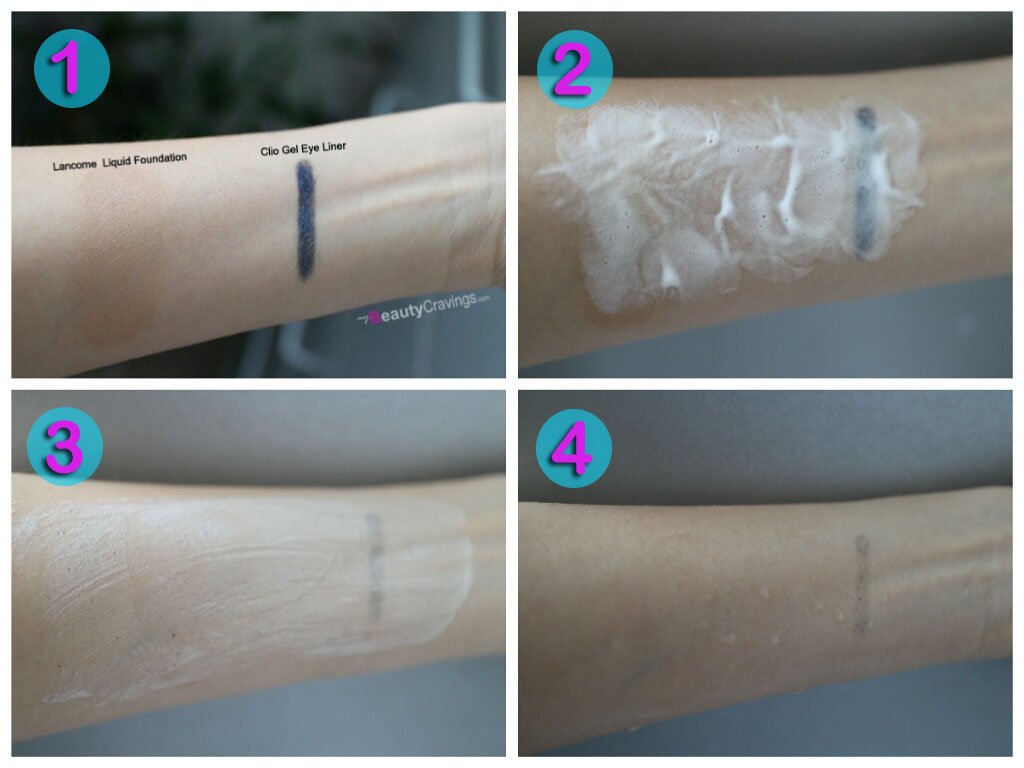 From the image above, we knew Perfect Whip did not remove the smudge-proof eyeliner. I did another test by wiping my arm with a makeup remover. Traces of my foundation was also picked up. See photo below.
Random Cleanser
Let's repeat the test with the other cleanser.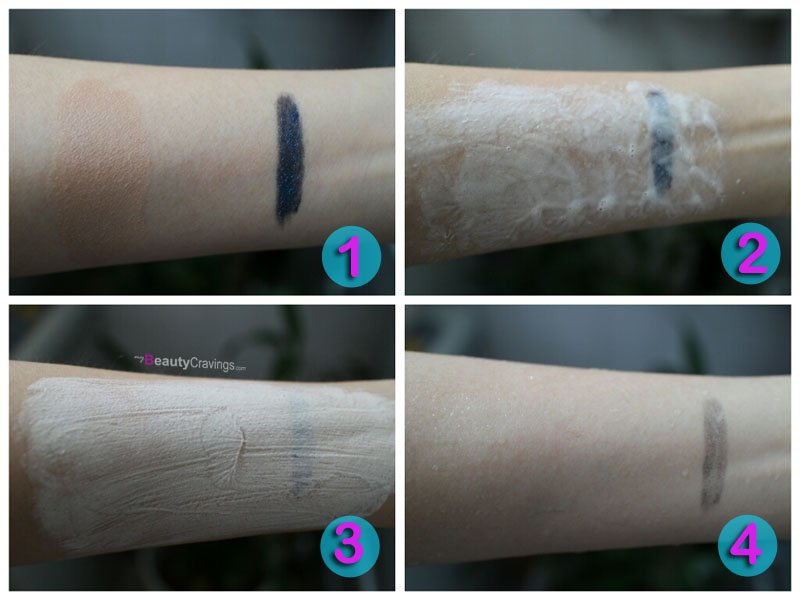 Once again, the cleanser did not manage to remove my smudge-proof eyeliner. Let's see if there are any traces of foundation left. 
There were no traces of the liquid foundation. Random cleanser had removed the foundation, but not the eyeliner. 
---
The Final Result
Based on the above test, it doesn't seem like Perfect Whip is a more superior product than other foaming cleansers.
Both cleansers were not able to remove the smudge-proof eyeliner.

Perfect Whip was not able to remove the liquid foundation, but random cleanser could.
This test also reinforces my belief that foaming cleanser can never be a good substitute for specialized makeup remover.
To be fair, Perfect Whip is not marketed as a makeup remover. Hence, it should not be penalized for its inability to remove makeup. I'll gladly continue to use Perfect Whip when my face is free of makeup. If you have the time, it can be pretty fun to use. Just that it's not going to be my staple cleanser anytime soon, especially when it's priced at such a ridiculous premium in Singapore! 
---
Post-Update (10 Mar 2016): 
I have a special request from my mom. She'd asked me to get her Senka Perfect Whip because the one I gave her in 2014 lasted her till now. "This is so worth it!", she'd told me.
I have the same sentiment. I am still using the one bought from Japan. Although I might have started using it slightly later than my mom, I'm sure I have used it for at least a year. And there's still about a quarter of it left. A tiny amount of the product can produce enough foam for a good wash. So even though it's rather pricey in Singapore, it may be worthwhile to get it. I have included this in my Japan Must-Buy list.
If you are in Japan or Taiwan, grab as many as you can, ok? Don't forget to thank me for my tips when you are back. Heh. =)  Rating upgraded to 4.5/5.
View latest price on: Amazon | Ebay | Walmart
---
Do you enjoy such honest reviews? If you like to get notified of my new posts, just click the button below to subscribe. I'll even give you some free and exclusive stuff. See you there!
This post may contain affiliate links. Read my full disclosure for more info.
(Visited 73,877 time, 61 visit today)