Need a quick and easy solution to conceal your gray hair roots? Today, we'll review SALON de PRO Hair Mascara, a temporary hair dye that I've used for a few months and highly recommend. This hair mascara works fast, creates no mess and is great for use in between hair colouring jobs.
Read on and I'll share with you the pros, cons and who I think would benefit the most from SALON de PRO Hair Mascara. 
---
What is SALON de PRO Hair Mascara? 
SALON de PRO is a brand from Japan that specializes in hair products and is commonly found in major drug stores in Japan.
In Singapore, you may have seen this brand around in NTUC and local health & beauty stores. But the product you've seen would likely be a cream hair dye instead of a quick-fix mascara.
To get Salon de PRO Hair Mascara in Singapore, drop by Tokyo Hands. I got mine from the Jewel Changi outlet.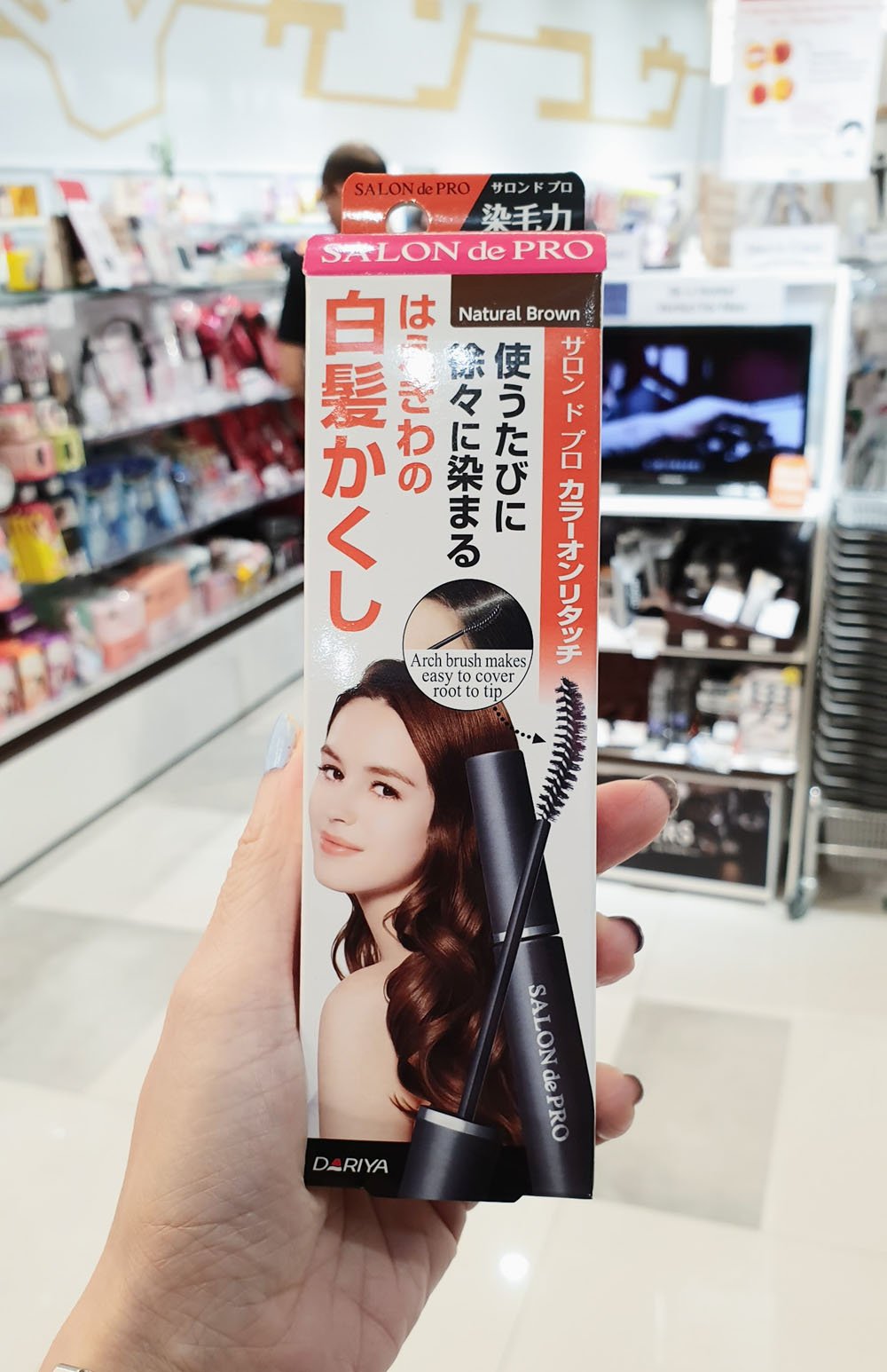 Why use a Hair Mascara?
Unlike a cream hair dye that offers permanent colouring solution, this hair mascara from SALON de PRO offers only temporary colour that lasts until it's shampooed out.
So, why would someone waste money on a temporary solution? 
Well, I would happily "waste" money because a hair mascara comes in handy during the time when gray hair grows out, but is too short to warrant a full hair colouring job. Since a full hair-dye session can be messy and time-consuming (i.e. if I DIY), I would want to delay it as much as possible.
> RELATED: This Kimage Hair Colouring Service made me stylish overnight
---
What's Great about SALON de PRO Hair Mascara? 
1. Covers white hair roots easily
Look at the arch-shaped brush. Its perfect curvature provides great contact with the hair, especially the part near the roots. As such, a single swipe can cover more white hair than a straight brush would.
This not only saves me time, but also cut down the effort required for my "hair makeup" session. 
2. Waterproof & Smudge proof
We've said that SALON de PRO Hair Mascara offers temporary hair color. So, what happens when it rains? Will dark streaks start flowing down the face?
Don't worry! I've tested it out and found this hair brush to be both waterproof and smudge-proof (provided you give it a minute or two to dry after application). I've even gone for a 5km jog with it and didn't experience any embarrassing moment. 
3. Reasonably-Priced
I got mine from Tokyu Hands in Singapore at around S$15 if I recall correctly. This is in line with similar products sold in Singapore.
Here's the latest price on Amazon and Ebay. 
4. Available in 4 Shades (Brown to Black)
SALON de PRO Hair Mascara is available in four shades, from brown to black.
The one I bought is the second lightest shade – "Natural Brown 4.5". It appears darker than what I was expecting, but blends well with my hair color as you can see in the collage below.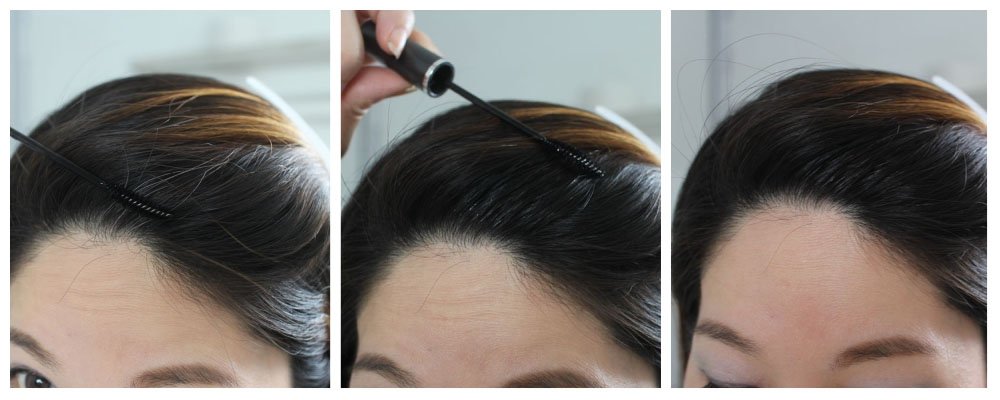 5. Bonus Days offered by SALON de PRO
After a hair wash, I was pleasantly surprised to see that the original white cluster had retained some colours. This would gradually fade off after 3 to 4 washes.  As such, I do not need to use the hair mascara every day. 
For info, SALON de PRO is said to last 60 applications. Well, I've yet to count, but am pretty certain it would last me quite a while because I've been using it for a few months already, albeit on a need basis. 
---
What's not Great about SALON de PRO Hair Mascara? 
1. Not Economical for Some 
SALON de PRO Hair Mascara works well for me right now because I have a small percentage of white hair than black. With the need to cover only a few clusters of white hair, this hair mascara is able to last me many months.
However, I wouldn't recommend this to my mom who has a whole head of white hair, as the 15ml of product may be depleted faster than what is practical.
2. Slightly Hardened & Shiny Texture
Once the hair dye dries, it may appear a tad shiny and hardened just like how the hair may look like with a low-hold hair spray.
Although I'm stating this as a con, I personally don't mind it. The shiny strands isn't very obvious on the few clusters of white hair that I have. 
---
Recommendations
I highly recommend SALON de PRO Hair Mascara to those who spots random clusters of white hair and need an interim solution in between full-scale hair colouring jobs.
You'll love the nicely-curved applicator and the longevity of the temporary hair dye. This is entering my Japan Beauty Must-Buy List without a doubt. Rating: 4.5/5
To find out the latest price on Amazon, click HERE.
---
Hope you've found today's review useful. If you like more of such honest review, feel free to connect and you'll get notified on newly-published beauty reviews and travel stories. Just click the button below to subscribe and you'll also get access to all my exclusive contents. Chat soon!
This post may contain affiliate links, meaning I earn a commission if you make a purchase, at no cost to you. Read my full disclosure for more info.
Pin This!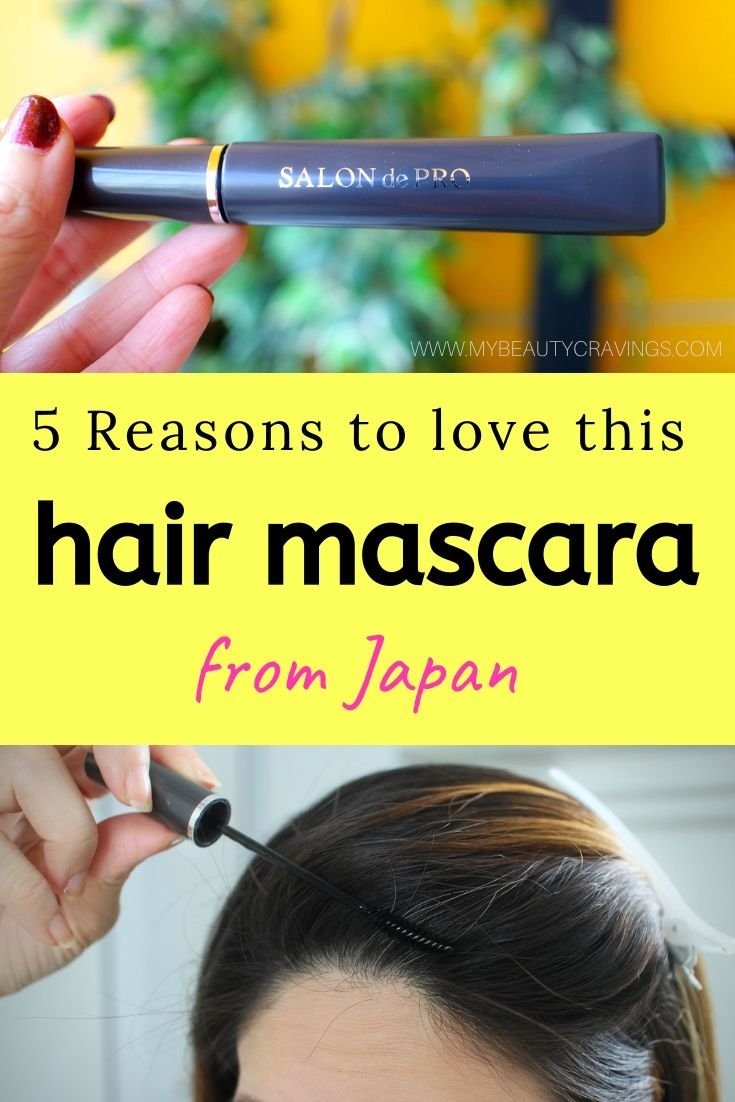 (Visited 615 time, 1 visit today)