All thanks to Covid-19 pandemic, I haven't visited a hair salon for a very long time. Luckily, I have with me a very handy at-home hair dye – Salon de Pro Hair Color. It's unique application makes it cost-effective and a breeze to cover random gray hair clusters.
If Salon de Pro sounds familiar, that's because I did a review on its other product that offers temporary solution – Salon de Pro Hair Mascara. The one we are talking about today provides permanent coverage for gray hair.
Read on and see how this DIY hair dye from Japan stands out from other hair colouring solutions in the market. 
Update Oct 2020: This post was first published in April 2020. I've just emptied this box, and am so pleased that all my white roots are covered. Moving on to the next box – colour 5E. This hair dye is going into my Holy Grail list!
---
About Salon de Pro Hair Colour (Cream Type)
Salon de Pro is a product by Dariya, a brand that originates in Japan. Although I bought the hair colouring kit in Japan, you can easily get it in Singapore, such as from Don Don Donki, Tokyu Hands and local discount stores.
Dariya has a few hair colouring products in its product line, such as the hair mascara we have mentioned and another one that comes in a one-push bottle. The one we are reviewing today is a cream-type permanent hair dye that is unique because it comes in two separate tubes.
> RELATED: Salon de Pro Hair mascara is not just great at covering gray roots easily 
To activate the hair dye, squeeze out equal amount of each agent, depending on how much you need, and mix the solutions before use. Whatever remains can be stored for future use.
---
8 Things I love about Salon De Pro Hair Color
1. Very Cost-Effective!
You'll be surprised at how long a box of Salon de Pro Hair Dye can last me. Since my white hair exists in small random clusters, I only need a tiny amount per application. Therefore, I really appreciate how this hair dye allows me to use just what I need and store the rest. 
Each box can last me well over 10 applications. Even after the tubes have been opened and partially used, the remaining product stays effective after a long period of storage (over a year). 
2. So Affordable
Salon de Pro Cream Hair Dye already offers great value with its ability to offer multiple applications. What makes it even better is how cheap a box of hair dye costs.
In Japan, I got it at ¥520 (tax-free). In Singapore, the price is equally affordable, at around S$9. Here's the latest online price on Amazon.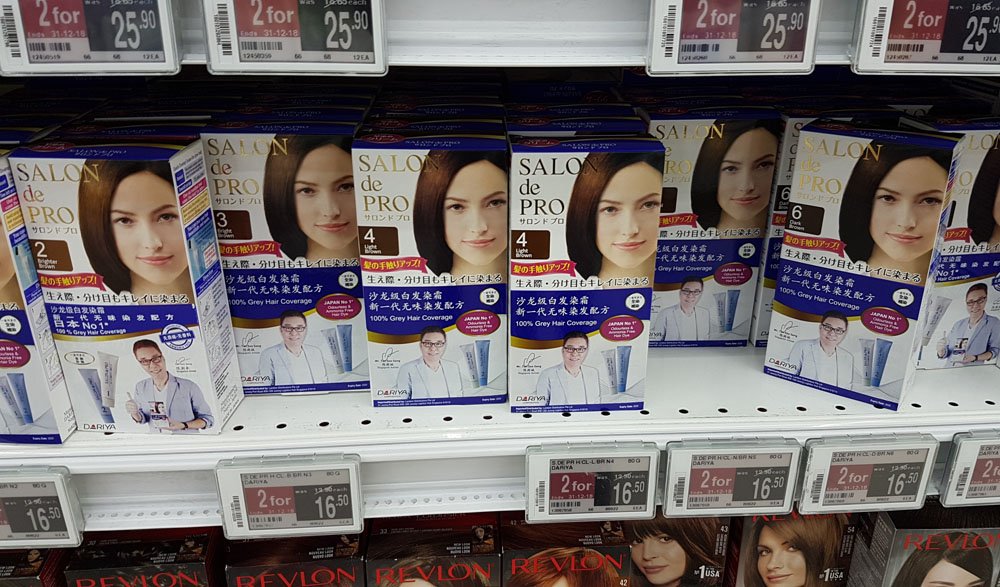 3. Easy to Apply
Does having to work with two tubes, a tray and some mixing sound like a lot of work? In practice, the process is quick and easy. 
The interval marker on the tray allows you to squeeze out similar portion of each agent. You then use the brush, which is of decent quality, to mix the agents.
Then you can don the given gloves and start dyeing your hair immediately. There's no drippage and the whole application process is effortless and mess-free. 
> RELATED: This Kimage Hair Colouring Service made me stylish overnight 
4. No Pungent Odour 
Salon de Pro hair dye is free of unpleasant smell. Not only is the dyeing process comfortable, you'll also not have to deal with lingering odour that stays in the hair for days. 
According to its marketing label, this hair dye:
"will not irritate your eyes or nose, and is comfortable for anyone in the vicinity. No unpleasant smell will remain in the room."
This claim is true!
5. Quick to Absorb
You only need to leave the product on your hair for a short 15 minutes to get the colours permanently there. This works for even thick and coarse hair like mine.
6. It's indeed a Permanent Solution
I've tried other brands where the colour would fade after a few hair wash. Not with Salon de Pro.
So far, the colour stayed permanently until new gray roots demand a reapplication. 
7. Not Drying
I've used this hair colour many times. It has never left my hair drier than it was before application.
No wonder, as Salon de Pro Hair Color contains 6 useful ingredients such as camellia oil, rosehip oil and royal jelly. 
8. Easy to Clean-up
After application, we would need to wash the tray and brush and keep it for future use. I was pleasantly surprised at how easy the clean-up was.
You'll only need soap and water to get the dye off the equipment. And it shouldn't take more than a minute or two. 
---
What's not great about Salon de Pro Hair Dye? 
1. No Fanciful Colours
If you love anything other than brown and black, you'll be disappointed. Here's the range of colours offered by Salon de Pro Hair Dye. 
The one I've bought is color #6, which is the second darkest shade in the range. It looks like black to me in actual application! With my preference for brown hair, I would likely get a lighter shade in future, such as a #4 or #5. 
And that's all the cons I can think of.
---
Recommendation: Who should get Salon de Pro Hair Color?
I highly recommend Salon de Pro Hair Color to those who have small and random clusters of gray hair. It offers multiple applications, stores well and is cheap in the first place. This allows you to maximize your dollars especially during such chaotic time. 
Furthermore, cheap price doesn't mean poor quality in this instance. There's no pungent odour and the product didn't cause visible drying or brittleness. Salon de Pro Cream Hair Dye is entering my Holy Grail list. Rating: 4.5/5
To find out the latest price on Amazon, click HERE 
That's all to today's beauty review. If you like to get notified to more of such honest reviews, click the button below to subscribe. You'll also get free and exclusive stuff as a subscriber. See you soon!
SUBSCRIBE
(This post was first published in April 2020, and last updated to include latest opinion.)
This post may contain affiliate links, meaning I earn a commission if you make a purchase, at no cost to you. Read my full disclosure for more info.
(Visited 1,888 time, 1 visit today)