Been doing lots of online shopping lately? Today, I'm sharing a Shopee Promo Code that will give you $10 off your first purchase. What you have to do is to download the Shopee app on your phone and sign up for an account. When you have added items to your cart and am ready to check out, select Shopee Voucher and fill in referral code "REF-MBC226". 
You'll see $10 taken off your total price. Another good thing is that no minimum spend is required. So your first purchase could literally be free! 
Since it's free, why not give it a try? Furthermore, I'm going to tell you that it would be worth your effort setting up the account. As a matter of fact, Shopee has outranked Aliexpress to become my favourite e-shopping app.
In the next section, I'll share with you the 6 things I love about Shopee. 
Updated (Jun 2022): This post was first published in May 2020 and last updated to include latest promo deal. 
---
6 Things I Love about Shopee
1. A Great Place to buy Branded Items
I love the Mall concept of Shopee as it assures me that the items I'm getting are 100% authentic. This is especially useful when we are getting branded items. For instance, I've just bought some products from the official Philips store.
All I needed to do was to enter the search keywords, then click a "Shopee Mall" checkbox in the filter column and the search results will display only mall items. This gives me a peace of mind when shopping. 
TIP: Lazada also has mall concepts. So you can refer to the brand's official website and see where they locate their official online stores.

As for Qoo10 and Amazon.sg, I find it less easy to seek out official brand-name stores. In fact, I just bought a microwave from Amazon.sg and received what seemed like a returned or demo set. It wasn't properly packed and comes with a warranty card dated a year ago (I've since returned it and sought a refund).

To be fair, I've purchased many great items from Amazon.sg. I guess this time round, I made a mistake by buying something with no reviews and apparently from an errant seller. 
2. Flash Deals offer good value
I like the flash deals that're easily visible on Shopee app. This gives me an idea on what to buy when I am just shopping blindly out of boredom. 
Based on what I've seen, the deals are quite good – definitely a good discount off the usual retail price.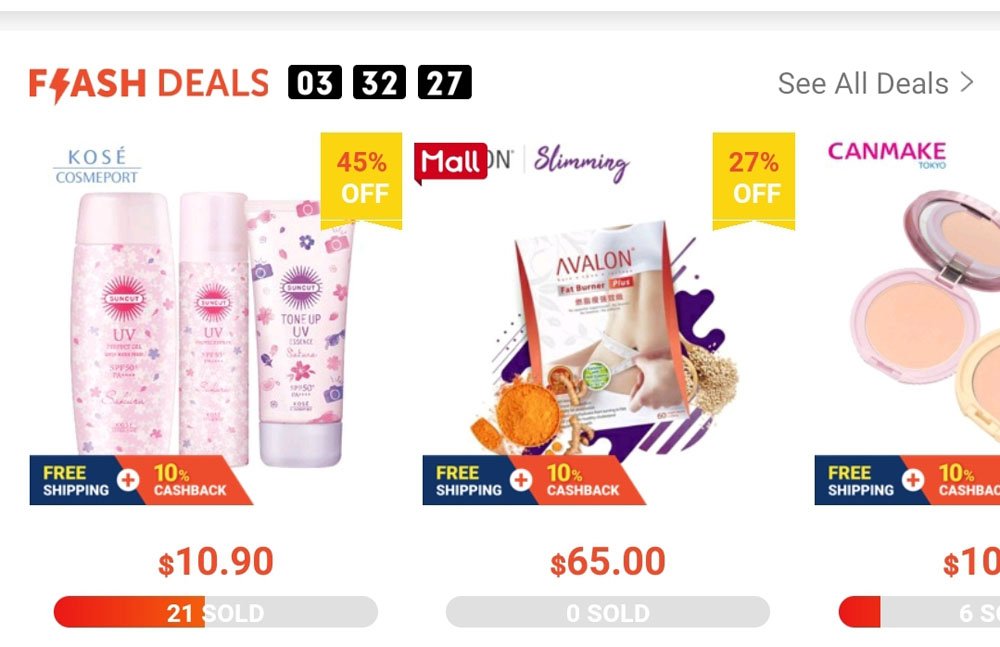 3. Gift Delivered with a finger tip
At this time when we are not supposed to meet up with people from different households due to Covid-19, I find ecommerce apps such as Shopee very useful in giving gifts. For example, I was able to order a baby gift and have it sent to my loved ones. 
I also appreciate that Shopee offers a low threshold to qualify for free delivery as compared to electronic stores, such as Best Denki and Gain City. 
> MUST-READ: Singapore is in partial lockdown! What happened to the successful measures?
4. Reliable Delivery Time
With Covid-19 disrupting flights and global supply chains, I've been relying more on local shopping apps than global ones such as Amazon.com and Aliexpress. 
Shopee allows me to select stores that are located in Singapore, so that I can be assured that the goods will be delivered on time. 
> RELATED: Things I buy on Amazon.com that are cheaper!
5. Attractive Daily Vouchers
Right at the top of the Shopee app, you can see an icon Daily Vouchers that allows you to browse and collect attractive vouchers, such as a 15% cashback voucher.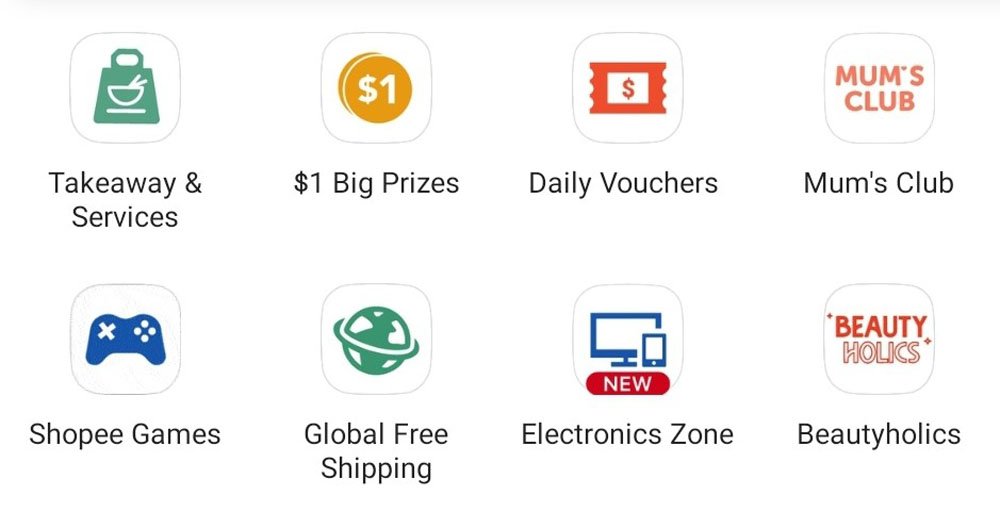 Other than the generic and easily usable vouchers, you can also collect shop-specific vouchers. This will make your purchase even sweeter.
Many times, the vouchers are stackable. So don't forget to get your New User voucher and see if you are able to enjoy extra savings. 
Shopee Promo Code
Enter REF-MBC226 when you check out for your first purchase, and get S$10 off. This voucher is only usable if you purchase through Shopee's mobile app (not desktop, or mobile browser).
6. Bank Promotions
Shopee makes it really easy for you to browse bank promotions. On the app, you will see a Bank Promotions icon. Click on that and it'll show you clearly on how to get extra discounts when you use a specific bank card to pay for your purchase.
What's interesting is that some of these promotions are applicable on a specific day of the week, example UOB on Wednesday and DBS on Thursday as at time of writing.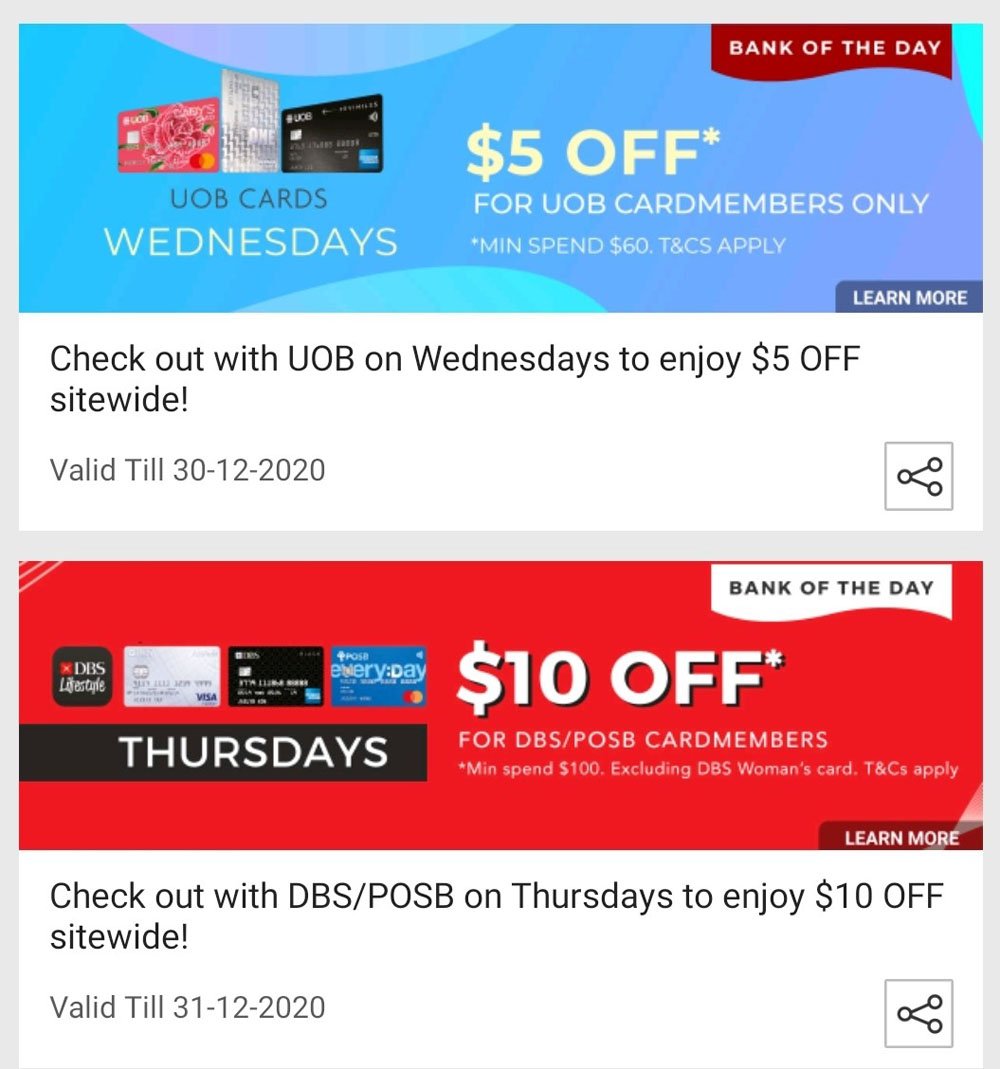 ---
Recommendations: Why and when should you use Shopee?
So, I've just shared the few things I love about Shopee. It's one of the major online-shopping players in Singapore and is worth dedicating an app space on your mobile phone.
The free $10 referral credit gives you an incentive to explore and see how this shopping app may fit into your lifestyle. 
Shopee Referral code
Enter REF-MBC226 when you check out for your first purchase and get S$10 off. No minimum purchase required!
Actually, I have downloaded other shopping apps as well such as Qoo10 and Lazada, and will compare prices before making purchase. Depending on the brand and the product, one app may offer a better value than others.
Thankfully, online shopping has made it an easy affair to seek out the most competitively-priced items, while factoring in other things such as reviews and delivery time. Therefore, I highly recommend you to make use of these apps, especially during such time when retail shopping has taken a back seat due to Covid-19. 
---
That's all to today's review. Do check out other great promo codes and deals I have for you. Hope you've found this article and the promo code useful. Connect with me if you like to get notified of my latest and 100% honest reviews – just click the button below. See you soon!
SUBSCRIBE
(This post was first published in May 2020 and last updated in Jun 2022 to include latest promo deal.)
This post may contain affiliate links, meaning I earn a commission if you make a purchase, at no cost to you. Read my full disclosure for more info.
(Visited 2,570 time, 2 visit today)