You don't have to join a tour to snorkel in Okinawa. Oops, I've said it a few times, haven't I? But it's true. Today, I will share some tips on how to snorkel at Cape Maeda without joining a tour. You don't have to pay guide fees or snorkel together with a big group of tourists. You set your own timing on how long you want to play with the fishes and enjoy the water off the East China Sea.
If that sounds like your style, read on. Not interested in logistics info? No problem. Just scroll right through to second-half of the post and watch us interact with the friendly fishes before taking in spectacular views of Cape Maeda.  
---
What to Prepare: DIY Snorkel at Cape Maeda
If you are reading this, you should be someone who loves free and easy travel and enjoy the process of crafting out your customized travel plan. Here is some extra stuff to take note of if you want to snorkel on your own at Cape Maeda or in Okinawa in general.
1. Bring Your Own Gear
Don't worry. The cost of getting your own stuff would likely be cheaper than renting them especially if you intend to snorkel at more than a few places in Okinawa. Other than Cape Maeda, we also snorkeled at Kouri Island and Odo Beach. These water gears also came in handy when we chased several waterfalls in Northern Okinawa.
If you stay in Singapore, you are in luck because you can find most of the things you need at Decathalon SG. I went there twice and picked up snorkeling gear at unbelievably low prices.
Prefer to purchase it online? You can find out the latest prices of these snorkeling gear which are similar to the ones I'd used for my trip:
Here's a gauge on how much you can save by snorkeling on your own. You'll save on rental of snorkeling gear which may cost above ¥2000 (refer random website) per session. If you join a tour, they will provide the gear for free, but a snorkeling tour to the blue cave would cost about ¥5000 per pax.
Other advantages? You own the snorkeling gear, right? So you can use them for future trips. Infinite savings?
2. Check Live Sea Condition
Before you visit Cape Maeda, please refer to her official website to find out if the site is opened for snorkeling. Click on the tab "Today's Swimming Info". It will show you live camera footage of sea condition and indicate if the stairs leading to the water is opened.
---
How to Get to Cape Maeda? 
I assume you will be renting a car because that's the best way to experience Okinawa. If you are coming from Naha, it will take you about 1 hour to reach Cape Maeda by expressway. I recommend that you add another 15 minutes and travel by the toll-free route because road toll in Okinawa isn't cheap.
> MUST-READ: 18 Important Things To Know Before Visiting Okinawa
If you are not driving, you can consider taking up Okinawa Bus Pass and making Cape Maeda as one of the stops.
---
Facilities at Cape Maeda 
Parking at Cape Maeda
There are ample parking lots at Cape Maeda. Unlike other capes that we've visited in Okinawa, parking at Cape Maeda isn't free. It cost ¥100 per hour. We spent slightly over two hours at Cape Maeda and incurred ¥300.
By the way, we saw some locals parking along a road outside this official carpark. I think they weren't too pleased with the parking charges. 
Shower Facilities at Cape Maeda
You can enjoy a hot shower after a snorkeling session, but at a fee. It's a coin-operated shower system that charges ¥200 per 1 min 40 sec of water flow.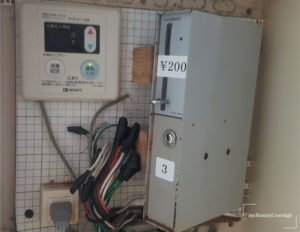 Please remember to set the temperature before inserting the coins.
We aren't the kind of travelers who like to spend such money on forgettable experiences, especially not on water in a public site. So, here's what we did.
The Alternatives to Paying for Shower Facilities at Cape Maeda
We saw the locals "showering" openly at the car park using what I think was a car-built-in water tank cum sprinkler. Great, we'll do what the locals do, right? Travelling is all about immersing in the local culture. LOL! Our three 1L bottles of tap water came in handy. We took turns for our shower – one would elevate the bottle over the head of the other and serve as a shower head holder. :)
It wasn't technically a shower but was good enough to wash off the excess salt content. We were totally cool with it! 
TIP: Place a few bottles of tap water in the car. Make some holes on the bottle cap. These bottles will come in handy when travelling. You can use them to wash off salt, sand and dirt from snorkeling gear, your shoes or your body.
Lockers at Cape Maeda
You can find coin-lockers in the shower room. The size of the locker is not big but was sufficient for us to place our phones, car key and some clothes. Cost: ¥100 per use.
If you have larger items, consider leaving them in your car. Just bring along your car key and deposit it in the locker. The car park isn't very far from the shower room.
Hair Dryers
Limited hair dryers were available at public area. I think there were just four hairdryers to be shared between men and women. The way these hairdryers were placed reminded me of phone booths. Once again, you've got to pay. It costs ¥100 for 4.5 minutes of use. I wonder if this place is owned by a private company because it seems like a lot of things are chargeable huh?  
Other Facilities at Cape Maeda
Other than the shower room, they have toilets too. I must be blind that day because I couldn't find one. Apparently, the toilets are located in a separate building.
Cape Maeda also has changing rooms which I didn't make use of.
Closing Hours at Cape Maeda
Please kindly note that all the above facilities are closed at 7pm. Parking will be closed between 5.30pm to 7pm depending on which month you visit. You can refer to more info at Cape Maeda's official website.
---
My Experience Snorkeling at Cape Maeda
Great. We're done with the logistics. Let me share with you my experience snorkeling at Cape Maeda.
Cape Maeda forms part of my 9 Days Okinawa Itinerary on Day 3. That was the day when we overslept and hence could only reach Cape Maeda at 4.30pm. Luckily, we were there in June when daylight was long. The sun would only set at 7.30pm giving us plenty of time to explore the cape.
Getting into our Snorkeling Gear
We changed into our simple snorkeling gear, deposit our stuff in the locker and proceeded to a flight of stairs located to the right of the facility. Descending this stairway brought us to the bottom of the cape and allowed us to enter water easily. Yes, we were glad that we didn't have to dive into the cape from a great height.
The water wasn't as warm as other places we've snorkeled in Okinawa, probably because we went late. Also, the snorkeling area seemed to be well sheltered. I wore normal swimwear and thought it worked fine during this summer season.
I saw many groups of tourists professionally dressed in full wetsuits and wonder if that was really necessary. I'd found wetsuits useful when entering New Zealand's icy cold water during river tracing, but is it necessary in a super hot island like Okinawa, during summer? Getting into and out of wetsuit is a hassle. Walking in it also feels weird. I would only use them when absolutely necessary. But take my opinion with a pinch of salt because I'm not an expert.
Shallow Water at Cape Maeda
I was expecting a deep drop after stepping into the water off Cape Maeda. Surprisingly, the water near the stairs was shallow. I could even stand and walk on the partially-submerged rock surface. It wasn't as daunting as I was expecting it to be.
Still, I think a life vest or some floating device is a must-have for safety reasons. No matter what, this is a cape, not a beach. Water can get rough without warning. Also, the floating device can help you venture further into the open sea to experience more diversity in marine life.
It was a great experience snorkeling at Cape Maeda. Fishes were in abundance and they loved the food we brought for them. Here's a video to show you what we saw. Sorry about the poor resolution as it was filmed with a mobile phone. Otherwise, how to pack under 7kg for a 9 days trip? :) Just view to get an idea of how it's like to snorkel at Cape Maeda, and trust that the actual experience would be so much better.
The Brave Ones Can Swim to Blue Cave on their own
Most tourists who sign up for a tour to visit Blue Cave would either swim to the cave from Cape Maeda or take a boat to the cave entrance. The former would be cheaper of course. The fee based on what I saw was about ¥5000 per pax.
My partner who is a confident swimmer decided to venture on his own to the popular blue cave. From where we snorkeled (near the stairs), we could see many boats waiting at an area probably a few hundred meters away. That gave us a clue on where the blue cave was located and my partner swam to it. Due to the uncertainty of how risky this journey would be, he went there together with a cute floating device meant for kids. LOL!
He said the float slowed him down but did allow him to rest in the open water when he wanted to. He was back after 20 minutes. Hope that gives you an idea of the distance between Blue Cave and Cape Maeda. My partner reported that much of the cave was above water level due to low tide and hence wasn't impressive (at the time of his visit).
Is it safe to visit the Blue Cave on your own? Well, that really depends on your water confidence and whether you are traveling alone or in groups. As you see, I chose not to swim there because I'm not a confident swimmer. If in doubt, take the safer option.
Another safe method, especially if you are travelling with kids is to join a tour as it comes with certified guides and professional equipment. Here's a Blue Cave tour that offers pick up from Naha. And this other tour is cheaper and works for those with their own transport. It's lovely that this package comes with a free underwater camera. 
Admiring Cape Maeda from Various Vantage Points
What did I do when waiting for my partner to finish touring the blue cave? I took countless selfies at the foot of the staircase and watched my partner disappeared into the distance.
After that, I strolled to a vantage point to the left of the staircase, stood on some elevated rocks and took in great views of Cape Maeda.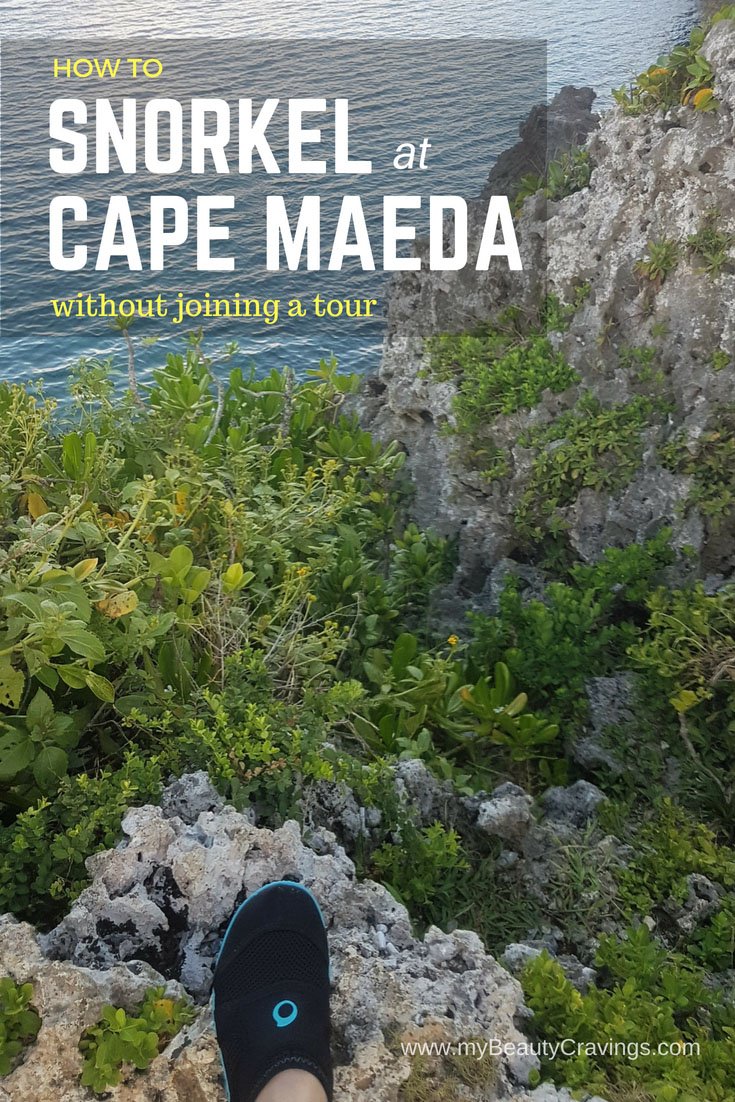 There's also a viewing tower nearby with a coin-operated telescope (¥100). Just nice, when I was done admiring Cape Maeda, I also spotted my partner swimming back. He was a tiny ant in the water with a neon green float, from where I was standing. ;)
Leaving Cape Maeda
We happened to end our activity just before its closing hour. Just to emphasize again, the shower facility and parking would be closed at 7pm. So, please take note. I panicked slightly when the loudspeaker started blasting loudly that the area would be closed in 15 minutes and my dearest partner was still a tiny "ant" in the water. 
---
That's it on DIY Snorkeling at Cape Maeda. More Okinawa posts coming your way.
What's next? I have so much more to share on Okinawa, Langkawi, El Nido, Phuket, Taiwan and more. Stay tuned. If you like to get notified of my new posts, just click the button below to subscribe. I'll even give you some free and exclusive stuff. See you there!. See you soon!
SUBSCRIBE
This post may contain affiliate links, meaning I earn a commission if you make a purchase, at no cost to you. Read my full disclosure for more info.
---
Related Posts:
Pin This!
(Visited 2,645 time, 1 visit today)