A month ago, I shared with you guys about this "HDB Smoking Neighbour" issue that I was facing. In short, whenever my neighbour smoked, I felt like he was smoking in my room. :) And I'm not exaggerating. 
Perhaps, that's how life is like living in land-scarce cities where people stay close to one another in densely-packed residential blocks. If someone smokes at his balcony, it won't take long before the wind blows the toxic air into neighbouring units. 
As secondhand smoke victims, we can either accept our fate and suffer silently or take actions to save ourselves from breathing in cancer-causing chemicals.
I chose the latter! 
---
Sought Assistance from Singapore Authority: HDB Smoking issue
As I've shared earlier, I wrote in to a few public agencies and ministries in Singapore. Yah, I was desperate, okay? :)
> RELATED: A smoking neighbour I never knew I had until Covid-19 made people stay at home
So far, HDB has responded and I appreciate its prompt response and willingness to help. The officer called up a few of my neighbours and advised them to be socially responsible and not smoke by the window. However, it soon became clear that the assistance rendered by HDB would be limited in scope and nature.
The secondhand problem persisted after HDB's attempt to inculcate gracious behaviour on the smoking neighbour. The HDB officer told me that none of the neighbours she spoke with admitted to smoking at the window.
So, what else can we do? 
Engage a private investigator? 
To assist me further, I have to pin-point the exact smoking unit. Well, if you are staying in residential blocks, you would know that that's not an easy task.
Firstly, I cannot see any of my neighbours when they are at their windows, unless I knocked on their doors and asked them to invite me into their homes, before they start smoking. Secondly, my unit only faces one neighbour (not a smoker) – I can't see who my other neighbours are and we don't even share the same lift or staircase.
Therefore, how do I establish certainty on where the cigarette smoke originated from?
I tried to be a P.I but failed: HDB Second-Hand Smoke
Being desperate and taking in second-hand smoke every 3 hours, I forced myself to do some private investigative work.
On the first sign of cigarette smell, I would dash to the opposite block to spy on my neighbours. :)  And I did it a couple of times. But sadly, my P.I skill is mediocre at best. By the time I took the elevator down, crossed over a road and made it to the top floor of the opposite block, the smoker was done puffing. 
What else did I do to solve this HDB-second-hand-smoke problem? I reached out for pest killer! :)
---
How I solved the HDB-Smoking-Neighbour issue
Thanks to the tips from IT Supervisor Azfar, I did exactly what he suggested – spraying insecticide whenever I smell secondhand smoke.
Be sure who the Smoking Suspect is
To be sure I didn't sabotage innocent neighbours, I did a recce around my block. One unit stood out as a highly-suspicious one with lots of carton boxes and stuff messily placed at the doorway. It's obvious to me that this is a new neighbour. No wonder I'd never experienced any secondhand smoke issues until recent months. 
Anyway, the HDB officer and I had all along thought the smoke came from upstairs or downstairs. Well, this neighbour is actually staying at an adjacent unit.
Great! We were finally making some minor "breakthrough". Heh Heh! 
Gave New Neighbour a Chance before using Pest Killer 
I didn't go about spraying insecticides towards the suspected unit immediately. Instead, I contacted HDB again and shared the new insights so that HDB could advise the new neighbour to be gracious. 
But if you can recall, I've mentioned how defiant this neighbour was. This is not a neighbour who cares about other people's well-being. Therefore, it wasn't surprising that the secondhand smoke issue persisted. 
After a few weeks, I reluctantly bought a large can of insecticide and prepared for my battle. 
Spray Insecticide generously towards Suspected Unit
Once I detected signs of cigarette smoke, I would hold up a piece of tissue outside the window to gauge the wind direction. If it was blowing towards that smoking neighbour's unit (on my left), I would depress the nozzle of the insecticide and give it a generous spray.
The quantity should be enough to kill the most gigantic roach you can ever imagine. :)
I'm thankful that the spray would not reach other neighbours on my left due to a protruding block. Therefore, I could be very "generous" in my approach.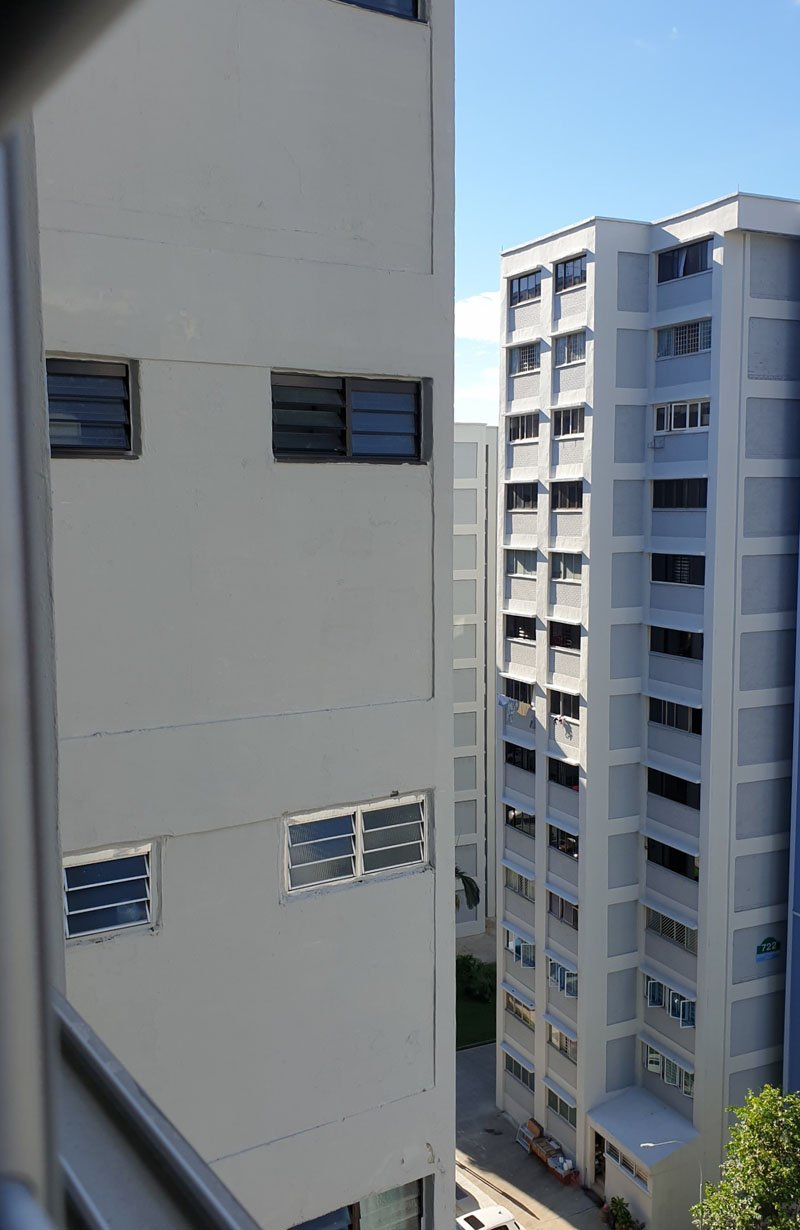 Give your smoking neighbour a few weeks to register the message
Now, this method didn't stop the smoking behaviour immediately. It took a few weeks before the neighbour registered the message and understood the power of wind. 
I'm glad to report that as of today, I haven't suffered second-hand smoke for about two weeks. Hence, I believe this smoking-neighbour issue has been resolved successfully. My greatest gratitude goes out to Baygon – I didn't know it has an alternate use other than killing pests. Now I do!  
Hope this article is able to help someone who is facing the same "HDB Secondhand Smoke" problem. One thing to highlight though – do remember to be very certain who the smoking suspect is before spraying insecticides towards your neighbour, okay? We want to be good neighbours too!
---
That's all I have for you today. If you like to get notified to more of such honest reviews, click the button below to subscribe.
SUBSCRIBE
This post may contain affiliate links, meaning I earn a commission if you make a purchase, at no cost to you. Read my full disclosure for more info.
Pin This!
(Visited 410 time, 3 visit today)