Hey, I'm not done with Okinawa yet. :) Thank you for waiting and let's get back to Okinawa Day 2 (part II). Today, we'll continue from our Day 2 (AM) itinerary and explore Gushikawa Castle, Cape Kyan, Odo Beach and Giza Banta Cliff in the afternoon.
We'll also be doing our first DIY snorkeling in Okinawa which would be followed by a visit to the American Village and Don Quijote Ginowan. Join me as most of the places in today's post are off the tourists' map.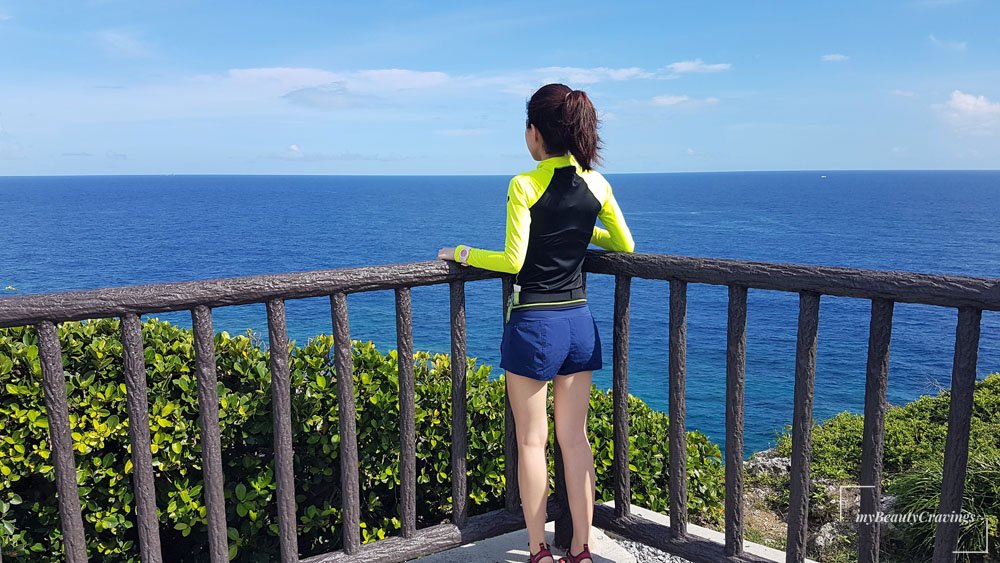 ---
Gushikawa Castle offered us a Peculiar "Onsen" Experience 
(3.00pm)
After a satisfactory lunch at Ouijimaimaiyu Market, we set off for some fun and wet activities!
The first stop would be to visit Gushikawa Castle Ruin (see location), which is a small and heavily-eroded castle. Definitely less impressive as compared to castles elsewhere in Okinawa (which probably enjoy better care and restoration). No worries, as our main intention was something else. 
RELATED READINGS:
Next to Gushikawa Castle Ruin was an opening where we could hike down to the shore via a steep, rocky and rugged path. After reaching the shore, we were supposed to turn left and walk about 150m to reach Kyan Cave where there's a natural pool for snorkeling. However, there's no way we could walk for 150m without getting submerged in water. I guess we could have been there during high-tide.
As part of the exploration, we got ourselves into the water and attempted to move towards the east. However, one thing shocked us. Can you imagine an ocean water so hot it feels like you are in an onsen (hotspring)? Only that the onsen we are talking about is super super super huge. Ha Ha!
INFO: We'd traveled during hot season in June/July. 
Honestly, I'd never experienced something like this. As someone who enjoys bathing in hot water, I could handle it, but not my partner.
After a few minutes, he gave up and reversed back. I followed suit because I was worried that the water level would continue to surge. I didn't have a life vest. We also weren't confident that such hot water would have fishes in it for us to see. Maybe boiled ones? LOL! 
Nope, we don't take such uncalculated risk especially when we can't even see our destination, i.e. the so-called natural snorkeling pool. Next…
---
Cape Kyan with its Great Ocean View and Royal Blue Water 
(3.45pm)
Our next stop – Cape Kyan – is the southernmost cape in Okinawa and it overlooks the Pacific and The East China Sea (see location). I highly recommend Cape Kyan as a brief stop-over if you happen to be around the area. The color of the water – a royal blue – was so pretty and made every photo turn out gorgeous.
TIP: Remember to wear something that contrast with blue and white to stand out in photos. :) E.g. orange, yellow, pink, red.
As this southern coast is the site that suffered great casualty during WWII (including numerous civilian committing suicide by jumping off the cliff), you'll see a Tower of Heiwa (Peace) that was erected in 1952 to commemorate the tragic event. There's also a small lighthouse within sight.
TIP: You'll need to rent a car to enjoy today's DIY activities. Here's a popular car rental option in Okinawa. The good thing about having a car is how you can save money from joining day tours and DIY everything yourself. :) Just pair it with the Okinawa Enjoy Pass and you are all set to go. 
---
Snorkeled at Odo Beach in Southern Okinawa (大度浜海岸)
(4.20pm)
Time to get wet again! We continued our eastern drive along the southern coast to reach Odo Beach (大度浜海岸) aka "John Man Beach" (see location).  It is a rustic beach well-known for snorkeling and surfing activities and seemed popular among the locals.
Not a single tourist spotted here (us excluded). Yes, it's not very pretty, but it is often such flats that allow you to snorkel and see lots of fishes near the shore (I think, heh!)
We brought our snorkeling stuff and ventured into the water. The seabed has lots of rocks and it is compulsory to wear a pair of aqua shoes to prevent injury. We snorkeled in the shallow and comfortably-warm water and saw many fishes. The further we swam out, the more colorful and abundant the fishes were.
TIP: Please read more about what a rip current is. In short, if you are pulled away by the current, try to swim parallel out of the rip instead of heading back to shore. Don't panic! Try lah!
However, one thing we noticed was how dead the corals appeared to be. They were like skeletal corals. At the end of our 9 Days Okinawa Trip, we realized that this is our least favorite snorkeling spot. Hence, I suggest that you skip this place unless you happened to be around the area.
Bring-Your-Own Snorkeling Stuff
Here's what we brought over to Okinawa for water activities:
If you stay in Singapore, you can get these stuff from Decathlon, my favorite sports store in Singapore.
TRAVEL OPTION: Prefer to stay dry and still be able to see the marine life in their natural habitat? Take a look at this Glass Bottom Boat Tour. 
---
Giza Banta Cliff: The Place where many civilians jumped to their death
(6.10pm)
The next destination, Giza Banta Cliff is well known as a place where many Okinawans jumped to their death during WWII. Based on what I've read in war museums, propaganda made these civilians commit suicide as they were led to believe that the alternatives would be worse, such as getting tortured, mutilated, raped and/or killed.  
I included this in my itinerary as I thought I would be able to stand on the same cliff top and witness what these Okinawans were viewing before they made the tragic decision. To my dismay, I found myself at a lower spot, looking up to see the cliff top instead. There's only a hiking trail that goes down to where a supposedly nice waterfall is located.
This waterfall at Giza Banta Cliff is unique because it's located by the sea.
The steep hike to the waterfall took just 5 minutes. A pathetic waterfall then greeted us – there was hardly any water trickling down. Our reward for staying there for a minute was the multiple kisses from the loving mosquitoes. I think we were there during the wrong season (again?).
No problem, next. :) 
Well, actually the "next" was to return to our hotel to bathe and get dry. But that's not the end of our activities on Day 2. Read on. :)
How to access Giza Banta Cliff?
See map location of Giza Banta Cliff. We parked next to a golf course (see map) and walked a short distance to the cliff.
---
A Short Night at The American Village
(8.40pm)
By the time we washed our sandy clothes and snorkeling stuff, it was late. A 40 minutes drive from our hotel in Naha brought us to the American Village.
We settled for dinner at Yayoi restaurant that serves Japanese set meal. It operates by way of an auto-kiosk where we could select and pay for our order.
Due to butter fingers, I pressed the wrong button and was a little upset. Luckily for me, the wrong order turned out to be amazing. Look at this presentable set meal (¥890). Such a generous serving of fish. More importantly, it was yummy! :)
Shopping at American Village at Late Night
(10pm)
At 10pm, there were limited places to shop at the American Village. I spent some time browsing through beauty products at an extremely-popular drugstore – Daikoku Drug. It is a tax-free store and prices seemed attractive.
I did put some items in the shopping basket but gave up when I saw how long the queue was at both the cashier and the tax-free counters. Too many tourists here, including me, he he!
After that, we strolled around the vicinity and moved nearer towards the sea off Chatan. The resort-like infrastructures there looked like a nice place to stay in for one or two days. We really should have dedicated more time to explore the American Village. Next time, maybe? :)
We were supposed to stay in Chatan for our first 3 nights. The reason why we switched to Naha was because we were forced to. Our Airbnb bookings were cancelled last minute due to a new ruling in Japan. That's fine as our stay in Naha was a good one, with its own merits.
With very limited options, we decided to browse through the shopping aisles of Aeon Supermarket (see location) which would stay open till 12am. It was nice browsing through the Japanese snacks and ready-to-eat.
Our cheap indulgence for the night – ice cream, sake and some nice beverages including a Sapporo Level 9 Beer…woo hoo!). We sat at the bench outside the supermarket to get instant gratification of our super yummy Matcha and Mochi ice creams.
Attraction Info: American Village
---
How's it Like Shopping at Don Quijote Ginowan Past Midnight
(12.30am)
My first batch of beauty products was acquired at Don Quijote Ginowan (see location). This branch is located about 15 minutes' drive south of Chatan and is a place we would pass by on our way back to Naha.
It was late at night and we'd pondered hard if we should call it a day, but decided to just "Go for it".
TIP: If you have limited time in Japan, you can reserve shopping to be done after midnight and do the touristy stuff in the day. Most Don Quijote are opened till wee hours. This one in Ginowan is opened till 5am. 
I enjoyed shopping at this less busy Don Quijote branch. Although some things appeared slightly more expensive than the Chinese drug store in Chatan or Don Quijote International Street, the shopping experience was a peaceful and stress-free one. 
For instance, I didn't have to queue when getting my tourist rebate and tax refund. With my tourist coupon, I received a ¥500 rebate + an additional 8% off my purchase.  
By the way, I bought lots of stuff and ended the shopping spree at 2am. OMG!
See! My first loot all wrapped up compactly. Thank you, Don Quijote Ginowan for minimizing the bulk. Why am I thankful? Because I realized later that not all tax-free shops were so thoughtful. 
TIP: Remember to pay separately for things you want to use in Okinawa, because they'll be all wrapped up after the tax-free procedure. And you can't open it until you depart Okinawa. Check out 18 Tips to know before visiting Okinawa.  
What time did we sleep that night? 4am!
Here's our takeaway supper that we enjoyed at 3am in our hotel. Yes, I even had time for some very strong beer! Level 9 okay? :)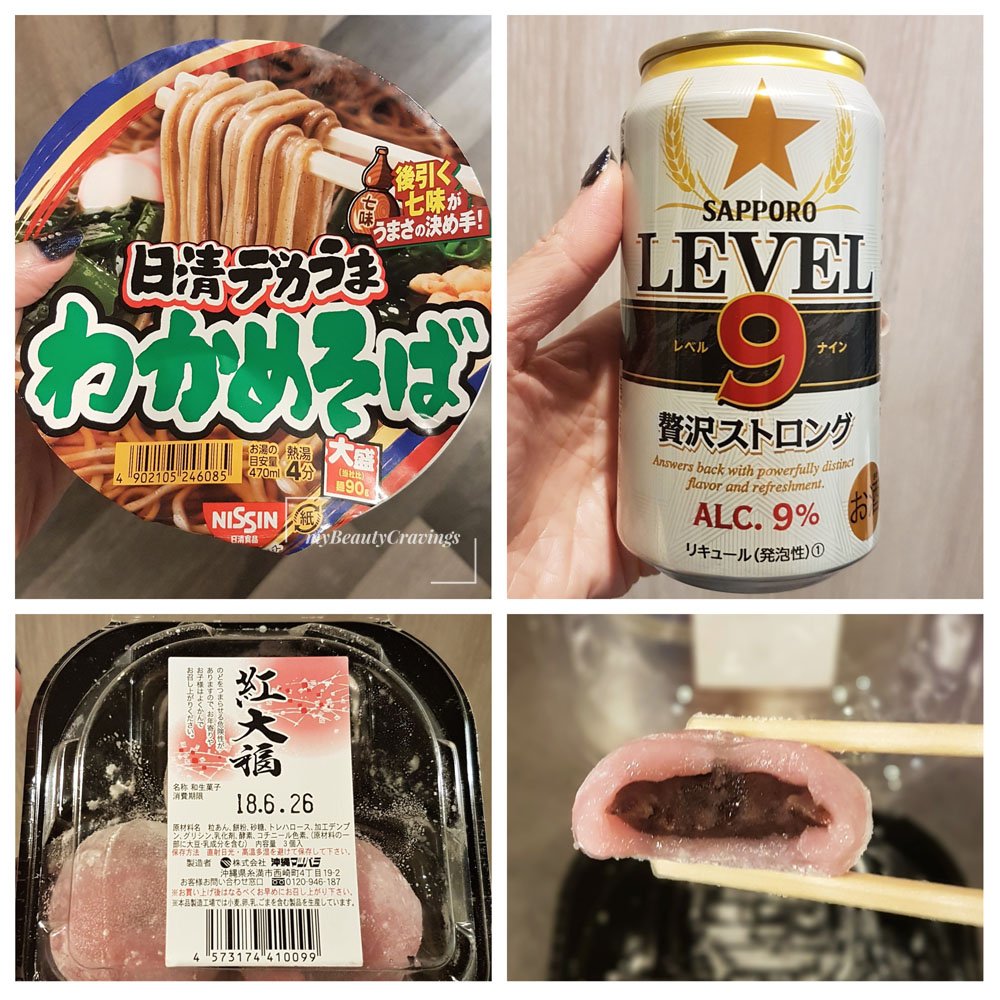 Okay, let's see what time we would get up tomorrow. Stay tuned for more Okinawa adventure on Day 3 where we would explore Western Okinawa. Connect with me if you like to get notified of my latest and 100% honest reviews! You'll also receive lots of free and exclusive stuff. See you there!  
SUBSCRIBE
Love what you've read? If you like to get notified of newly-published beauty reviews and travel stories, just click the button below to subscribe. I'll even give you some free and exclusive stuff. See you there!
SUBSCRIBE
This post may contain affiliate links, meaning I earn a commission if you make a purchase, at no cost to you. Read my full disclosure for more info.
---
Related Posts:
Pin This!
(Visited 1,785 time, 1 visit today)