There are so many capes in Okinawa. Which is the best? Today, I'll share with you my Day 2 Itinerary in Okinawa. Psst, we'll be exploring Southern Okinawa – you'll get to see the most charming cape in Okinawa.
We'll also visit Seifa Utaki and Ouijimaimaiyu Fish Market and talk a little about the difference between MOS Burger in Okinawa and in Singapore. Which is better? Let's find out.
---
Day 2 Breakfast in Naha, Okinawa
(10.30am)
We hardly oversleep when traveling. I mean time is precious, right? For some unknown reasons, we managed to oversleep twice in our three nights of stay at Mr. Kinjo in Mihara. This was an unusual phenomenon especially on an island where the sun rose early, at 5.30am (in June). What happened? It's either the bed was really comfortable or the drawn curtain that kept the morning sun out had also kept the Z monster in. :)
That's okay, sleep is important too! Perhaps, our bodies were silently demanding a recuperation from the less-than-proper sleep during the overnight flight. Time is inelastic – we'll have to withdraw part of our itinerary in exchange for that three hours of extra sleep. Let's begin with breakfast.
MOS Burger for a Quick Breakfast
As a sashimi lover, breakfast was supposed to be at Tomari Fish Market. To compensate for lost time, we made our way to a nearby MOS Burger. "No fish, prawns also good!" (This is a Hokkien phrase suggesting that second choice may not be too bad).
Clueless: What did I Order?
We entered the homely and cozy MOS Burger. There were hardly any customers in this quiet location which was a 5-minute walk from our hotel.
"Is this chicken or beef?", I pointed at a picture on the menu and asked my partner. He shrugged and continued examining the Japanese menu. To make things tougher, each burger came with multiple variations, each being priced differently. What's the difference?
Both of us studied the menu as if we were participating in a picture-guessing game. LOL! It wasn't an easy game, as the clues were pretty useless.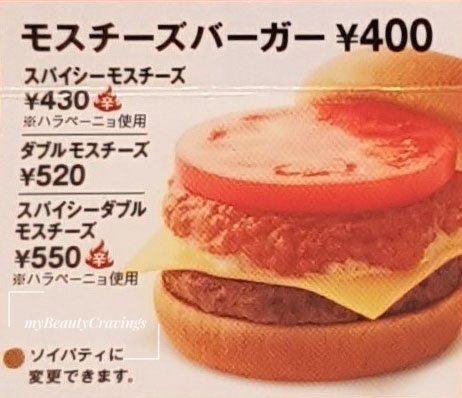 TIP: When writing this blog, I figured that the variations were either 'double patty' or with 'special spicy sauce' (I think). In any case, some MOS burger restaurants may have English Menu, i.e. if you request for it at the counter.
In the end, I decided on a burger which I'd thought was Beef because it's the priciest (ordered the burger on top left corner – ¥460) and a cup of iced red tea (¥125).
It was lovely to receive a freshly-cooked burger that was served piping hot. Alas, I'd somehow ended up ordering a non-beef burger. I think it was Chicken. Oh wait, maybe it's pork. LOL! I honestly do not know. Ha Ha! Hmmm, in that case, it seems like Chicken or Pork is more expensive than Beef on this island.
MOS Burger: What's the difference as compared to Singapore's? 
First of all, the burger in Okinawa was served very hot. Secondly, things were surprisingly pricier in Okinawa. Normally, things are cheaper in the country of origin, isn't it? It doesn't seem to be the case for MOS Burger. The ad hoc burger cost ¥460, which is about S$6. In Singapore, an ad hoc burger should cost 30 to 40% cheaper.
And of course, the menu seemed more complicated in Okinawa, with all those options and permutations. Finally, the last difference was how much nicer the red tea was. It tasted like it was freshly-brewed instead of mass-produced in Singapore.
Great, now that our stomachs were filled, it's time to embark on our first attraction of the day. Seifa Utaki, here we come!
---
Seifa Utaki – Touristy Yet Peaceful Site in Southern Okinawa
(12.20pm)
It took us almost an hour's drive to reach Seifa Utaki (斎場御嶽) from Naha. The place to park our car and buy the admission tickets was located about 10 minutes walk from Seifa Utaki (see location). There were souvenir shops, toilets and a viewing platform at this place.
You'll see ticketing kiosks as soon as you step into the facility. Buying admission tickets through the kiosk was intuitive and easily done.
Even though we were under the shade, we could feel the biting heat from the sun. The public bench was well-placed as it allowed us to slather on a thick layer of sunscreen before making our 10 minutes walk to Seifa Utaki.
The Remote 10-Minute Walk to Seifa Utaki
If it wasn't for the tourists, this long and straight path to Seifa Utaki could have been a deserted road. Other than a handful of casual cafes, there was really nothing much to be seen. Oh wait, there were quite a few vending machines here.
Okay, let's play with the vending machine and get ourselves some nicely-chilled beverage, shall we?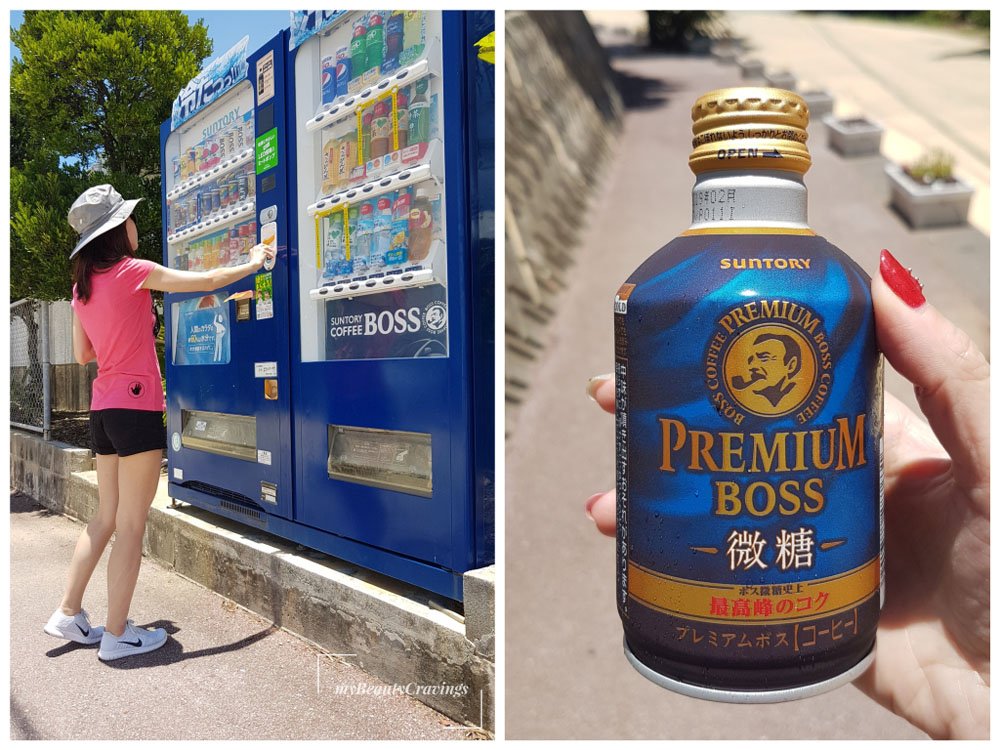 In Okinawa (or Japan), you'll see vending machines everywhere, even in the most remote places. You don't have to worry about getting dehydrated. In fact, I was tempted to buy a drink every time I see one, and I did. My partner had a goal – he wanted to try as many Okinawa-limited beverages as he could get his hands on. So he was as excited as me whenever we spotted a vending machine! LOL!
TIP: Look out for 沖縄限定 on the beverage bottle if you are as obsessed as my partner in getting an "only available in Okinawa" beverage. 
Exploring Seifa Utaki – A World Heritage Site in Okinawa
Upon reaching Seifa Utaki, we were guided to watch a short video in a small air-conditioned room. This was a great place to cool our sweaty body. Imagine we were all wet and sweaty even before the real tour begun. The heat in Okinawa is really no joke!
Luckily, Seifa Utaki itself wasn't that hot – the trails were mostly sheltered by dense woods. To get to the rock formations, we'll need to do a short hike along paved but uneven paths.
TIP: The hiking trail was short, probably just a couple of minutes in between stops. However, please wear proper shoes as the path was uneven. You can easily twist your ankles if you wear heels! Some ladies in front of me were struggling with their platforms. OMG!
Seifa Utaki is a sacred place of worship and is one of the nine UNESCO sites in Okinawa. You'll be standing at the same spot where people in the 15th and 16th centuries used to pray.
Did you know? In the past, only women were allowed to enter Seifa Utaki? Even the king needed to wear a dress to enter the sacred site. Don't worry, men can now enter this site. Of course, you need to put on a dress – just kidding. :)
The first few formations that you'll see won't be that impressive as they are ruins of space such as former cooking quarters.
The Famous Triangular Arch of Seifa Utaki
The final rock formation is the one that would have you whip out your camera intuitively. You'll see an overarching rock formation that forms a triangle that you can walk through. 
This is the most photographed part of Seifa Utaki, and there's a reason. It looks very impressive on photos. For the same reason, you'll see a lot of tourists congregating at this spot, which is quite a cramped spot and is also a dead end.
But not to worry. I noticed that most tourists here seemed to be local tourists, i.e. Japanese from other cities. They were quiet and civil. 
By the time you reach this most sacred place in Seifa Utaki, you have reached the end of the tour. From here, you can get a glimpse of the ocean from a small opening.
Seifa Utaki is relatively small and offers only a handful of rock formations. It took us less than an hour to complete the tour, which included the 20 minutes that we took to walk in and out of the site. You may be interested in visiting this site if you are into history and religion or happened to be touring nearby.
TIP: To travel to this part of the island (South Okinawa), it's better to rent a car. You can visit more places in one day. Prefer not to drive? This Okinawa Main Island Bus Pass can bring you around the island while you sit and relax in the bus. :)
Attraction Info: Seifa Utaki
* Info correct as at time of author's visit
---
Cape Chinen – The most charming Cape in Okinawa
 (1.15pm)
You can walk from Seifa Utaki to Cape Chinen if you want to. It is just a 6-minute walk. Since we drove and the weather was insanely hot, we decided to make good use of our car and its air-conditioning.
TIP: Temperature was about 34 or 35 degree Celsius in June/July. If you think it'll get more bearable by evening, you'll be surprised how hot it was even at 5.30pm. The sun only sets at 7.30pm during summer.
Once we stepped out of our car, we couldn't stop taking photos – we probably took 30 photos, including activating our camera stand. Little did we know then that there was prettier stuff to come. In fact, we felt rather silly after walking further in. Why did we take so many photos at the carpark area?
Yes, the carpark was that beautiful. LOL!
Cape Chinen is strategically located to offer an almost 360 degrees view of the ocean. Even a normal pavilion looked so picturesque against the charming blue ocean. Clouds were fluffy and everything was just perfect. I was in awe with what I was taking in such that I even forgot about how uncomfortably hot it was.
As if the view wasn't gorgeous enough, a few hang gliders floated across the sky to add vibrant colors to the sky. Would you agree that this qualify as the best cape in Okinawa? Don't worry, I'll show you other capes I've been to in Okinawa later – I think I've visited quite a handful. :)
TIP: If cave and theme park appeal to you, the popular Okinawa World is located in the same region. You can get cheaper rates when you book online. Alternatively, this Main Island Okinawa Enjoy Pass gives you access to 12 popular attractions, including Okinawa World. You can use it at a relaxing pace over 5 days.

Attraction Info: Cape Chinen Park
---
Oujimaimaiyu Market – A Local Fish Market in Southern Okinawa
(2.15pm)
Our first option for food in Japan would always be sashimi. Luckily, there's one in Southern Okinawa – at Ojima Island.
Ojima is a peaceful small island that is connected to Okinawa main island by road. It took us only 20 minutes to reach there by car, from Cape Chinen.
The first thing that greeted us when we entered the island was of kids jumping happily into the water from the bridge. They were having so much fun in their own backyard. This is definitely a non-touristy place and that probably explains why most of the market stalls were closed by the time we arrived at 2pm.
Small Fish Market, but it didn't disappoint
We were disappointed when we entered Oujimaimaiyu Market. Not only was it tiny, only two or three food stores were opened. I even contemplated going elsewhere for lunch. The lack of crowd made me worried about the food quality – there were only three groups of customers here, including us. 
We forced ourselves to order something as we were famished. Here's the food we managed to find at the homely-looking Oujimaimaiyu Market.
To our pleasant surprise, the food we'd ordered was quite good. "Very very delicious" was what I'd scribbled on my travel diary.
Clean Toilets – Great for changing into our Snorkeling Attire
As our next activity was snorkeling, I made a brilliant decision to get changed at Oujimaimaiyu Market. The toilet almost looked like it belonged to someone's home. It was clean and dry, and made a great place to get changed. 
Great, I'm all geared up for adventurous activities that would occupy the second half of Day 2 in Okinawa. Stay tuned for more Okinawa stories! Here's another drink I'd bought from a vending machine in Okinawa – Flower Tea. Cheers!
Attraction Info: Oujimaimaiyu Market
Love what you've read? If you like to get notified of newly-published beauty reviews and travel stories, just click the button below to subscribe. I'll even give you some free and exclusive stuff. See you there!
SUBSCRIBE
This post may contain affiliate links, meaning I earn a commission if you make a purchase, at no cost to you. Read my full disclosure for more info.
---
Related Posts:
Pin This!
(Visited 2,216 time, 1 visit today)