Continuing from Day 1 post, I'm going to share what we did on Day 2 at Village Katong Hotel. I'll also provide a summary of pros and cons of this hotel that is located in the Eastern part of Singapore, before ending with an overall recommendation. 
If you haven't read the previous post, check it out as it shares a review of the room amenities and hotel facilities.
Done that already? Great, let's continue our staycation at Village Hotel Katong. 
---
Brunch Options near Village Hotel Katong
I would have loved to have western-style Big Breakfast for brunch, which are aplenty along East Coast Road. But we weren't sure if they were opened on Day 2 of Chinese New Year (CNY). 
My partner, a lover of Singapore Hawker Food (me too actually), wanted to give Marine Parade Central Hawker a try (see location). And so, once again, we strolled towards the direction of Parkway Parade mall, as it's located near the hawker. 
The MRT construction made it a slightly longer walk to get to the other side of the road, but still reachable within 8 minutes or so. 
Day 2 Brunch at Marine Parade Central Hawker
When we reached Marine Parade Hawker, we were surprised by the good number of Chinese stalls that were opened on CNY Day 2.
From Wonton noodle, to spinach soup, chicken rice etc, there were so many local food to choose from. Walking one round of the relatively small hawker, we finally set our eyes on this unique food that is normally not found in a hawker. 
It's Oyster Mee Sua, a typical Taiwanese food. At $5.50 (or $6 with CNY surcharge), this isn't the cheapest hawker food and that probably explains the lack of a queue. But to us, we were just happy to find Chinese food that day. :)
The oysters were large and succulent and the portion was generous (about 5 pieces). But I wouldn't say the broth was outstanding as compared to what I've had in Taiwan. Still, it was a satisfying first meal of the day! 
Prefer Western Breakfast?
Now, if you are a western breakfast lover, you may want to venture to East Coast Road (remember, those stretch of quaint shophouses behind the hotel), and check out the following places (click to view locations):
So, what did we do for the rest of Day 2? Read on to find out!
---
Day 2 Itinerary for a Local
As a Singaporean, we didn't really have an itinerary for the day. We walked to Parkway Parade (err…to use the toilet, hee!) and went shopping at the biggest supermarket located within the vicinity.
That's NTUC Extra – a hypermart where you can get your groceries and daily essentials.
Done with window-shopping at the supermarket, we decided to tabao (takeaway) some snacks to East Coast beach, which by the way is within walking distance.
How to get to East Coast Beach? From Parkway Parade, make your way to NTUC Finest (see location). There's an underground link to the left of the supermarket, which will get you to Parkland Green at East Coast Park.

For info, there's a Starbucks there that faces the popular beach in Singapore. 
Snacking at East Coast Park 
Here's what we bought to the beach – Azuki Ice-blended Soy Milk and mini pancake rolls – both from Jollibean. The mini-rolls came in mixed flavours of red bean, peanuts and cheese. 
Are they tasty? Hmm…you can totally skip the red bean beverage. It was a fail even for non-foodie like me – coarsely-blended and tasted more like water than soy milk. The rolls were ok.
What else can we do at East Coast Park? Unfortunately, the park was packed with people (mostly residents who did not need to celebrate CNY). As such, the tranquil and laidback feeling was absent that day.
It was a very busy beach on this public holiday! :)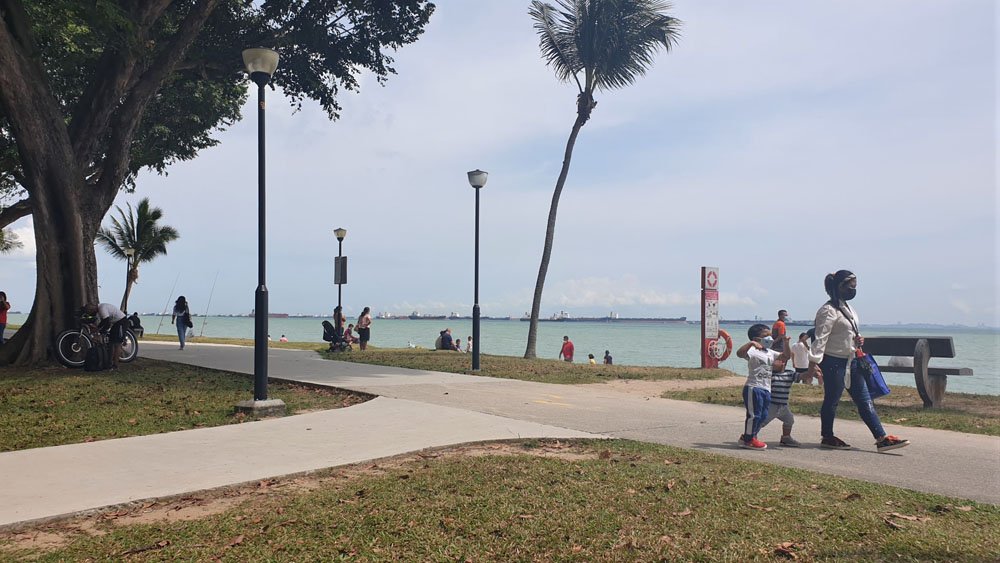 We even walked about 20 minutes towards the nearest Bicycle rental kiosk (see location), but was put off by the long queue.
"We should probably just relax and enjoy our lovely hotel room", said my partner and we made our way back to Village Katong . I appreciated that everything was within walking distance. :)
How much is hotel room? View latest price of hotel room at Village Katong Hotel. 
Kids-Friendly Activities at East Coast Park
Now, if you are here on a normal day, there are many kids-friendly places at East Coast Park, such as the following (click to view locations): 
Me-time! Bathtub Soaking Session
Yes, my partner was right. It was indeed better to stay within our lovely hotel. My partner went to the pool for a tanning session, while I enjoyed some me-time, soaking in the stylish in-room tub and watching TV and snacking at the same time.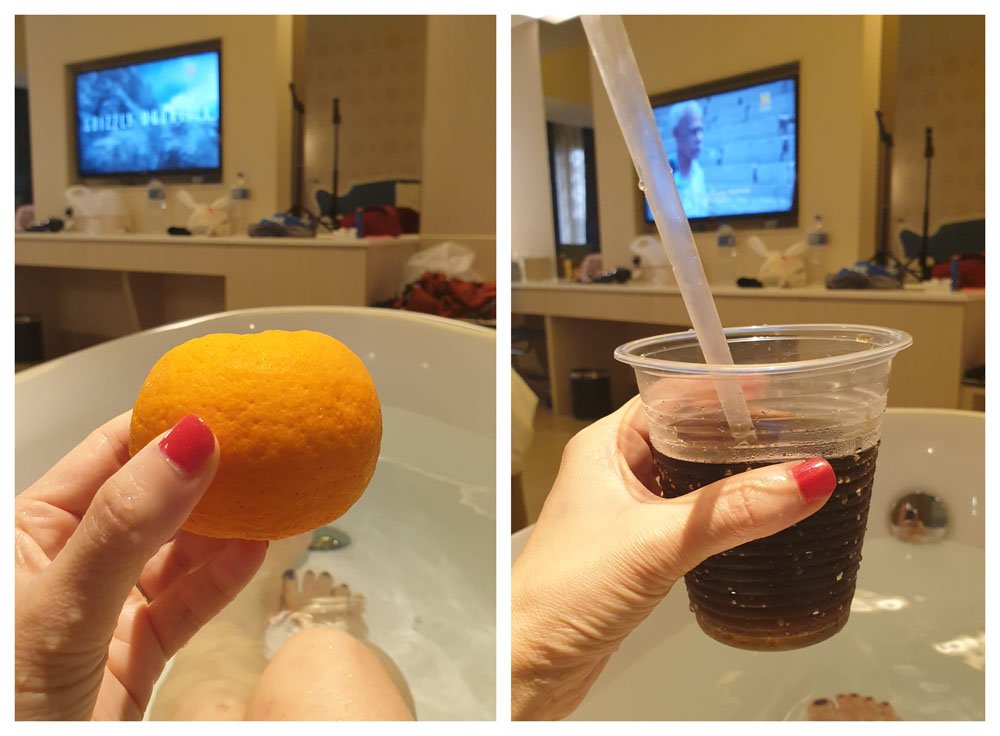 It was a great experience! Totally relaxing and a good break from the hectic work-life in Singapore.
Soon, it was dinner time. What shall we have? 
---
Dinner near Village Hotel Katong 
Once again, we were spoilt for choice when it comes to food around the hotel. We could venture to one of the restaurants along East Coast Road (like we did yesterday), but decided for a change as too much alcohol is not good. LOL!
Once again, we strolled to Parkway Parade shopping mall. When deciding what food to have, we were so lucky to pass by Yakiniku-GO (level 1) which was opened to our pleasant surprise. And best of all, there was no queue on CNY Day 2.
Now, this is not the first time we'd wanted to dine at Yakiniku outlets, but the reservation was normally full even before we could make any bookings. 
Both of us were so pleased with our "find" and rattled off a Chinese poem – "踏破铁鞋无觅处,得来全不费工夫".
Yakiniku-GO at Parkway Parade
We ordered two sets – 1) Lean beef and 2) Chicken & Seafood – at Yakiniku-GO.
It was a great experience being able to grill our own food, but what's even better was how affordable these BBQ meals were. 
All in all, we only spent about S$40 for two. And the food was delicious.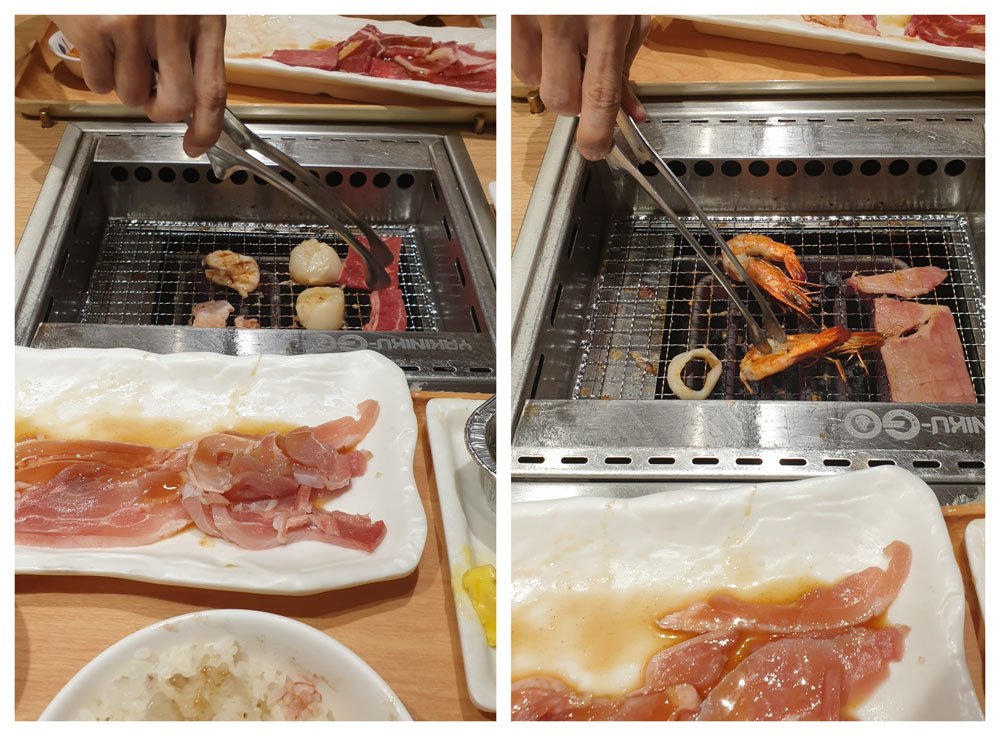 Shopping at Parkway Parade
By Day 2, some of the shops were opened and I bought quite a few pieces of new clothing. These were the first set of new clothes I've bought in a long while.
And yes, I was wearing old clothes throughout CNY Day 1, which is not in line with tradition. It's ok, better be late than never. LOL!
---
Relaxing Time Back at Hotel Room
Village Hotel Katong is truly a hotel that we wouldn't mind spending lots of time within. And so, we came back early.
I started working on Part 1 of this hotel review, while sipping my caffeine-free Winter Spice tea which I bought from iHerb. 
TIP: Check out my iHerb to-buy list here. New users also get USD5 discount.
When both of us got hungry nearing midnight, we took out our grocery ration – Nong Shim Cup Noodles.
Ooo….instant noodles are delicious and they are something I would only indulge during weekends or public holidays (because they are carbo-laden). 
One thing marred my staycation experience
Soon, it was time to sleep. And that was when I suffered from extreme coldness which was the single imperfection of this entire staycation experience. 
As shared in my first post, the room temperature was 21 degree Celsius (actually felt like 16 or 18 then probably due to strong fan from aircon vent).
My hands and feet – turned icy-cold even under the blanket which was quite a rare experience (as I'm normally very "warm-blooded" – mosquitoes love me). I was equally puzzled by this strange phenomenon I was experiencing because 21 degrees didn't sound very cold, especially with blanket.
I reckoned that it could be the late night supper that I had which drew blood away from my extremities to the stomach to digest the food? 
I struggled for a few hours, and eventually managed to sleep only after I got up to put on layers of clothes, as well as having a thick pillow totally covering my face and chest. 
Therefore, do follow my earlier tip to highlight temperature issue with the hotel earlier in the day, when it would be less convenient for rectification to be made than say, at 2 or 3am.
---
Day 3 Breakfast near Village Katong Hotel
Since we had to check out early, breakfast was a brisk affair. We walked to Subway at Parkway Centre with the intention to go for a quick McDonald's breakfast, but was drawn by Subway's flatbread (or wrap). 
Check out my bacon and egg breakfast, at this very windy outlet. See my hair being blown by the wind? 
---
End of Staycation – Checking out of Hotel
And then it was time to check-out. Parking at the Village Katong Hotel is free for guests by the way. Just remember to request for a complimentary parking coupon when exiting.
Read on and I'll share a little more about the hotel's location, especially from the perspective of a tourist. 
---
Location of Village Hotel Katong – From eyes of a tourist
Village Hotel Katong is not located within walking distance to MRT (or train), though they are currently constructing a new track line. Therefore, you would need to take taxi or try out Singapore's bus services to get to popular tourists destinations.
Google map is a good app to find travel directions, including which bus to take and where to alight.
> RELATED: 11 Non-Touristy & Authentic Singapore Experiences: Insider Tips from a Singaporean
The good thing about this hotel is that it is located not far from many tourist spots, such as the following:
Gardens by the Bay
Merlion Park
National Museum of Singapore
National Gallery
Fort Canning Park
Iconic buildings such as Marina Bay Sands and Esplanade
Suntec City Shopping Mall
All the above can be reached within 15 minutes by car or taxi ride. 
Now that we've come to the end of the post, let me summarise the pros and cons of Village Katong Hotel.
---
Summary
What's Good? 
Spacious (for Peranakan Room)
Lovely design and good layout
Close to food, amenities and malls
Walking distance to popular beach
Relaxing vibe
Short taxi ride to many tourist spots
What's Bad?
Service not great
Small pool
Very cold room, with irresponsive thermostat
Not connected by train (but would be by year 2024 or so)
This hotel takes in SHN guests (you can hear the tele-conversation when you walk past the front desk)
---
Recommendation: Should you book Village Hotel Katong? 
If you are a local resident looking for a relaxing staycation, then you should totally consider staying at Village Hotel Katong. It's a great place to relax and basically have zero itinerary. 
For tourists, you would stay here if you are open to not staying near an MRT line. You would probably either be taking taxi or be adventurous enough to try Singapore's bus services. There are many tourist places that you can get to that are located at the south-central part of Singapore. 
This, as I've shared in the post title, is the best staycation I've had thus far in Singapore. Looking forward to finding another hotel that can beat this experience. Rating: 4.5/5
Do you find this post useful? If you like to get notified of newly-published travel stories, just click the button below to subscribe. See you!
This post may contain affiliate links, meaning I earn a commission if you make a purchase, at no cost to you. Read my full disclosure for more info.
SUBSCRIBE
(Visited 758 time, 1 visit today)