What did we do after exploring the northern tip of Okinawa? We waded through a river to get to Ta-Taki Falls, feasted on a fabulous steak dinner – the best dinner we've had in Okinawa by the way – and shopped through the night at Mega Don Quijote and MaxValu Nago.
Have you checked out what we did in the morning on Day 5? Do check it out first for better story flow. Done that? Okay, let's go river trekking! :)
---
How to Get to Ta-Taki Falls in Okinawa?
(2pm)
It was mid-afternoon by the time we bade farewell to Big Bird and began our journey to Ta-Taki falls.
To reduce the risk of getting stranded in the "wilderness" after nightfall, we'd to hurry up. This means we had to skip proper lunch and activate our emergency ration.
A Quick Lunch in the Car to Preserve Daylight Hours
Here's our glorious lunch for your viewing pleasure – a Teriyaki Burger that I got from the supermarket a day before!
Can you believe that this came from the bread section, like where you would normally buy bread loaf? I certainly didn't know beef and cheese can be sold this way – non-chilled…and probably heavily preserved. :P
Do you want to know how it tasted like? I can only say that it's forgettable. :) Well, can't really complain much when a burger cost just ¥100+. As an emergency ration, I think it's pretty awesome! Ha Ha!
Decent Amenities at Ta-Taki Falls
(3pm)
An hour later, we reached the car park of Ta-Taki Falls (see location). Our first impression? Not too shabby leh! Ta-Taki isn't as wild and remote as what we'd initially thought. The car park looked new and came with ample lots. You can also get changed at the shower room located next to the car park.
TIP: Today's itinerary requires a car. Anyway, self-driving is the best way to explore Okinawa. Take a look at this highly-raved car rental option.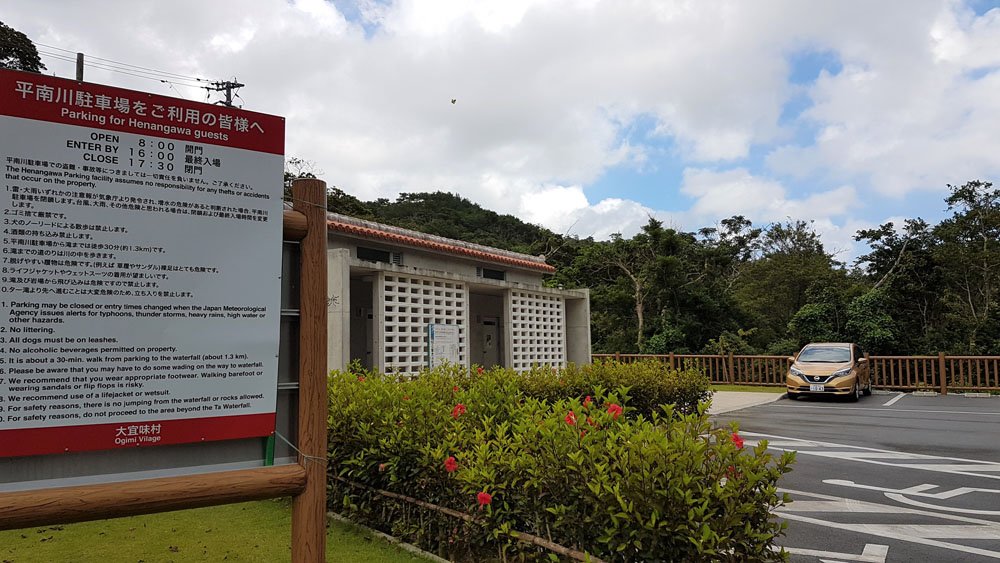 The Trek to Ta-Taki Falls Begins
The trail entrance to Ta-Taki Falls can be easily seen from the car park. We entered the trail and found ourselves hiking along a well-paved path, sheltered by dense forest canopies.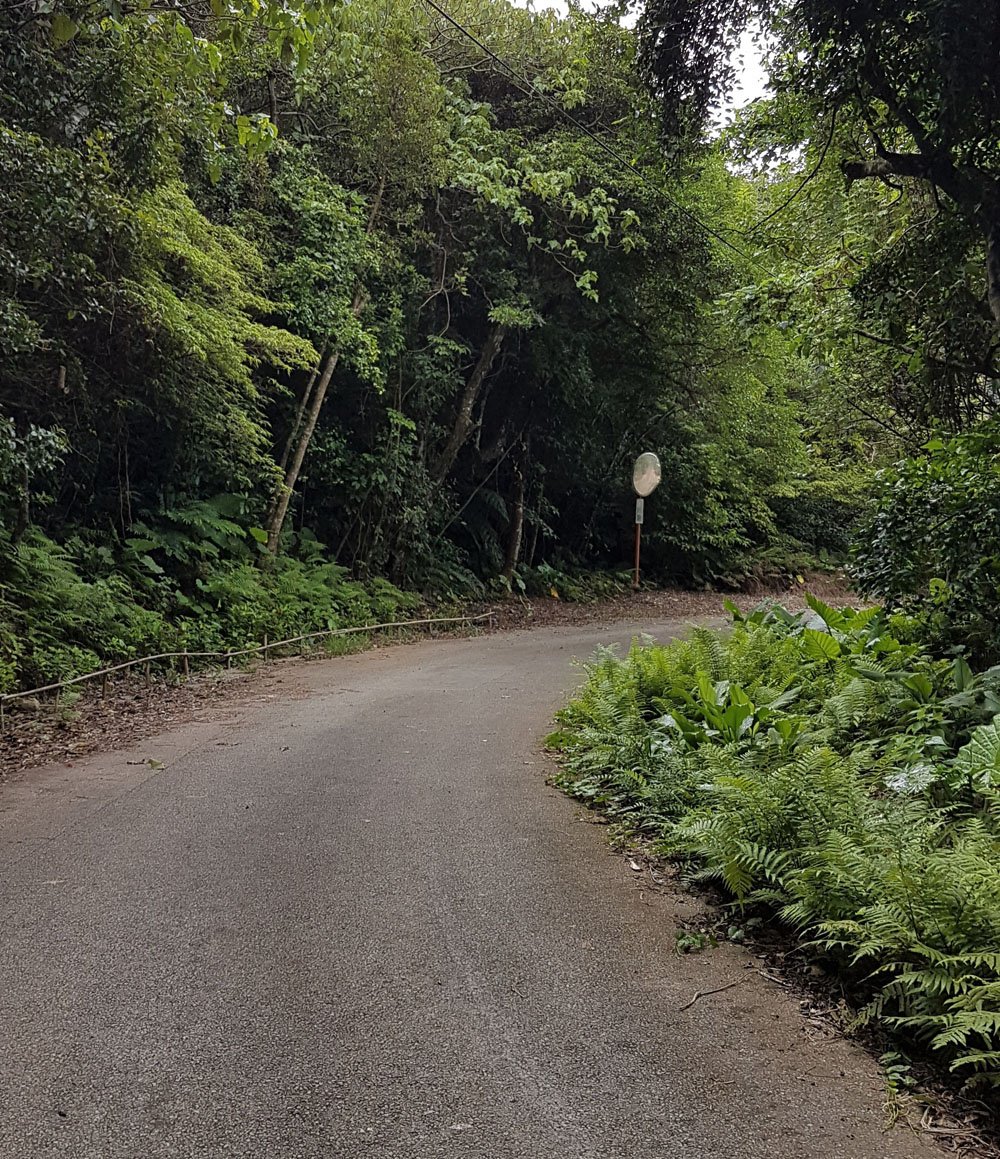 This dry part of the hike didn't last for long. Soon, we came to an information board where we were reminded of the closing hours – it's 5.30pm by the way.
This juncture is also the spot to get into the shallow river.
River-Trekking at Ta-Taki Falls
Trekking through the river was a fun and relatively easy affair. Unlike some of the rivers that we've trekked, the river bed and rocks at Ta-Taki Falls weren't slippery. As such, we were able to enjoy the hike without worrying too much over slipping or falling.
There's also little risk of getting lost because the trail at Ta-Taki was a straight-forward one, unlike Hira Falls which we would be visiting on Day 6.
Over here, you aren't presented with multiple forks to make you ponder over which direction to take.
Perhaps, that's the reason why we saw young families here at Ta-Taki Falls.
TIP: Aqua shoes or hiking sandals is necessary as you'll be walking over rocks and stones. You'll also need proper footwear to scale the rocks and do some climbing. Flip flops is not recommended.
The Natural Pool at Ta-Taki Falls
We waded through the river for about 30 minutes before we saw the first fall of the day.
"That rapid can't be the waterfall, right?"
Both of us couldn't remember from our research on how Ta-Taki Falls looked like as we didn't have any internet connection.
TIP: Remember to get WiFi access when travelling in Okinawa (or in Japan) as you'll need it for navigation, logistics planning, live research and even voice/photo translation.

You can either collect a WiFi portable device in Singapore (up to 5 devices) or pick up a SIM card at Naha Airport.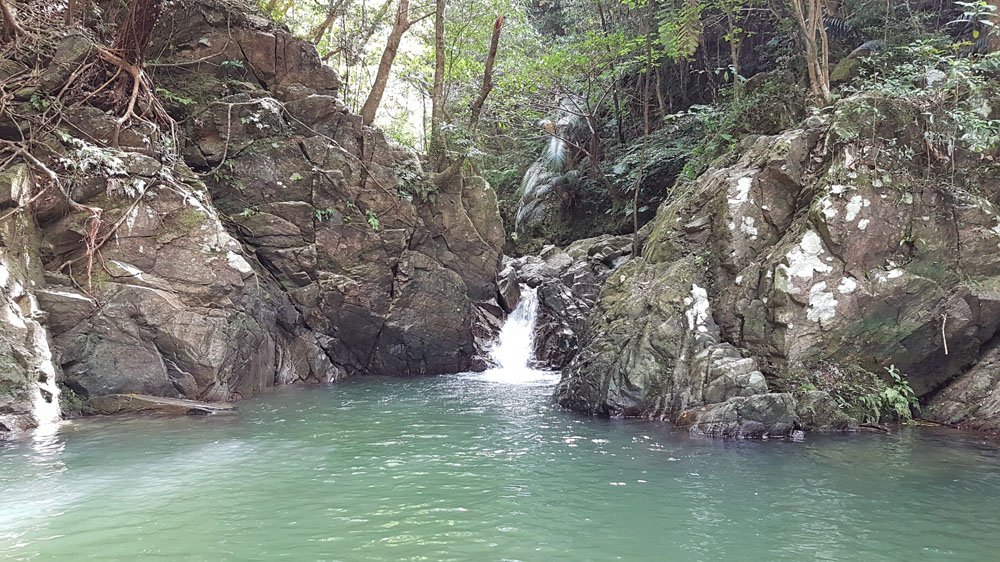 "30 minutes hike to see a rapid? Ha Ha Ha," Both of us laughed out loud!
At this point, we regretted making our way here. However, we were also harboring hope that a grand waterfall could be hiding deeper in the forest. Because, there's no way we would have included a rapid as a hiking destination. Our standard for waterfall is quite high, okay? Heh!
But how should we proceed? There wasn't any obvious path for us to continue our hike.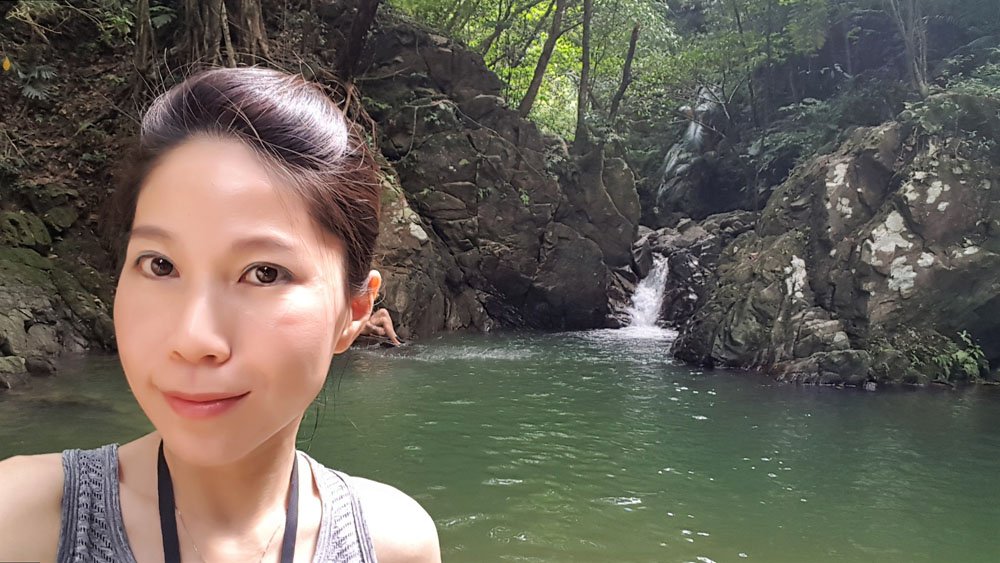 Trying to make-do with what we had, we spent some time swimming at the natural pool. It was deep and cold! See how I was using my yellow noodle to boost my water-confidence.
Sigh! Even that kid at the top of the rapid was more daring than me. Hee!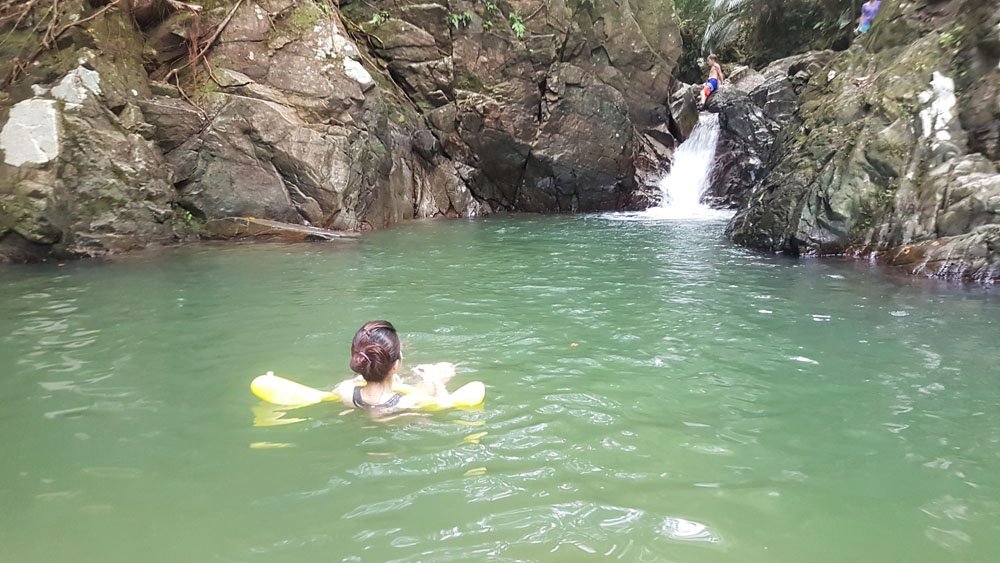 Did you know? I nearly drowned when I was a toddler. I slipped through the circular float and was in the water for a long time, drinking water and watching adults kicking legs. Luckily, a stranger picked me up just in time. I then spent the rest of the week puking and recovering from severe diarrhea.

Wonder if this incident has anything to do with my fear of deep water. I can swim and float, you know? But I am still fearful if the water is deeper than my height. Subliminal fear, maybe?
Asking for Direction from Local Residents
After frolicking in the pool for a while, we saw some Caucasians returning from deeper within the forest and I approached one of them.
"Is there another fall further in?"
"Yes. There's a bigger one about 10 minutes away. You'll have to climb over those rock walls to get to it!" the teenage girl pointed to a cliff by the river edge.
Great! This wasn't a futile hike. There's more to be seen. Let us continue our hike!
RELATED: The Main Island Okinawa Enjoy Pass gives you access to 12 popular attractions, with many of them located in this part of Okinawa (north). You can use it at a relaxing pace over 5 days. I find this pass to be of exceptional value and wish I'd seen it prior to making my trip. 
Ta-Taki Falls: Hiking to the Twin Falls
Climbing over those rocks was the most challenging part of the trail. Luckily, there were ropes to aid us in the steep ascend.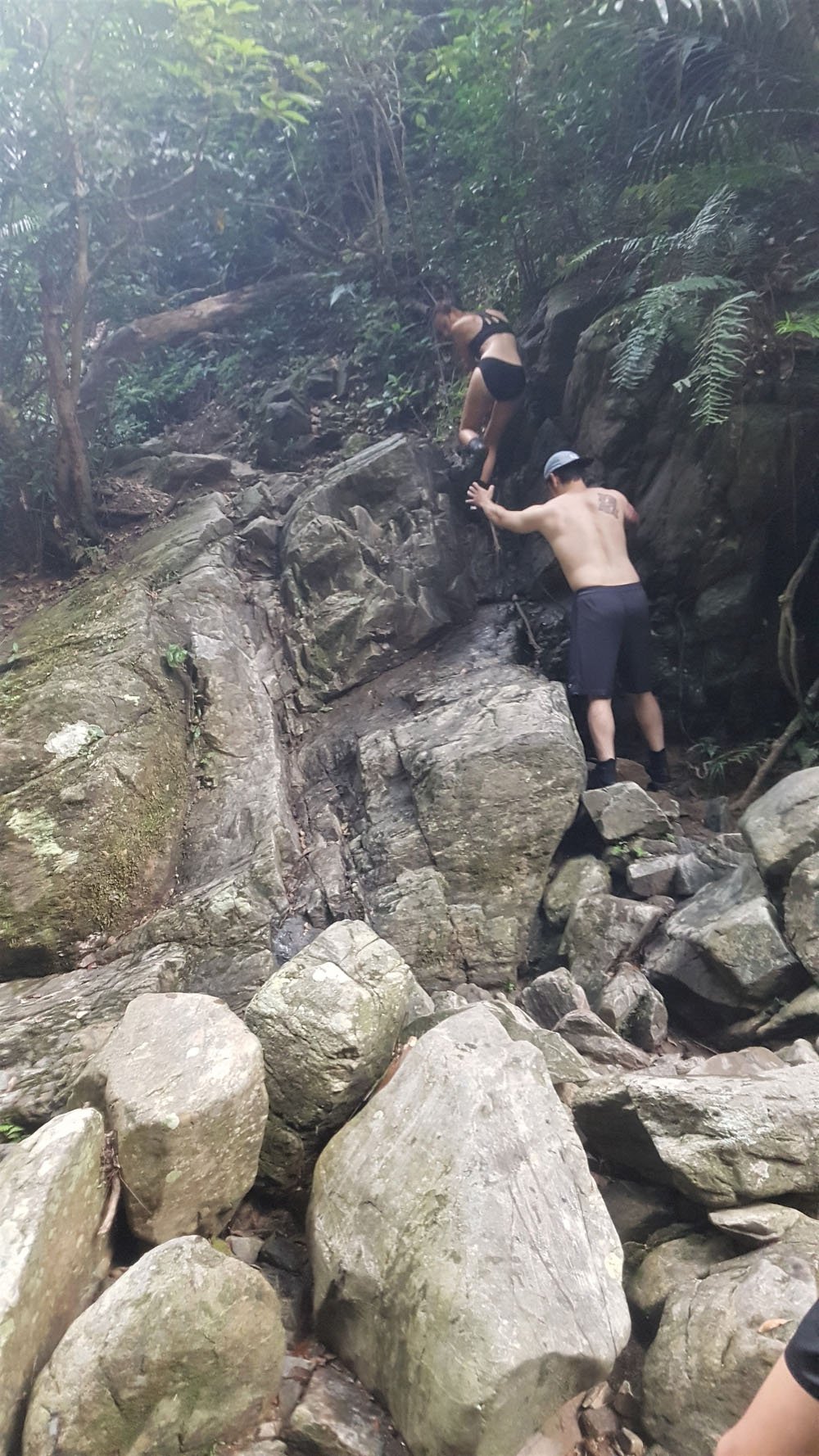 Once we finished the stunt, we found ourselves back down in the river. The landscape from this point forward was a lot more rugged. You'll see trunks, boulders and other obstacles that you would need to get through. It's not difficult as the river is still shallow at this point.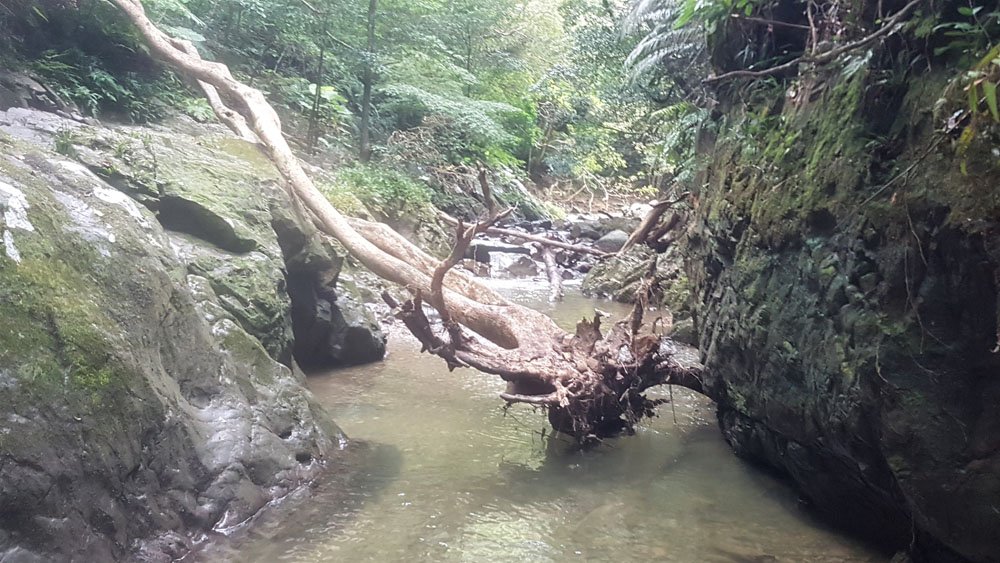 Here's a series of photos showing how it is like wading through Ta-Taki river.
Then, we heard the sound of nature! The falls were calling us from a distance. Within a minute, the falls were right before our eyes. Ah! No wonder we chose to visit Ta-Taki falls.
Look at the tall and powerful twin falls! It's definitely a sight to behold.
The waterfall was so powerful it made the whole place breezy and cold. Imagine how my teeth were chattering non-stop even though I was there during the summer season (June).
Well, how not to feel cold when you are blown by a huge fan while soaking in the 26 degree Celsius chilly water?
And I wasn't trying to mimic a commercial pose in the photo below, okay? :) I was shivering so hard I clenched my fists to support my vibrating chin.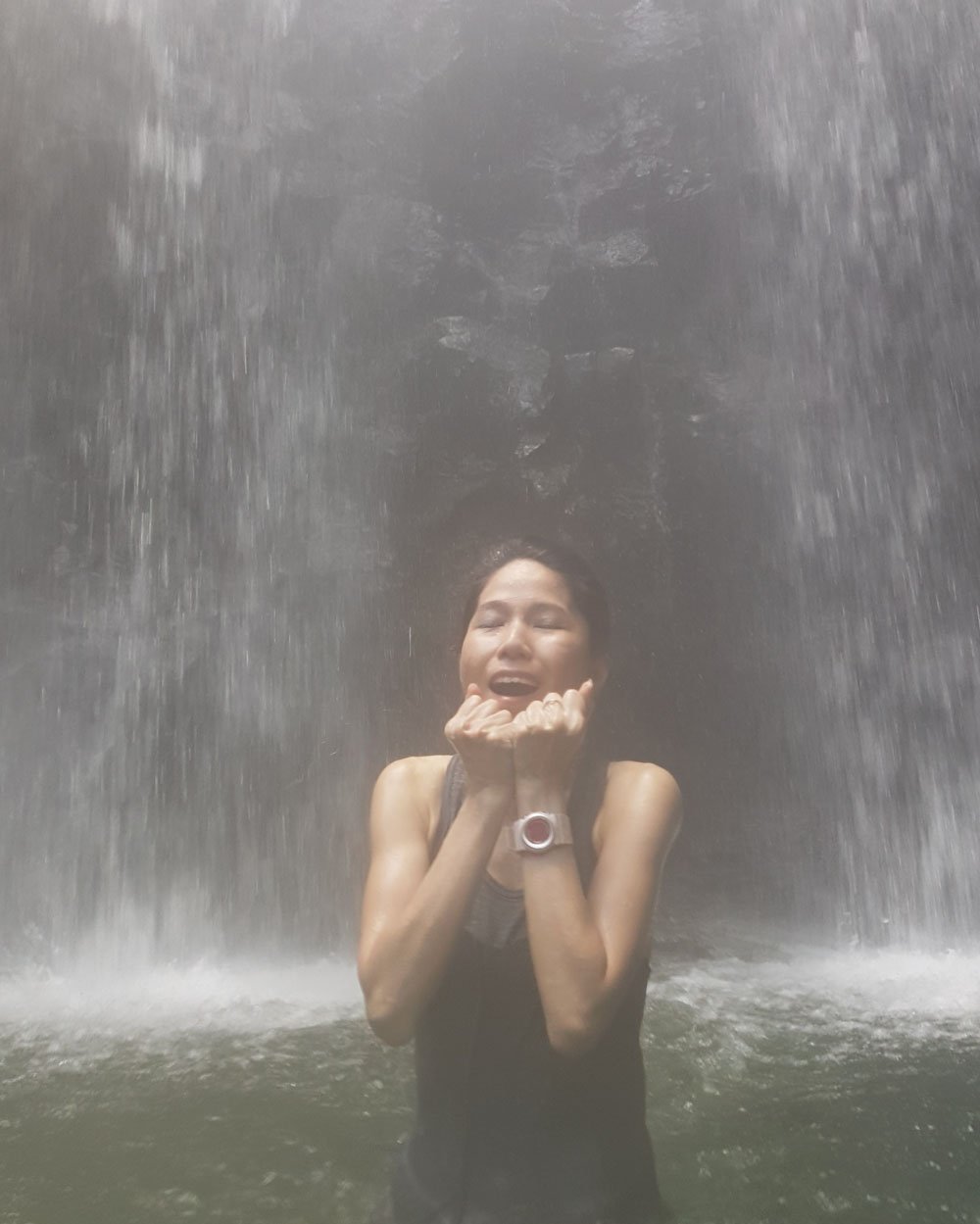 What's the best way to avoid the huge fan? We played Tarzan with a swing rope and jumped right back into the water. It was fun!
---
Getting out of Ta-Taki Waterfall
How we got in was how we needed to get out. Just reverse all the way, including climbing the steep vertical rock, and soon we were back at the car park.
The clean and spacious shower & changing room came in handy. I love how it came with shelving space where I could place my bag of dry clothes and get changed comfortably.
I didn't bath, but if you need to, it cost ¥100 to get the water flowing, though I'm not sure how long it would last.
TIP: The good thing about dipping in river/waterfall versus sea water is how you won't get all sticky and uncomfortable. In fact, it felt like mother nature had just given us a good bath.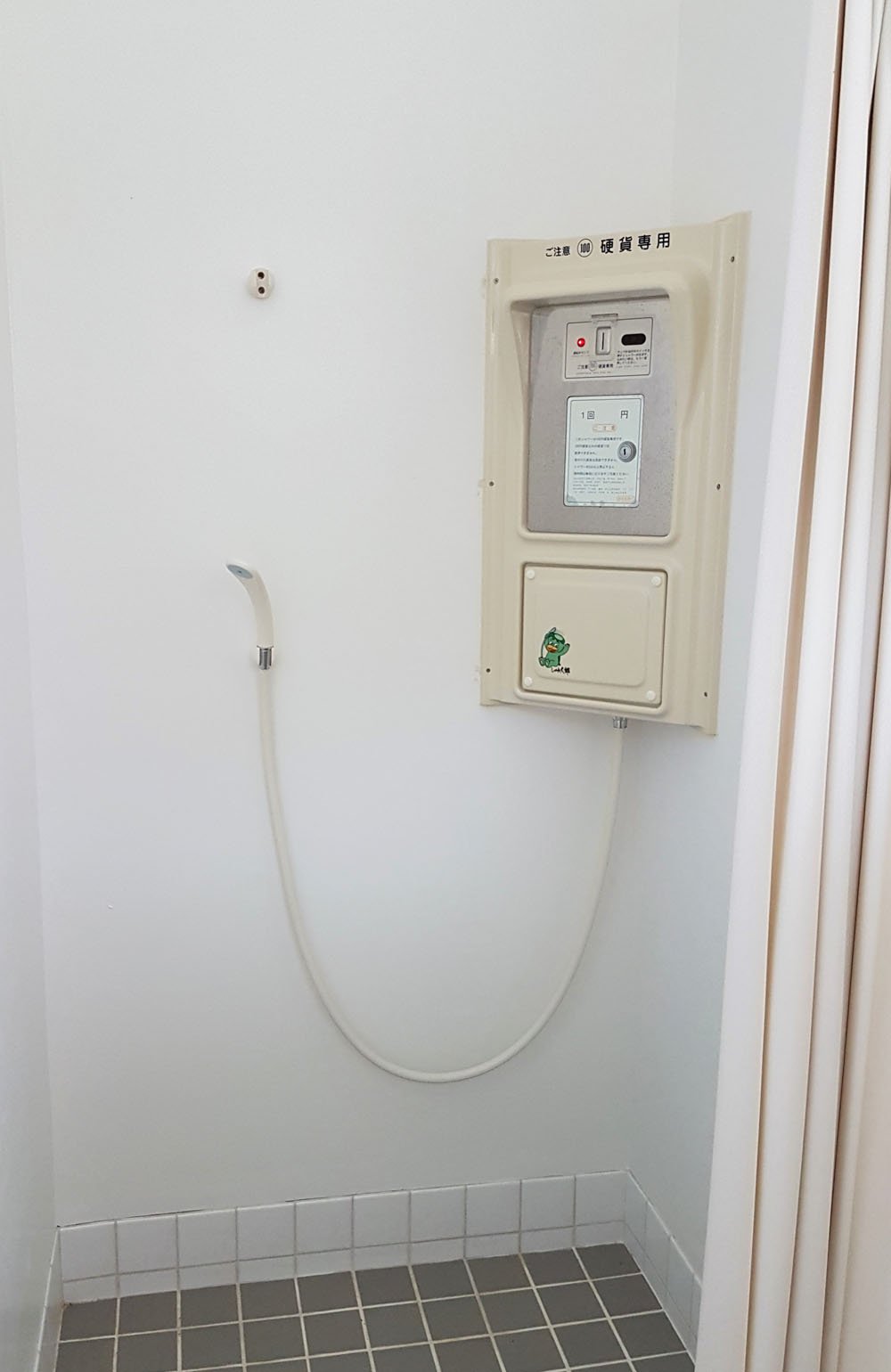 Ta-Taki Parking Fee
Parking fee at Ta-Taki falls was charged at ¥300 for one hour; ¥400 for 2 hours and ¥500 for 3 hours. Not cheap for a place that belongs to nature. But the experience was worth it.
Our parking bill came up to ¥450 and it was manually collected by a chap.
Should you visit Ta-Taki Falls?
If you love nature and hiking and happened to be in north Okinawa, then I think Ta-Taki Falls is definitely worth a trip.
This twin waterfalls seemed popular, especially among the Caucasians. How do we know? Well, we were the only Asians there.
Knowing the significant US Military presence in Okinawa, I believe these people whom we've met were short-term residents and not tourists.
Overall, Taa-Taki was enjoyable and we felt safe trekking through it, mainly because it was shallow, well-visited and not too remote. There's minimal risk of getting injured or lost in the trail.
Well, I can't say the same for my gel manicure though – it was brutally mutilated. He He!
Err…wait till you see our hike at Hira Falls (coming up on Day 6). That was so darn tough!
Attraction Info: Ta-Taki Falls
Opening Hours: 8am to 5.30pm (enter carpark by 4pm)
Hike duration: 30 to 40 minutes one-way
Recommended total duration: 2.5 hours
---
Best Dining Experience in Okinawa – Restaurant Flipper
(5.45pm)
We could have gone back to our Airbnb to do a proper clean up and dress pretty for dinner. Thank god we proceeded straight to Restaurant Flipper as this local favorite outlet recommended by our Airbnb host was full-house even before the clock struck 6pm.
> TRAVEL & SAVE: Get $45 off your first Airbnb Stay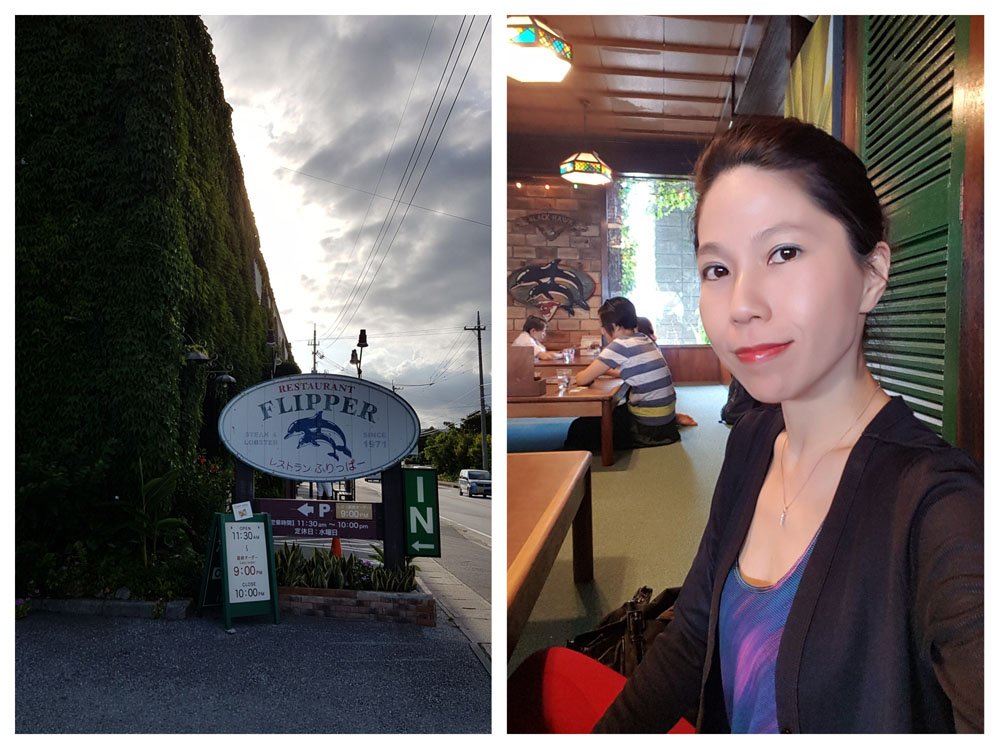 We saw a queue pole outside the restaurant indicating a waiting time of 40 to 50 minutes. The staff who attended to us told us that we didn't have to wait if we choose the floor seats (Japanese dining area).
I gladly took it because I would grab any chance to dine like a local, even if the seat didn't match our western cuisine.
Tender & Juicy Steak Dinner in Okinawa 
My order of 230g of fillet minion came as a set including a separate bowl of salad, an iced coffee (or tea) and some toasts.
Let me tell you this – the steak from Restaurant Flipper was so tender and flavorful, it's probably the best steak I've had in a while. I opted for a medium steak and it was cooked to perfection. We were deeply impressed!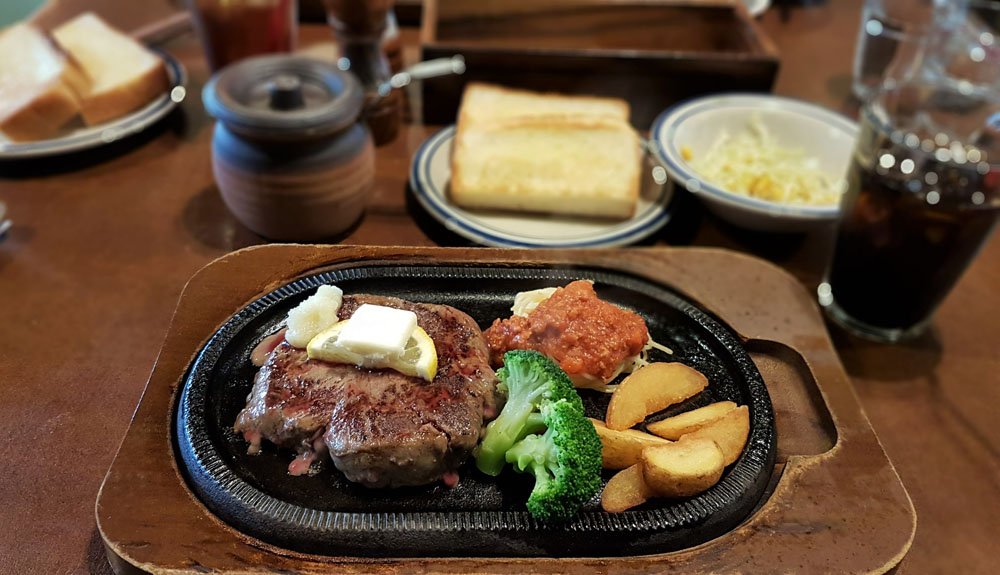 The butter and meshed garlic toppings gave it added flavor, and the spaghetti bolagnese, potato wedges and broccoli made sure we walked away feeling full and satisfied.
My order came up to ¥2200 (per set). It's not cheap as compared to the average price of a meal in Japan. But, if you compare it to what you have to pay in Singapore, this is freaking dirt cheap. :)
I'm not a foodie and hardly appreciate good food. This was a rare moment when I couldn't stop nodding my head in approval while savoring the juicy beef.
Restaurant Info: Restaurant Flipper
Opening Hours: 11.30am to 10pm (Closed on Wednesday)
Average dining cost: ¥2000+ per person
---
Sunset Viewing at "Nago" Beach
(7pm)
You've read about how spacious our Airbnb unit in Nago was. Another selling point of this Airbnb was how close it was to the beach. I could see the ocean without even stepping out of the backyard.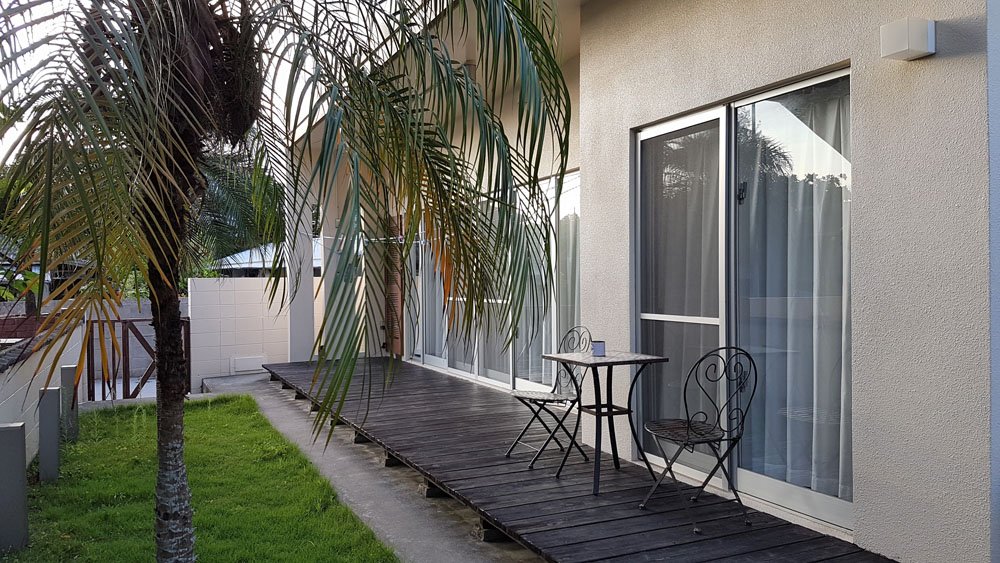 Since the beach was so near, we decided to walk there after parking our car.
The horizon view from the beach was not bad, but the beach itself wasn't appealing. You don't get clean white sand like those you see in Boracay & El Nido. Anyway, we stayed briefly just to catch the sunset.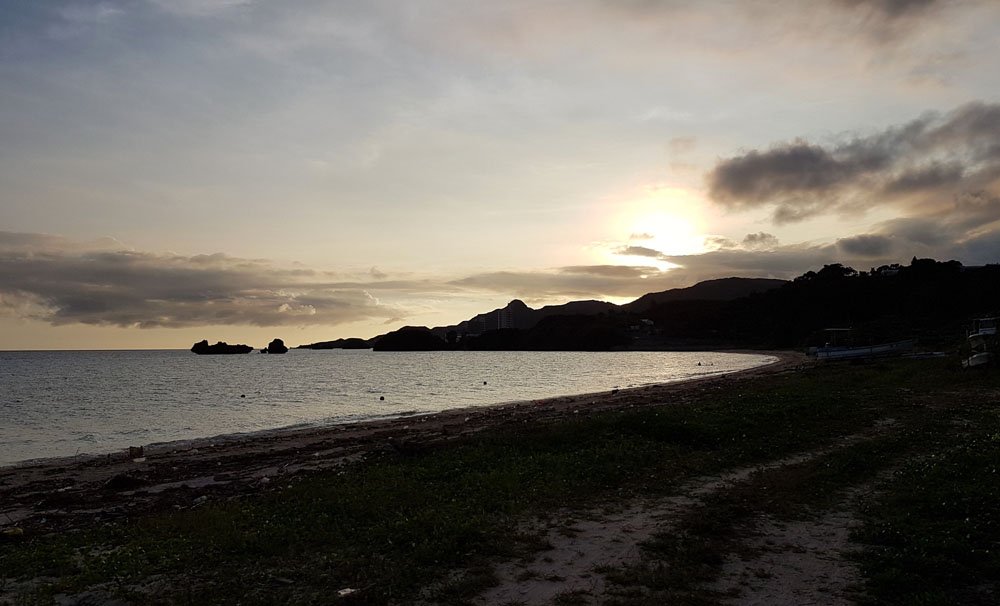 ---
Late-night Shopping: Mega Don Quijote Nago & MaxValu Nago
(11pm)
How nice is it to have the option to shop anytime you want, even past midnight?
That's the good thing about Japan. If you think Nago, being the less popular city of Okinawa, lacks shopping options, you'll be surprised.
We could shop till wee hours at Aeon, MaxValu or Mega Don Quijote Nago. That's what we did when we got hungry at 11pm and decided to hunt for supper. :)
Cozy Outlet at Mega Don Quijote Nago, Okinawa
I've been to three Don Quijote outlets in Okinawa at this point (Ginowan, Naha & Nago) and the one at Nago is the smallest branch. Ironically, this branch has a "mega" in its name.
Since I'd just bought quite a lot of stuff from the Ginowan Branch a few days ago, I couldn't find anything new that caught my eyes.
The ready-to-eat food section at Mega Don Quijote Nago also didn't present much options at this hour. Hence, we moved on quickly to MaxValu.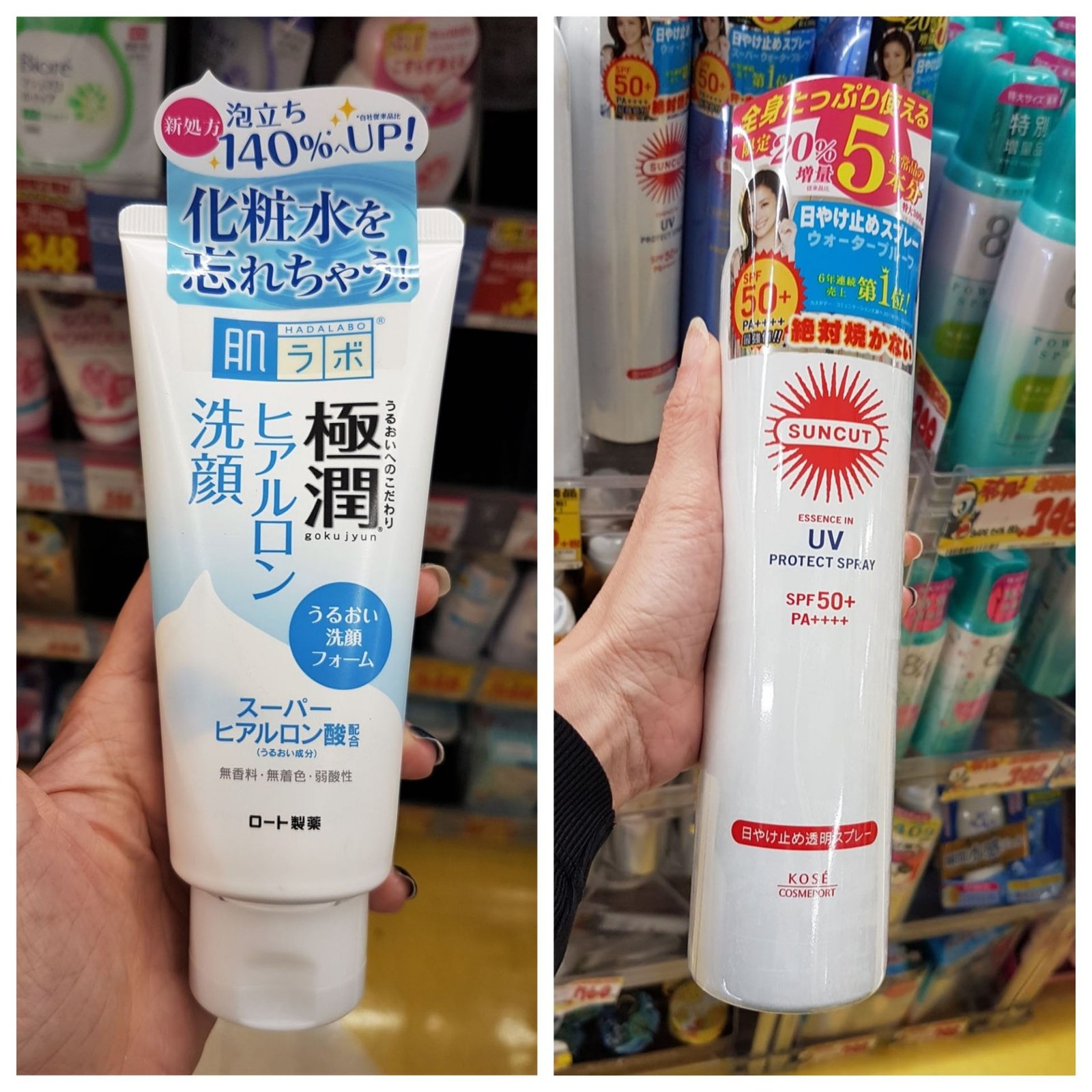 Attraction Info: Mega Don Quijote Nago
Opening Hours: 9am to 3am
Supper Hunting at MaxValu Nago, Okinawa
(12am)
MaxValu Nago was a better place to hunt for food at this hour. We got ourselves some grocery and snacks and headed home.
Here's our "home-made" supper. Hot and flavorful Japanese instant noodle and a bottle of sake! Life is good!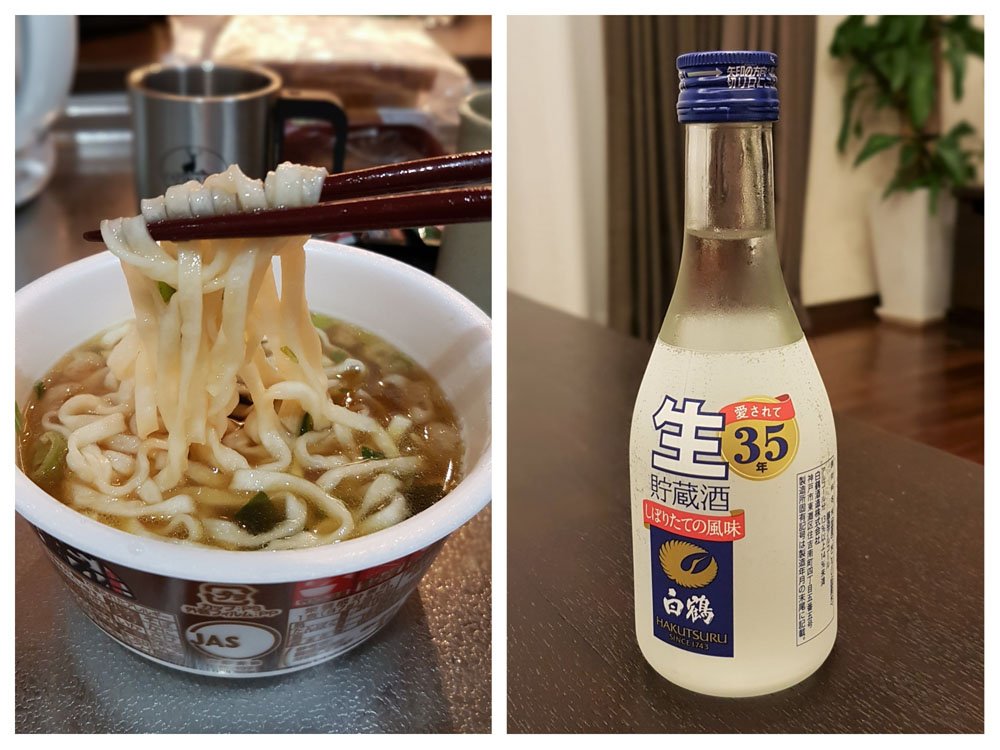 Attraction Info: MaxValu Nago
That's all to Day 5. North Okinawa is fun and interesting, isn't it? Day 6 would be equally fun! Stay tuned!
Don't forget to click the button below to subscribe to newly-published honest reviews. As a subscriber, you'll get access to free and exclusive stuff. See you soon!
This post may contain affiliate links, meaning I earn a commission if you make a purchase, at no cost to you. Read my full disclosure for more info.
---
Related Posts:
Pin This!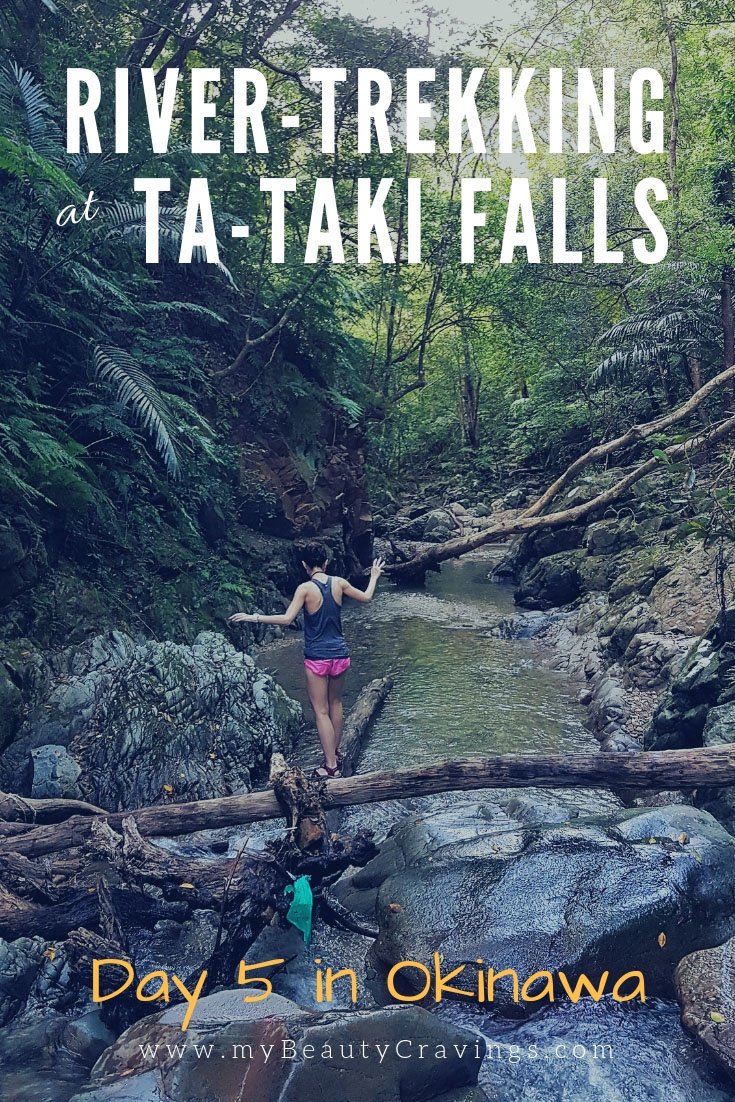 (Visited 1,750 time, 1 visit today)