Day 2 of my Taiwan 8 Days Trip would be an interesting out-of-city venture to the northeastern mountainous region of Jinguashi (金瓜石) and Jiufen (九份).
To get to these locations required a combined usage of railway train and public buses. Good luck to me, because I might get lost without WIFI Prepaid Card.
---
Oh No…I'm Gonna Get Lost without WIFI Card! 
(6.40am)
Being highly dependent on Google Map and GPS, it was almost a necessity for me to have internet connection when travelling in unfamiliar regions. It would be even more crucial today since I would be out of the comfort of Taipei City….all by myself.
You have read about my wrong decision in not getting a prepaid data card at the airport. Now, I would have to pay the consequences. After asking around at a few convenience stores located around Taipei Main Station, they told me they did not carry any prepaid cards. Even the telco shops said they'd run out of stock. Was that even possible? 
Update: You can now book 4G Sim Card or Pocket WiFi online and collect them at Taipei Taoyuan Airport. I've used the latter in my latest 2019 Taiwan trip and here's my review of Taiwan 4G Pocket WiFi. 
---
A Confusing Journey to Jinguashi (金瓜石)
(7.20am)
Railway from Taipei to Ruifang (瑞芳)
By now, I had bought my Express (Tze-Chiang 自强) railway tickets to Ruifang (瑞芳) Station (NT136 return) and was waiting by Platform 4A.  However, I couldn't make sense of which train I should board. Similar to what was shared online, the displayed information was not useful. I had to ask two locals on which train to board. 
My initial decision to pay more for an Express ticket was because I'd thought that would entitle me to an assigned seat, on an exclusive Express Train. I didn't want to end up having to stand the whole journey, like what happened to some. 
My decision was wrong again. Holding an express ticket did not entitle me to any assigned seat. Furthermore, normal ticket holders (區間) could also board the express train. The only difference – if the train was full, those holding a normal ticket would not have access to certain carriages of the train.
Instead of a potential peak-hour morning ride that I was expecting, the train was half-vacant. This means that normal or express ticket holders seemed to be enjoying the same comfort. If I could rewind the clock, I would have just bought a normal railway ticket to make life easier.
Bus from Ruifang (瑞芳) to Jinguashi (金瓜石)
(8.30 am)
Online resources that mentioned about boarding buses opposite of Ruifang Station (in front of Welcome 顶好 convenience store) is no longer accurate.  The correct instruction to travel from Ruifang to Jinguashi and Jiufen is: 
1)  Cross the road to opposite side of Ruifang Station. You should see the convenience store
2) Turn left and walk about 250m to a bus stop. If I remember correctly, it's around/after Minquan Street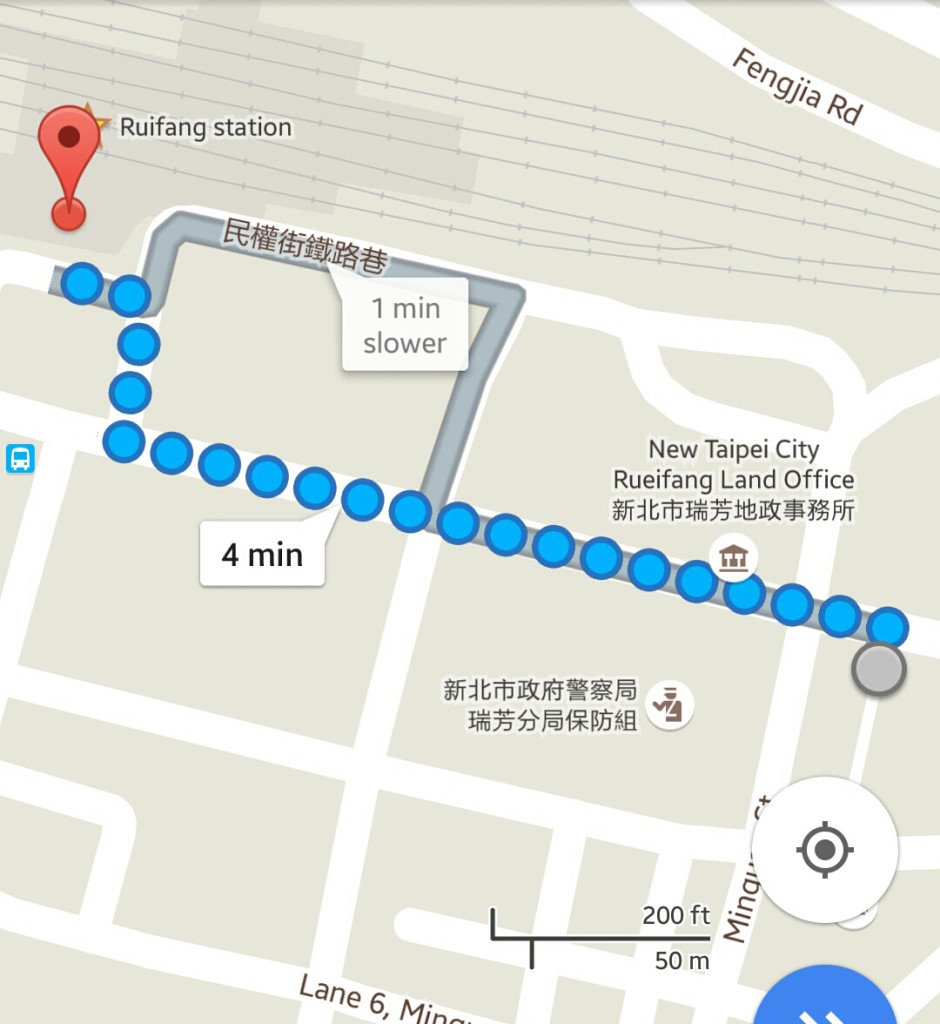 3) Board bus 788 or 1062 (tap your EasyCard when boarding and alighting)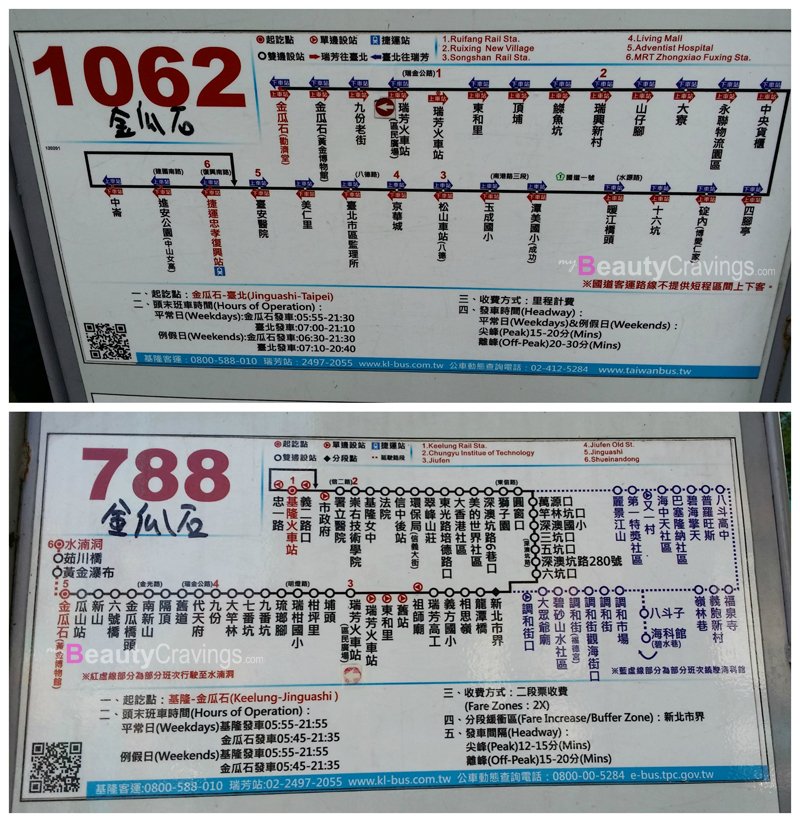 TIP: When boarding public buses in Taiwan, some require you to tap your EasyCard when boarding and alighting, while others require tapping only when boarding or alighting the buses.

There are instructions on board, but you may not have the time to figure it out. I never did and found it quicker to ask the bus driver, than to make everyone behind me wait. 
4) Sit on the left side of the bus for better scenery
5) Bus passes by Jiufen first
6) Alight at Jinguashi
Update

: Unlimited Train Rides and Free Admissions to Top Attraction via "Taipei Fun Pass"
If you want unlimited access to public transport and free entry to 12 top tourist attractions, the very popular Taipei Unlimited Fun Pass seems like a good deal. It even provides unlimited rides on 5 Taiwan Tourist Shuttle routes, including the Golden Fulong route which will bring you to places covered in this post.
I think this Fun Pass gives exceptional value if you are visiting the Taipei 101 Observatory and the National Palace Museum because both admissions aren't cheap. If you are also traveling to places that require Taiwan Tourist Shuttle to reach, then it is almost a no-brainer to get the Fun Pass. Unfortunately, this wasn't available during my visit.
---
Exploring Jinguashi Gold Ecological Park (黃金博物園區)
(9.10am)
Guess what was the first thing I did after reaching Jinguashi Gold Ecological Park (黃金博物園區)? I went to the toilet and remove the tights worn underneath my shorts.
Thank god I was wearing this combination, for Jinguashi, a town set along hillside and rolling mountains, was so hot even during the autumn month of October.  The temperature in the morning hovered around 30 degrees or so.  No breeze too.
Jinguashi Gold Ecological Park comprises a few "attractions" relating to its gold and copper mining history. The park was free to enter, but some of the attractions/activities within required separate charges.
Contrary to my expectation, the attractions were compactly located within the park. Taking my own sweet time and sometimes walking back and forth the same route, I took only 2.5 hours (inclusive of resting time and lots of selfie) to complete my visit to:
Crown Prince Chalet (太子賓館)

Si Lian Dong  (四連棟日式宿舍)

Museum of Gold (

黃金博物館)

Benshan Fifth Tunnel (本山五坑)

Golden Shinto Shrine (黄金神社)
Crown Prince Chalet (太子賓館)
I arrived before the attractions were officially opened at 9.30am. The only place I could enter was Crown Prince Chalet or the exterior of it.
As the chalet was damaged by typhoon Soudelor in August 2015, only the exterior – a Japanese garden overlooking some mountains and towns – was opened for visits.
From the garden, you can view a few landmarks such as Mount Keelung, Yinyang Sea, Qitang Old Street, Cyuanji Temple, War-God, Lord Guan and Teapot Mountain.
The view from here was nothing to shout about. 
Si Lian Dong  (四連棟日式宿舍)
Si Lian Dong or four-joint residence is an old Japanese dormitory building comprising 4 houses that are linked together.
These were built for the owners and top-ranked employees of the gold mining company, but have gone through renovation over the years to include more up-to-date facilities.
Each of the houses is also adorned with time-specific decorations to represent how a household looked like during a specific stamp in time, e.g. war and post-war period.
Admission is free and guided tour is compulsory. The tour started off with a video screening (I couldn't remember the content by now), followed by a walk through the houses.
For someone who prefers touring on free and easy style, it wouldn't surprise you if I told you I didn't enjoy the guided tour. The walk-through was done too briskly for me to gain any decent information and lasting memories. For the same reason, I have very limited photos taken during this tour.
We were mostly peering through from the corridor and couldn't enter the "rooms". So if time is tight, this is good to skip.
Coal Mining Railroad Tracks
On the way to the next attraction, there was this open area with panoramic mountain views and a great-looking statue that reminded me of Hercules.
Lined along the wooden path was a railroad track.  Of course, a few coal carts could be seen resting on the track.  This was one of the places where visitors were seen busily snapping away.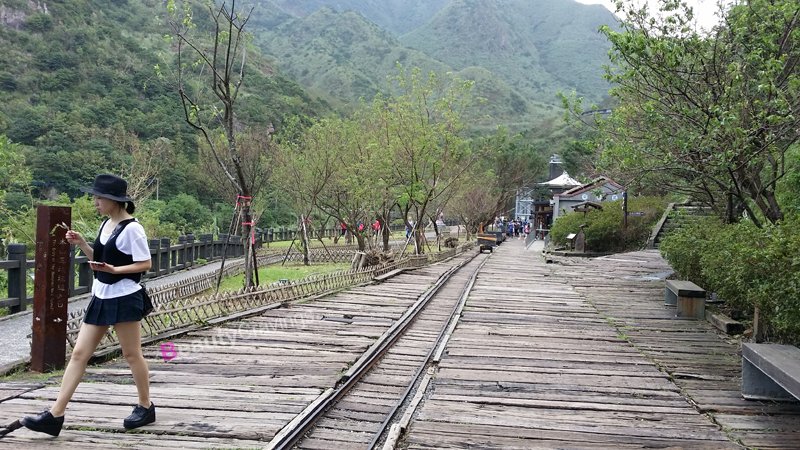 Museum of Gold (

黃金博物館)
Next up was the Gold Building, otherwise known as the Museum of Gold. If you see a queue forming outside of the building, these people are waiting for their gold panning experience to begin. Additional fee applies.
Most tourists would just proceed right into the Museum of Gold which is free. Honestly speaking, I had the least memory of this place. My diary indicated that it was "So boring". Maybe, I'm not really into mining? Haha. 
The gold museum presented Jinguashi's gold mining history through visual presentation such as tiny figurines and life-size waxworks.
On the second floor was where things heated up a notch, and where actions started to sprung. Not many could resist touching the 220kg gold bar, which was surrounded by a huge crowd of tourists. A long queue was formed so that everyone had a chance to touch the gold bar, while having their photos taken.
For some reason, such an activity didn't interest me. I didn't think it was necessary to touch it. Will it really make me richer? Hygienic or not? Heh.
Benshan Fifth Tunnel (本山五坑)
The entrance fee to Benshan Fifth Tunnel is NT50. I had the impression that I would be joining a tour to explore the old mine.  
Guess what, I was the only person in the tour. I didn't think too much of it, thinking that this would be a guided tour. After receiving a short briefing, the burly uncle told me to proceed….on my own.
Had I known that I would be touring the dark and eerie tunnel alone, I would have skipped this tour.
Life-size figurines never appear scary until you are caught alone with them in a dark place. Blame it on my freakish interest in "real" ghost documentaries and horror movies.
Not knowing how long the dark tunnel was, I walked through it quickly with heart pounding so hard I could hear my own heartbeats.
Ok, I'm exaggerating, but you get it on how scary the experience was. That's not the kind of tour I like as a solo female traveller, ok?  
As though it wasn't scary enough, water started dripping down on me. Where's the exit?
The tour was done in 5 minutes, when it was supposed to last more than 10 minutes. I heaved a heavy sigh of relief after seeing civilisation.
Jinguashi Shinto Shrine (黄金神社)
Once I exited Benshan 5th Tunnel, I found myself at the starting point of the track towards Jinguashi Shinto Shrine.
The shrine, located about 550m away took me 15 minutes to reach, including time for photo-taking. Give yourself 20 minutes if you are a less seasoned hiker.
The captivating mountain views distracted me from the discomfort of the scotching sun. It was 33 degrees celsius.
In terms of ease of climb, it should be easy for able-bodied as the path was made of concrete steps, each of which was of average height.
However, it appeared that the path was not frequently used, as I saw twigs and branches blocking part of the trail. Don't worry, those light obstacles could be pushed away easily.
Midway through the climb, the Teapot mountain (無耳茶壺山) stood on my left.  Can you see the Handle-less Teapot already?
Also See: Hiking Teapot Mountain in Taiwan
Stone structures were seen along the way. 
During the 15-minute climb, I was pondering hard on whether to continue the climb as the trail seemed deserted. I'd only seen one man walking down. Fortunately, before I could turn back, I'd reached Shinto Shrine. Seeing two couples there gave me the safety assurance to stay on longer.
One attraction guide I'd spoken with earlier didn't seem too eager to promote Jinguashi Shinto Shrine as a destination. First of all, she told me it would take 30 minutes to reach when I needed only 15.
"There's only a few stone blocks left", she said discouragingly. 
I beg to differ. I enjoyed the short climb and found the "few blocks of stone" or ruin charming.
The shrine which used to hold large-scale religious ceremonies and rituals during the Japanese era was damaged during post-war period.
Shortly after walking "through" Shinto Shrine, what awaited me was a picturesque scenery of beautiful hills, rolling mountains, vast ocean and a quaint little town – all rolled into one.
Among the various attractions within Jinguashi Gold Ecological Park, I thought this place offered the best view. If you have the time, this makes a worthy trip!
---
Is Jinguashi Worth A Visit? 
(12pm)
The route to exit Jinguashi Gold Ecological Park was a scenic one, with the narrow path flanked by lush greenery. 
The large fallen tree lent an rustic aura to the wooden railroad path, which was flanked by tropical trees. 
Because of how close the attractions were located from one another and excellent signage displayed within the park, I thought Jinguashi Gold Ecological Park makes a family-friendly and educational excursion.
Even the uphill climb to Shinto Shrine was a mere 15-minute trip. All in all, I had a great time exploring the various sights and enjoying the beautiful north-eastern rural landscape of Taiwan.
TIP: The attractions are closed on the first Monday of every month (Tuesday or the day after the holiday ends if Monday is or is part of a national holiday).
The entire Jinguashi tour ended at 12pm. Stay tuned to part two of Day 2 where I'll cover my trip to Golden Waterfall (黃金瀑布), Jiufen (九份) and Ximending (西門町). Of course, lots of tips will follow. Stay tuned, everyone! 
This post may contain affiliate links, meaning I earn a commission if you make a purchase, at no cost to you. Read my full disclosure for more info.
Essential Info:
Accommodation:  Neosoho near Taipei Main Station
Month of Travel:  October
Itinerary for the Day:  Jinguashi, Golden Waterfall, Jiufen, Ximending
Mode of Transport:  Train, Bus, Walk
Free Taiwan 'Must-Buy' Checklist:  Download
Get Printables: 8D/7N Taiwan Itinerary
If you to hear about the fun things I did as a solo traveler in Taiwan, click the button below to subscribe or connect with me through facebook or instagram. See you there!
(Visited 5,704 time, 1 visit today)