What a great morning spent at Jinguashi (金瓜石) on day 2 of my Taiwan 8 Days Trip! What's next? The second part of Day 2 would lead me to the less-visited North-Eastern Coastal area of Taiwan, the popular and bustling town of Jiufen and happening shopping district in Taipei – Ximending. Let's begin.
Golden Waterfall (黃金瀑布)
(12.35pm)
The first stop along the north-eastern coast was the "famous" Golden Waterfall (黃金瀑布). Almost all tourists would include it in their itinerary, probably due to its proximity from Jinguashi. It was just one bus stop away.
Moreover, Golden Waterfall was conveniently located by the main road. Alight from the bus and there I was, staring at the rather unspectacular and dull-looking waterfall. Sorry Taiwan, but this is the least attractive waterfall I've seen. 
The water that flowed down was an unimpressive translucent/white colour. And the colour of the rocks would be more aptly described as being "soil-brown" than "golden".
Still, a tourist has to do what a tourist has to do. I tried my best to take as many photos as I possibly could. That took me the most 15 minutes. After that, it was a waiting game as the next shuttle bus would only arrive in an hour's time.
What's worse was the lack of shelter and facilities around the waterfall. There was no way or place to hide from the piercing ray of the sun. I stood there feeling trapped. 
Update: You can travel more efficiently with this affordable and popular Jiufen-Yehliu-Shifen full-day tour. This wasn't available when I visited this part of Taiwan in 2015. 
Getting to Golden Waterfall
To get to Golden Waterfall from Jinguashi Gold Ecological Park, walk out to the main road. Do not cross the road. You should be able to see a "Golden Fulong Shuttle Bus" signboard.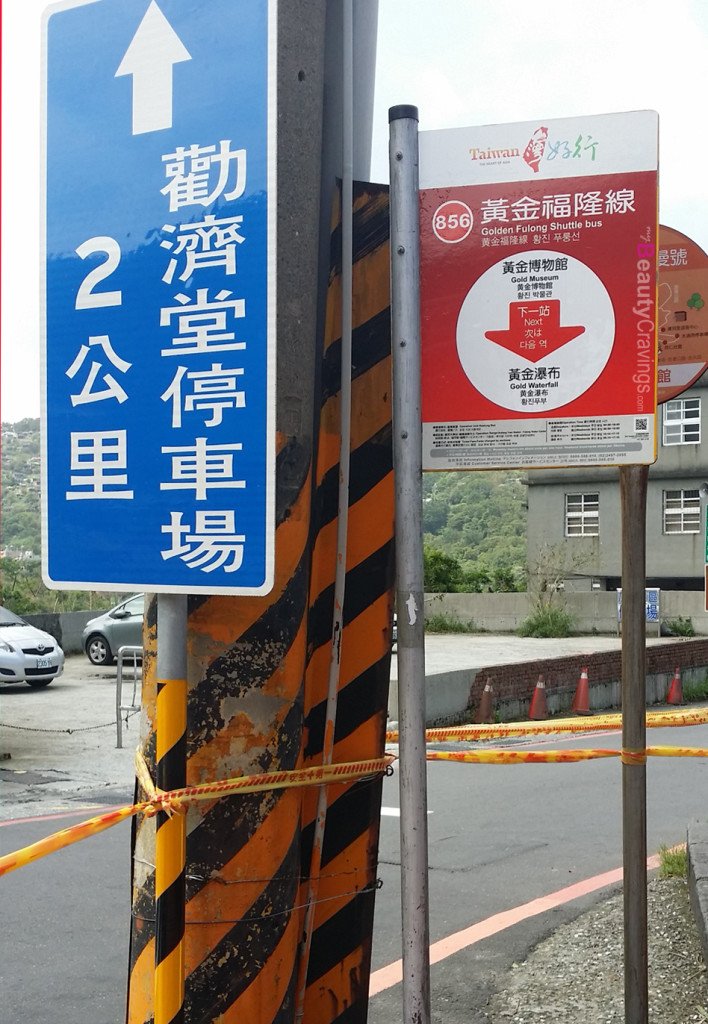 For some reason, the road was barricaded such that one would have to crawl under the yellow tape to reach the bus when it arrived. 
Stay there and wait for shuttle bus – #856, which operates hourly from 9am to 4pm (direction from Ruifang).
TIP: Get the shuttle's arrival schedule from the friendly staff at Jinguashi Visitor Center.
The same shuttle service also covers other north-eastern coastal attractions such as Nanya Coast (南雅) and Bitou (鼻頭角).
---
Change of Plan
The original plan was to take the Golden Fulong Shuttle further east to Nanya Coast (南雅) and Bitou (鼻頭角).
After 30 minutes of waiting under the heat, I shredded the plan. There was no way I could continue to wait unproductively under the hot biting sun. It was 35 degree celsius. What a pity I couldn't trek the beautiful Bitou. 
I crossed the road and took bus #856 back to Jiufen (via Jinguashi).
There were other reasons why I'd decided not to proceed eastward. With those places being less visited, I wasn't sure if it would be safe for a solo female traveller. Furthermore, not having any WIFI connection did inflict a dent in my confidence of travelling to more isolated places.
Info: If you don't drive, one efficient way to tour the North-Eastern coast of Taiwan is by taking a North-East Coast Scenic Tour. It's a full day tour and I'm surprised that it brings you all the way to Yilan County's Mr Brown Castle Cafe. Sounds like quite a value-for-money tour. 
---
Jiufen (九份)
(1.30pm)
Once I alighted from the bus, what greeted me was a magnificent view of sea, mountains and islets – all combined into one. If you walk a little further (20 metres), a two-storey high Guanghai (观海) pavilion provided a higher vantage for you to take in the stunning scenery.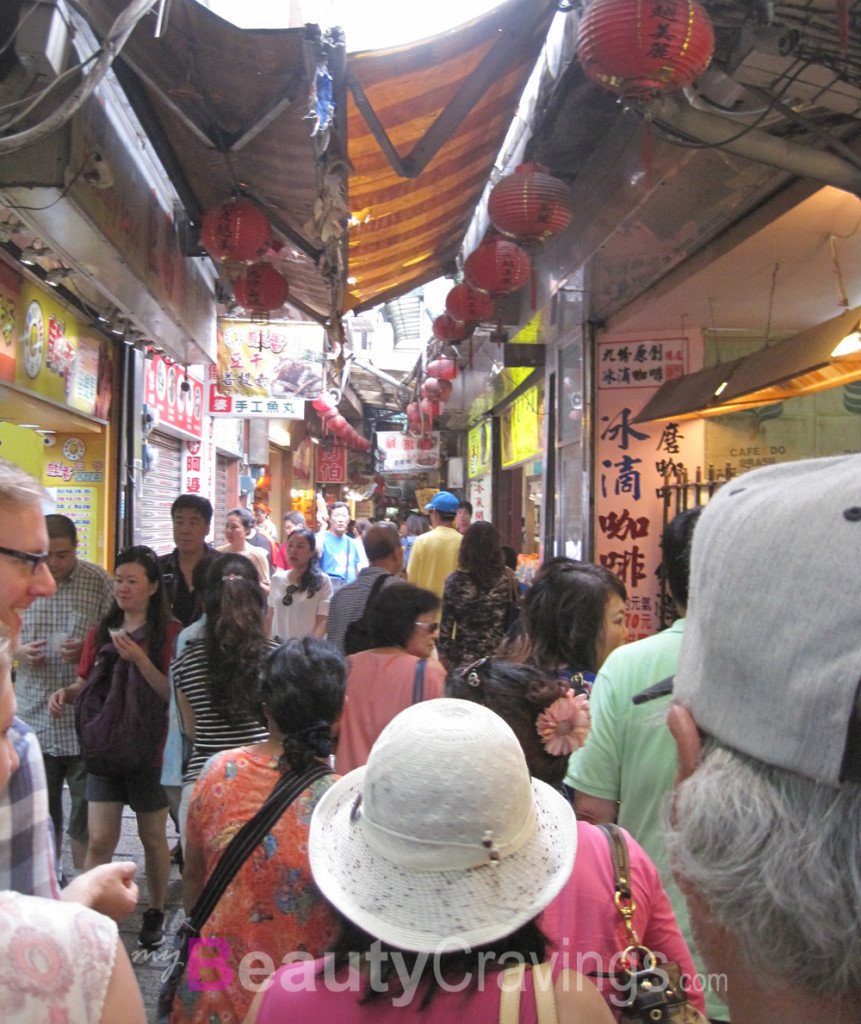 Jiufen is a bustling and crowded old street built into the side of a hill. What sets Jiufen apart from other old streets in Taiwan that I've been to, was the presence of numerous stairways up and down the streets.
While some old streets could be covered in half an hour, Jiufen offered a lot more. The two hours shopping, eating and side attractions made it worthwhile to make a day-trip out here from Taipei.  In fact, I found it to be the best old street among those I've visited. If you can only visit one old street around Taipei, I would highly recommend you dropping by at Jiufen.
Lined along both sides of the cobbled old street were food stalls, tea houses and gift shops. Most of the items on sales included ornaments, souvenirs and knickknacks.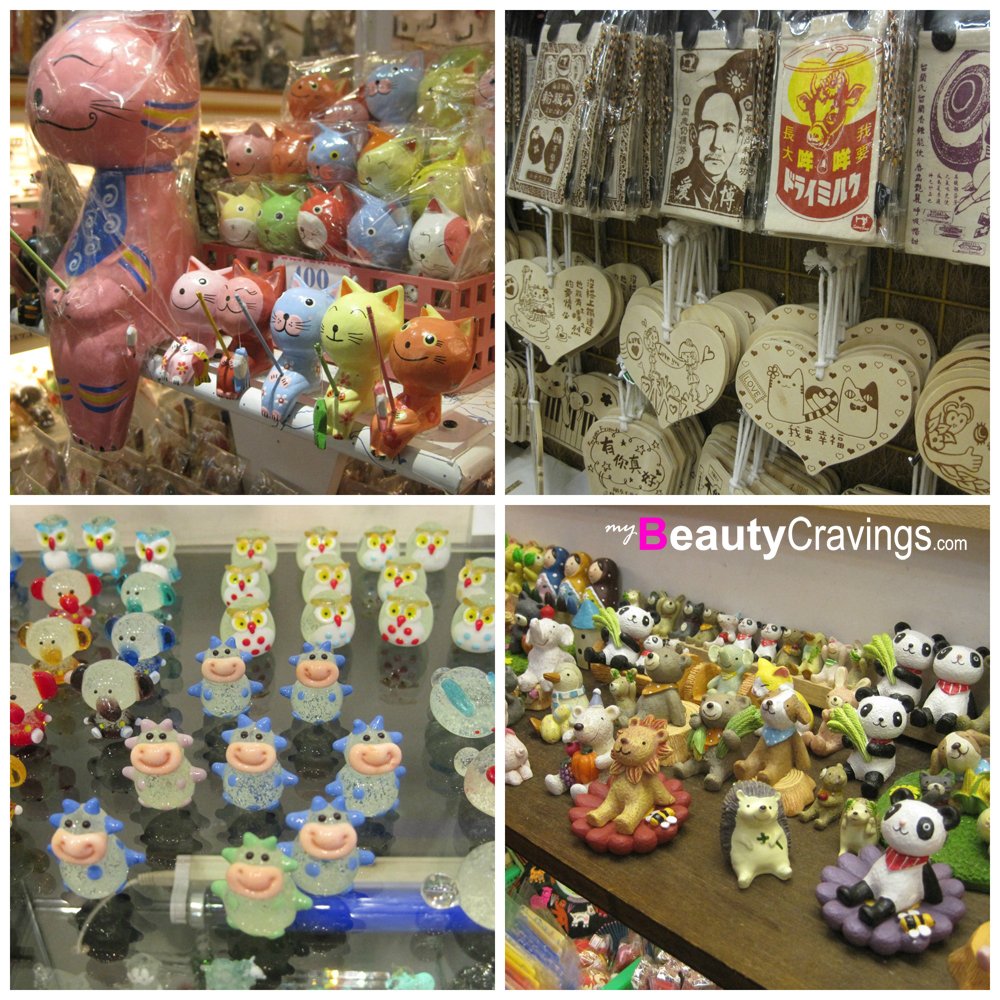 The wide selection of street food available was enough to please the most fussy eater.
My entree for lunch was a stick of wild boar sausage (NT35) – see "Pork".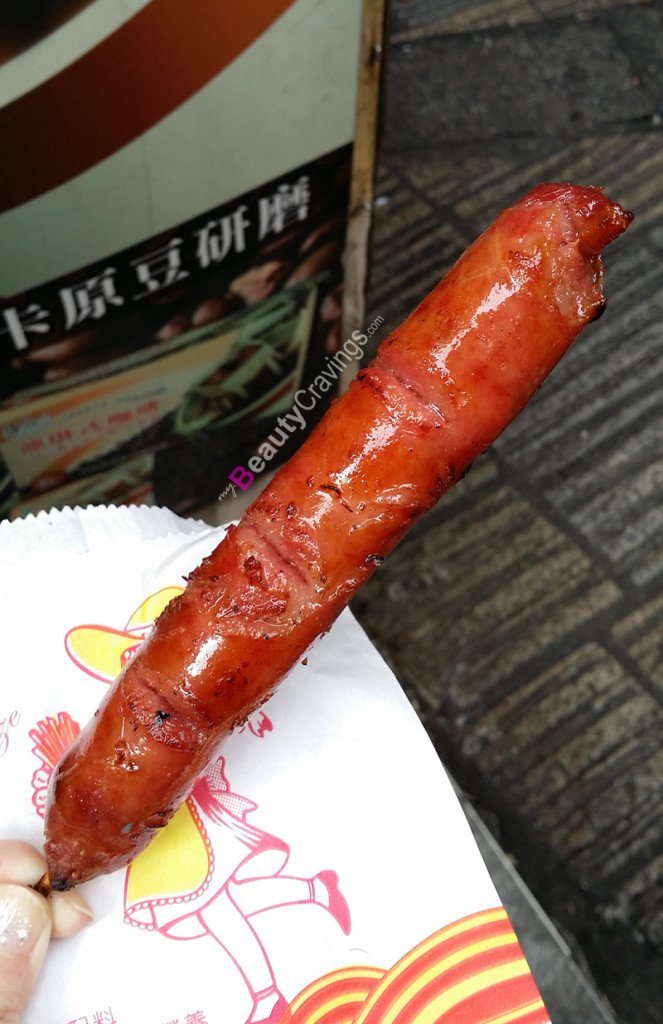 Delicious, juicy, oily and served scalding-hot, I was constantly battling between letting it cool down in the paper bag or scalding my tongue.
Of course, my hunger got the better of me. Not only was my tongue on fire, my fingers were fighting hard not to get burned. These sausages came in generous portion such that not much space was available for one to hold the stick  – only 2cm. Those with big thumbs, don't say I didn't warn you.
---
(2.15pm)
Midway through the stroll, I chanced upon the famous 赖阿婆姨芋圆 (Grandma Lai's Yuyuan). If you thought it's a cosy store run by a grandma, you are wrong.
赖阿婆姨芋圆 is a fairly large establishment with a restaurant-like sitting area, and numerous staff in sight. You can even witness the yam ball manufacturing process, that was taking place in the background.
The colorful yam balls (NT45) tasted ok – chewy, not-too-sweet and came in assorted flavors of green and red beans.
The cooling desert and comfortable sitting area served as a good resting point after a long walk. However, the yam balls weren't good enough to blow me away. The desert was pretty ordinary. God knows why it was so popular.
By the way, this bowl of taro balls was really filling. After eating it, I'd no space for any other food. :(
---
Another Viewing Platform at Jiufen Old Street
Towards the end of Jishan Street (基山街), there was a platform that offered visitors with a bird's eye view of Jiufen. 
---
Teahouses along Shuqi Road at Jiufen
There are many teahouses located along Shuqi Road – a road characterized by flights of stairs. 
The one which most would snap a photo with is Ah Mei Tea House (阿妹茶楼).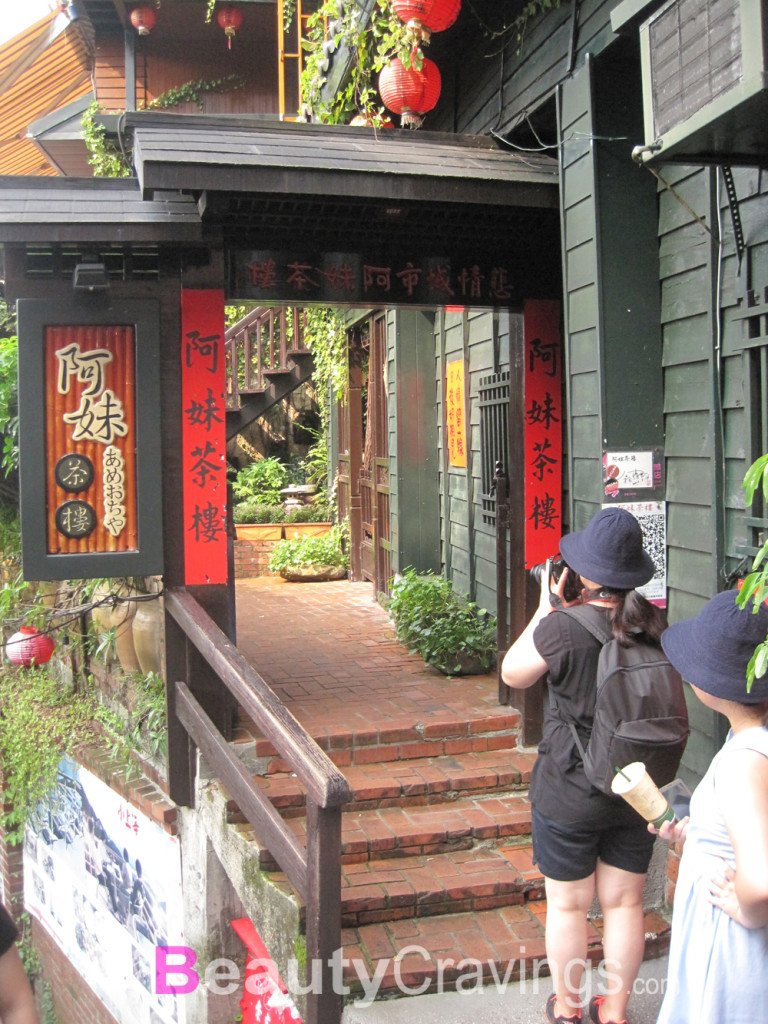 The teahouse was set as a movie scene in a Japanese animation – Spirited Away, which I didn't watch. So, this is just another teahouse to me. Heh. 
If you have some time, you can consider sipping tea at these teahouses. Based on their strategic location, most of them should boast excellent views of Jiufen. 
---
Shengping Theatre (昇平戲院)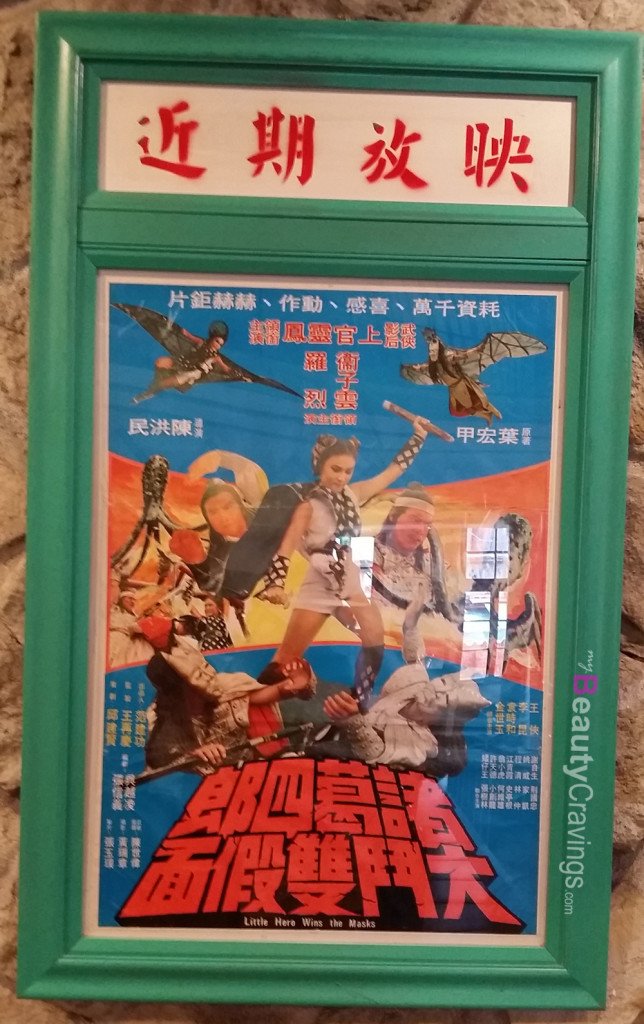 Shengping Theatre is an old theatre built in 1934. Located along Qingbian Road, the theatre provided an interesting resting point where you can sit down on the wooden benches and admire some interesting movie posters, probably those dating back to the 1930s.
I was greeted by this nostalgic-looking counter space upon entering the theatre. 
People in the past had to sit on wooden benches. Look at what we have today? Reclined seats, cushy arm rests, couple seats and more. It's amazing the speed of human's evolution. 
So that's it. I have combed the street of Jiuifen in 1.5 hours. You may take longer if you are an avid shopper and eater.
Time to move on.
---
How to Go: From Jiufen to Ruifang Station
(3pm)
To get to Ruifang Station, walk to the end of Shuqi Road. When you see the main road, cross it and take bus #1062 or #788.
TIP: By not retracing your steps back to the bus stop you alighted earlier, you can save a lot of precious time and effort. 
With the north-eastern coastal tour cut short, my day trip ended earlier than I'd expected.
At Ruifang Station, I thought I could perhaps squeeze in a tour to Shifen Waterfall. But the 40-min wait for the next train put me off. I decided to head back to Taipei.
TIP: If you have limited time in Taiwan, one way to cover as many attractions as possible is to join a day tour, such as the popular Jiufen-Yehliu-Shifen full-day tour. 
---
Getting WIFI Card in Taipei
(5pm)
After reaching Taipei, I tried my luck again to see if I could get a prepaid SIM card. Earlier attempts were unsuccessful. For some reasons, most shops had run out of WIFI cards.
I later learnt that my travel period clashed with China's public holiday. Many must have travelled out to Taiwan for a short holiday. No wonder, I saw more mainlaind tourists than Taiwanese during my first few days in Taiwan.
I was in luck. The stocks have been replenished. Taiwan Mobile (台湾大哥大) quoted me an exorbitant NT700 (7-days) when I'd read that a 7-day card should cost around NT300.
The next telecom shop, Far Eastone Taiwan Mobile quoted me only NT300 for a 1.2GB 4G plan that has no time limit. I could use it as long as I was within the given data limit. Great, my confidence was back.
TIP: The staff may quote you the most expensive plan initially. For instance, Far Eastone staff quoted me NT500 for a 2.2GB plan. After asking if there was a lower data plan, she then revealed the 1.2GB plan that cost only NT300.  It was more than enough for me and I probably only utilised one-third of the given data since hotels in Taiwan are mostly WIFI-enabled.
Updated (Jan 2019): You can now book a 4G Sim Card or Pocket WiFi online and collect them at Taipei Taoyuan Airport. I've used the latter in my latest 2019 Taiwan trip and here's my review of Taiwan 4G Pocket WiFi. 
---
Ximending (西門町)
(8.20pm)
After resting a while at the hostel, and getting my laundry done, I took a 20-minute walk from Neosoho to Ximending.
Ximending was not new to me, as I'd stayed there during my first visit to Taipei many years back. It was bustling with activities even late at night, with buskers performing their act and hip youngsters getting their shopping fix.
What's for Dinner in Ximending? 
The first thing I did was to head straight to the popular Ah Chung Mee Sua (rice vermicelli).
See the crowd hanging outside Ah Chung Mee Sua store? Does this explain why the price has been going up over the years?
They now offered the mee sua in two sizes. I ordered the large one (NT65) and well, let's just say that a large portion is actually a standard portion. I finished it in record time.
TIP: It's cheaper when you buy a voucher online to redeem for Ah Chung Mee Sua. This is a must-try food in Taiwan, that is, if you are okay with pork intestines. Here's how to reach Ah Chung Mee Sua store (see map).
With all the hype surrounding this mee sua, I'm glad to say that it was no marketing gimmick. Ah Chung Mee Sua was so appetizing – sour, hot and spicy, with chewy pork intestines and garlic and chilli sauces to tickle your taste buds. It was beyond "delicious". 
I vowed to eat a bowl of Ah Chung Mee Sua every time I visit Taiwan. It's that good. Ok, hopefully price won't go up too fast if everybody thinks the same. Heh Heh.
After a hot dish, I was starting to perspire.  I quickly got myself a cup of bubble tea (NT40) – a staple beverage in Taiwan. By the time I finished, my stomach was bloated like a balloon.
If pork intestine mee sua is not something that you fancy, Ximending has other local delights on offer.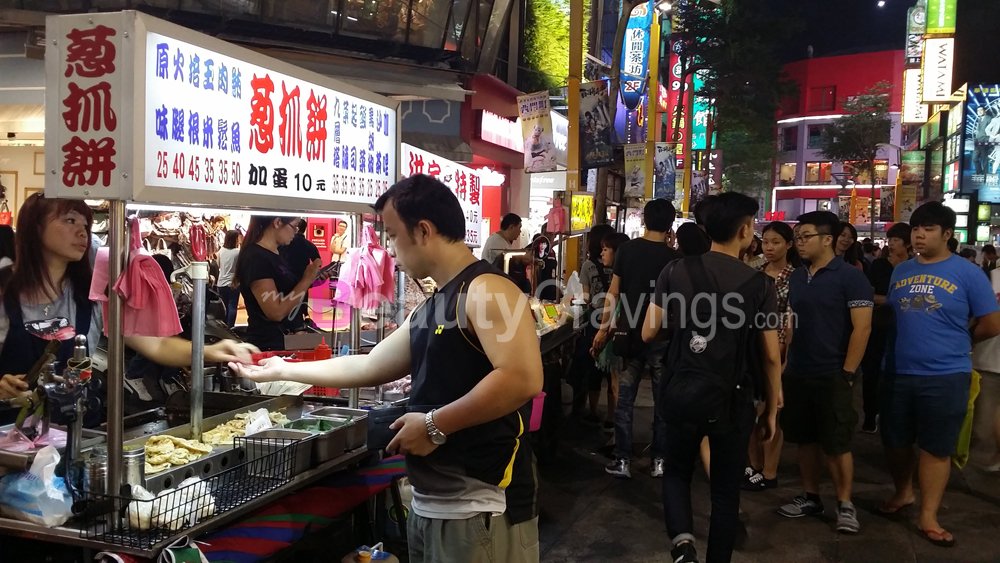 ---
Shopping in Ximending
The best activity after a heavy meal is to shop….err I mean walk. Heh. Shopping in Ximending was a better experience than exploring Taiwan's departmental stores. Because of the younger crowd it attracts, things in Ximending were more affordably-priced. I bought myself some fashion jewelries and cosmetics.
By the time my second day in Taiwan was concluded, I'd clocked 21,000 steps. That's equivalent to 16km. Let's see if I could beat this record. Stay tuned to Day 3 of my Taipei 8-day Travel.
Essential Info:
Accommodation:  Neosoho near Taipei Main Station
Month of Travel:  October
Itinerary for the Day:  Jinguashi >> Golden Waterfall >> Jiufen >> Ximending
Mode of Transport:  Train, Bus, Walk
Free Taiwan 'Must-Buy' Checklist:  Download
Get Printables: 8D/7N Taiwan Itinerary
If you to hear about the fun things I did as a solo traveler in Taiwan, click the button below to subscribe. Let's chat again soon!
This post may contain affiliate links, meaning I earn a commission if you make a purchase, at no cost to you. Read my full disclosure for more info.
---
(Visited 12,650 time, 1 visit today)