Day 3 of my Taipei Solo trip was as rewarding, hectic and fun-filled as the first two days. I would base myself at the south-eastern part of Taipei City and cover Maokong (貓空), Taipei Zoo and lastly travel to Shengkeng Old Street (深坑老街), otherwise known as the stinky tofu street of Taiwan.
Are you ready to join me on my solo adventure? Useful logistics details and tips will be provided as we go along. Here we go…
---
Maokong (貓空)
(8.45am)
I woke up to a cloudy day with slight drizzle. It's a good respite from the intense heat the past few days. It probably wasn't the best weather to visit Maokong (貓空) , a popular scenic place where locals and tourists are known to enjoy sipping quality tea at the mountainous quaint village. But this kind of weather wasn't suitable for most things on my itinerary anyway.
Getting to Maokong
It took me 2 hours to get from Taipei Main Station to Maokong. The journey involved taking brown MRT line to "Taipei Zoo station", followed by walking about 10 minutes to Maokong Gondola via Exit 2 at the station. It's a pretty straight-forward path. Yeah. I meant it literally…straight and forward. He He. 
INFO: You can get unlimited MRT and Bus rides in Taipei through the Taipei Transport Fun Pass. It also gives you access to 5 tourist shuttle routes. 

If you like a combined Unlimited Public Transport + Free Admission to Top 12 Taipei Attractions, then take a look at this popular Taipei Unlimited Fun Pass instead. It provides exceptional value especially if you are visiting the more expensive attractions such as Taipei 101 Observatory and the National Palace Museum.
From here, you can choose to take the crystal or normal cabin, which are basically cable cars that bring you through a scenic journey to reach "Maokong", the last station. Most people preferred taking the crystal cabin because it offered a see-through glass floor, adding to the thrill element. 
Since both types of cabin cost the same (NT50), do expect long queue time for crystal cabin. Now, the great thing in heading here on a rainy day was the short queue time. It took me only 15 minutes to get onto the crystal cabin. What's more, there were only 3 pax in the crystal cabin.
INFO: Maximum capacity for crystal cabin is 5 while regular cabin is 8.
NT50 (USD1.50) for a 35-minute cable ride was absolutely cheap. As you can imagine, it qualified as an itinerary on its own, and I was busy snapping photos, mostly of my feet. Heh Heh.  Unfortunately, the price has since increased to NT120, based on my last check. Could it be a seasonal change? Well, for what you get to see and experience, it's still considerably cheap, don't you think so? 
TIP: Use an Easycard for the gondola ride to skip the process (and save time) on getting tickets.  
As I went on a rainy day, the view wasn't as clear as it could have been. The droplets on the glass panels also caused some difficulties in taking nice photos.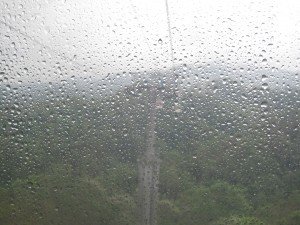 I'd to squeeze my camera lens in between droplets to get the following photos.
---
Camphor Tree Trail at Maokong
(10.50am)
With a love for hiking, how could I miss the opportunity to hike on Maokong? I'd sought advice from the Visitor Centre on the directions to Camphor Tree Trail (樟树步道), as well as their assessment on whether it would be safe for a solo female traveler. The answer seemed to be yes. I was told that Camphor Tree Trail was a popular and easy trail, comprising mostly flat-ground and cemented walkway.
TIP: If you have any questions, approach the friendly staff at Visitor Centre located just after you alight at Maokong Station. 
Getting to Camphor Tree Trail
To get to the starting point of the trail, take the right fork after exiting Maokong station. You should be able to see signage pointing to the trail.
A Walk with the Local
I was a little wary initially as the path and the trail seemed deserted. I only saw a couple nearby whom I soon overtook. There was also a tiny silhouette of a female hiker a few hundred metres ahead of me. Can you spot that pink umbrella?
It was also still drizzling and I wondered if it would be wise to proceed. I did, making sure I did not lose sight of that pink silhouette. Fortunately, it was an elderly lady and I was able to catch up with her. We soon became hiking companions, and chatted throughout the journey. 
By the way, almost everyone in Taiwan I came across would first guess if I was from China. You know why? Apparently, at most popular destinations such as night markets, zoo or Yehliu, I did see a lot more Chinese than other nationalities. And I thought they even outnumbered the locals. 
Camphor Tree Trail was an easy walk, where you'll see what appeared to be small agriculture crops along the way. There was also a pond and sheltered rest point where you could enjoy a scenic lunch.
If you look at the map below, Camphor Tree Trail only covered the top red path, which was lined with tiny tree icons. If you want to, you could venture to other trails and do a full loop back to Maokong Station. That would take 2 hr 40 min. As a female solo traveler where safety was a concern, covering the "popular" Camphor Tree Trail was good enough for me. 
At the end of the Camphor Tree Trail, I decided to accompany the elderly lady to her destination, Zhangshan Temple (樟山寺) which wasn't too far away anyway. It's the orange swastika located at top left corner of the map. Who knew that such a spontaneous decision would reward me with a panoramic view of Taipei city, right from the entrance of the temple. If only the sky was clearer….
After 1.5 hour and walking back the way I came, I was back at Maokong Station. Walking past a tea shop, I paused. A big woven basket full of eggs placed above roasted tea was beckoning for my attention. I retraced my steps. As an egg lover, I couldn't resist and bought two (NT30). 
This must be one of the best-tasting eggs I have ever tried. I wasn't expecting it to be so soft and flavorful. The amazing part was how easy it was to de-shell it. You won't believe it, but I managed to peel the egg with just one knock. The shell literally fell off the egg. You've got to try it! Yum.
---
Maokong Popular Food Street
Heading to the left fork where most tourists were, there were plenty of food options.
If you have the budget, I would suggest that you walk further up the road (about 300m) where most of the tea houses and plantations were located.
---
Sipping Tea on Mountain Top – Bucket List Checked
(1pm)
Wonderful.  I found myself having one item struck off my bucket list.
I was sipping Tie Guan Yin tea at 四哥的店, while admiring the view from its third-floor terrace amidst cool weather and gentle breeze. It's great that this tea house offers tea option for single traveler. An individual tea set that came with desert and tea cookies cost NT200.  
The tea appreciation set typically meant for a group would have been more than doubled the price.
As a lunch, I also ordered Tea Fried Rice (NT120) which came in a generous amount (too generous).
As a reasonably-good eater (for my size), I could only finish half of it considering how I had to finish the tea set too. The rice was average, nothing to shout about honestly. You may want to consider ordering something else.
The boss, 四哥 was a friendly chap. He tried his best to make me feel comfortable including offering me a rather private seating area, and ensuring that it wasn't too chilly for a "frail-looking" lady like me. I would totally recommend this tea house. *Smile*.
Have I mentioned that I have one item struck off my bucket list? Oh, I have….ok, just want to make sure you guys know about it. LOL.
I would have wanted to visit Zhinan Temple (指南宮) which looked grandeur from my viewpoint at Zhangshan Temple (樟山寺). It was only one station away. Alas, I was running late as I had a few more places to cover before night fell.
That's all for today's post. Watch out for part 2 of Day 3 where I would cover Taipei Zoo and Shengkeng Old Street (深坑老街).
Essential Info:
Accommodation:  Neosoho near Taipei Main Station
Month of Travel:  October
Itinerary for the Day:  Maokong (Camphor Tree Trail, Tea Appreciation) >> Taipei Zoo >> Shenkeng Old Street >> Ximending
Mode of Transport:  Metro, Bus
Free Taiwan 'Must-Buy' Checklist:  Download
Get Printables: 8D/7N Taiwan Itinerary
Like to hear about the fun things I did as a solo traveler in Taiwan? You can click the button below to subscribe, or connect with me through facebook or instagram. See you there!
This post may contain affiliate links, meaning I earn a commission if you make a purchase, at no cost to you. Read my full disclosure for more info.
(Visited 16,569 time, 1 visit today)